Quick Big Brother Spoilers
Head of Household: Jag
Nominees: America and Blue
POV Players: Blue, America, Jag, Matt, Felicia, Bowie
POV Winner: Jag
Veto Ceremony:
Havenots: ?
Lock your ranks in before midnight
The Situation: Blue is the target. Felicia now knows Blue is the possible target. Blue doesn't know she's the target.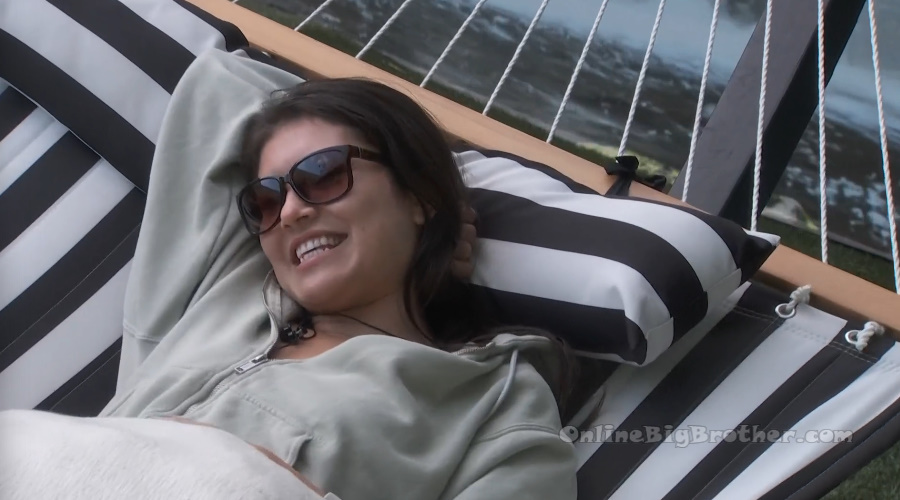 5:25pm Hammock – America and Cirie.
America – I was just thinking about .. I wonder if Cory is outside looking out and we're looking at the same cloud right now. Cirie – that would be crazy. America – looking at the same bird. Cirie – I wonder what he is thinking. Is she okay? How's she doing? America – he was like I see your path forward in this game. I see there is a path forward. You got to believe in yourself. Cirie – Awwwe… is that what he said? America – he said its going to be hard but there is a path. He was like do you want me to tell you? I was like no I want to figure it out by myself. Cirie – why wouldn't you let him tell you? Use his way.. America – I know what the path is. The boys can't be here. Like lets be honest. Cirie – I know. America – they can't be here in order for anybody to get to the end. Cirie – That's absolutely true.. and I think everyone knows it. America – everyone is afraid to say it. I feel better saying it because its off my chest. When people ask me who my target is …like you couldn't do that weeks ago. Its a very touchy subject and now its like f**k it, its them two! I am thinking like they can't both be here. Cirie – even Bowie said one of them might go during the double. I'm like that's a lot for her. America – she said that? Cirie – yeah. America – that's good. I feel like she is like stuck to them. Cirie – she is though.. How do you unstick her?! BB blocks the feeds. America – .. one of us three. Cirie – DAMN Felicia! America – I just feel like now she is going to trust them now more than ever and them not nominating her. Cirie – yeah them refusing to put her on the block just solidifies it. America – the one thing I could bring up is okay you guys are bringing her to final 3… Like Jag who do you think she is going to take if she wins the final HOH? Its going to be Jag. Cirie – It won't be Jag because she don't think she can beat Jag. Is that enough? I don't know if that is enough. America – I mean its a possibility. She's won mental, she's got the physical down. In the end if she wins she isn't going to pick you, she's going to pick Matt. Cirie – I just think one of us… you, me and Felicia have a great shot for this if its a double. America – I think it will be a double and I think we do have a great shot! Cirie – its just everyone willing to take the shot knowing there's a second HOH to follow. America – it doesn't matter.. Matt's not very good at HOH's and neither is Bowie. Cieie – its the veto that's going to matter. America – but is that enough to not take the shot? The fear of them.. they're going to get to the end then. Cirie – I know. America – if that's the concern. If everyone is too afraid.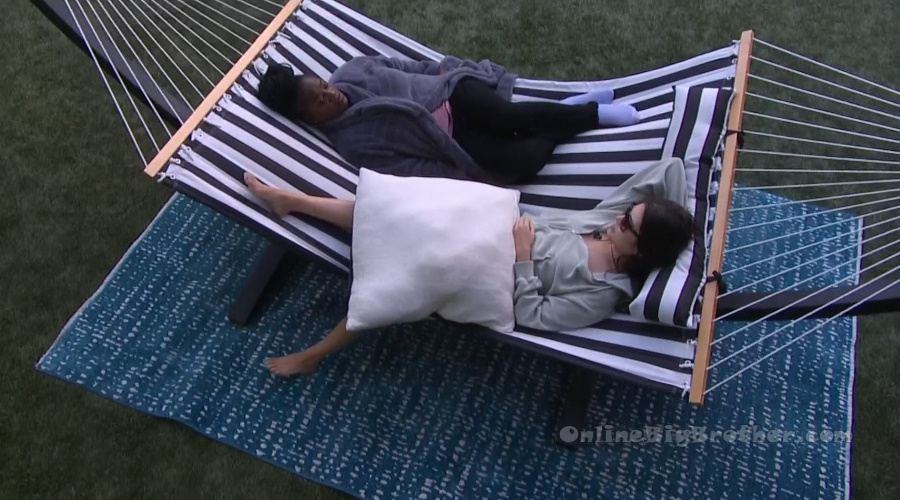 5:46pm Big Brother gives the House Guests alcohol! They're super excited. Felicia – thank you Mr. B!!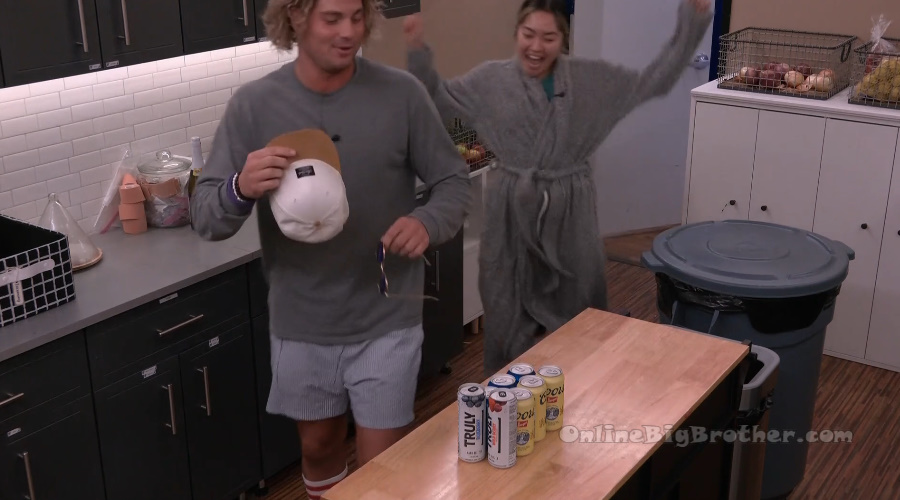 5:49pm America holding up a beer – Life is worth living again.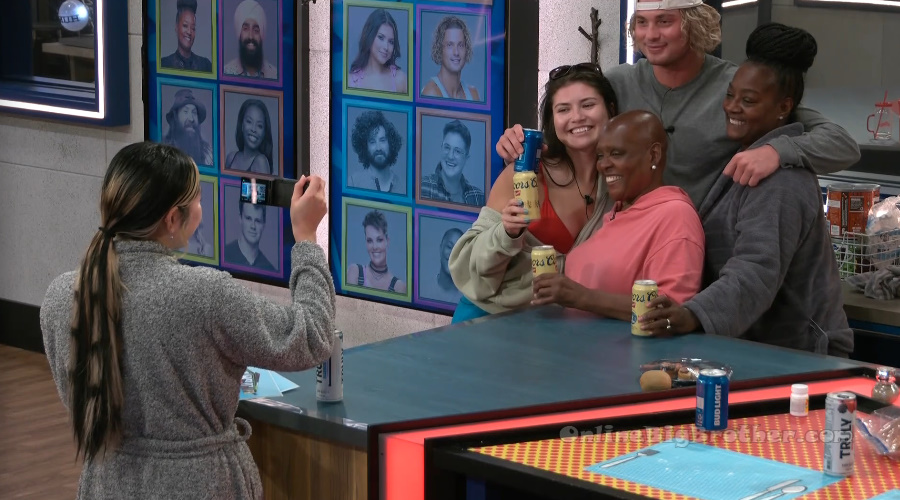 6:08pm Havenot Room – Matt and Jag.
Matt – I saw Felicia and Cirie talking to America in the hammock. Just covering their grounds probably. It wasn't long. Jag – here is the question .. who all is drinking the cider with us? Matt – I hope Bowie saved her drink. Jag – Bowie saved her beer. Matt – that was fun that we got to do the diary room together. Jag – yeah.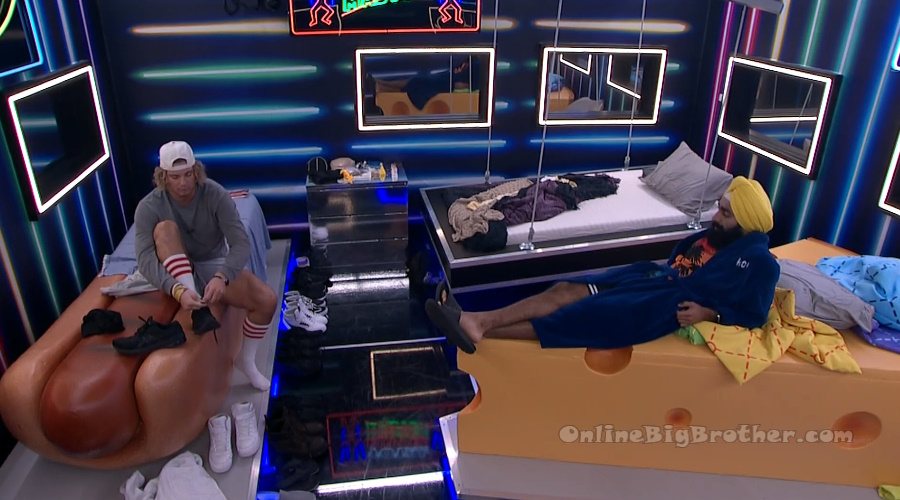 6:30pm Backyard – Jag and Matt working out. Meanwhile on the couches – Cirie, Felicia and Bowie are chatting. America and Blue are playing pool.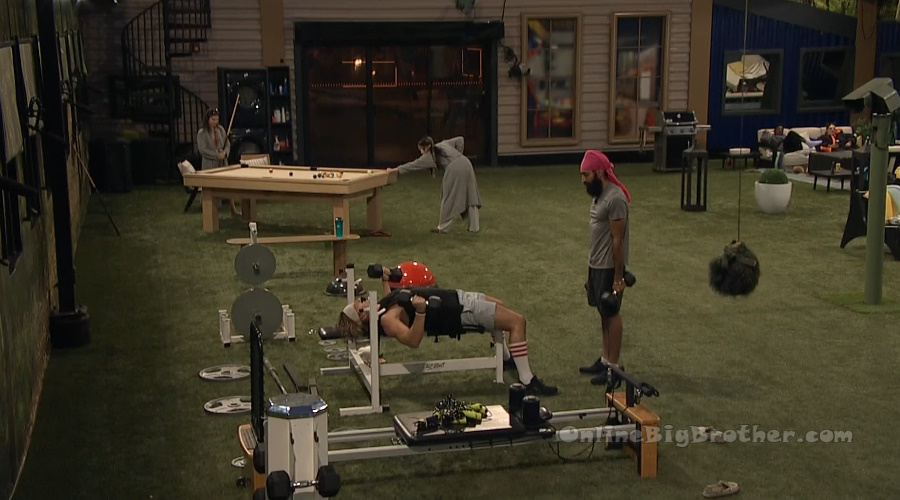 Backyard Couches – Cirie and Felicia
Felicia – I talked to Jag today and he swears our final four is a solid final four. Cirie – don't make him think we doubt it at all. Felicia – not at all. He wants to talk to America. He really is thinking that .. just like you said but he ain't going to do it if she is going to turn around and put his a$$ up on the block this week.. because he knows Blue is going to put him up on the block for sure. He is hoping that if he keeps America, that she won't put him up on the block. Now he knows it ain't going to be forever but at least this time he won't. And don't know what the f**k Bowie Jane going to do! Cirie – whatever they tell her to do. Felicia – right. She ain't going to put up them. Cirie – I don't know if we're going to shake her (Bowie) off of them. Unless Jag goes home for the first one (First HOH in the double) that is the only way we get Bowie Jane. She is not leaving Jags side. BB blocks the feeds. Cirie –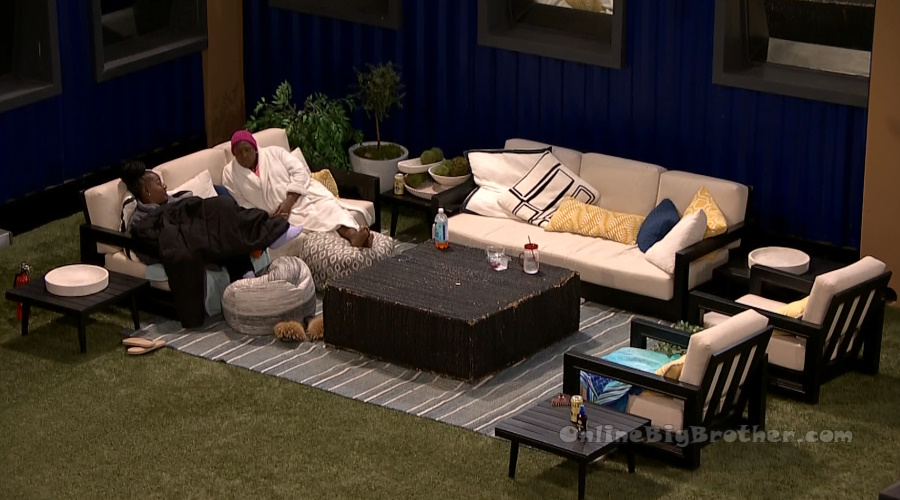 7:15pm America and Matt playing pool.
7:54pm Comic Bedroom – Cirie and Felicia.
Felicia – so let me ask you a question, what do you think is a better move for us to keep Blue or keep America? Cirie – but it don't even matter. Felicia – well it does. Cirie – His mind is already made up to get rid of Blue. Felicia – but his mind isn't made up, that's why I am asking you what is better for us. They're asking me what I think. Cirie – The only thing I think .. damn.. is America going to take the shot? Or is she going to make whatever deal she going to make for him to keep her.. is she going to take the shot or … who else is there? If he makes a deal with America and Blue goes, who is left? Felicia – me, you or Bowie Jane. Cirie – so here is the thing .. in the first HOH (of the double) who is going to go after Jag? Just me and you? That's what I don't want. We need everybody playing. I know Bowie Jane ain't no bada$$, she ain't going to do it but Blue will. Blue will. Is America going to? Felicia – yeah I don't know. If he wins the veto and pulls his a$$ down.. Cirie – then Matt would go up.. no Matt would already be up .. then we would put up Bowie Jane. Felicia – I don't want him to win that veto because if he wins .. that's where we run into a problem because we're supposed to be in a final four. Cirie – that's why we need Blue. That's why I want someone who will take the shot. America I don't know if she will. She will look you straight in your face and then well I couldn't because…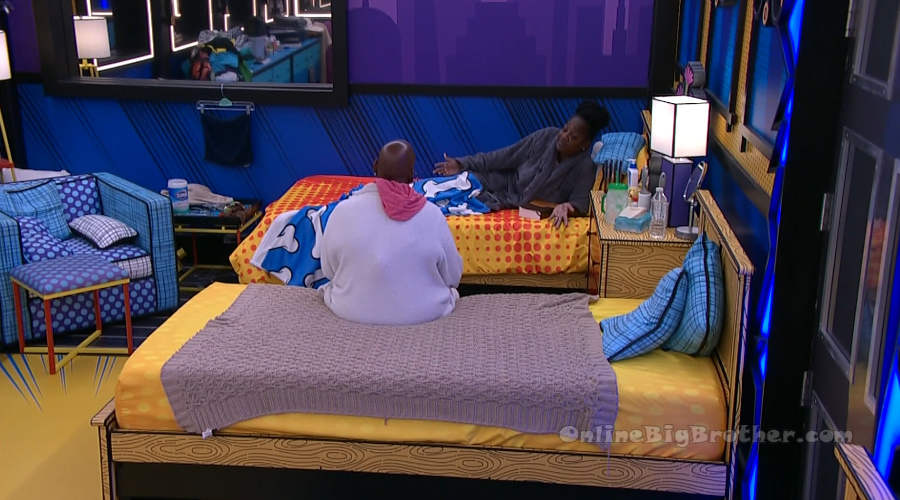 8:05pm – 8:35pm Hammock – Jag and America
America – if I am going to be up there though and you're not going to use it I do think it should be a blindside. Jag – like Blue should be blindsided? America – If you're going to tell everyone .. like you know what I mean. Jag – you mean like Blue should be blindsided or everyone should be blindsided. It doesn't makes sense for everyone to be blindsided. I am not going to blindside everyone. That just f**ks me. Blue being blindsided doesn't really matter. Obviously I am not going to say anything right now.. it is definitely going to be post veto if there is a conversation that happens. That really doesn't change the votes or impact that per say. Here is my thing, you're going to be here next week. I am telling you that. America – okay Jag. Jag – I get that I am my own person and I can't control how everyone else votes but I think .. we have the votes. We have the votes. America – obviously if you tell Felicia and Cirie and its not so close of a vote I would feel better about that. And we can have them confirm. Have Matt and Bowie confirm. And even then people could be lying to me but I think I would feel a lot better. Jag – here is what I will say. I want you here. Under no circumstance do I want you to leave this week. I don't want it to be a two / two vote.. because that is scary for you and serves no purpose for me. I will do everything in my power to make sure its a 4 / 0 vote. I don't want no surprises. I really do think we will be solid with that. Nothing is going to change my mind. There is nothing that she could conjure up to make me say well.. I am going to finish what I started last week. America – what a villain. Jag – obviously I can't play next week and if you win this week you can't play the week after. The top targets are me and you the way I see it. We're trying to make it to the end and the only way we can do that is if we protect each other.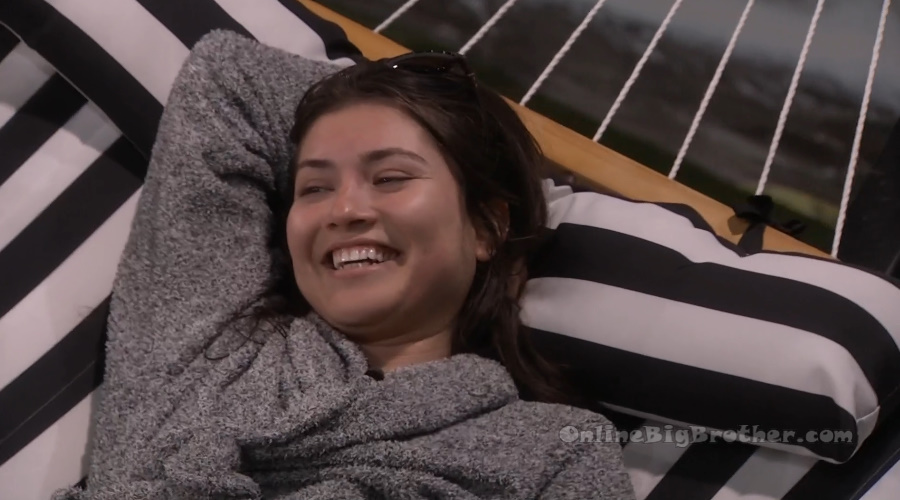 8:55pm Backyard – Cirie, Felicia, Matt, Bowie, Jag, Blue and America. They're studying the house in case questions are part of the comp.
America – nobody touch Cory's Dr. Pepper mug. Do not touch it. Jag – I wasn't gonna! America – do not f**k with me. I go up every morning and just lick the rim. Cirie – now its going in the garbage the next time I am up there. Felicia – you are grossing me out.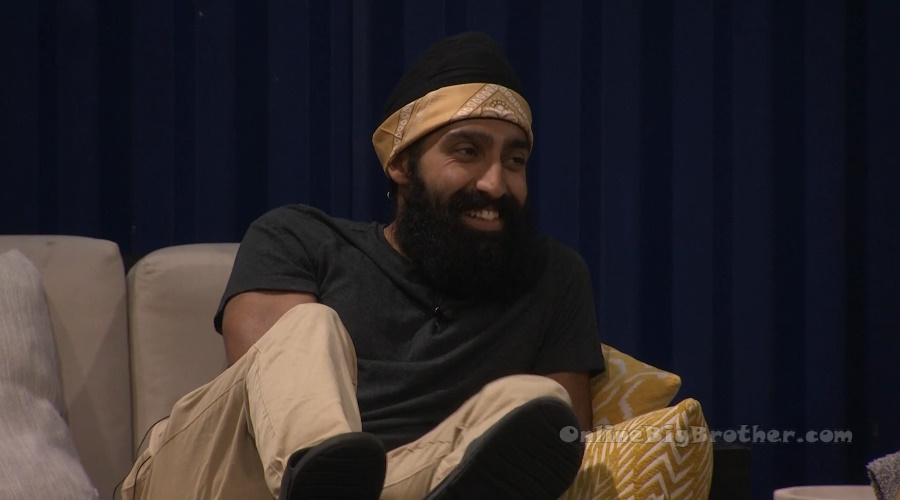 9:50pm Bedroom – Cirie and America
Cirie – how was your conversation with Jag. America – I basically listed out why I think he should redirect his target. And I mentioned Blue is going to come after ya'll. You guys are big targets, she is going to come after you. Who would you rather go after you? Me or her? Blue actually did really well in this last veto. She's been consistent with every competition. This next HOH you don't get an opportunity to play. Would you rather I play or she play? He was BS'ing for a bit. I was like what is your relationship with Bowie and he literally didn't say anything. Matt joins them and the conversation ends.
10:44pm Backyard – Jag and Blue chatting about the memorable past events of the season.
10:50pm Bedroom – Bowie and America.
America talks about her conversations today and how she hopes she is still here on Thursday. They talk about how Thursday will likely be the double eviction. America – its like there are no breaks right. Bowie – I know, yeah! America – its been tough. I just miss Cory. Bowie – yeah he was definitely the life of the party. America – yeah all the napping definitely brought everyone's spirits up. Bowie – well he played a lot of games. He was funny. Yeah I like Cory. Putting the game aside, he's a good guy.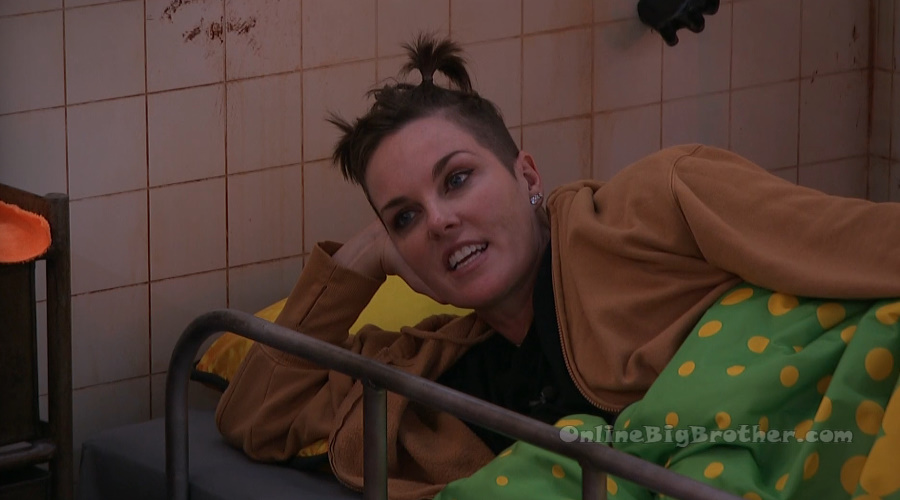 11:13pm Comic Bedroom – Felicia and Jag.
Jag – whats the purpose of me.. like I made these noms from a reason do you know what I mean? And that would sort of be like a why would I be doing my own nominations just for that. She was also mentioning the same things that we were thinking about which was who is a better competitor. Right like Blue is a strong competitor. It was good, those were strong points. Overall I think it went as well as it could have. Felicia – where do you think Matt and Bowie Jane will vote? Jag – I think Matt will vote however we want .. and same with Bowie. It depends on what we decide. That's just what I think. I don't see a split vote happening. I think Matt is on the same page as us. So that's two of us already. Bowie will vote where the votes are. You're close to Cirie. Felicia – I can convince her (Cirie) either way which ever you think is the smarter move, just say.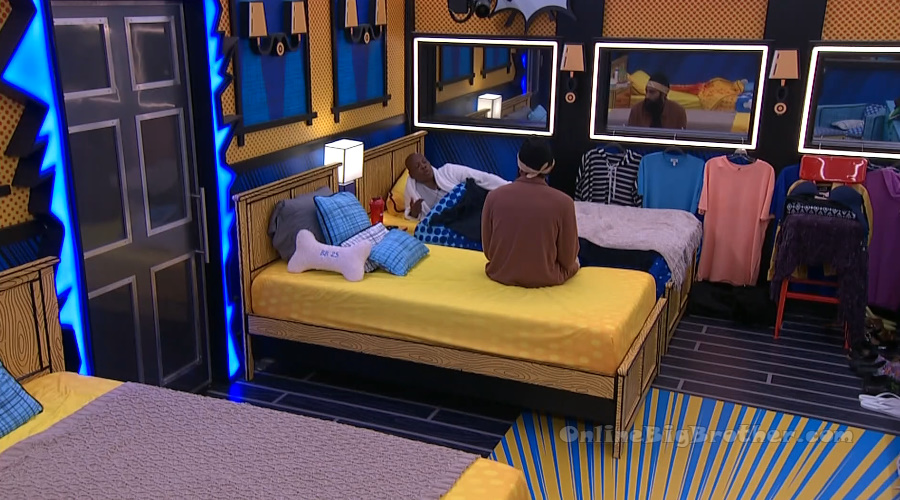 11:19pm Comic Bedroom – Cirie and Felicia.
Felicia – I think he is flipping between either or .. he (Jag) said his conversation with her (America) went okay. Cirie – I don't want us to be the ones…she is going to jury. You heard Blue said earlier, if the vote flips she cussing a motherf**ker out. I don't want her to feel like we flipped later. Blue comes into the room and the conversation ends.
11:38pm Bedroom – America and Bowie are chatting about Cory. Meanwhile in the Comic Bedroom – Matt, Blue, Cirie and Felicia are chatting about Izzy and Jared.
Feel like leaving a TIP?
Simon & I could use some Kraken to survive the last few weeks listening to these jokers!
Any amount is appreciated! Thank you in advance!