Quick Big Brother Spoilers
Head of Household: Jag
Nominees: America and Blue
POV Players: Blue, America, Jag, Matt, Felicia, Bowie
POV Winner: Jag
Veto Ceremony:
Havenots: ?
Lock your ranks in before midnight
The Situation: From everything I can tell Blue is still the target. Felicia and Blue don't know this.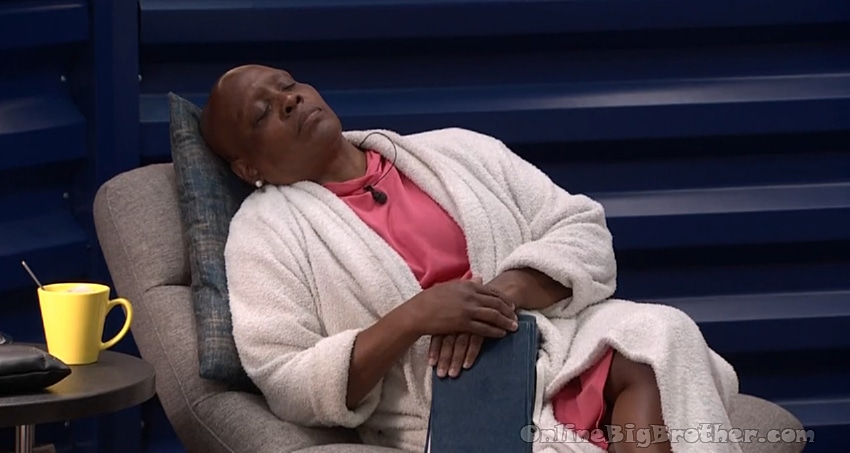 8:45 am Felicia is up, Making Coffee, reading the bible.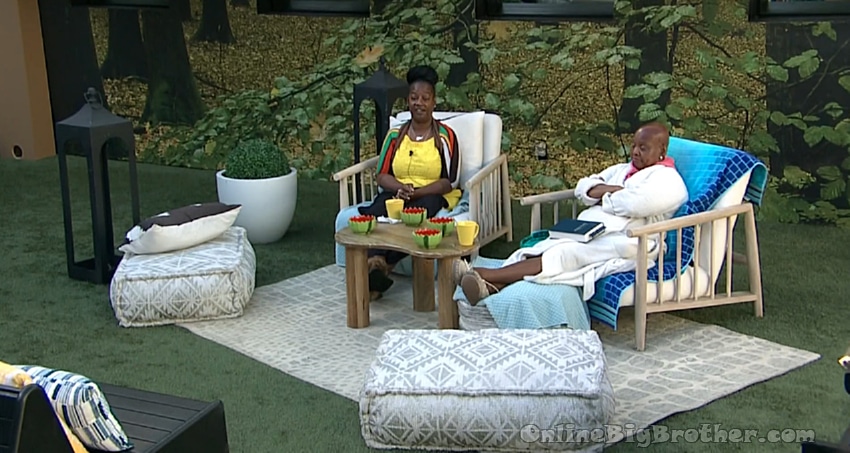 9:45 am Cirie and Felicia
"mmmmmhmmmmmm", "I love Sunday..", "Day with family", "mmhmmmmmm", "football", "Mmmmmhmmmmmmm"
Felicia – "Girl two weeks from THursday we will be home"
Felicia – Girl this week is going to be a mess.
Cirie – mmmmmhmmm
Felicia – everybody will be fighting Thursday
Felicia – I think Bowie Jane puts up…. Me and you are her easy out
Cirie – mmmmmhmmmmm
Felicia – She might put up Blue with one of us.. there will only be six of us
Cirie – She will never put up Jag and Matt
Felicia – Absolutely not
They talk about how high strung Bowie is right now.
Felicia – I can read Bowie Jane nad a damn book
Cirie says Bowie is saying there's the potential for Matt or Jag to go during the double.
Felicia – Bowie Jane and Blue have proven themselves to be good competitors.
Cirie – mmmmmhmmm
Felicia – they've both stepped up their game
Cirie – all of them are
Felicia – mmmghmmmm
Cirie – America is the only one that hasn't shined yet and I still think she might be playing it intentional so she's less and less a threat
Felicia – no it's too late for her to not try and be a threat now. SHe's on her way out the door. If she's not playing to win now SHE FOOL. SHe couldn't even be that stupid She's playing to win she just ain't winning.
Cirie – I hope she's on the way out the door
Feeds cut for house wake up.
10:20 am lights are on in the BB house.
Blue is saying she's thinking of campaigning after the veto ceremony.
Cirie – mmmmmhmmm
Blue – the only thing that get me nervous. I know there's a plan in place I know that America is for sure like my one saving grace is the double eviction. That is where America could potentially shine. THat's my saving grace.. that's my one thing that calms me down
Cirie – mmmmmhmmm we're going to stick with the plan.
Blue – I know how Jag likes' to play the game he said I did a stunt last week there's no reason I do a stunt this week. Cause that's HELLUVA blood on his hands
Blue is now worried that America might campaign on the fact that Blue is a better competitor than her. "This is the best time to take Blue out"
Cirie – mmmmmhmmm
Blue – she might convince them I'm coming after them or something
Cirie – right
Blue – I'm glad for last week
Cirie – mmmmmhmmm
Cirie – just make sure they know how solid you are with them.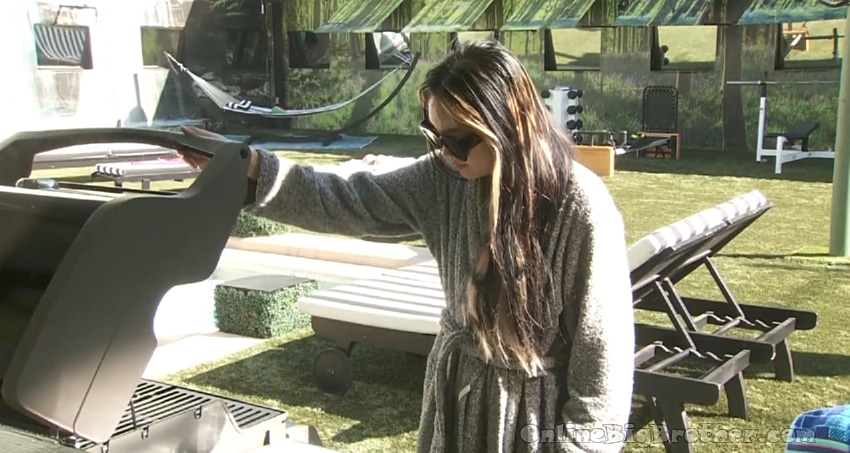 10:30 am They got a grill
Blue – so new and so clean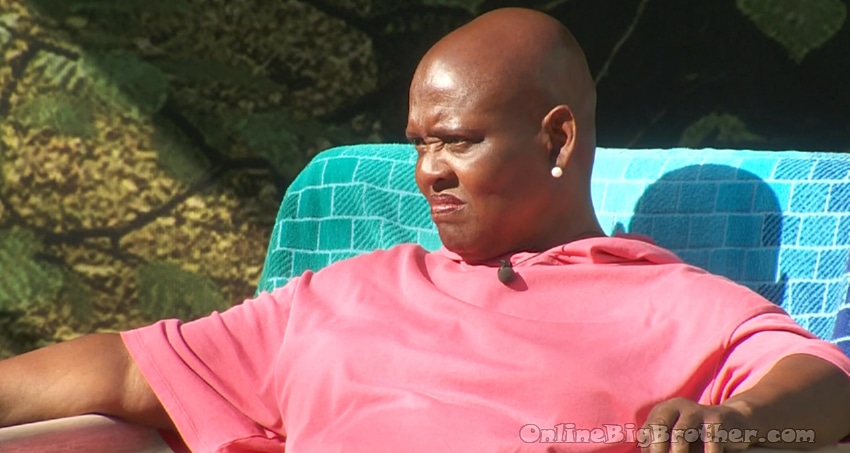 10:32 am Felicia and Blue
Felicia going on about how this is the "tell all week" Blue explains her plans for one on ones today and how she wants to have a meeting with Cirie and Felicia so they can plan out their double eviction strategies.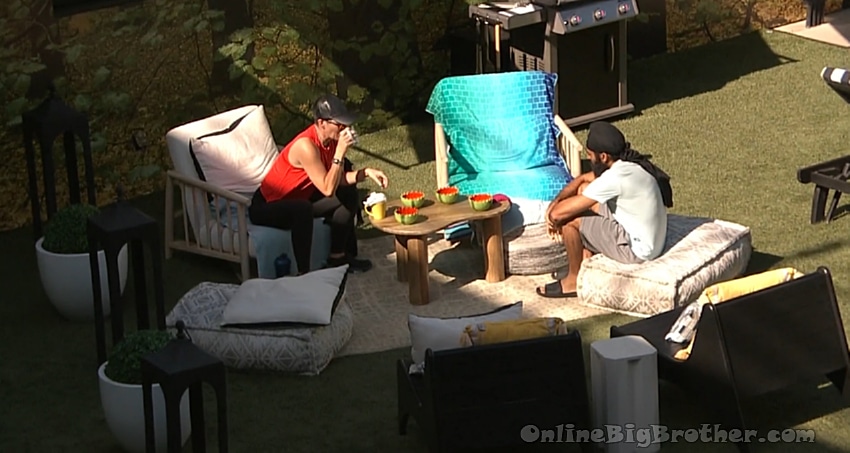 11:06 am Bowie and Jag
Jag tells her to stay consistent with what they've been saying "We're solid, we're solid"
Jag – there's no point me using the veto the noms are the noms I made them.
America joins them. Chit chat
11:13 am Felicia and Matt
Felicia saygin that Bowie told Cirie last night that they need to get rid of one of the boys during the double eviction.
Felicia – that surprised me because I didn't think she would do that.
Matt – damn.. ohh boy
Felicia leaves "I'm on my way back outside:
11:30 am houseguests playing with the skip rope.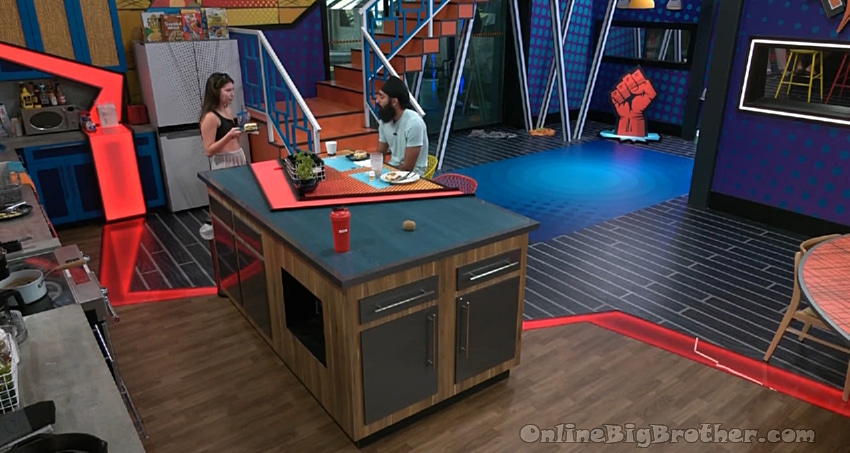 11:43 am Jag and America
Jag says he's going to start talking to people today and feel out the vibe.
America – about what?
Jag – like what we talked about yesterday letting people know.
America – you want to do it this early? Do it after Veto but what do I know.
Jag – I'll see where converations go I just won't say it.
Jag – I'll let you know either way
America – Okay I'm not saying anything you know that.
Jag laughs "Do I know that? the one thing you do is say things"
America – ME, talk? I don't know her. Who that is?
Jag – this little birdie chirps a lot.
America – damn that was going to be in my veto. This little birdie chirps back.
Matt cruises through.. They talk about Matt being called into the Diary room in the middle of the night.
America goes to leave tells Jag to let her know how the talks go. She does think it's too early to tell people the real target.
11:55 am Chill…