Quick Big Brother Spoilers
Head of Household: Jag
Nominees: America and Blue
POV Players: Blue, America, Jag, Matt, Felicia, Bowie
POV Winner: Jag
Veto Ceremony: Veto was not used.
Havenots: ?
Lock your ranks in before midnight
The Situation: Blue is the target.
12:18 pm Chilling after the veto ceremony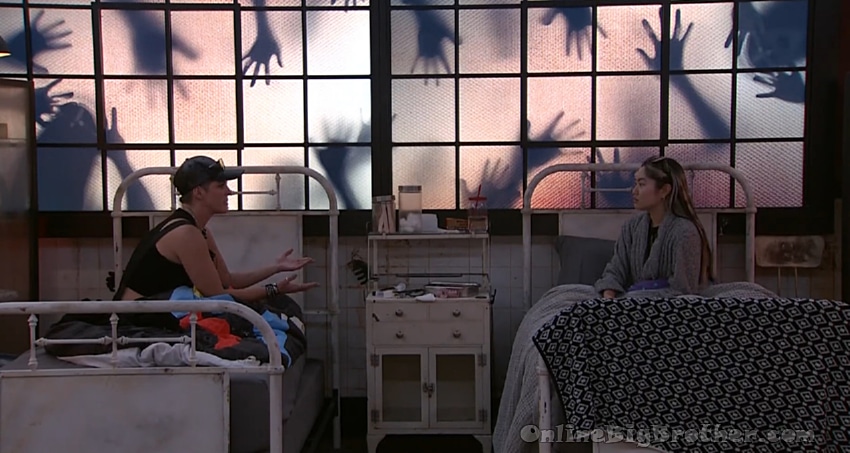 12:39 pm Blue and Bowie
Blue is campaigning says she'll protect her people and compared to America she's the stronger competitor. She points out that her and Bowie are in the same position. Cirie as Felicia, Matt and Jag. Bowie and Blue don't have anyone.
Blue – I hope I've proven that I am not a liar or gioan manipulator hoping you can trust me when I say I got you.
Bowie asks who her people are.
Blue – for me I really trust Matt and Jag. Us four have talked about that before. Personally I love Cirie and Felicia to i'm closer to Matt and Jag even during this experience.
Blue hopes they can be partners. "Is there any way I can prove to you that I will make a really good partner"
Bowie says she's all for keeping strong competitors in the game.
Blue says if she won HOH Felicia would be her target "She's played a good game and mentally she's really strong"
Bowie – She's super smart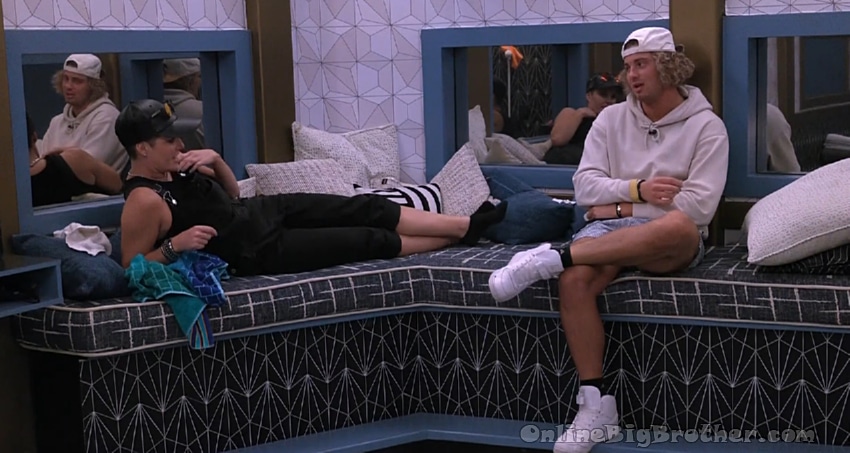 1:02 pm Bowie and Matt
Bowie – she's trying to suss out where I was at.. I'm like I'm on my own BLAH BLAH BLAH
Bowie – She said I love Matt and Jag but the reality is they are a pair and will save each other.
Bowie brings up how Blue started with wanting to take out the strong competitors then when she realized Bowie wasn't down for that flip and said she wants to work with the strong competitors.
Matt – she's all over the place.
Bowie – she was putting the bait out I wouldn't take it.
Matt says Blue told him if she wins HOH she's putting Bowie up
Bowie laughs "she said to me she would put Felicia up but really.. "
Matt – she's not going to tell you she's putting up me.
Bowie agrees.
Bowie – She's so dodgy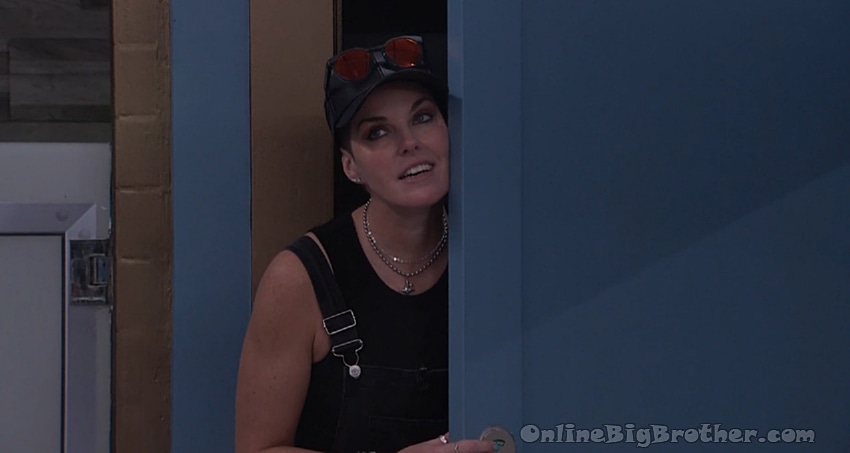 They think they hear someone coming so Bowie runs into the toilet.. false alarm.
Matt goes on about how Blue has to go she's the stronger threat in competitions.
Bowie says Blue leaving breaks up the Blue-Cirie pair "And Jag's 100% right?"
Matt – yeah
Bowie – he wants Blue out?
Matt – 100 percent, if we stay firm they will vote with us.
Bowie says it was hard having that conversation with Blue. She had to act Dumb.
Matt says Blue thinks she has Cirie and Felicia's vote so she's going to work on Bowie.
Bowie – when need Blue to start campaigning hard against America because next week the MOMMAs will want America out.
BOwie – she will have a lot of confidential information. (about America)
Bowie – I only trust you and Jag.
Matt – I don't want to deal with the campaigning I hate it.
Bowie thinks Blue is close to Felicia and Cirie.
Matt complains about the possibility of Blue campaigning against him and Jag and not America.
Bowie – she can't, she really needs the votes.
Matt – yeah .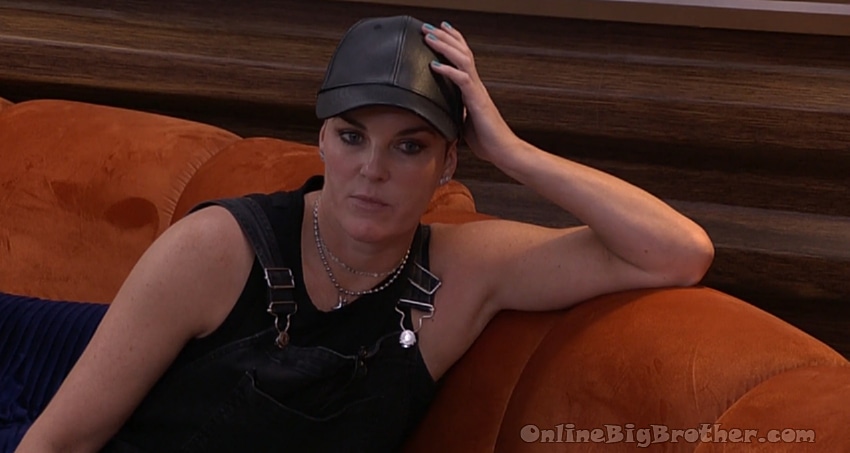 1:26 pm Bowie and Jag
Bowie tells Jag about her conversation with Blue today.
Bowie – the jist of it she wants to work with me she thinks we're both strong competitors there's pairs all over the house.. dah dah dah. Everyone will save each other and not her.
Jag – hmmmmmmm yeah….
Jag says Felicia is "obviously down to get out Blue"
Jag – Cirie from what she has told us is down. So everyone is kinda down but no one knows they are all down.
Bowie – Cirie is only down if the crowds down. Really she's working with Blue
Jag – exactly
Bowie says Blue has nothing on her.
Jag – she doesn't have anything on me and Matt either.
Jag says as long as it's not him and Matt on the block they have a "WAY better chance of surviving"
Bowie – WAY better
Jag – WAY BETTER
Jag – as long as the initial nominations is somebody outside of us up there.
They talk about having to survive the double by winning out and ensuring at the maximum only one of them on the block.
Bowie – Cirie was saying this morning.. Ohh Blue wants to protect the boys.. DAH DAH DAH DAH. I was like that's a weird thing to say.
Jag – Cirie wants Blue to stay so bad
Bowie – cause she's aligned with Blue
Jag – they're probably a final 2. they most definitely are at this point.
Bowie – yeah, you know what America said to me last night. we were talking about 7 deadly sins.. we were talking that Blue was aligned with Jard. It was Blue, Jared, Cirie in the final 3. The Jared leaves and it becomes Blue, Cirie and Matt.
Jag – I didn't know about that.
Bowie – Jared the night before he left came to me with Cirie and proposed.. they didn't say the words final three but they said the three of us.
Bowie – Cirie has been in on every single f***ing alliance in this house THAT is a concern
Jag – yeah.. Cirie is going to be saying sh1t she's not going to fight for Blue to stay. She's in a final 2 with Blue but she won't even stick up for Blue. She'll go behind and sell us out and try to plant seeds but she won't even stick up for Blue so it's like…
Jag – if she stuck up for Blue fully I would have at least respected that. you know what I mean.. it is what it is. Cirie knows that she can't stop the wave, Blue is going to be out.
Bowie – Blue's out
Bowie – she's also saying that America is faking that she's not trying to win. She's trying to imply that America is better than Blue
Jag – that's funny.. I'm glad you mentioned that. She mentioned that when the four of us were out there.
Jag explains that Cirie said that Bowie was mentioning that maybe Cory told America to throw all the competitions to win.
Bowie – She mentioned that and said Yeah I agree
Jag – she said you mentioned it.. Bowie jane mentioned what if America's been throwing it.
Bowie corrects him that Cirie told her.
Bowie – I said I agree. The fact that she flipped that
Jag – She's trying to cover herself AND the fact that we're talking about it shows she's really trying to protect Blue.
Bowie says she doesn't want to say it right now to America "Because America BLABS" but they should tell America that Cirie is pushing for Blue to stay.
Bowie – it's very sticky that because America can't keep a secret
Jag – that is true then America Would put up Cirie and Felicia
Jag – America won't BLab this week and if it's a doble she won't have time. It only matters if she blabs if Cirie is HOH.
Jag called into the Diary room.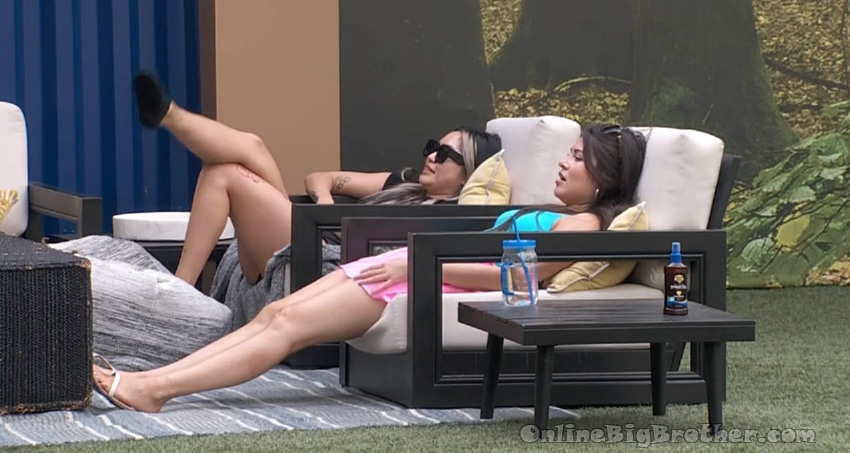 2:08 pm America and Blue outside chit chat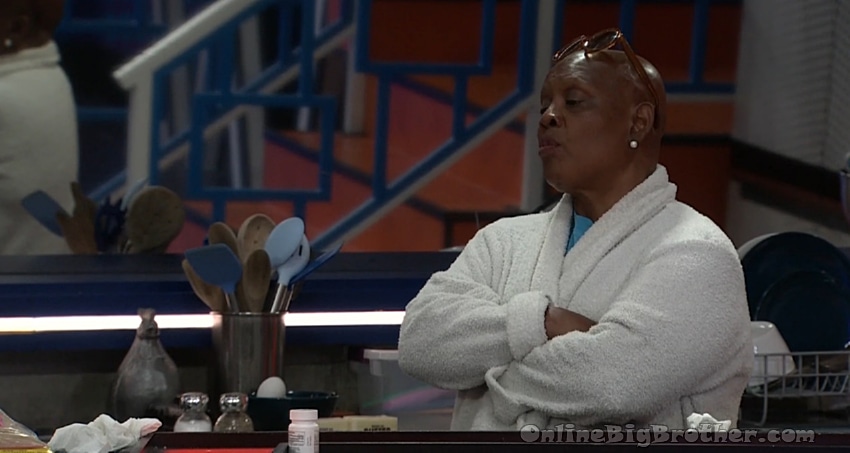 2:30 pm Felicia and Cirie
Felicia – I think they all want Blue
Cirie – there's no way she would be on the block if they didn't want her out. Now Matt is saying he's put her up twice she can't stay.
Cirie – I don't see why she can't see it.
Cirie – you are part of the plan not the plan you expected though.
Cirie – my only thing that scares me Now I look at it like them two. Me, You or Bowie Jane and America. Who … if I'm them. WHO do I want to take a chance and be with in a final that may be one of them slips through to the end. Now I have to sit next to them.
Cirie – Bowie Jane looks good to me cause nobody will vote for the mindless. (Ouch)
Cirie – America who rode Cory all the way look good to me cause ain't nobody going to vote for America. Then they have Felicia. Is anybody going to vote for Felicia? Mmmhmmmm maybe.. Cirie anybody going to vote for Cirie? MMmhmmmm Maybe more than bowie jane and America. So Bowie Jane and America look more attractive than we do. that's what scares me.
Felicia – how does saving Blue help us get to the final
Cirie – she will take the shot and America might not. that's all i'm thinking. Who's going to take a shot? For the same reason they want her out because they are afraid she'll take a shot and not miss. America ain't do sh1t.
Felicia – if that's the case we will be needing to take the shot ourselves I don't want somebody else to take the shot.
Cirie – I know I don't disagree.
Cirie – right now we're playing right into Jag's hand. Perfect for his game. Can't even deny.
Felicia – I'm thinking about what is the best move for me.
Cirie says it doesn't matter the vote is locked they won't change anyone's mind.
Felicia – we still have our vote. Out vote is our vote.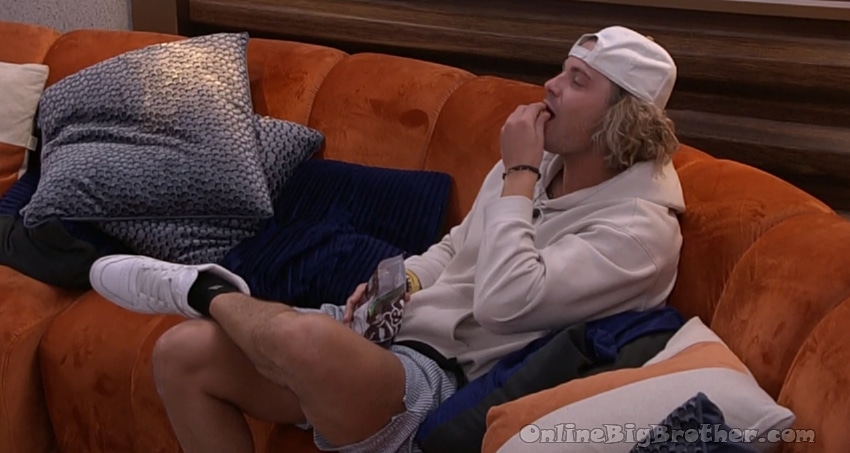 3:05 pm Matt and Jag
Comparing notes from their conversations today. Matt lays waste to the M&M bag,. They notice Blue coming up Jag runs to the bathroom.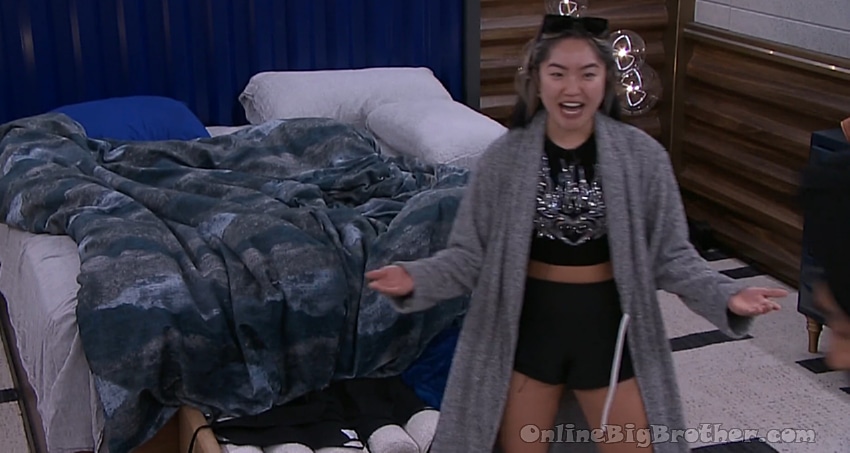 Blue – while I have you here I'll do my pitch.
Blue says during the double it's mental and America will win and come after them.
Blue asks if America has been campaigning.
Matt – she doesn't talk to me at all I think she knows I don't like her. Her Jokes suck. they're not funny
Jag – I think she'll campaign to you.
Matt – every vote counts she better.
They laugh and America coming to jag to ask him to use the veto.
Jag – I respect that as a game player.. I always said from the beginning you should advocate for yourself (What a slimeball)
Jag – why would i Do that?
Blue – why would you do that
Matt – you're dumb ass for call everyone's names out.
Matt impersonates Cirie and Felicia "I think you don't like America"
Matt – GOOD
Matt – they said 'you don't really laugh at he jokes'
Blue laughs
Jag – laugh at her jokes?
Matt – yeah.. well they suck. They're not funny
Matt talks about how america will tell a joke and he won't laugh. They she'll think he's not laughing because he didn't hear so she'll repeat it.
Matt- I repeated her joke and she's like… She thinks it's because I can't hear.
They laugh that America thought the reason Matt isn't laughing at her jokes is because he didn't hear.
jag – that's so fUNNY
Matt – i'm not going to be fake I don't care.. I'm not trying to be mean. I don't think they are funny..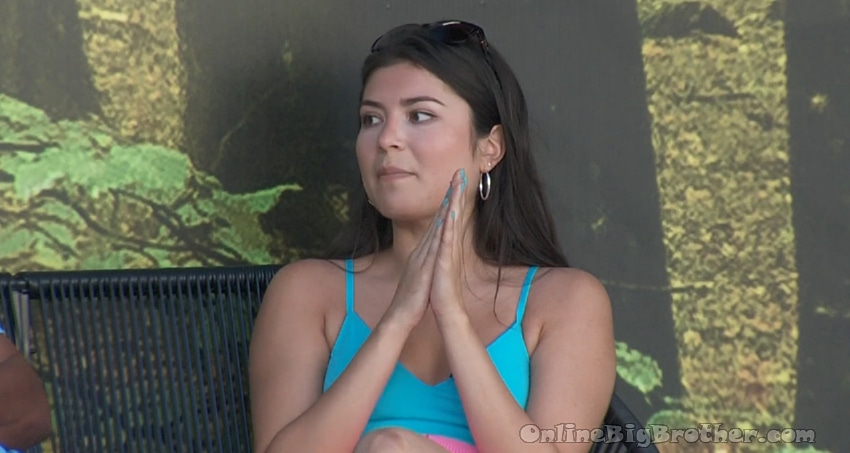 Feeds flip to America Campaigning to Felicia saying she doesn't see a path forward for any of them in this game with Matt/Jagg in it.
America – I will gladly be the person that puts them up and takes them out. I will be the shield.
America – they will take me out before Bowie. Bowie is someone they will take to final 3 and Bowie will be happy with that.
Felicia – she will be ecstatic with that.
Feeds cut then flip then flip again back to Matt, Jag and Blue chatting.
They start sh1ting on Cory and America (why not). They go on about COry and America playing the same game but Blue and Jared played their own game and were two independent players.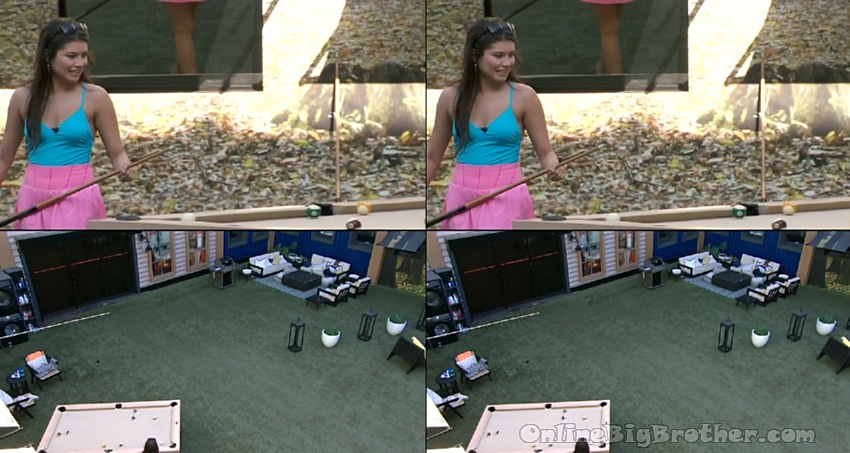 3:53 pm America playing pool alone.
4:05 pm Blue hanging out in the HOH. "campaigning"
Blue – You know I got you. If I get sent home I"m going to punch you before I leave..
Matt – I'm waiting for America to campaigning.
Jagg runs up tells them they're grilling they need to head downstairs'
Blue leaves.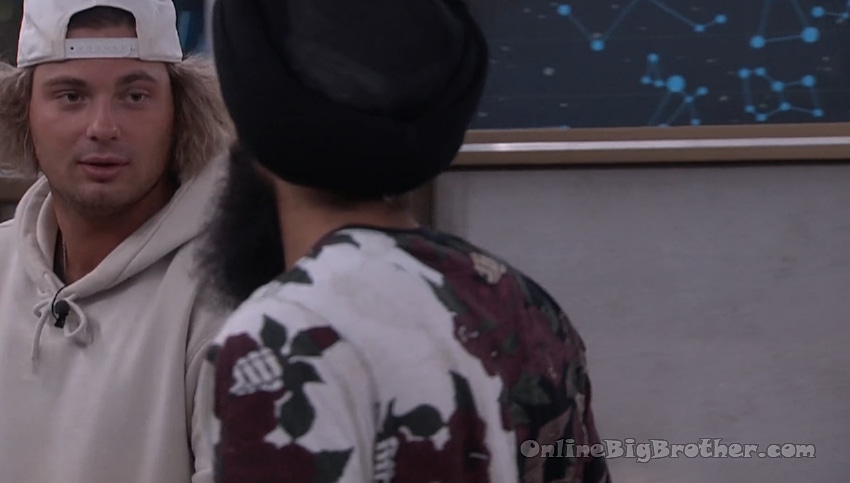 4:10 pm Jag and Matt
Matt – It could be fun I miss drunk grilling.
Jag – I want Bowie up here.
Matt – if they see us down with three beers
Jag – I want Bowie. I'm saving one for America for sure.
Matt – and one for Bowie.
Jag – One for you. So that's three.. I have 6. One for me obviously.
Matt – TWICE..
Jag – yeah you can have another one two. Get one right now.. you want to?
Matt – I'm down. The cider will be easier to drink
Matt – lets bring it down when we are grillin.. this is going to be good.. OHHH it's 5% too..
Jag tries it "That's good try this"
Matt – it's like a sour beer.. it's a cider YEAH..
Jag – I want to give one to America nad Bowie.
Matt – I can go down there and be like Jag wants to talk to you
jag – who? NAHHH that's so SUSS that's so suss
Matt – yeah
Matt – you want any more of the regular beer
Jag – naw kill it
Matt – kill it … you remind me of my college friends.. KILL IT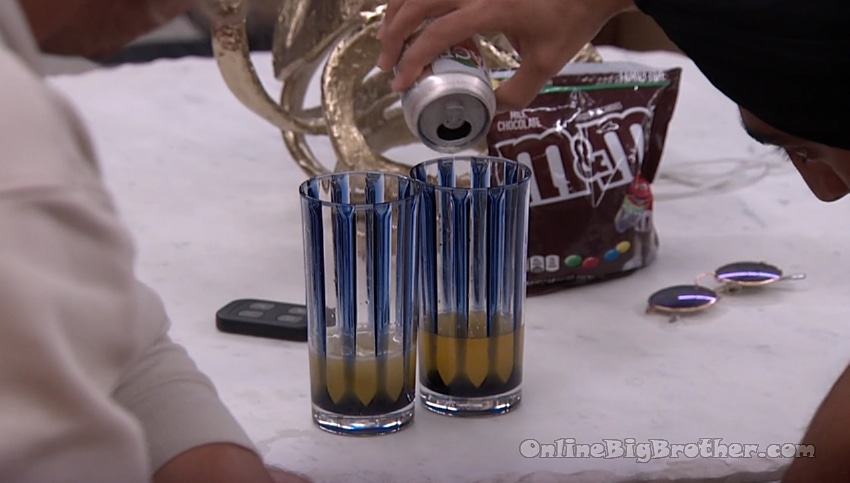 Jag pours more "now we'll have this next one… KILL IT"

they drink (But don't drink to the minute men.. hmmm)
4:30 pm
Felicia gets to making dinner.
4:33 pm America gets her drink
Matt – Cheers to surviving this week
America – it's monday y'all you better not ..
Jag – I'm tell you we're telling you are safe.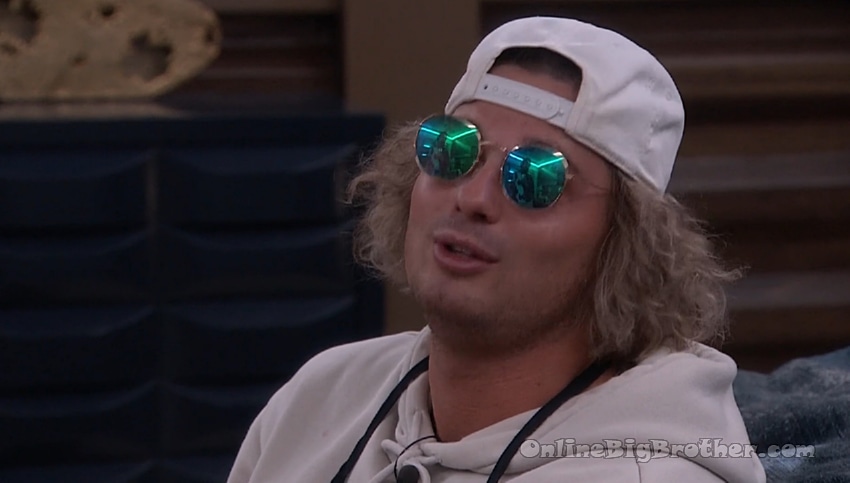 Matt – I'm drunk… the truth serum is out…
Matt goes on about he's keeping America.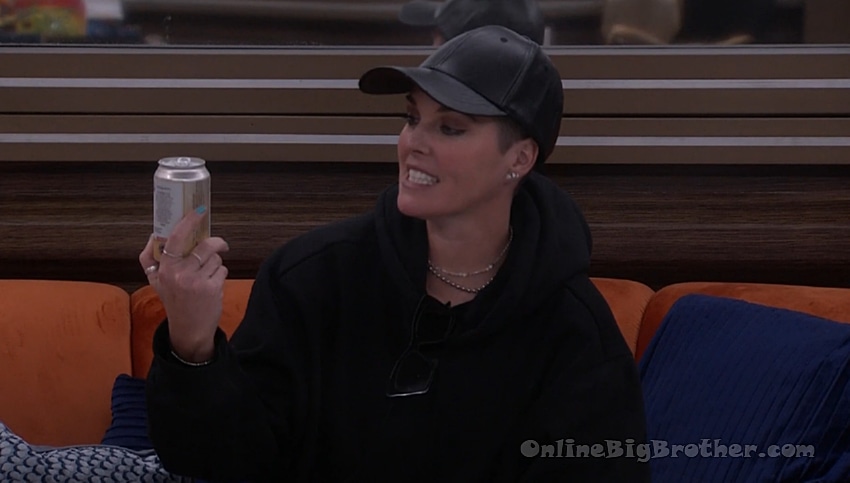 Bowie joins the party. Gets her drink
Jag – just the devil I was waiting for
Bowie likes the drink.
They have their drink and chit chat..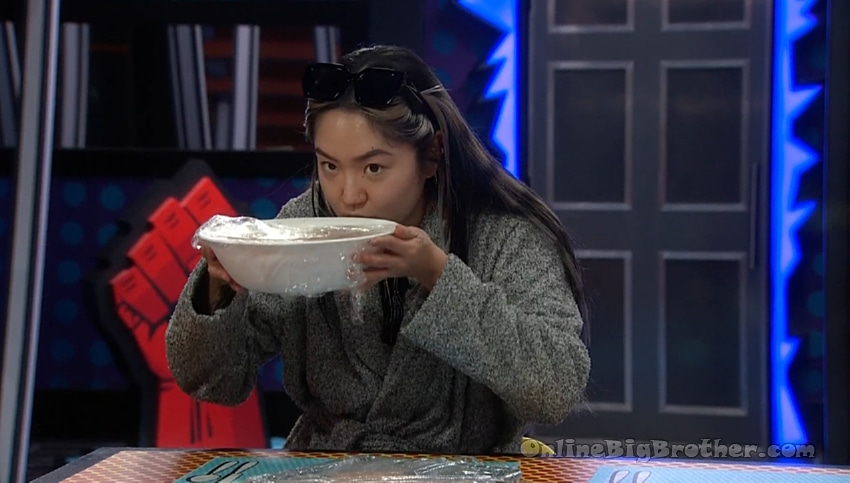 4:43 pm Blue appears to be a bit in panic mode.
Blue smells the raw chicken in marinade. "It smells good"
Cirie – try it
Blue – are you serious?
Cirie – the barbeque sauce.
Blue – I was smelling the raw chicken. I Was like Girl you of all people
Cirie – then that should not have been a question.. yoU should have known what I was talking but.
Blue – Umm… Just make sure you make Matt and Jag as comfortable as possible this week.
Cirie- absolutely
Blue – they are just feeling a little nervous about the whole eviction. AS we all are.
Cirie – mmmmmhmmmmm

5:40 pm we got grilling going on.
Blue – ohh they are looking so good
Cirie – they can't be done yet
Blue tells Matt to "Squirt more"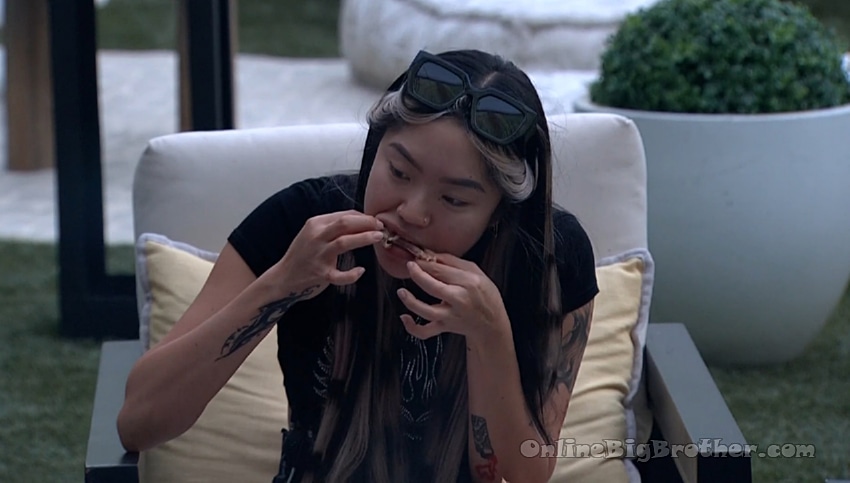 6:00 pm Blue get the taste the cooked Chicken.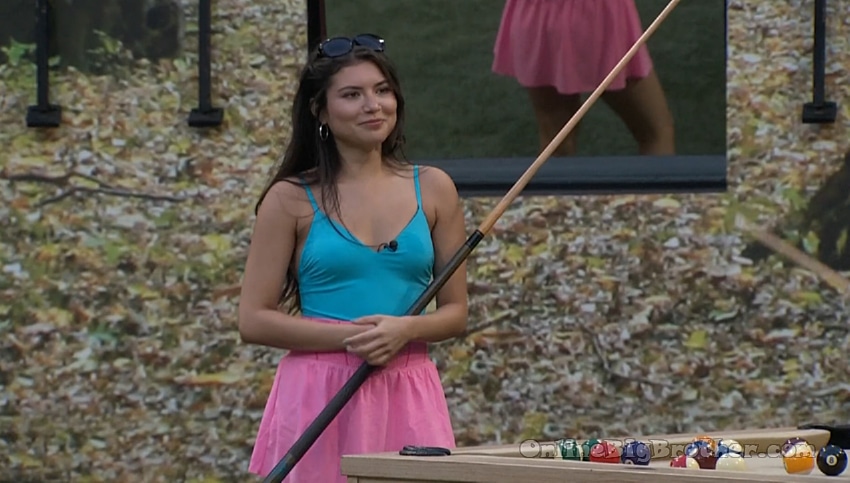 6:12 pm America plays against Jag in POol (America is extra bubbly)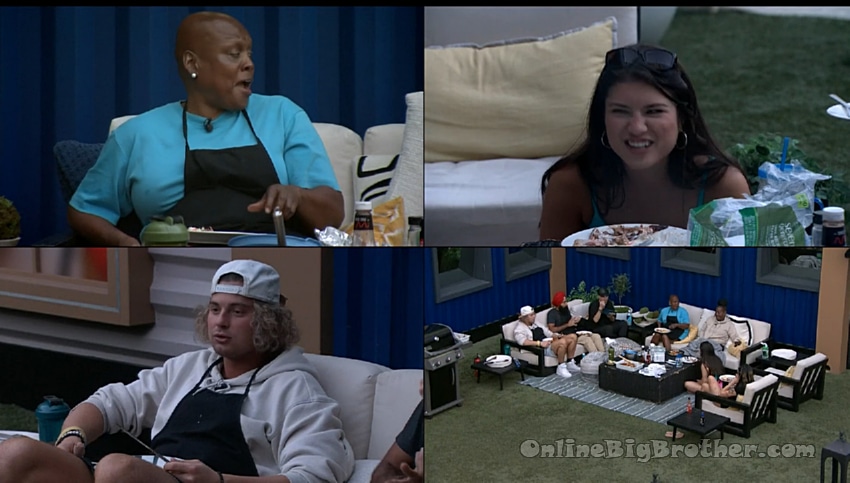 6:16 pm The BBQ Chicken isn't fully cooked.
Jag – is this good to have?
jag – I'm going to die now.
America – it's adds flavour I had all the red stuff
Jag – really?
Felicia – you should never see pink at the bone that's how you know it's not done.
They laugh that Jag got salmonella poisoning.
America shares a story about Cory cooking chicken for his girlfriend but it wasn't fully cooked. Cory ate all of it to prove it was cooked and he threw up all night.
Matt – yeah I remember this story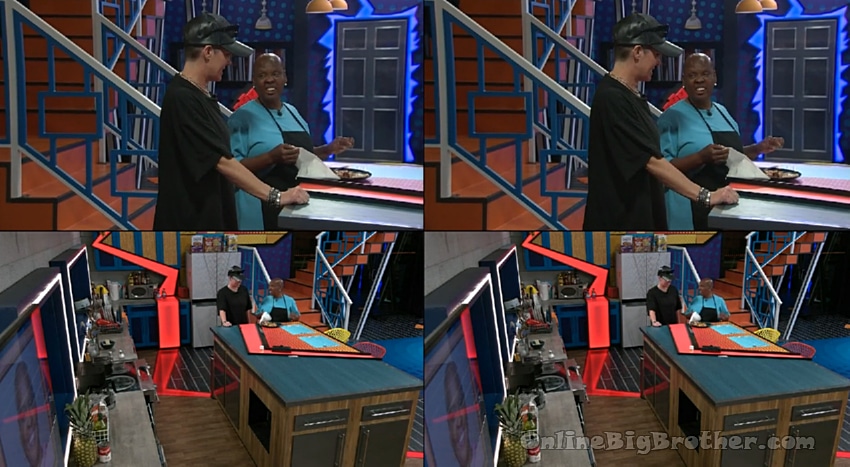 6:21 pm Felicia and Bowie
Felicia – See her meat wasn't done either
Bowie look 'Ohh that was is bad:
Fe – ahhhh huhhh
Bowie – I thought it was quick when it went on the girl
Fe – who took it off the girl
Bowie – Blue
Fe – it wasn't cooked. Chicken takes a long time you can't pull it off the girl like that. She hasn't Barbequed before
FE – you have to cook the chicken to the bone.. hers was clearly raw.
They look at some of the plates "She ate raw chicken"
Bowie – OHHH OHHH
Bowie – we might need a medic. we all ate raw chicken
Fe – from now on i'll be on the girl
Bowie agrees.
(Gross)
6:37 pm
Jag and Felicia mention it must be a double as the backyard is getting closed tonight. Felicia points out that Cirie is a threat in the Jury house. Matt is grilling as much food as he can.