POV Holder:
Shane
Next POV:
July 20 (Friday)
POV Used
No
POV Ceremony
July 15 (Sunday)
HOH Winner:
Willie
Next HOH:
July 19 (Thurs)
Original Nominations:
Frank and Kara
Current Nominations:
Frank and Kara
Have Nots /Slop
Danielle, Shane, Ashley, Ian
Coach Competition Winner
Boogie, Ian is safe
Next Coaches Competition
July 21 or 22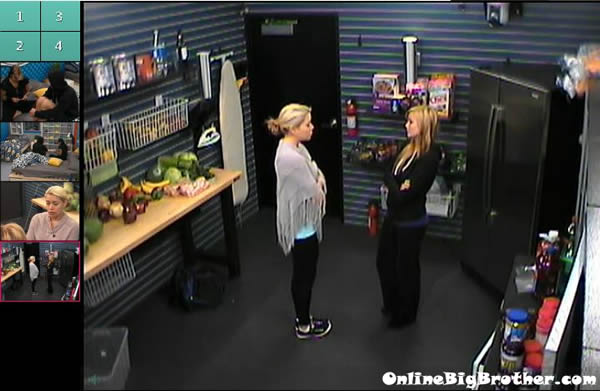 10:45am Willie, Kara, and Jojo are in the storage room talking. Kara tells them that Ashley said this morning that she doesn't know who she is voting for, when just last night she told me I have her vote. Jojo says that she is going start going crazy and start throwing sh*t. Willie asks Kara if Ashley told her she was safe yesterday. Kara says yeah and then now this morning she isn't sure. Willie talks about how last night he saw Wil hugging Ashley 100 times yesterday. Willie tells her not to give up …that its her life …usually the last person to talk to someone before the vote gets the vote.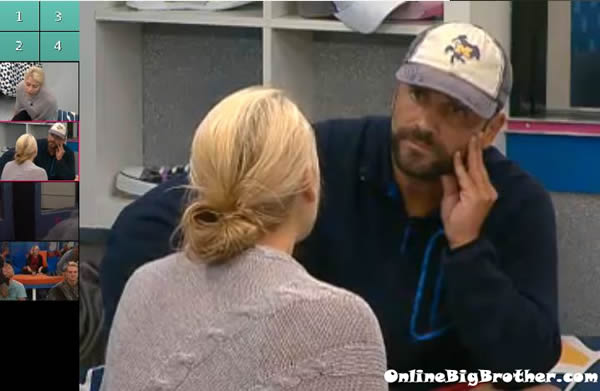 Sign-up for the Big Brother Live Feeds and get the MOBILE Feeds for FREE!
10:55am Willie confronts Ashley in the kicks room. Willie asks her if she is voting for Frank to stay. Ashley says that she doesn't know. Ashley says that Frank told me that you said that you had me eating out of the palm of your hands. Willie says that he is going to knock someone the fu*k out in a second. They are lying. Ashley says that Willie is taking Jojo to the final two. Willie says that he isn't, he never gave her a final two deal. Ashley says that she is mad at Willie for leaking that they were working together. Willie tells Ashley that if you don't vote out Frank, then this is over for you …you will not win this game. Ashley says if you say that …that is really sh*tty. Ashley says that she is the fourth person … you are with JoJo, Shane and Britney and I am the odd person out. Willie tells her that he only wants to go to the final two with her. Ashley says so if I ask Jojo right now she isn't going to say you have a final two deal with us. Willie says that if she does this …this is a slap in the face. Ashley keeps bringing up things that people have said. Willie keeps telling her that they are lying. Kara comes in and she has her back. Ashley says that its all too much right now and goes to leave. Willie hugs her. Ashley leaves the room. Willie tells Kara that Ashley is brainwashed. They talk about how Wil is Kara's best friend and he is voting her out. Ashley says that she is sad. Willie says that he is sad too. All these people are two faced lying wh*res. I should piss in his bed. Kara says yeah. They end the conversation and leave the room.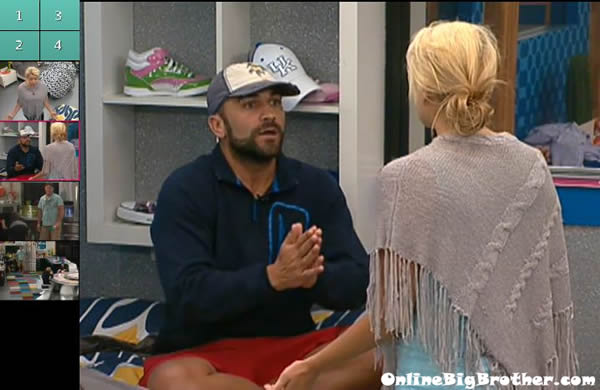 11:10am Britney talks to Willie and tells her that everyone is still spreading lies about me. Willie tries to get into the storage room but they don't unlock the door fast enough. Willie says open this fu*king door. Britney tells him to stop being so hostile. Willie tells everything that he talked to Ashley about. Britney tells him to calm down and be quiet. Willie says I am going to be the first person to knock someone out in this house. Britney tells him to chill out. You can't be hostile with people, you need to calm down. Britney tells him that he is going to get voted out of this game. Wilie says that he is going to get kicked out in a minute. Britney tells him that this is a game, people can lie about anything and anyone …it's a game.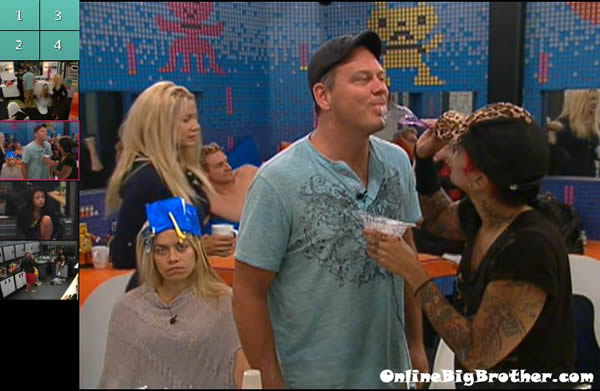 11:25am Joe and Kara are talking in the arcade room. Joe tells Kara all the reasons why he wants Willie out. Joe says that Frank was up front with me and helped me out Willie for lying to everyone. Joe tells Kara that he thinks she is staying here at this point. Kara says she doesn't think so .. Joe says that he thinks it will be a 4 – 4 vote and Willie will be the deciding vote. Joe says that Kara has Ashley. Kara says no I don't think so I she won't tell me how she's voting. Joe says that she won't tell me either. Joe says that he has no ill will against her ..that he does against Willie though. Joe says that he hates bullies. Joe tells her to try and get it across to people in the next 7 hours that you are not with Willie and that you will put him up. Kara says that she has said that, I will put him up. Kara talks about how Wil won't vote for her. Joe says that Wil told him he was going to vote how the majority votes because that's what he heard keeps you in the game the first 4 weeks. Joe talks about how much of a bully Willie is, he is a dictator that tries to dictate what happens in this house.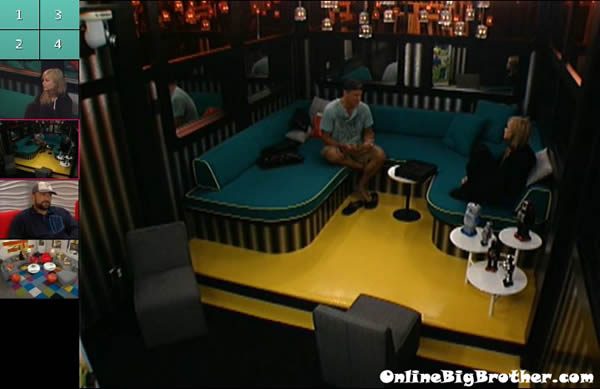 Re-Watch ALL THE DRAMA on FlashBack: Big Brother 14 Live Feeds – 3 Day Trial!

Joe and Jojo talk in the arcade room. Joe says that he doesn't trust Willie at all. Jojo says that just a few days ago you were with us. Joe joe tells her that they have caught Willie in 7 solid lies. Joe says no one wants to be forced to play by Willie's rules. JoJo says keeping Frank is a mistake. Joe asks Jojo if she is voting Frank out. Jojo says I don't know. Then she says that keeping Frank is a big mistake. Jojo says I know you will want to get Frank out because he is a big threat and will be coming after you. Joe agrees that he will need to get Frank out later in the game because he is a big threat to me. Jojo asks Joe if he is voting out Kara. Joe says yes. Jojo says I hope that comes back to bite you in the a$$. Jojo tells him all about how Janelle is playing them and how this is your game don't let her ruin it for you.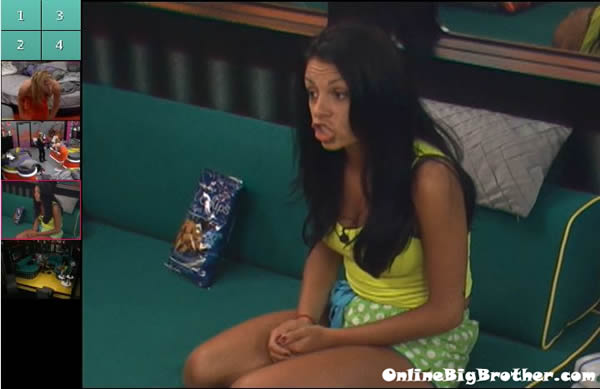 11:50am
Jojo then goes up to the HOH room and tells Willie and Shane all about her conversation. Big Brother then cuts the feeds to TRIVIA. When the feeds come back all the house guests head up to the HOH room.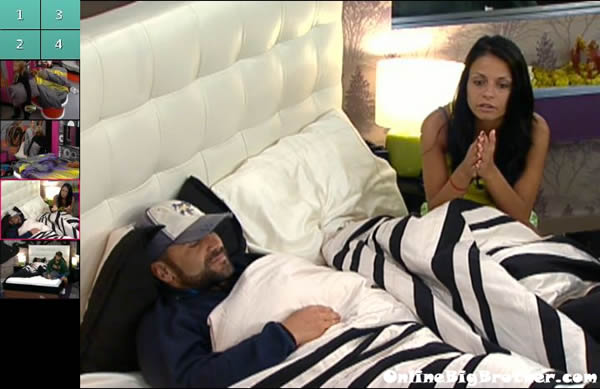 12:10pm
Ashley, Britney and Janelle are in the HOH room talking about random things and getting ready. The others are in the HOH bedroom trying to sleep or talking about random stuff.
12:50pm The House Guests are still on an HOH lockdown.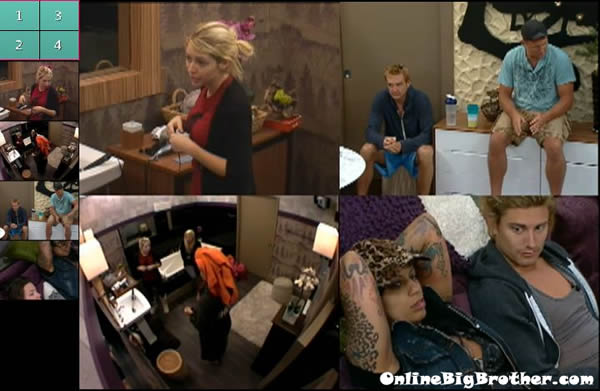 Share it YO!
Tweet