POV Holder:
Shane
Next POV:
July 20 (Friday)
POV Used
No
POV Ceremony
July 15 (Sunday)
HOH Winner:
Willie
Next HOH:
July 19 (Thurs)
Original Nominations:
Frank and Kara
Current Nominations:
Frank and Kara
Have Nots /Slop
Danielle, Shane, Ashley, Ian
Coach Competition Winner
Boogie, Ian is safe
Next Coaches Competition
July 21 or 22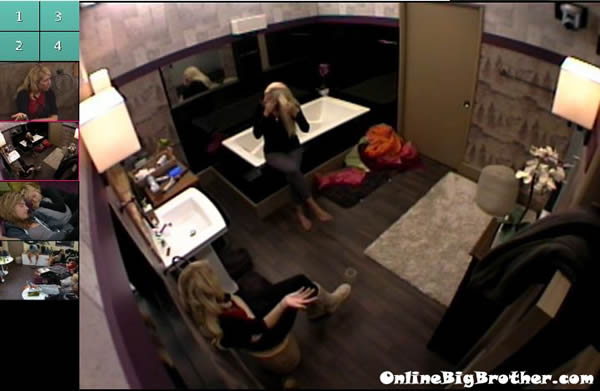 1:10pm Janelle and Britney are talking in the HOH bathroom. Britney says that she is a little worried about next week but that she can only lose one team member. She says that she is trying to keep a positive attitude about it. Britney tells Janelle that Willie is really emotional and that she tried to tell him to calm down. She says that he goes crazy the moment he hears someone saying something about him. Janelle agrees. Janelle says that she doesn't think any of the coaches have control over their players. Boogie comes into the bathroom to pee. Britney and Janelle tell him that he is the third person they have listened to pee. Britney jokes that the next competition will be determining each other by how they pee. Boogie stays in the bathroom after and they discuss how the have-nots will be picked. Britney asks if the coaches are still in a no slop alliance. Boogie asks what if we were included in being picked as have-nots. Britney says yeah. Boogie says oh yeah. Big Brother keeps cutting the feeds in and out.
Watch what happens, AS it happens: Big Brother 14 Live Feeds!
Subscribe today for your FREE 3 DAY TRIAL!
1:40pm Britney, Janelle and Boogie continue to talk. Boogie is asking Janelle and Britney questions about them changing their last names. Britney says that she legally changed her last name but still has something's as Haynes for the show. She says that she didn't announce it but that some of the psychos figured it out. Britney then talks about how she meet her husband Ryan. Big Brother then ends the HOH lock down. All the house guests head down stairs.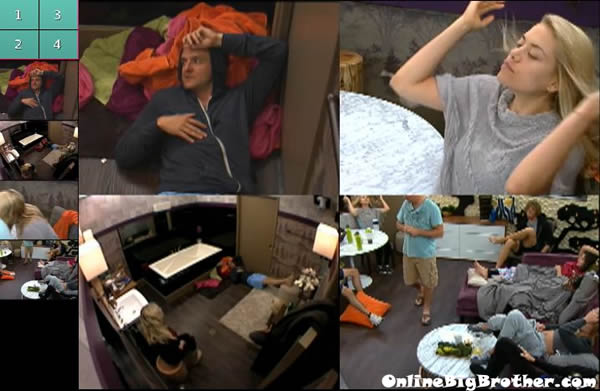 In the arcade room, Janelle and Joe are talking about the votes. Joe says that he told Dan that he wouldn't forget it if he could get Danielle to vote for Kara to be evicted so that it would come back as a 6-2 vote. He says that he really wants to scare the living crap out of Willie and make him think that one of his people turned on him. Joe says that he would then owe Dan and Danielle in the future which would help both of their games. Joe says that it never hurts to try and have one extra vote just because you never know what will happen in this house. Meanwhile in the kicks room, Dan tells Mike that he hopes Danielle wins tonight. Mike says yeah obviously. Mike says that he is going after Willie, Shane and Jojo.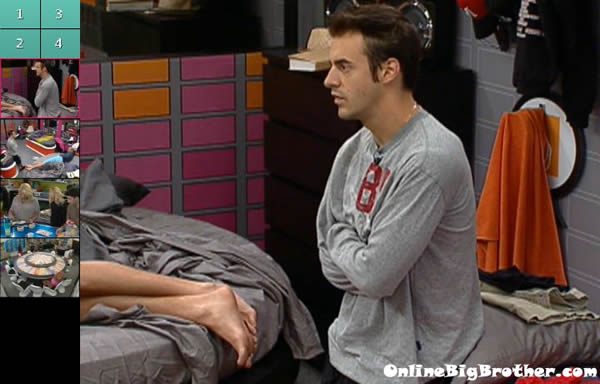 1:50pm – 2pm
Danielle and Dan go to the arcade room to talk. Dan asks her Dan tells Danielle that no way can she vote out Kara. He says right now it is not looking good at all. Any chance we had will go out the window if you voted her out. You have to throw HOH. Dan tells her that Mike is going after the three upstairs. Dan tells her that you don't want to be in the position to pick two people. Danielle says that she will just throw the competition and guess wrong. Dan tells her that Joe is nervous because he doesn't know for sure what is happening. Danielle asks about if she voted Kara out. Dan says don't even consider it because you would look like a rat if you voted out your own team mate. Dan tells her to not talk to anyone …just stay away. Don't tell them no, don't tell them yes. Danielle says that he and her will need to talk again after the HOH competition. Dan tells her that he hopes she doesn't feel like he has been ignoring her. Danielle asks Dan at what point he started winning stuff. He tells her it was about week 6. Dan tells her that it sucks because this competition would be one that she would be a favourite to win. Danielle says oh yeah I know it all. Dan tells her not to go out on the first question either, because that would look suspicious. Danielle says that she will go out on a question that would be easy to mess up.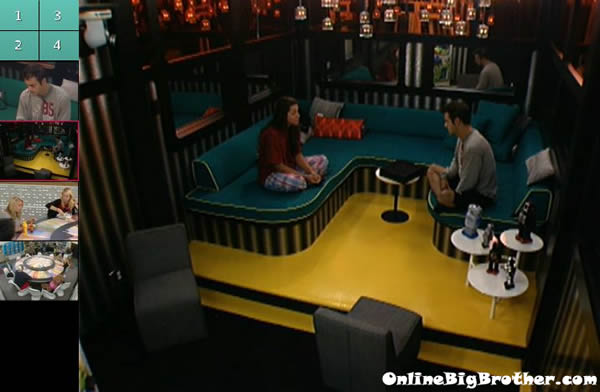 2:10pm All the house guests are getting ready for the live show. Frank is packing, while other are eating and getting all dressed up. Joe comes into the kicks room and tells Frank about how he is trying to get Danielle to vote out Kara. Frank says that would awesome if it was a 6-2 vote. Joe leaves and Frank tells him he appreciates it.
2:30pm Storage room. Britney tells Frank in the storage room that she thinks he has a really good attitude. Franks says yeah, you got too. Willie comes into the storage room and starts complaining about not being able to shave. He says fu*ck the DR, fuck a lot of people in this house! Britney and Willie leave the storage room and she tells him twice to relax. Britney walks by Willie again while he is ironing and she says seriously you need to get it together.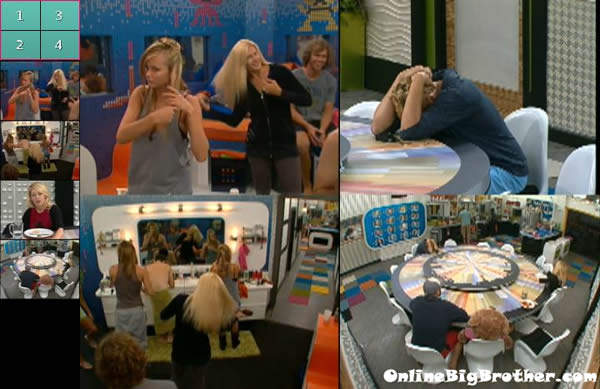 2:39pm Big Brother quickly cuts the live feeds to TRIVIA and then to Julie Chen.


Joe tells Wil that Dan asked him to tell Kara that she is being voted out. Joe just asked Wil if he would tell Kara that she is the one that they are voting out, he says that they don`t want her to be blindsided. Wil says that he will talk to her and let her know. Ian is in the kicks room with Ashley and Joe. Ian is helping Joe study the lines from they heard about the burglar last night.
In this footage the thief proves that milk and crime has no expiration date.
This footage proves that our thief is a shoe in for jail time.
Bad news looks like our cat burglar has found the litter box.
New for this criminal there is no tea time in the big house.
This footage is sure to be check mate for this soon to be inmate. White pawn, white rook, white knight.
Now that`s what I call a smooth criminal.
Ian couldn`t remember the last one when the burglar was leaving.
3pm – 3:10pm Wil tells Kara that she is the one being voted out. Kara asks him so you aren`t going to vote for me? Wil says no because then I would be the target. Kara says you cant even give me your vote, because then it would be a tie. Wil says no because then I would be the scape goat. I am fu*ked if I go the other way. I will be targeted Jenn, Ian, Joe… Dan joins them and tells him that they won't know it was you that voted to save her. Wil says that he just can't go against his team. You can hold it against me, I understand …there is nothing I can do. Kara says well frank is going to win the whole game. Why do we have to do this, I don't want to even get ready… just let me go home.. Dan says so ultimately you can trust Frank more than her. Wil says that he feels like he can trust Jenn and Joe. Wil says that he is sorry.. all I can say is how sorry I am. Kara says I thought you were my friend. Wil says that he always gets blinded by friendships outside the house and that he came in here to play his own game.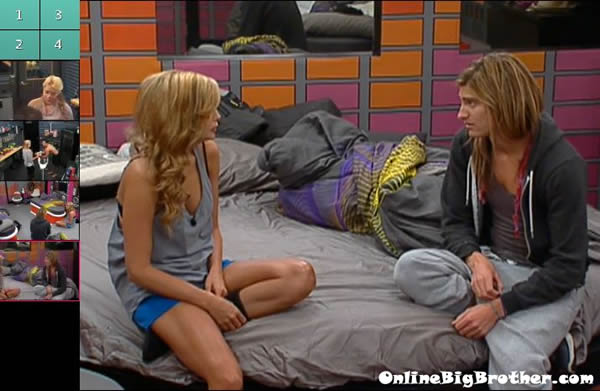 3:15pm Big Brother switches the feeds to TRIVIA…

Share it YO!
Tweet