POV Holder:
Shane
Next POV:
July 20 (Friday)
POV Used
No
POV Ceremony
July 15 (Sunday)
HOH Winner:
Willie
Next HOH:
July 19 (Thurs)
Original Nominations:
Frank and Kara
Current Nominations:
Frank and Kara
Have Nots /Slop
Danielle, Shane, Ashley, Ian
Coach Competition Winner
Boogie, Ian is safe
Next Coaches Competition
July 21 or 22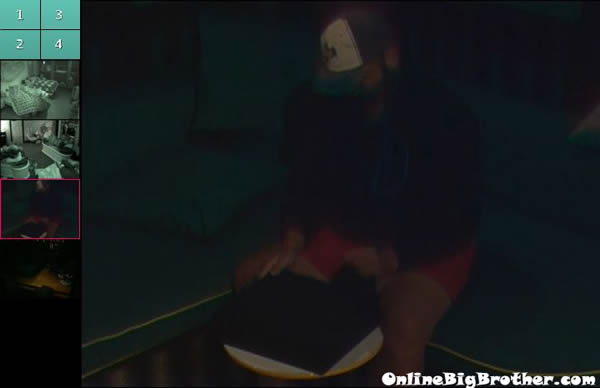 7:50am Big Brother cuts the live feeds. When they come back, Britney and Jojo head down stairs. Willie collects the rest of his things and heads down as well. Britney and Jojo get into Mike's bed and go back to sleep. Willie plays the game in the arcade room for a bit and eventually takes Mike's spot in his bed when he gets up.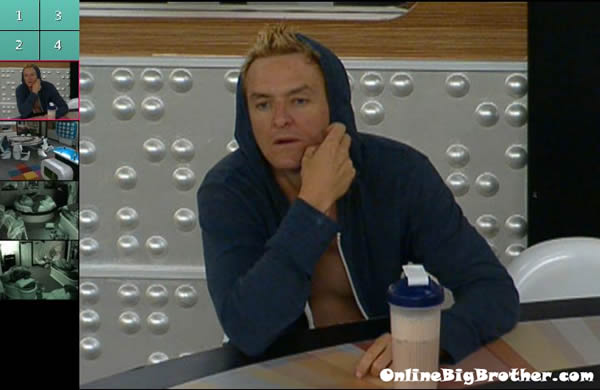 9:15am – 9:40am Mike sits at the kitchen table doing his routine talk with the live feeds. Mike says big day today, I hope you have enjoyed this on the live feeds this week this has been quite the week one. Things are most likely very interesting in here tonight and I mean that in a good way. I think my man Ian is about to step into the spot light. As you may have seen the protégé the kid has a photographic memory. Whether or not he can summon his powers in a clutch we will see, tune in tonight to find out. I just have to not put too much pressure on him today. I guarantee Jojo isn't known for her memory skills. Boogie then hears voices talking and gets up to go take a look. He gets closer to the living room and can tell that it's Frank and someone else.
Watch what happens, AS it happens: Big Brother 14 Live Feeds!
Subscribe today for your FREE 3 DAY TRIAL!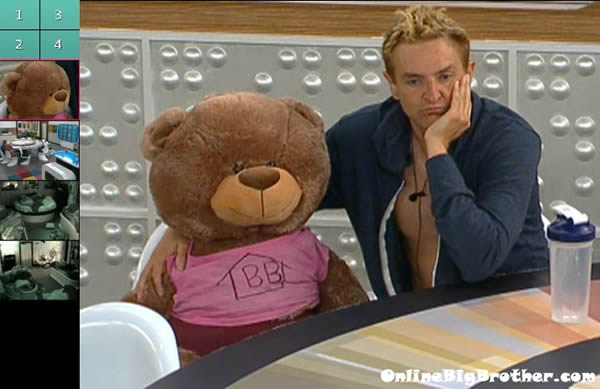 9:50am
Mike grabs ted the stuffed bear and starts talking to him. He says that Ted is in a good place he is the strong silent type. Mike says let's think ahead a little bit one of our 6 people wins HOH, we nominate Shane and Joe. He says that the chances of Jojo getting picked for POV and the chances for winning it are slim to none. Mike says that it would be nice to have one of Janelle's players win HOH and get the blood on their hands. Or have Frank win and kick out Willie. There is also the option of having Ian win and kick out the bully. Mike says that it sucks that we have to evict the hottest chick the second eviction. It sucks but she is up against our man Frank. He says that she lives in California and they will hang out after this is done. Mike says that he likes the girl next door type. He comments on how ted likes the asians. He says that he might just bring up how he thinks Kara lives at the Playboy mansion. He says that she was quite evasive when answering questions. He says that it will suck to have her leave because she was a great pool side view. Mike comments on how Jenn was a great pick because she is flying under the radar. He says that Janelle's last pick was good too, Joe is coming around and the best thing is, he is going after Willie and the gang.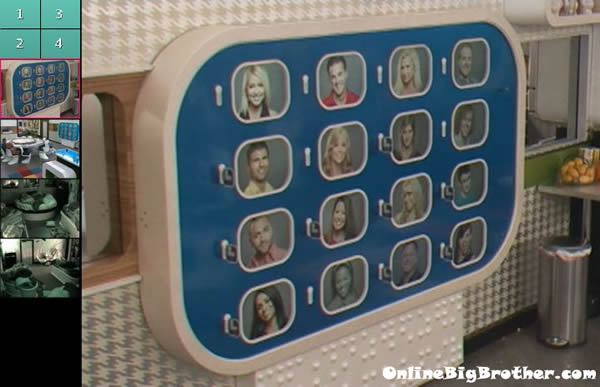 10:15am
Mike goes and talks to Janelle and Jenn in the kicks room. He tells them that he has been up talking to ted, he's been waiting for people to wake up for someone to talk to. Mike leaves the room and runs into Joe. He tells Joe that he is planting the seeds for socialization. Mike asks Ian how he feels about the messages last night. Ian says good. He says that after a while they just started replaying the messages.
In the Kick's room Frank tells Jenn that he is sorry for farting on her last night. Jenn says its fine, it was just really disrespectful. Mike comes in and apologizes to Jenn about not getting up in the middle of the night to listen to the messages. He says that after a while he was dreaming about them and thinking he was getting up. Jenn says it just sucked that the other coaches were there to help the others study. I just felt like you thought Ian was there so it didn't matter. Big Brother cuts the feeds. When they come back, Jenn and Frank are talking alone. Jenn says that she appreciates that Mike apologized to her. Frank gets down on his knees and apologizes to her. She tells him its fine it was just a number of events last night that made her mad. They talk about how they hope Ian win HOH and keeps the blood off their hands. Jenn wonders if Ian might be a wild card and not listen. She says that she is going to try and win it.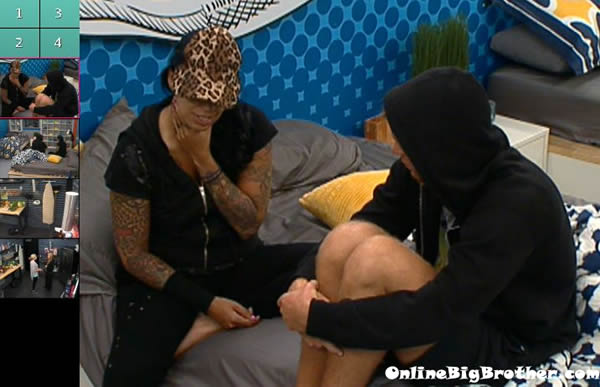 10:40am In the storage room, Ashley and Kara are talking. Kara is tells Ashley that she really needs her vote and that she gave her, her word that she would. They won't be mad at you, they won't even know it was you. Ashley says that she is mad at Willie because he caused this big up roar. Kara says that she is upset that Wil is her friend but won't vote for her. Ashley keeps saying that it sucks, and that she needs to talk to Wil to find out why his is so wishy washy. Kara starts crying saying that she knows she is going home. Kara says at some point Frank has to put up Wil and Joe. Kara says just think about yourself what is going to get you further in the game …is Frank …no he only looks out for himself. Ashley says that she just doesn't know ..she doesn't trust Shane or Willie. Kara says everyone loves you, your team isn't going to mad at you … I have your back 100%. Ashley says that she is going to talk to Wil.. I shouldn't even be in this position you and Wil are best friends. Kara says will you talk to him and then talk to me. Ashley says okay. They both leave the storage room.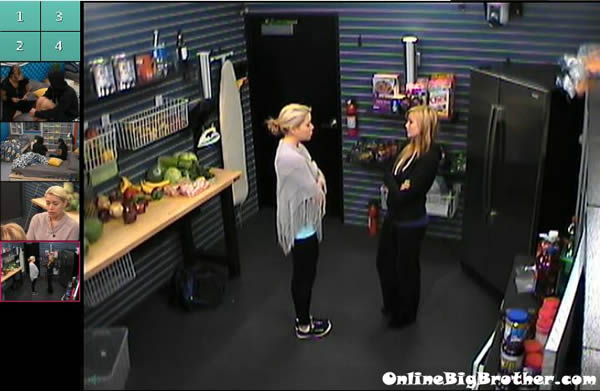 10am – 10:15am Big Brother cuts the live feeds to wake up the house guests.

Share it YO!!
Tweet