POV Holder:
Shane
Next POV:
July 20 (Friday)
POV Used
No
POV Ceremony
July 15 (Sunday)
HOH Winner:
Willie
Next HOH:
July 19 (Thurs)
Original Nominations:
Frank and Kara
Current Nominations:
Frank and Kara
Have Nots /Slop
Danielle, Shane, Ashley, Ian
Coach Competition Winner
Boogie, Ian is safe
Next Coaches Competition
July 21 or 22
12:50pm Up in the HOH room, Jojo, Shane, Ashley and Willie are talking. Ashley says that she doesn't trust Janelle. She says that Wil told her he is voting out Kara. Willie says that we have to get out Frank. Willie tells Ashley to vote Frank out, no one will know who votes for who. Ashley says that right now I am playing both sides and I don't want to do that. Willie says the ain't going to think you did it, they will think Wil did it. They talk about how Janelle was working with us, then Dan and now she is trying to work with Mike. Ashley says that she doesn't want you guys to think I am playing both sides. They all agree that they don't. Ashley says that you guys are the only ones that care about me. Willie says that they aren't going to know who voted Frank out. They won't know who it was, it could be Ian, Wil or Jenn. Jojo says there is no way they will know. Ashley says that she doesn't trust Joe at all! They say that last night he was really happy. Ashley says yeah get that shit eating grin off your face. Willie says I understand your situation do what you're doing, you are nessessary to this alliance. Ashley says Frank hasn't even said one word to me. Willie says watch about 30 minutes before the live show Mike will sprint to you or Jojo …a weak player … well not a weak player but a girl… and try and threaten you or convince you to vote Kara out. Just don't let him sway you. Shane says just tell them you are voting Kara out …tell them whatever you need to tell them.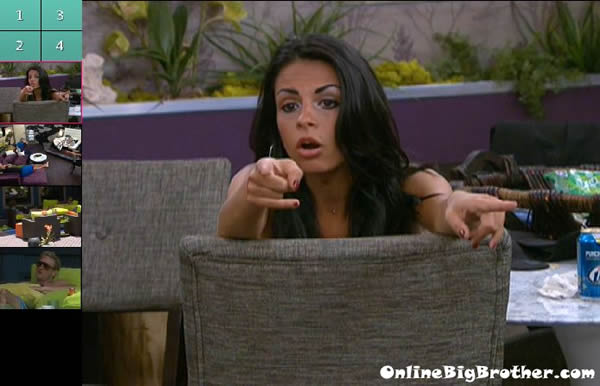 1:30pm
Ashley says that Joe told me if they see me up hear I am dead to them. They tell her not to worry he is in the pool now. Willie says that we will be good next week if we win. Shane says we just can't let Ian, Joe, or Jenn win. They talk about how they think Frank is good, but he ain't. They all all talk about wanting to redo their goodbye messages. Jojo says "you thought you were good, but you're a$$ is gone!" Ashley says that she can't even talk to Joe, he is a trouble maker. Willie says we just got to stick to the game plan. Frank blew up yesterday and what I did was a mistake. Willie says that if the coaches do come in she will join us. Willie says you know how hard it is to trust people in this game, but I trust everyone of you. Ashley, Jojo and Shane agree and say that they trust each other too. They talk about how they have been together since day one. Ashley says if the coaches do come into the game we vote everyone of them out. They talk about how they gave Frank 2 chances and he screwed himself. Willie says we got 40% of the people in this house, and they have 60% for 3 groups. Willie asks Shane if they need to worry about Danielle. Shane says no, I got that. Willie says that he is going to lay back the next couple days. Willie thinks they may need to go get rid of Wil. They agree that if anyone says anything just come to us and ask us. Willie says that if we have to add someone to this group, they aren't really a part of the group we will get need of them when we need too. Ashley says that Wil brought up a good point with Janelle, why would you leave your 7 month old baby just for $70 grand after taxes .. she is here for the $500,000. Her husband owns a company, she doesn't need the $70 grand. Ashley says hopefully there is a double eviction when the coaches come in so that we can evict their a$$es. Two of them won the $500,000 already. They talk about what their alliance name should be, "the untouchables". Jojo jokes that Joe looking at her so much …you can't touch this! Willie says that he made a mistake not believing people telling him not to trust Frank. They break up the conversation and head downstairs.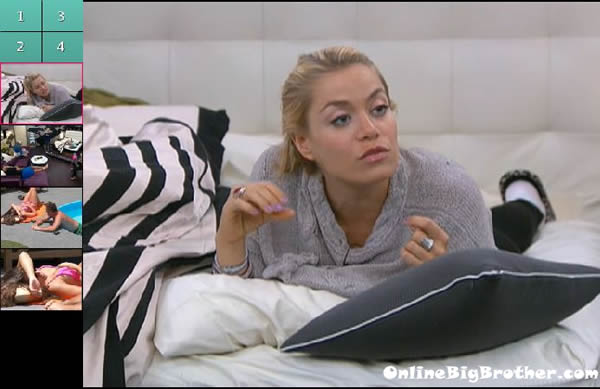 1:35pm Britney and Danielle are laying out by the pool talking about ex-boyfriends.
2:05pm Meanwhile in the kicks room, Kara and Frank are talking about the votes. Kara asks Frank if he know what going to happen. Frank says no. He tells her that he isn't even campaigning against her, he is just campaigning for votes. Joe joins them. Kara leaves to go shower. Frank says that he is a little worried about Ashley, she has been spending a lot of time up there. Joe says what if she didn't vote our way. Frank says it would be a 4-4 vote… and Willie would make the decision. Joe says FU*K! Frank says that he told Janelle and she is going to keep her away from Willie today. Joe says that he will talk to her too. Frank wonders if he should sit down with her and get to know her more …because Willie has spent way more time with her. Joe says if she goes the other way she is dead! She is basically cashing her ticket out of this house. I don't want to have to say that to her but maybe I will have to tell her that as an intimidation factor. Joe says that he just doesn't want Ashley upstairs and if she went up there after our meeting ..that scares me. Frank says well maybe she was just try to hide it. Joe says but I told her not to go up there any more. Frank says well Janelle is gonna work on her and I think she listens to her. Joe says that he thinks Ashley is just too scared to tell them .. remember she said she was too scared to collect money from clients ..that tells me her personality.. (Big Brother cut the feeds)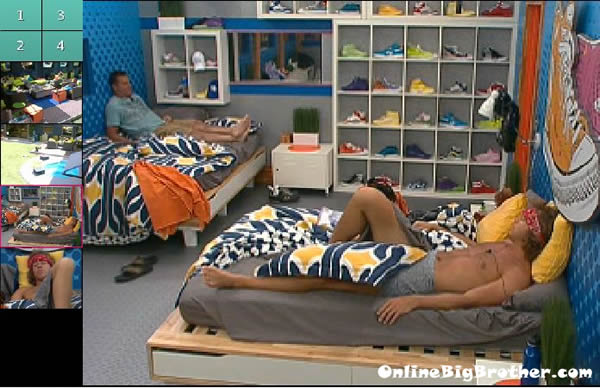 The house guests get put on an indoor lock down. In the arcade room, Joe, Wil and Jenn are talking. Joe is concerned about Ashley being upstairs. Wil says don't worry about it she is good with us, she is just working it. Joe says good because we are screwed if she screws us. Jenn comment on how she got some bad news from the diary room. Kara asks her if everything is okay at home. Jenn says yeah, I am just losing out on a lot being in here. I just hope things work out well at the end and I win.
2:35pm In the kitchen, Danielle talks about how her 21 year old brother takes a shower in the dark. They all tell her that he is playing with himself. Daneille says EWWW GROSS! Jojo says oh don't act like you've never done that in the shower. Danielle says she hasn't. Jojo says yeah right like the shower head or a vibrator.
Joe and Frank are in the kicks room talking. Frank says that he doesn't see Britney winning a coaches challenge. Joe says you never know, it could be Q&A. Dan come in and the conversation ends. Joe then tells Frank to continue. Frank says if Dan wins coaches challenge then we put up Shane and Willie. Dan smiles. They ask Dan if they are up on the block they can't vote right. Dan says yeah.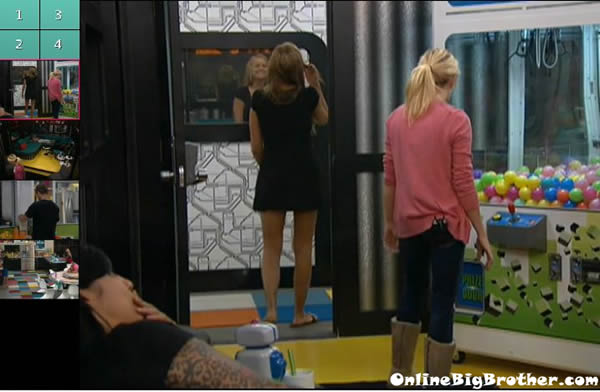 2:45pm – 3pm Back in the arcade room, Britney and Kara are looking at the carnival game. They mention that the lights are no longer flashing. Kara says maybe there will be something in one of the balls and we try and get it. Kara and Danielle are now doing their hair and make-up in the bathroom. The others are napping and making food in the kitchen. Ian and Ashley are in the have-not room talking. Ian says that he is looking out for her. He tells her not to worry about the meeting this morning, we should just play along with it. We are in good with both sides. Ashley says I keep getting confused because it keeps changing who we are voting out. I am voting to keep Frank. Ashley tells Ian that Joe needs to calm the fu*k down.
Watch what happens, AS it happens: Big Brother 14 Live Feeds! Subscribe today for your FREE 3 DAY TRIAL!
3:30pm Bedroom Boogie and Frank
highlights of the conversation
Boogie explains to Frank that he's thinking Ashley is siding with wil, Boogie heard wil says there will be a big surprise this Thursday. Frank isn't sure
Boogie: "I f*cking hate this B!tch she wants to get down this summer" (Talking about Janelle)
3:45pm Cam 3-4 Arcade room Joe and Janelle
Joe: "the house is feeling like Willie, Danielle, Kara, JoJO and Shane are teaming up"
Joe: "Willie is thinking that he has 5 votes"
Joe explains how Frank is positive that Jenn and Ian are voting for him and so is Wil and himself. The only swing vote is AShley.
Janelle: "Why don't we bring Ashley in here hash it out"
Joe: "cause I don't know of if we can trust her"
Janelle is confused she didn't think Ashley will do this, she was always under the impression that Ashley was with them.
Joe isn't sure he's leaning towards Ashley being against them he's hearing things in the house. Joe is certain that Willie has a one week deal with Dan but after that he think Dan will be open.
Janelle: "Willie has a one week deal with everyone in the house"
Joe lets out a big sigh: "They totally think they have ash.. I dunno Janelle"
Janelle: "they do?"
Joe: "I was swimming with Dan and he's confident.. I mean 100% confident"
Janelle: "Dan is cocky that is how he plays"
Joe: "we're screwed.. we're dead they have the votes"
Joe: "If that's the case we're cooked we can't make a move becuase we've gone from one side of the house to the other"
Janelle: "Ashley knows better"
Joe: "I think she's going to play the stupid card.. she'll walk into the vote and vote to evict Frank then claim she made a mistake was confused" (LOL)
4:52pm Feeds are on fish for the past 40 minutes something is up in the BB house
5:02pm Trivia

Share it YO!!
Tweet