POV Holder:
Shane
Next POV:
July 20 (Friday)
POV Used
No
POV Ceremony
July 15 (Sunday)
HOH Winner:
Willie
Next HOH:
July 19 (Thurs)
Original Nominations:
Frank and Kara
Current Nominations:
Frank and Kara
Have Nots /Slop
Danielle, Shane, Ashley, Ian
Coach Competition Winner
Boogie, Ian is safe
Next Coaches Competition
July 21 or 22
10:50am Joe, Wil and Jenn are in the storage room. They talk about how they are voting for Frank to stay and how they can't trust Janelle anymore. Kara comes into the storage room. Joe asks her if she is with Willie. Joe says that he is 100% against Willie and I am open about it. Joe asks her if she has a deal with him. Kara says that she doesn't have a deal with anyone. Wil tells Kara that Willie put you up because he wanted you out, and last night he proved that by saying he wanted you to stay. Kara says that she doesn't have an alliance or deal with anyone. Joe asks her if she has a one week deal. Kara says yeah but he doesn't have a vote and he has that deal with everyone. Ashley joins them. Kara leaves. Joe asks Ashley if she is 100% voting to keep Frank. She says yeah. Joe says good because we need your vote. Jenn goes to get Ian. Ian comes in and Joe tells them that their alliance name is Diversity. (Joe, Jenn, Wil, Ian, Ashley) I say diversity because we are all diverse people from different walks of life. Joe reaffirms that they are all voting out Kara this week. He tells them that they all need to stick together till the final 6. He tells them that he wants them all to meet everyday for 5 minutes or less. Our diverse group needs to stick together. He repeats that Kara has to go home this week. We can ride this alliance to the final 6. They end the meeting and leave the storage room.
Watch what happens, AS it happens: Big Brother 14 Live Feeds! TRY IT FOR FREE!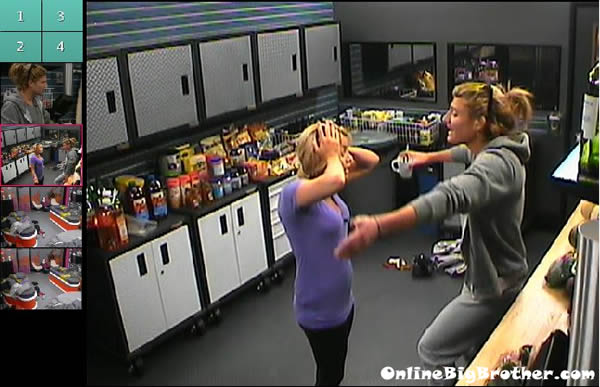 11:10am Ashley and Wil continue to talk in the storage room about how they can't trust Janelle anymore to look out for their best interst at heart. Wil comments on how fake Janelle is to him. Ashley says OMG I thought it was just with me! They comment on how Janelle made a cake for Boogie even though she says how much she hates him. Kara joins them. She asks them how they are voting. Wil and Ashley say that they are so confused. Wil says that Janelle was bullying him last night. Kara tells them that she needs them to vote for her so bad. Jojo joins them. Ashley and WIl leave. Jojo and Kara talk about the votes. Jojo asks isn't Wil your friend. Kara says yeah I thought he was my friend but he won't even give me a straight answer. JoJo says we need to talk to him. Kara says that she tried but he wouldn't give me a straight answer. Jojo tells her to tell people that you will probably be on slop next week so you will be weak …just say whatever you got to say. Ya know. They break up the conversation and leave the room.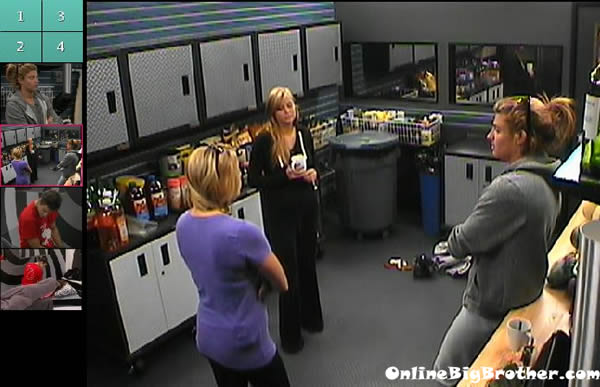 Joe is talking to Kara in the arcade room. Joe says that he wants her coach Dan to say that he is united against Willie. Joe reminds Kara how Willie told every one the he was fighting for Frank for a week to stay. Kara says she knows, I have the biggest vendetta against Willie. Joe says that he wants Willie gone and that they just need to work together to get him out. I am not going to let him come after me.
11:30am – 11:40am Kara tells Dan that she talked to Wil and Joe separately. She says that Wil won't give her a straight answer. She says that Wil told her she was being bullied by Janelle to vote out Frank. Dan says good. Kara tells Dan that Joe wants to talk to him. Dan says okay I will wait for him to come to me. Dan tells her to lay off talking to people until later tonight. Kara says that she will. Kara explains that Joe told her that they are waiting to see where the majority of the votes are going. Dan tells her to not bring it up to people right now. You want people to think that you are fine and happy. Kara says it's just hard because I thought Wil was my friend and he can't give me a straight answer. Dan says that Joe has such a big mouth. Kara says he does he is such a pot stir'er. Dan says that he will just let Joe drive the conversation and let him come to him. Kara said that if I have 3 votes and get a fourth Joe doesn't want Willie to break the tie. Dan tells her to lay low and just chill. Dan asks her what she is going to go do now so that she doesn't get trapped. Kara says she'll go do the eliptical and have a shower. They end the conversation and leave the room.
Re-Watch ALL THE DRAMA on FlashBack: Big Brother 14 Live Feeds – 3 Day Trial!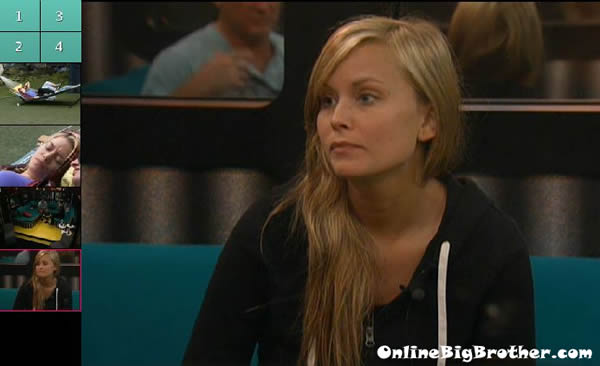 11:50am – 12:20pm Britney and Wil are laying out on the hammock talking. Wil talks about Willie's actions. Britney tells him that she wishes she could have stopped him. She says that anything he tells her will stay between them. Wil then heads to the kicks room and talks to Joe. Wil tells Joe that they really need to start laying low. He says that Willie becoming a target wouldn't have happened if he had just layed low. Joe agrees. Wil talks about how fake Janelle is and how she tells him that she loves him. Wil says you don't know me how can you love me?! Frank joins them and Joe tells him to lay low. Wil brings up again that he thinks the coaches will be in the game asking why else would they have key holes by their faces on the memory wall.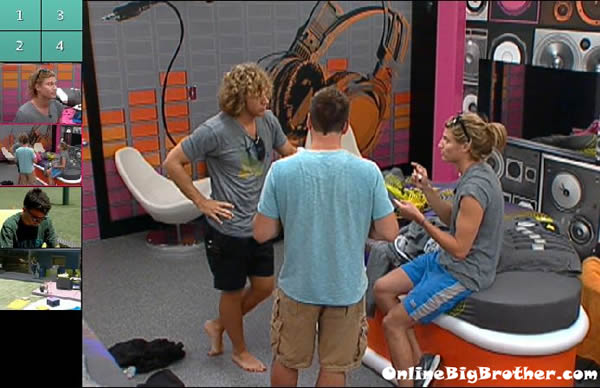 Out in the backyard, Mike Ian and Frank talk about the food choices that different airport terminals. Willie and Ashley join them. Shane and Dan are cleaning up in the kitchen. Shane asks Dan what he thought of last night. Dan says for Kara's sake it was good.
12:35pm – 12:45pm Wil is stretching with Kara in the backyard. Wil continues to talk about how weird it is for Janelle to tell him that she loves him. Wil continues to bash Janelle. Wil wonders if they let the coaches play then maybe they will let us bring someone back. Wil says that Britney is giving it away more than anyone, she keeps saying how she is just here to coach and is trying to be so nice. Kara says that you know Britney is talking sh*t about us behind our backs, you've seen her season. Kara says that she isn't even that close to Dan. She says that she is even older than him. She wonders why Mike is even here, he is a multi-millionaire. Wil tells Kara the less information we tell the coaches the better. Kara says yeah we need to stick together. Meanwhile in the kitchen Dan and Britney are talking about Willie. Britney says that he believes he is the target now next week. Dan says that one thing about this game is that he believes you can always come back from something like that.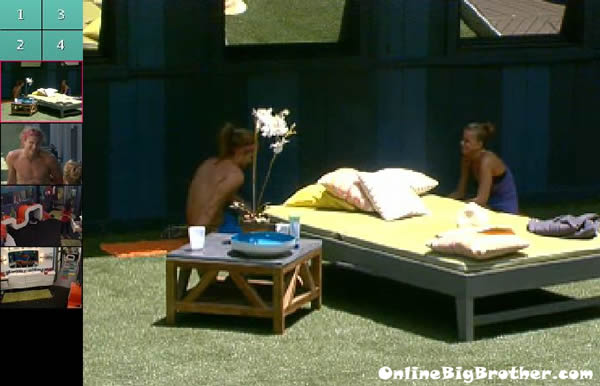 Share it YO!
Tweet