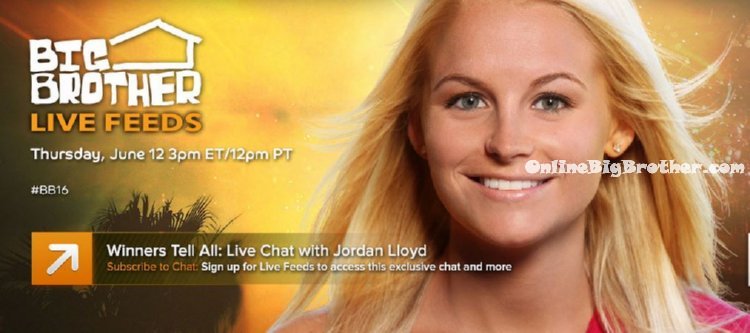 Continuing with the Big Brother 16 live feed bonus content that is available ONLY to the Live Feed Subscribers
– we are now treated to our second "Winners Tell All" Live Chat event hosted by Jeff Schroeder. If you missed the first "Winners Tell All" Live Chat it is available on the live feeds to re-watch or you can read our summary of the Hayden Moss Live Chat. Today former big brother house guest and fan favorite Jeff Schroeder is interviewing his girlfriend and Big Brother 11 winner, Jordan Lloyd. If you didn't already know Jeff and Jordan met and fell in love on Big Brother 11 and are still going strong breaking the showmance curse. Everyone including Jordan has been waiting for Jeff to pop the question and a part of me wondered if he might do that today during the live chat.
Early-Bird 20% Savings Special – Offer ends June 26!
The live chat event begins with Jeff introducing Jordan as his all time favorite Big Brother player. He tells her he loves her. Jeff asks her what she's been up to this last year. Jordan says that she is just about finished up cosmetology school. Jordan says that she moved back home because she just wasn't read for LA but says she is moving back soon. Jeff jokes that she could be the make-up artist in the house now that she has her degree. Jeff asks her how she got on to big brother for season 11. Jordan says that she was asked to come audition and showed up in sweats and flip flops while everyone else was dressed for the club. Jordan wondered what she was doing there. Jordan talks about how she was in the house is how she really is in real life. Jordan says that her strategy was to team up with Jeff the nice guy and thought if she went home she was fine with it since she could see her family.
Jeff asks her what her favourite moment from being on Big Brother 11 and Big Brother 13? Jordan says well winning! Jeff asks her what she ended up doing with the money? Jordan says she did what she said she was going to do and bought her mom a house and saved the rest.
Jeff asks Jordan if she has any advice for the new Big Brother 16 cast? Jordan she isn't sure. She says that having someone that was loyal have her back was what helped her. She says find someone loyal that won't back stab you.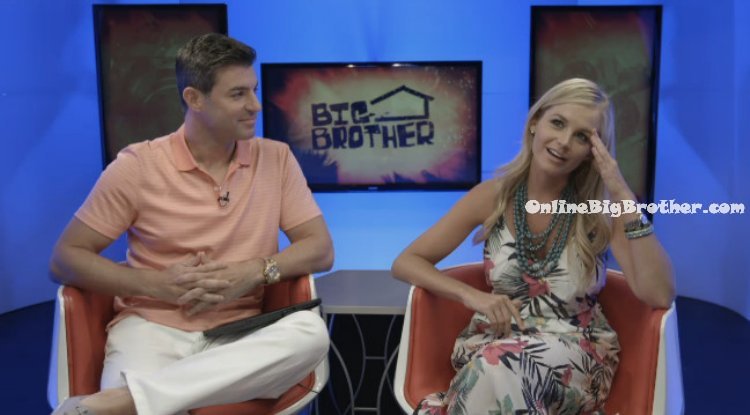 Live Chat Questions:
Jeff says that living in the house you have to put up with a lot of peoples bad habits so right now we are going to share the bad habits we dislike about each other after having lived together. Jordan says that Jeff has rules in the house like no shoes in the house. Jeff says that Jordan doesn't do the dishes and walks around the house in her flip flops. Jeff says that Jordan drinks out of a bottle and leaves practically empty bottles in the fridge. Jordan says that Jeff yells and is impatient when he's driving. Jeff says that Jordan squeezes the toothpaste from the middle and leaves the cap off. He says that she also wipes her make-up on their white towels and pillow cases. Jordan says that he leaves his dirty bike in the house.
Do you and Jeff watch the live feeds together? Jordan says we did once but not any more. Jordan thinks its boring but Jeff loves it.
Does being a big brother winner have an impact on your relationship considering Jeff hasn't won? Jordan says no, but Jeff is bitter.
What time is it if its quarter to four? Jordan says oh man, I don't know. I had this memorized. Jeff helps her.
Would you want to play solo or come back as a couple? Jordan says that she would want to play together. Jeff says he would take a stab at it solo, but says he would want her there to vent to.
If someone offers you an alliance as soon as you walk in would you jump the gun and take it? Jordan says she isn't sure. Jeff says you have to wait and see. If the person is trustworthy then maybe.
Would you ever do reality shows like big brother or amazing race without Jeff? Jordan says no.
Jordan is asked if she is fed up with waiting for Jeff to ask her if she marry him? Jordan says that they recently went ring shopping? She says that he has until September. Jeff says why do we have to put labels on everything. Jordan says that she would be happy to just be engaged, she doesn't care about being married right now. Jeff says we're doing it right and saving up and Jordan is moving back soon.
What is the worst part of being a have not? Jordan says the cold showers.
With winning Big Brother before you have a unique perspective, what advice would you give a new house guest? Jordan says don't go into the house being cocky.
Jordan when you went back into the house for Big Brother 13 were you surprised that you became friends with Rachel? Jordan says yes because I didn't like her on Big Brother 12.
Other than meeting Jeff and the prize money, is there anything else that changed you from big brother? Jordan says that it really helped her grow up and stop doing stupid things.
Jeff says that they NEXT "Winners Tell All" Live Chat will be on Monday, June 16th with RACHEL REILLY! House Guest on Big Brother 12 and winner of Big Brother 13.
Stay connected and interact with other Big Brother Fans on our Facebook page.
And Follow: @BigBspoilers and @Dawgsbigbrother on Twitter for the most up to date spoilers.
[polldaddy poll=8107095]