Big Brother is Famous for it's players hooking up, every season there has been at least one or more couples that become romantically involved. Since BB11 there has been increasing popularity in showmance among the fans fueling CBS in casting more potential romances. There is 4 variations of this, the standard showmance, the flirtmance, blowmance, and Bromance.. One of the most famous Showmances in recent seasons has been Rachel and Brendon (Season 12,13) as well as Jeff and Jordan (Season 11,13). The only 2 showmances that have successfully survived outside the Big Brother house is Jeff, Jordan and Brendon, Rachel. Brendon and Rachel are engaged. Early season showmances have all fizzled

During Season 13 a flirtmance turned into a romance with Daniele and Dominic hooking up after the show. Perhaps PT (Dominic) had lasted longer in the game there may have been a showmance.
Will Kirby and Janelle Pierzina – Willnelle – (Big Brother 7 Flirtmance)
Janelle denied there was anything going on both had love interests outside the Big Brother Show but it's hard to deny that there was chemistry between these 2. They have gone their separate was, Janelle and Will both have children, Will is working hard removing tramp stamps in LA.
Boogie and Erika (Big Brother 7 Showmance)
Erika had feelings for Booger and thought she was in a showmance. Boogie was using the "showmance" to get further in the game he wanted to win Big Brother 7. In the end Erika is the runner up and finds out how played she was throughout the season.
Mike "Boogie" and Krista (Big Brother 2 Showmance)
It was obvious to us watchers that Mike was messing with this girl, He proposed to Krista while on the show but the relationship collapsed when the show ended.
Jase and Holly (Big Brother 5 Showmance)
Holly lasted only 3 weeks in the Big Brother House , After the show their love fizzled. They've noted that their tastes in music is what drove them apart.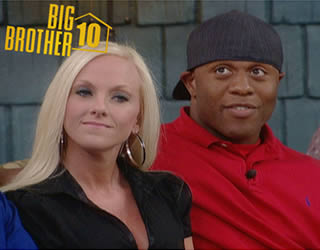 Ollie and April (Big Brother 10 Showmance)
Ollie and April were caught on camera having sex more than once. They broke up early in 2009.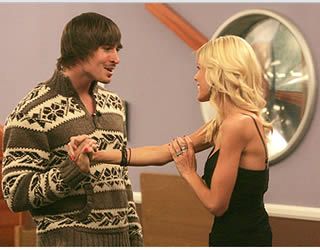 Nick and Danielle (Big Brother 8 Showmance)
Nick is the all time leader of Big Brother Romances on and off the show.  There's so much crazy information about the Nick/Dani showmance. Here is a link to a site with it all, enjoy…. Dani and Nick didn't last long, BB8 ended in 2007 and Nick was dating Jen Johnson (BB8) in 2008. During Big Brother 13 Danielle said that dating Nick was a nightmare she called him a control freak.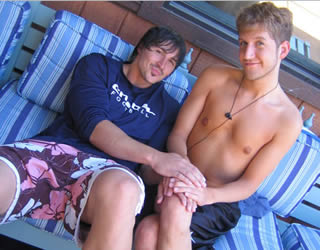 Nick and Joe (Big Brother 8 Flirtmance)
Joe loved Nick
Nick and Jen (after show showmance)
I have no idea how long this lasted.. there not together anymore.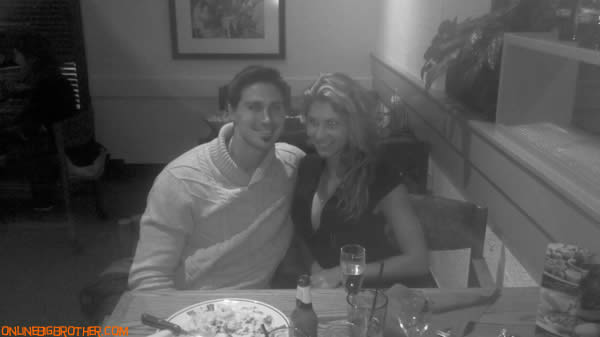 nick Starcevic and Kristen Bitting (after show showmance)
This never went beyond a couple days and a slew of sweetie pie tweets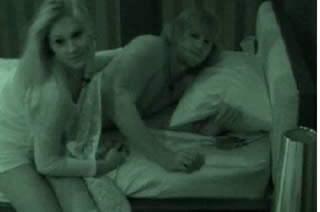 Hayden and Kristen (Big Brother 12 Showmance)
Hayden got a handjob from Kristen one night on the feeds. From that point on they were a flirty couple trying to keep their showmance hidden.  The Romance ended the second Hayden won Big Brother 12 and his MOM told him to kick Kristen to the curb. Actually Hayden's whole family is messed and the entire ordeal has been well documented.  Bitchy has it figured out.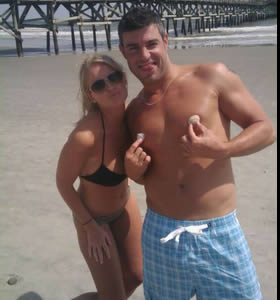 Jeff Schroeder and Jordan Lloyd (Big Brother 11, Big brother 13 Showmance)
They were a sweet cute couple on BB11/BB13 and they are still together, Recently there's talk about them moving in together after they get back from charity work in Cambodia.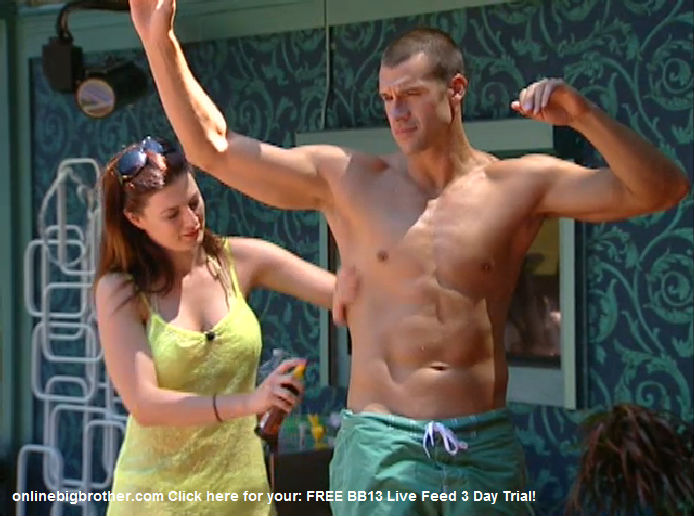 Brendon Villegas and Rachel Reilly (Big Brother 12, Big Brother 13 Showmance)
I said these 2 would last all of 5 minutes once the show is over… shit was I wrong. There still together and closer than ever. Even after Brendon jerked off on skype for the world top see they are rumored to be getting married after THE AMAZING RACE is over.
Chelsia Hart and James (Big Brother 9 Showmance)
Chelsia Hart was probably aw struck by James' massive unit. He spent much of his pre Big Brother time banging dudes in gay pornos.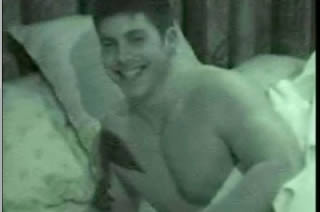 Natalie and Matt (Big Brother 9 Blowmance)
Chatty Natty leached onto Matt early on, gave him a blowjob one night and she spent the rest of the season being shunned by him.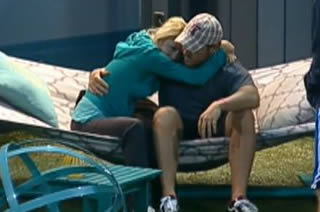 Britney and Lane (Big Brother 12 Flirtmance)
Everyone wanted this to become a Showmance except for Britney's boyfriend Nick. Shortly after the show Nick and Britney broke up but she never hooked up with Lane. She moved to New York and tweets about shoes she likes.
Daniele and Dominic (Big Brother 13 Flirtmance)
A flirtmance during the show that turned into the romance after. The question that is on everyone's mind.. Is Dominic still a virgin?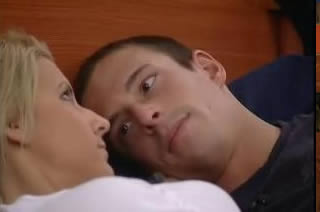 Jessica and Eric (Big Brother 8 Showmance)
This lasted 10 months after the show. They even returned in BB9 to host a love-themed competition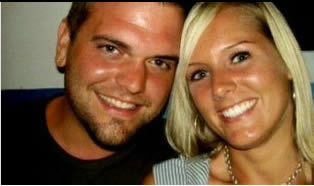 Jen Diturno and Ryan Quicksall (Big Brother 9 Showmance)
They were a couple going into the show so technically not really a "showmance". They attempted to have sex on the toilet and broke up shortly after the show ended. Ryan was accused with have a threesome with Adam and a 19 year old. Adam is now having threesome in prison.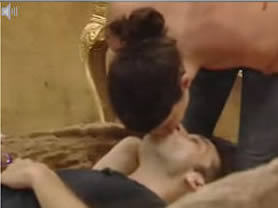 James and Sarah (Big Brother 6 Showmance)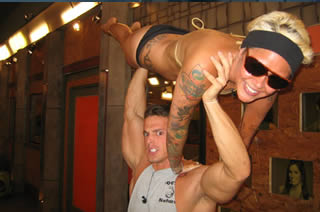 lydia, Jessie, Natalie (Big Brother 11 Showmance/flirtmance)
These 3 loved each other, Lydia ended up giving Jessie a handjob under their "HOH TENT". Natalie's relationship was a bit more PG13 but you cannot deny there was chemistry between them.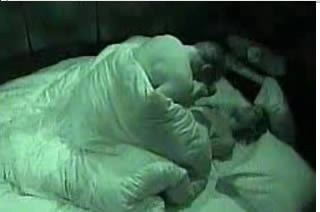 David and Amanda (Big Brother 4)
First couple to have sex in the Big Brother House.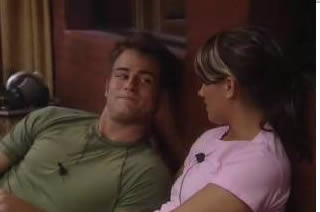 Drew and Diane (Big Brother 5 Showmance)
Sparks were flying during the show but a strategic maneuver from Drew (Bros before Hoes) resulted in Diane getting kicked to the curb over Drews friend Cowboy ended the romance. Drew ended up winning Big Brother 5 and cowboy was the runner up.
Janelle and Michael (Big Brother Season 6)