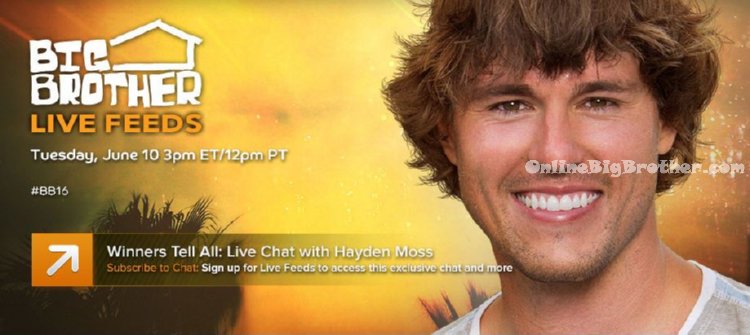 As part of the bonus content available to the Big Brother 16 live feed subscribers, CBS held a Winners Tell All LIVE Chat with Hayden Moss. The special event was hosted by fan favorite Jeff Schroeder today at 3pm ET/12pm PT.
If you missed this live chat event, don't worry as it is available to re-watch as part of the live feed bonus content. Just subscribe to the live feed season pass and start watching! To sign-up just click on the live feed ad to the right ——–>>>
Jeff Schroeder introduces Hayden and they start talking about how he originally tried out for survivor and was lead to believe he had the potential to be on the show. Unfortunately he didn't end up making the cut but was offered the opportunity to be on big brother 12. He hadn't watch big brother before so he watched 2 seasons back to back in a matter of 5 days. Hayden says that he originally wanted to start a showmance (Kristen) but ended up forming an amazing alliance, the brigade. Hayden says that he still regularly talks to Lane and Matt, Enzo, Rachel and Brendon.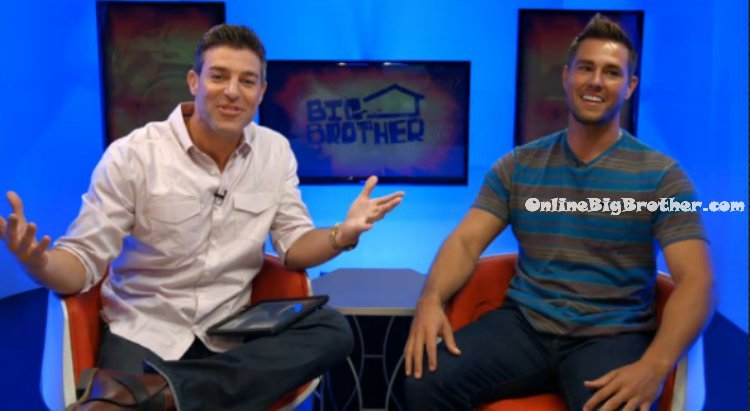 Jeff asks Hayden if he is keeping in touch with past house guests just in case there's an All-Stars season so you'll have an alliance? Hayden laughs and jokingly says yeah. Hayden's advice is to listen more than you talk in the house. When you talk you give people ammunition to use against you. He says that you get information when you listen.
Hayden says after he won he invested his money in a small real estate company and started flipping properties. He says that the rental income makes up the majority of his income now. Jeff laughed and said with my winnings I just bought a model air plane and flew it. You're smart.
Hayden says that he is also coming out with an itunes app called "DVIVE": a group sharing app where you can collaborate a video. He says that using it he could create a video, send it to Jeff where he could add on to it and then send it to Jordan who could add on to it again creating a chain video.
Hayden also says that he is no longer with Kat Edorsson and says that he is still friends with her but that it just didn't work out.
LIVE CHAT Questions:
What was your favorite competition from your season? Jeff says I'm not sure which she is referring to Big Brother or Survivor.. so which had the crazier challenges? Hayden says survivor definitely had the crazier challenges but the big brother competitions were more fun.
Which did you find more challenging? The lack of food on survivor or slop on big brother? Hayden says the lack of food and starving is much harder.
Hayden are you saying you are single and ready to mingle? Hayden says I guess so…
Do you stay in-touch with the brigade? Hayden says yeah with Matt, Lane and Enzo. More so with Lane since Hayden is living near him in Texas.
Jeff asks if Hayden got any flak for going on Survivor? Hayden says the big brother fans gave him lots of love but that there were some trolls that said you suck.
If asked would you return to play in big brother? Hayden says yes! Anyone that would be asked would say yes. Jeff says not saying anything but I've thought about it and I would it's like a 1 in 20 shot to win half a million dollars. Hayden says with survivor if you're not physically ready for it you shouldn't do it because it's hard.
Which season of Big Brother was your favorite? Hayden says Ian Terry's season Big Brother 14.
Do you think that McCrae's showmance last season killed his game? Hayden says its hard to say.. Amanda was a big target so she probably took a lot of the heat but it probably didn't help his game that much either. Jeff comments that McCrae is a cutie!
Any advice for this seasons house guests? Hayden says don't make any set plans going into the house, just roll with it.
Any predictions on what big brother 16 will be like? Hayden predicts that this season is going to be "Blood vs. Water". Jeff says we don't know anything but that's your guess. Hayden says yeah survivor did it and it was a big hit.
Early-Bird 20% Savings Special – Offer ends June 26!
The NEXT Winners Tell All – Live Chat is with Jordan Lloyd winner of Big Brother 11
Subscribe to the live feeds now so you don't miss out!


Stay connected and interact with other Big Brother Fans on our Facebook page.
And Follow: @BigBspoilers and @Dawgsbigbrother on Twitter for the most up to date spoilers.
[polldaddy poll=8107095]