POV Holder:
Jeremy
Next POV
July 13th
POV Used
YES
POV Ceremony
July 8
HOH Winner:
Aaryn
Next HOH:
MVP:
Elissa
Original Nominations:
Elissa, Helen and Jeremy (MVP nom)
Current Nominations:
Elissa, Helen and Nick (MVP nom)
Last Evicted Houseguest
David
Have Nots
Helen, Elissa, Candice, and Andy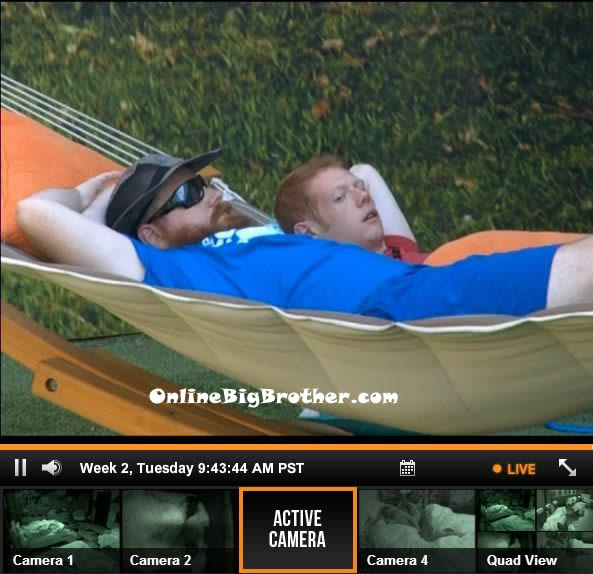 9:30am Andy and Spencer are out in the backyard hammock talking. Andy says that he will vote how the house wants. Andy tells Spencer that he wants to go far with him and Helen … I want to go far with everyone. Andy says why get rid of Helen who is a guaranteed vote? Big Brother switches the live feeds to the we'll be right back screen. When the feeds come back – Judd is now talking to Spencer and Andy. Spencer says that there is a lot of in fighting in our group. Judd says that he doesn't like how the others are treating Elissa. They talk about how Jeremy rubbed Elissa's had on his a$$. Spencer says that he didn't know about that until yesterday. Judd comments that Jeremy told me I am safe. Andy says that Jeremy is saying that to everyone. Andy says that it shouldn't matter if the other side of the house is mad at us because we would have Elissa and be able to nominate one of them and get them out. Judd says that he is worried about if they do that Ginamarie is liable to punch him. Andy says that there is just something he doesn't trust about Nick. He says that I feel like if I don't vote him out this week, I will be kicking myself when he evicts me next week. Spencer says that he worries about some flipping to the other side. Andy says that he even if someone did I would lie my a$$ off because no one trusts anyone. Spencer says that Jeremy doesn't intimidate him at all, I think he is a gorilla that won't win at competitions. Andy says well why not vote to keep Elissa then. Spencer says right now I am voting out Nick. Andy says that he knows it will be world war 3 for a couple days but it will be fine. They talk about how they can't trust Jessie. Judd says that Jessie is one of the hot girls that just doesn't get along with other hot girls. Judd says that there has to be something up with Nick – he gets called to the diary room more than anyone else, even Elissa. It makes sense that he gets called now because he is up but.. Judd says that Nick was in there for 20-30 minutes when he was requesting tooth paste and a razor. Judd says what was the point of getting David out if we aren't going to go after their numbers. They talk about McCrae and Amanda. Spencer says that he is blinded by her. Spencer says that Amanda is attractive but she is vulgar. Judd says that he doesn't think he has gotten boobs like that before. Andy says the 7 of us are united and aligned to go against the enemy. We have Candice wrapped around our finger, she hates them. Spencer says that all the racial stuff doesn't sit well with him. Judd agrees and asks do they not know they are on national tv? Andy heads inside.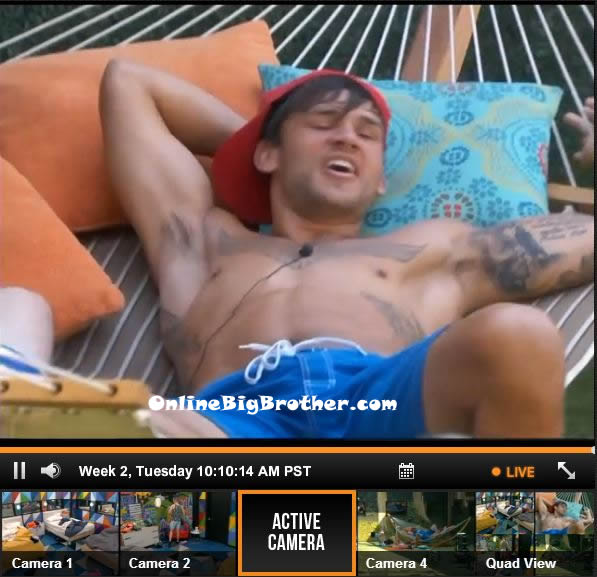 10:15am – 10:25amJessie and Jeremy join them at the hammock. Jeremy asks Jessie if she needs him to stretch that out? Jessie says no. Jeremy says that he was talking about her vag!n*. Jessie says ew you're gross! Jessie asks don't you have a girlfriend. Jeremy says that he will fu*ker her right after he fu*ks Kaitlin. Jeremy laughs. Jessie says you really think you are some kind of a pimp just because you are sleeping with two girls. Judd heads inside. Meanwhile in the lounge room – Andy is trying to convince Howard the reasons why to keep Elissa and to vote out Nick. Howard says that lied and told Nick that he thinks he is good. Andy says that he feels like he will be in the line of fire when I vote to keep Elissa because I am good friends with them too. Andy says they don't trust any of us, we can lie and tell them that we voted with them. Howard says that Amanda is a fu*king nut case, if it was just McCrae I would be cool with that but she is spreading rumours about a guy group. I don't trust her. Howard says I will vote with the majority, whatever you guys want. Andy says that he hates the bullying and it makes him want to stand up for her. They talk about how they will talk of the next couple days.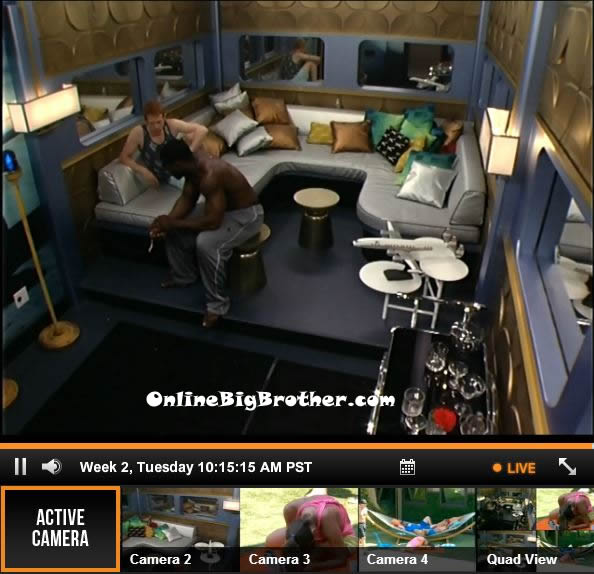 10:25am – 10:30am Jeremy and Andy are working out with the weights. Jessie is on the elliptical and Helen is running around the backyard. Aaryn comes out and starts stretching. Aaryn talks to Andy about the havenot competition. She wonders is it will be an individual competition or if Jeremy will sit it out and it be teams of 4. Jeremy ask Spencer if he thinks Helen is offended when we call her h-bomb because of Hiroshima?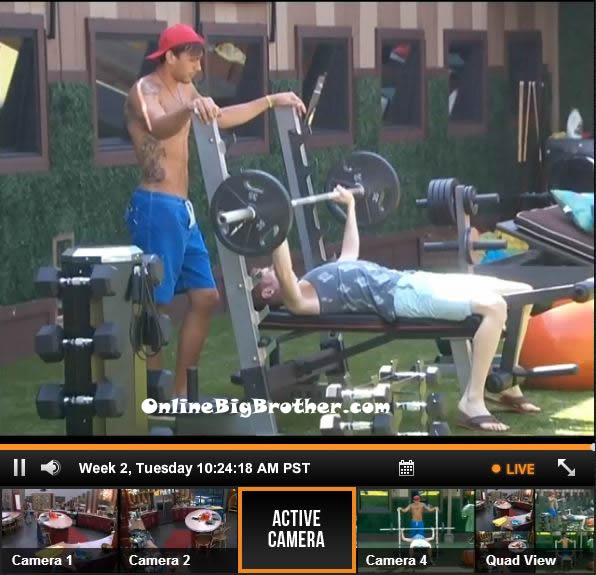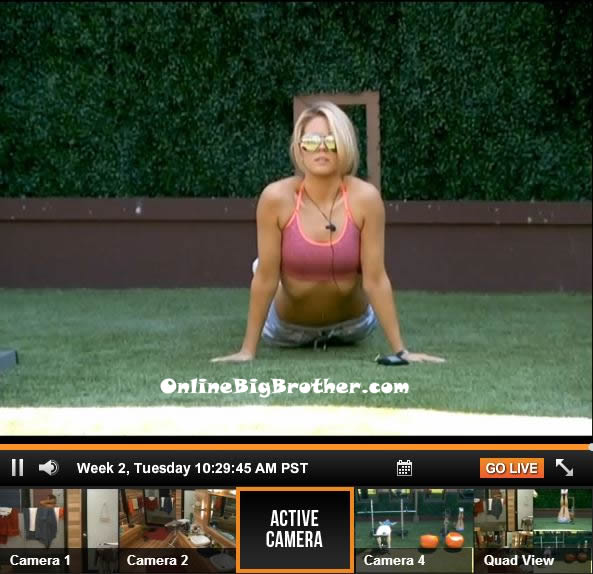 10:45pm – 11am Andy and Jeremy are in the kitchen talking about random things. Andy is asking Jeremy personal questions about his life outside the house. Jessie joins them. Jessie talks about he past relationship with Andy. Jessie then comments that she stinks. Jeremy says that he loves a stinky chick. Aaryn joins them. They talk about how Judd was paddled in school. He says it is kind of outrageous now that he thinks about it.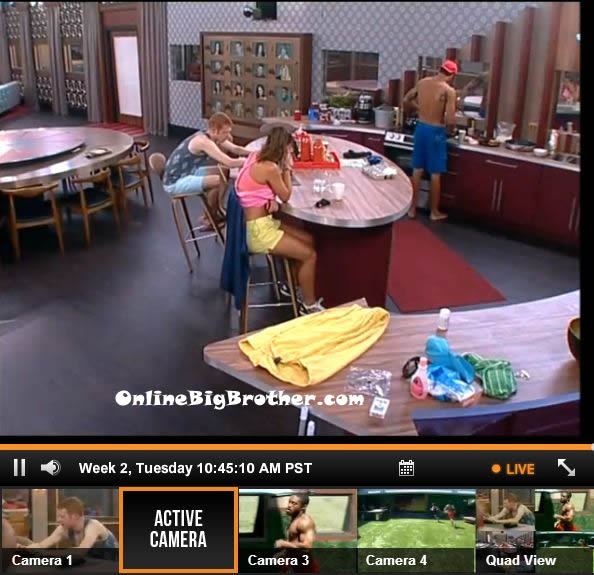 11am – 11:30am Jeremy and Jessie are talking on the backyard couch. Jessie says that she isn't going to be doing any more cheer leading or back flipping. She says that if she hurts herself she would be really mad at herself. Howard asks Jeremy if his side is still good on Elissa. Jeremy says Elissa is gone, no if and's or buts! Aaryn comes out into the backyard and tells Jeremy that she heard from Jessie that Nick and Gina were "hooking up" last night. Jeremy says NICE! NICE! Aaryn says at least someone is hooking up! Aaryn heads up to the HOH room and tells Kaitlin that Jessie said Nick and Gina were hooking up. Kaitlin thinks that Nick is shy and if she made the first move he might have.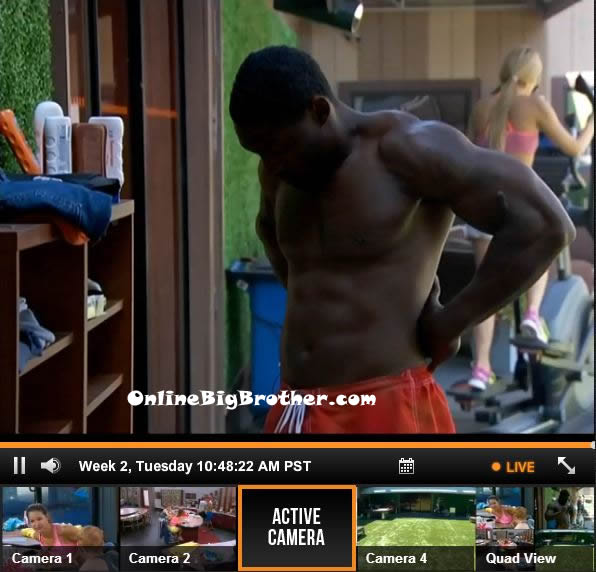 Stay connected and interact with other Big Brother Fans on our Facebook page.
And Follow: @BigBspoilers and @Dawgsbigbrother on Twitter for the most up to date spoilers.