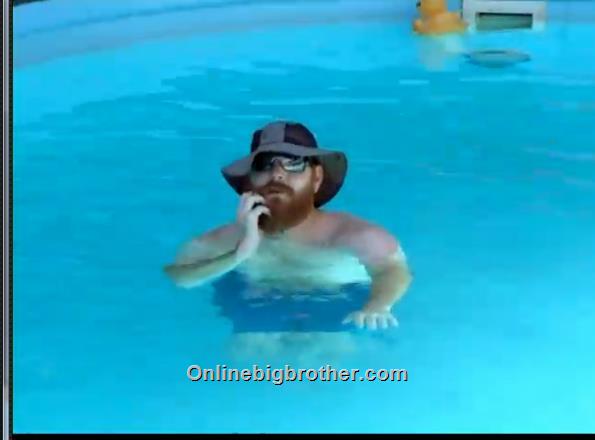 If you have been watching the Big Brother 15 live feeds over the last 2 weeks it is not surprising that a number of the house guests are going to get a rude awakening when they leave the big brother house. In particular GinaMarie was fired from her pageant job, Aaryn Gries was Dropped by her modeling agency and now Spencer is finding himself in hot water over his comments.
Spencer Clawson is employed by the Union Pacific railroad and they are speaking out about the comments he has made on the Big Brother 24/7 live feeds. He has made a number of offensive comments that have undoubtedly land him in hot water with his employer as seen from their official statement below. He has spoken about how he knows a high level manager at his employment which was how he got the job in the first place so it will be interesting to see if that person also has the same pull to help Spencer keep his job.
Some of the comments made by Spencer in the house include:
Andy "Kermit the F-g"
Spencer said that the medical torture conducted by Nazi doctors was beneficial and praised Hitler's speaking abilities, even while acknowledging that he'd be criticized for that.
He has also referred to women as "Cu*ts"
His employer the Union Pacific Railroad representative states:
"The values represented by Spencer Clawson's comments during the 'Big Brother' show do not at all align with Union Pacific's values," it said in a statement posted on its Web site.
"Mr. Clawson is on unpaid leave of absence while participating in 'Big Brother.' Union Pacific does not condone his comments."
The company says it's "acting in accordance with Collective Bargaining Agreement terms regarding Mr. Clawson" — stopping just short of saying they're trying to can him.
TMZ reported what Spencers mom had to say about his comments in the house:
"Big Brother" star Spencer Clawson is not a Hitler-loving bigot — he's just saying terrible things so his racist friends in the house will like him … so says Spencer's mother.

TMZ spoke with Donna Clawson … who insists her son wasn't showing his true colors when "BB" cameras caught him praising Hitler and referring to a gay housemate as "Kermit the f**."

"Spencer really is a great guy," she tells us … "This is not a guy that's a bigot or a racist. And he's not that way at home. He's a great guy."

So why would Spencer say such horrible things? Mama Clawson says her son is just trying to fit in with the racist, homophobic people in the house … because it's the only way he can win the reality show.

"If you're in a group, you go along with the group talk and that is what is happening with him."

She adds, "This is a reality show. The purpose of the show is scheming behind each other's backs."

"Spencer might not be perfect but he's my son. All those kids are somebody's child. He's a good guy."

TMZ also spoke with Julie Chen who stated that she was offended by the comments made by the house guests.
Julie and her husband, CBS honcho Les Moonves, were leaving Craig's in L.A. last night when we asked how she felt about houseguest Aaryn's racist comments about Asians.

"Personally, I was offended," Chen told TMZ … "I was offended by all the comments — the anti-gay, the anti-black, but especially the anti-Asian ones … for obvious reasons."

Still, Chen says she's hopeful Aaryn will be able to "change the way she thinks" after she leaves the BB house.
Source: TMZ.com
Stay connected and interact with other Big Brother Fans on our Facebook page.
And Follow: @BigBspoilers and @Dawgsbigbrother on Twitter for the most up to date spoilers.