POV Holder:
Jeremy
Next POV
July 13th
POV Used
YES
POV Ceremony
July 8
HOH Winner:
Aaryn
Next HOH:
MVP:
Elissa
Original Nominations:
Elissa, Helen and Jeremy (MVP nom)
Current Nominations:
Elissa, Helen and Nick (MVP nom)
Last Evicted Houseguest
David
Have Nots
Helen, Elissa, Candice, and Andy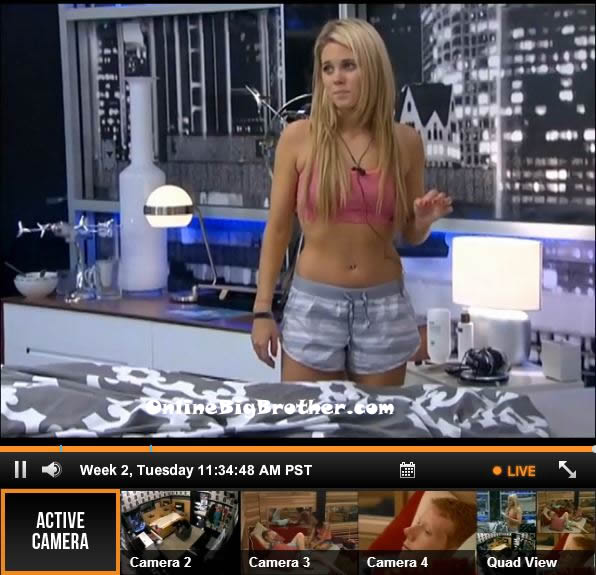 11:35pm – 12:10pm Aaryn is making the bed and finds a stain on the sheets. Aaryn asks Kaitlin why there is a stain on the sheets. Kaitlin says we haven't done anything! Kaitlin takes a look at the sheets and says there's nothing there and then says EWWW!! What is that?!! Aaryn says I swear to god if I am sleeping on yours and Jeremy's $ex juice I am going to freak! Kaitlin says we haven't done anything though! Kaitlin says that she doesn't know what that is.
The conversation turns to talking about Nick and Gina. Kaitlin says I really hope that Gina and Nick fooled around. Aaryn says that she doesn't believe it for a second. Aaryn says that she is getting a weird vibe that everyone in the outside world is getting the impression that he is ignoring her. Kaitlin says that she has told her that too. Aaryn says that she doesn't like it and I don't know how to change it now. Aaryn continues to clean the HOH room. Aaryn is in the bathroom with a huge black garbage bag. Kaitlin comments you could literally hid a human body in that bag. Aaryn says not Candice. Kaitlin laughs. Aaryn says what a rough life we have we talk so much sh*t and just lay by the pool all day. Kaitin talks about how weird it was that Amanda shaved her bikini line yesterday with McCrae watching. Aaryn says that she watched too. Aaryn and Kaitlin talk about how they don't trust Amanda. Kaitlin thinks Amanda is trying to bring Aaryn down. Kaitlin says that she really doesn't think that Amanda will vote Elissa out, which makes me think McCrae won't either. Jeremy joins them. Jeremy asks them what they are doing? Aaryn says scissoring. Aaryn jokes that she and Amanda were scissoring in the hammock last night. Kaitlin says that Aaryn is Amanda's prey. Jeremy starts telling them about his $ex dream about a "fat Mexican kid and a prostitute." Kaitlin and Aaryn tell him to stop telling them about it.
SUBSCRIBE to the Live Feeds and try them for FREE:
Big Brother Live Feeds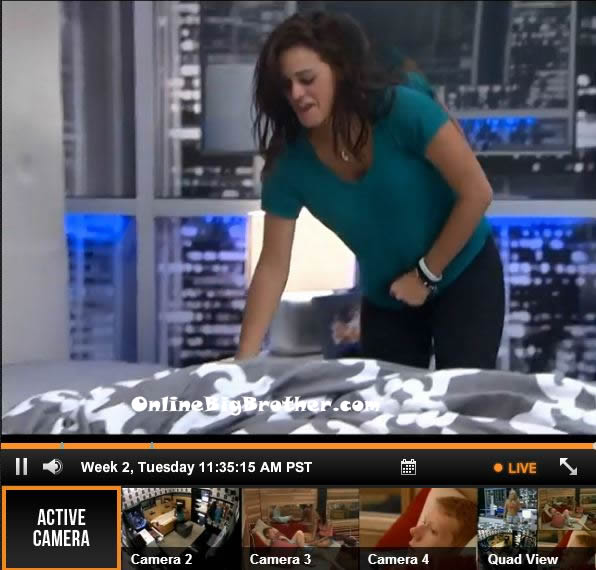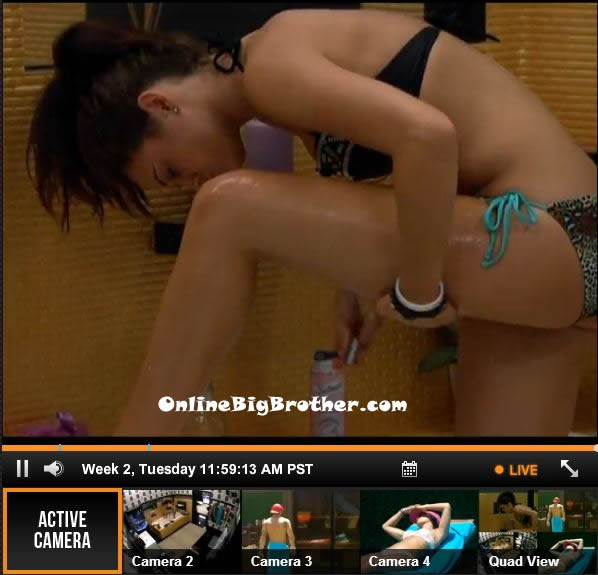 12:15pm – 12:30pm Aaryn comments how she better not be a havenot this week. She says that she hopes they don't throw the bandanna's in for them to grab because if Candice and her are on the same team again I might as well give up. I am not sleeping in the air plane room. I can't do it. The cold showers and slop will be fine – I will look hot but I can't sleep in that room. Jeremy says that he never has to do it, I am so happy. Aaryn says that David should have never dropped, he wouldn't have gone home and we would have one more person with us. Jeremy and Aaryn talk about how they think they have the votes to get rid of Elissa. Aaryn thinks that sooner or later Kaitlin is going to be put up and she is going to blow up. Jeremy says that talked to her about being negative and told her that if she continues it he would drop her like a hot potato. Jeremy says that he thinks Andy has a good chance to get the MVP because he is gay and everybody likes the gay dude in the house. He says that Helen has a good chance too because she is a mom. Jeremy and Aaryn talk about going to the final two together. Jeremy says that he has Spencer and Howard under his belt. Aarny talks about how Howard and others think she is stupid. Jeremy says they think you're stupid because you're a blond and beautiful and laugh a lot. Let them think that you are stupid. Jeremy says that with Howard "it's a black-man thing – they like to be dominant." They talk about the punishment competition and wonder how his slop pass works for that. They head downstairs to lay out in the sun.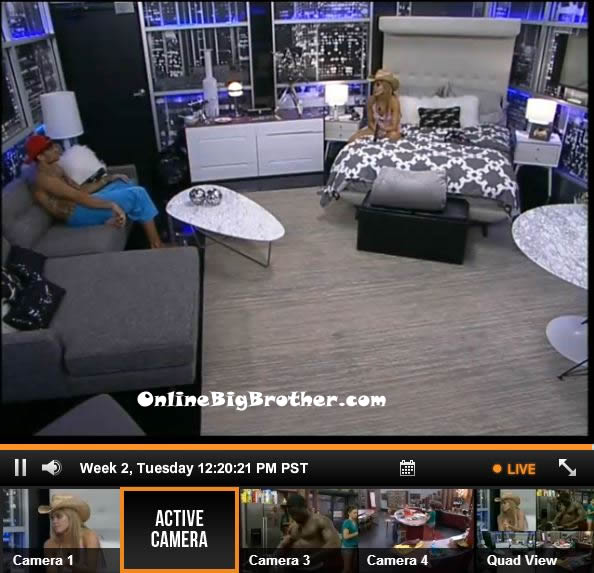 12:40pm – 12:50pm In the bedroom – Aaryn asks Nick and Gina if she and Nick made out last night. Gina says no. Gina says that he wouldn't with me wearing my retainer and not wearing makeup. Aaryn tells Gina that she thinks she looks beautiful with out make up and her retainer. She says that if she was a guy she would fall in love with her like that.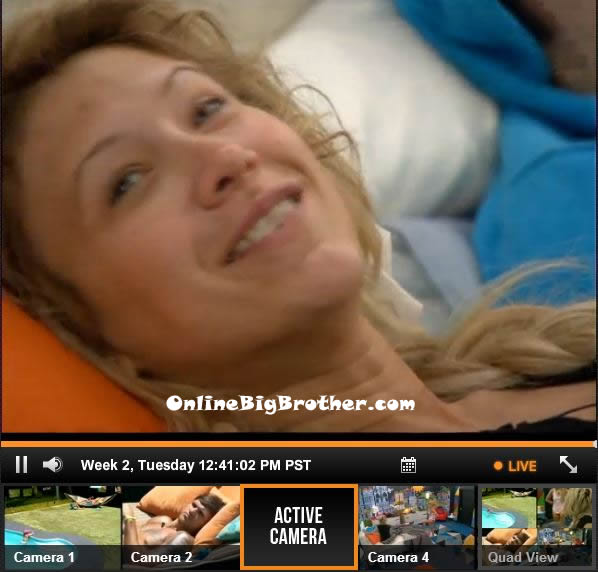 12:50pm – 1:10pm Jeremy comes down to the backyard and asks Aaryn if she locked her HOH room? Aaryn says no. Kaitlin says that it happened to McCrae too. Aaryn tells him to go to the diary room and ask for them to open it. Jessie starts asking Kaitlin about her mom. Meanwhile in the bedroom – McCrae and Amanda are waking up. Andy joins them. Andy comments how he has 11 hours till he can eat again. Back out in the backyard – Aaryn and Jessie are talking by the pool about random things. Jeremy gets into the pool. Aaryn is called to the diary room. Candice gets on the elliptical and starts working out. Spencer brings her some water.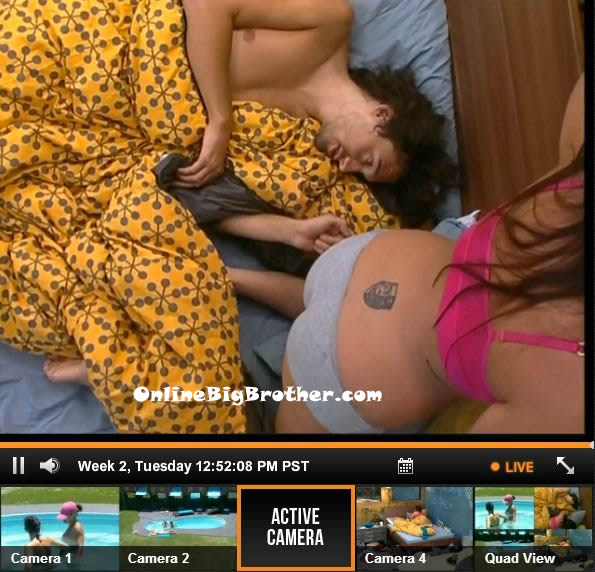 1:10pm Kaitlin is on Jeremy's shoulders and Jessie is on Howards shoulders as they play chicken fights. Kaitlin can't stop laughing. She is worried about hitting her head on the side. They have a race across the pool and Howard complains that Jeremy has a height advantage. Jeremy then gets out of the pool with Kaitlin still on his shoulders and runs around the yard. He then jumps into the pool as Kaitlin yells no, no, no, don't jump in the pool. When they come up – Jeremy complains that he will have snot rockets for days!! Big Brother tells them there is no jumping in the pool.
Photo of Jeremy running around the yard and jumping into the pool with Kaitlin on his shoulders. @bigbspoilers #bb15 pic.twitter.com/PjNlSnFoMO

— Dawg (@DawgsBigBrother) July 9, 2013
1:30pm Spencer and McCrae are talking on the backyard couch. McCrae says that he is going to talk to Aaryn and squash that. McCrae says that he is worried about Aaryn getting the girls started. Spencer says that she is a good one to put on the block. McCrae says that if he wins it's a toss up of putting up Helen and Jessie. Gina comes out and Spencer tells her that she has got him a little heavy .. not hard yet but.. Gina laughs and walks away. Spencer says that he trusts Andy. McCrae says that he doesn't want Amanda talking to anyone because she gets her mind on something .. Spencer asks McCrae if he really likes her. Spencer says yeah there's a lot to like. McCrae says that he likes her but that he is here for the game. McCrae says that Amanda doesn't trust Spencer because he talks to everyone. Spencer says yeah but that's my thing. McCrae says that he thinks Amanda loves him, I don't have a problem getting girls. Spencer says yeah right you big stud. Spencer says that when he was younger he had to chase girls, get them drunk and roofie them. Spencer laughs and then says na, jsut kidding but you know what I mean. Andy joins them.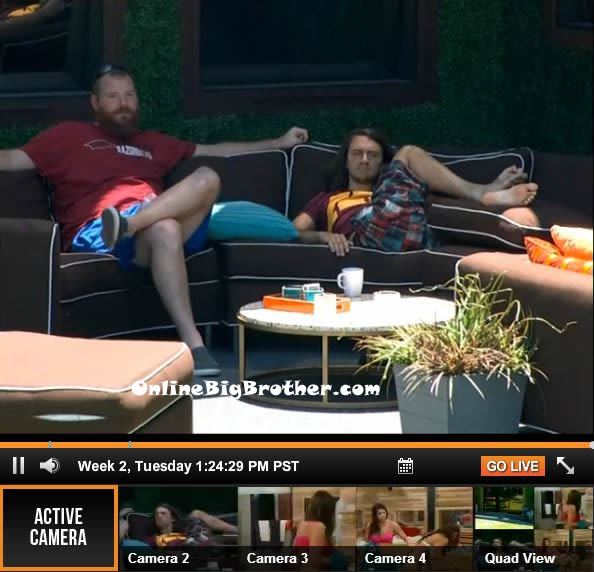 1:30pm – 1:45pm In the lounge room – Nick is talking to Amanda about how Elissa was saying he was throwing people's names under the bus. He says that he didn't do it and says that all he told her was that she made some waves in the house and pissed off some people. He says that Amanda's name never came out of his mouth. Amanda comments that McCrae and her think they are the swing vote this week and tell Nick that they want to vote to keep him this week. Amanda tells Nick that others think something is up with him because he is always called into the diary room. Nick says that people already think I am related to someone and I can say with 100% consistency that I am not related to any one. Amanda says that she never thought he was related to anyone and that the only person in the house related to someone is Elissa. Amanda asks that Nick keep her and McCrae off his radar. She asks that they keep each other safe. Amanda tells Nick that she has heard Nick has something with Jeremy and Spencer. He says that he has heard that too. Amanda says that Jeremy won't win MVP because he has been vicious to Elissa. Nick says that Frank (BB14) was vicious to Willie too but America loved him. Amanda says no, America won't respect him. Big Brother cuts the feeds to the we'll be right back screen..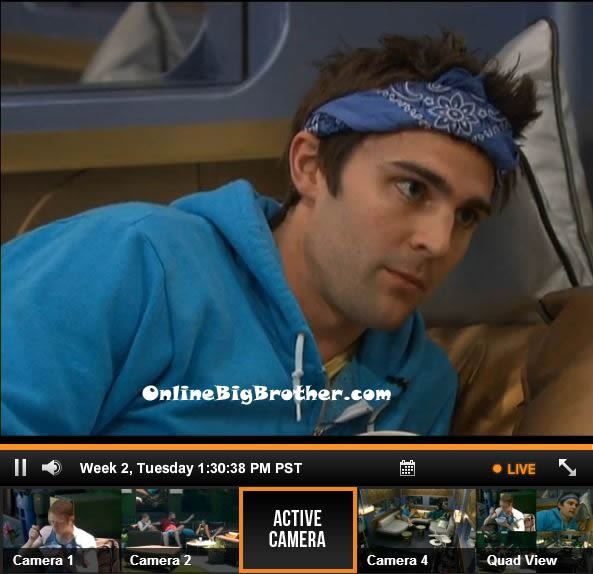 Stay connected and interact with other Big Brother Fans on our Facebook page.
And Follow: @BigBspoilers and @Dawgsbigbrother on Twitter for the most up to date spoilers.