POV Holder:
Kaitlin
Next POV
July 13th
POV Used
?
POV Ceremony
July 15
HOH Winner:
Helen
Next HOH:
July 18
MVP:
Elissa
Original Nominations:
Kaitlin, Aaryn, Spencer (MVP)
Current Nominations:
Last Evicted Houseguest
David, Nick
Have Nots
? Judd, Jessie, McCrea, Amanda ?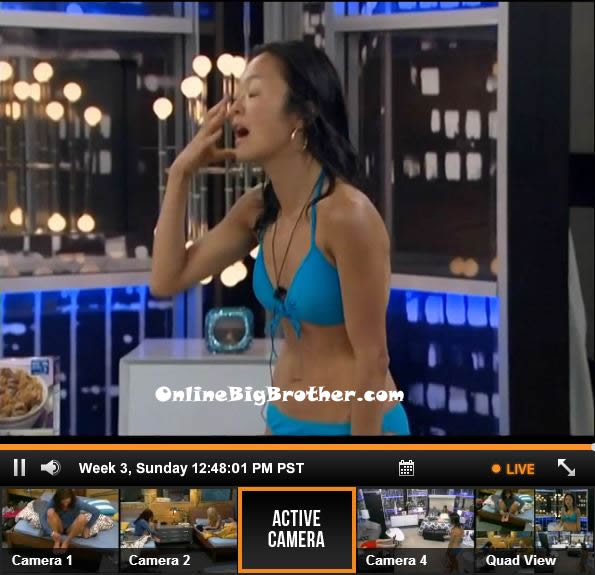 12:50pm Helen says that Aaryn is such a beautiful girl but she is going to be portrayed as the villain. Andy says that he thinks she just doesn't get that getting on the show and being portrayed negatively are two different things.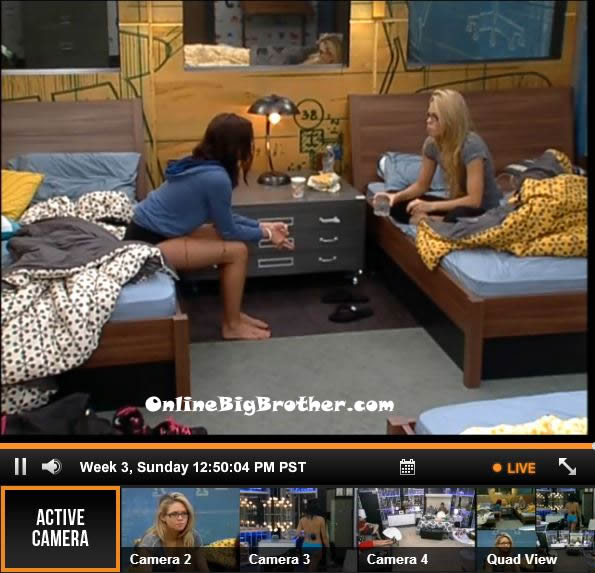 1pm – 1:10pm In the bedroom – Kaitlin tells Aaryn that she tried to get them to keep Jeremy. Kaitlin says that they tried to get me to vote out you guys but I won't do it. She says I tried to get them to keep him till sequester and that I would even vote him out. Aaryn says I feel like you two are falling in love. Kaitlin says that she doesn't know, I think Jeremy is scared of that work. Aaryn says I want Jeremy to stay but I am so frigging scared. Aaryn asks would you tell me if I was the target. Kaitlin says yeah, at first I knew you were the target but not now. You are not going home this week 100%! Every single person in this house wants Jeremy out. It sucks! Aaryn says that she feels like she is next. Kaitlin says she thinks Spencer and Howard are next. I spilled out everything to Helen up there. I don't know if they believed me but I will continue to tell them. Aaryn tells Kaitlin that she heard she (Kaitlin) said you wanted nothing to do with me and that I was the negative energy in the house. Kaitlin says that is not true, who told you that? Aaryn says Jessie. Kaitlin says it must have been Amanda because she likes to stir sh*t up. Kaitlin says that she is pissed because Spencer and Howard should be going home before Jeremy. They both agree that Jeremy has bullied and got a big head and it is his downfall. Kaitlin says that Jeremy asked me awhile ago if I would use the veto to save him and I said no. It is going to suck to be here without him. Aaryn says that Gina is becoming a big target because everyone is sick of hearing about Nick. Aaryn says I have been trying so hard to tell her he didn't like her. Kaitlin talks about how Helen talked about when Jeremy attacked her it was the most horrible thing that has ever happened to her. Aaryn says that when I have attacked someone it was because they provoked it. Someone that provokes someone is just as bad as responding to it. Kaitlin says that she feels like she mad a deal with the devil. Kaitlin tells Aaryn how Helen promised her safety from the house for a while. She says I never told anyone that and Judd came up to me and said that he heard people want to keep her for a long while. Kaitlin says that she is going to use that and go far in the game and win it. She says I will then bring all of you to Vegas to party with me. They decide to go outside and layout. Kaitlin says doing this veto ceremony is going to suck! Aaryn says yeah totally.
Watch the Uncensored Live Feeds: Free 2 Day Trial!
1:10pm – 1:50pm Up in the HOH room – Spencer, Andy, Judd are talking about Ginamarie. Spencer says Aaryn thinks she was brought in the house and set up to be the racist. Spencer talks about the racial comments she has made and says that he doesn't think she is a part of the klu klux klan but her comments are racially charged. The conversation turns to talking about how annoyed everyone is with hearing Gina talk about Nick. Andy and Spencer both comment on how Nick talked about her behind her back all the time. Judd says that he was used Nick's hair gel this morning and Gina saw it and broke down and started crying. Judd laughs and says we should go in her room and tell her that Nick is back! They laugh. Andy says if he said that she would probably punch him. Spencer says when they evict Jeremy they should all say "You're gonna learn today!" He says we should all say sayings of Jeremy's. Judd tells them that when Jeremy talks to him he just tells him what he wants to hear. Andy says that he did that to Nick too. Judd says don't do that to me fu*ker! Spencer says I am working with you all! I have full allegiance to you guys. It's like I split open my chest and exposed it. Judd brings up how he asks Nick who he trusts. Judd says that Nick said he trusts Gina, Kaitlin, Aaryn and Jeremy. Judd says it was that moment that I realized okay you didn't say my name, you're out of here. Spencer leaves. Judd says I think final four should be me, you, Helen and Amanda because we have strategized the longest together. Judd says that he thinks Jessie should stay for a long time too. Andy agrees. Judd says he knew he couldn't remember everything for the HOH competition so he says that his strategy was to screw up others people when they studied.
2pm McCrae and Elissa are laying out in the hammock talking about how they both find it hard to lie.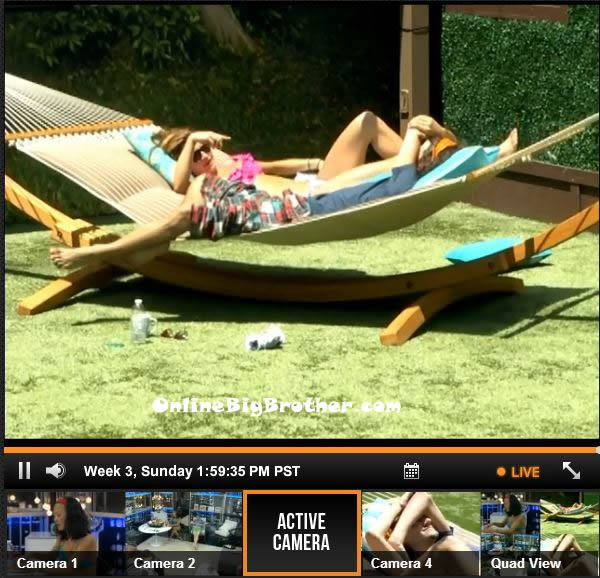 1:55pm Judd and Andy laugh about how Candice didn't know the rules of the veto and thought if she used it she could go up on the block. Judd laughs and says that they never should have explained it to her. He says we should have told her if she even tried for the veto we would send her home. If I see you hustling you are going home. Andy and Judd laugh. Howard joins them up in the HOH room. They talk about pet peeves. Howard says his are stepping on his feet and not saying sorry and bullying. The conversation turns to talking about bullying. Helen joins them. She tells Andy that he needs to go talk to Kaitlin, I think the veto is happening soon. Helen says that Jeremy is acting too happy. Helen says that if anyone doesn't vote out Jeremy, then they are going home next. If Kaitlin doesn't use the veto she is going home. Spencer talks about how Aaryn was afraid of what she is perceived out side the house. Helen says it's too late for that. Helen tells Spencer and Howard that they are safe they have been revived. They talk about what Andy will say to convince Kaitlin. They turn on the spy screen to see when Kaitlin comes out of the diary room. Spencer comments that Jessie is in the kitchen in her cute little purple outfit. Helen asks him if he has a crush on Jessie. Spencer says no, I wouldn't move in on Judds showmance. Judd says I'm not getting showmantic in here. Gina joins them and Andy leaves. The conversation turns to talking about the POV competition. The conversation turns to talking about Nick. Judd leaves the room (Judd has said multiple times he hates all the talk about Nick.) Gina talks about how Nick and her talked about not wanting to raise their kids in New York.
2:15pm – 2:30pm McCrae says it's you me and Amanda to the end. Elissa says that she feels like we have an inner connection. They talk about how Rachel and Brendon had a strong connection and trusted each other from the beginning. Andy joins them. McCrae talks about how he wants to get into video production here in LA because that's what he got his degree in. He says but Amanda wants him to move to Florida with her though. He says that she said her mom will hate me though because I have nothing to offer. McCrae tells Elissa that he has a feeling she is going to win HOH. McCrae and Elissa leave the hommock. Over on the backyard couch. Jeremy tells Andy that he is going to hope for the best and that he really hopes there is a competition before he goes where he can win some money. In the bedroom Amanda finally wakes up. Meanwhile Up in the HOH room the house guests continue to talk about random things.
2:35pm Judd, McCrae and Jeremy are talking on the backyard couch. Jeremy asks are you all ready for my campaign speech.. Don't vote for me! Jeremy says that Gina mopping around is really pissing him off because she isn't in the same situation that he is in. Jeremy says Nick lives 3 minutes from her, whereas Kaitlin lives in Vegas.
2:45pm Andy is in the lounge room talking to Kaitlin. Kaitlin says that she is never going to forgive people for putting her in this position. Andy tells her that if she does this it will give her a fresh start and she could win this game. Andy says that he has talked to everyone and there is nothing that can be done. They talk about how the Jeremy that he is today could win this game. Kaitlin says that if Jeremy is going out, I want Howard and Spencer out. If I do this I want them out. Andy agrees and says that Howard needs to go. Andy tells her that Candice can't know that we want him out. If I get HOH Candice will need to go up with him because she is a vote for him. Kaitlin says I am going to be so lonely. Andy says no you are not, I have complete allegiance to you. I am here for you, Helen is here for you. Fu*king suck it up and do what you need to do! Andy says that no one has any beef with her except for Candice a little bit but whatever. Kaitlin says that she is not going to vote him out. Andy says everyone understands that. Kaitlin says this is going to be big brother history. Andy says it could be big brother history for you to come back from this and win it. Kaitlin asks when are you guys going to get Aaryn out. Andy says soon. Howard is my main target right now. Kaitlin says I promised Aaryn I would tell her when she is the target. Andy says she isn't, right now. Andy says that Aaryn's days are numbered because of the way she treats people like Jeremy. Kaitlin says yeah she doesn't treat people very well. Andy says that from an emotional standpoint this will be the worst thing that can happen to you but from a strategic standpoint this is the best thing for you. If you don't use it then you will be the one going home and he would follow a couple weeks later. Kaitlin says she knows. They hug and leave the room.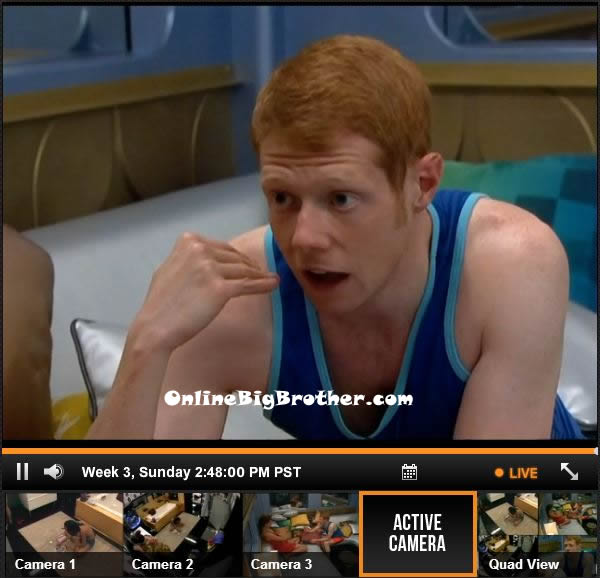 3pm In the kitchen Judd comments about Gina talking about Nick – Can't we just play one game of "Shut the FU*K UP!" The other laugh.
Stay connected and interact with other Big Brother Fans on our Facebook page.
And Follow: @BigBspoilers and @Dawgsbigbrother on Twitter for the most up to date spoilers.