POV Holder:
Kaitlin
Next POV
July 13th
POV Used
?
POV Ceremony
July 15
HOH Winner:
Helen
Next HOH:
July 18
MVP:
Elissa
Original Nominations:
Kaitlin, Aaryn, Spencer (MVP)
Current Nominations:
Last Evicted Houseguest
David, Nick
Have Nots
? Judd, Jessie, McCrea, Amanda ?
10:20am – 11am Big Brother switches the Big Brother live feeds to the we'll be right back screen to wake up the house guests. When the feeds return – Judd and Andy are talking about Howard in the backyard. Andy says that Howard really scares him. He says that anyone that can swear on their bible and go back on it will say and do anything. They talk about how he can't be trusted and that they need to get him out. Judd agrees. Andy says good, I am glad that we are always on the same page. Judd and Andy head inside the house. Elissa takes a load of laundry out to the backyard to do. Judd and Andy follow. Elissa finds bugs on the bleach and screams. Judd and Andy comment on how Elissa screams more than anyone. Elissa says I am a screamer. Big Brother asks them to please lower the two awnings beside the hot tub and the ones adjacent to the deck. Judd says oh god what does that mean? Judd and Elissa hug in the backyard. Judd comments on how its great that she isn't a target this week. Judd tells Elissa that must feel better not having to lay low. He says he always talked to her. Elissa yeah you always talked to me. Elissa tells him he is her best bud. Judd says ditto kid! Helen comes out and starts doing laps around the backyard. Helen asks Judd if she can borrow his bear tshirt to wear for the veto ceremony today. Judd says yeah, you can borrow it any time.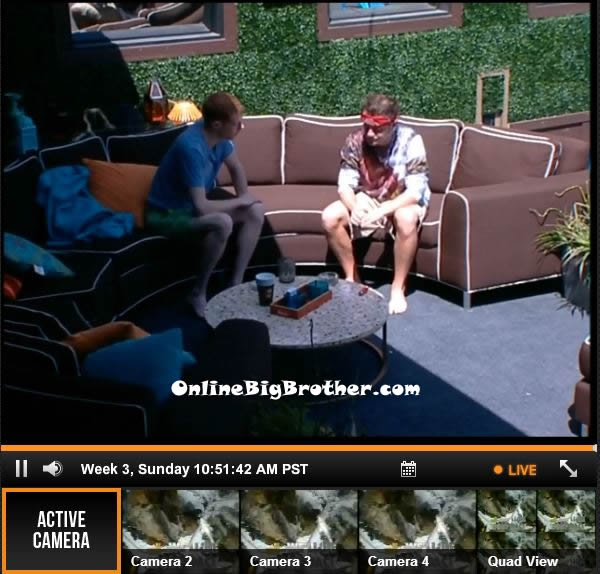 11:15am Up in the HOH room – Elissa is talking to Andy about how this is such a nice relaxing week. They talk about Jeremy and how mean he was to Elissa. Andy says that he feels bad that Jeremy is going but that what he did to her was reprehensible. Elissa says that when it gets down to it, when they are all gone then we can just battle it out. Andy says that there is just a better energy in the house now. Elissa agrees and heads down stairs.
Big Brother 15 LIVE FEEDS: FREE 2 Day TRIAL!
11:25am Out in the backyard. Helen talks to Judd. Judd says that Jeremy told him that he has 3 votes. Ginamarie, Kaitlin and a mystery person I am not sure who but he might just be saying that. helen says that she thinks Spencer will be loyal once Jeremy is gone. Helen says that we can keep Spencer till Jury and then evict him and not feel bad because thats all he wants. Then that way we don't feel bad. Helen says that she will talk to Ginamarie and tell her that she can join the party or she can have a scarlet letter on her. Anyone that votes for Jeremy to stay will be voted out next. Helen says that Gina owes me because I didn't put her on the block and I will remind her of that.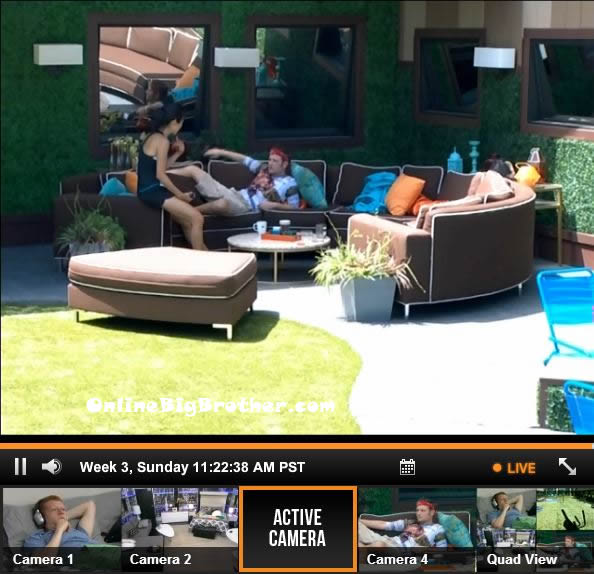 11:50am Judd and Jeremy are talking on the backyard couch. Judd tells Jeremy if he stays he will probably find out how shaddy Nick was. They talk about how they don't think he is a pro-skater. Jeremy says I've skated before. I know pro skaters. Jessie joins them. Jessie asks Jeremy why he is mad at her. Jeremy says that he isn't mad at her. Jessie asks why he think she could bully her. Jessie says that Jeremy lied to her face numerous times. Jeremy says he never lied he just with held information. Jessie says that she heard him say to people that you had me in their back pocket .. that is so disrespectful. Jeremy says he never said that, it is someone making it up throwing him under the bus. Jessie says that he probably would have gone farther if he had just trusted her. Jeremy says no it is because the people I was with are cowards. Jessie says that Jeremy obviously has no interest in being friends with her outside the house. Jeremy says that he has no idea why we are even having this conversation. Jessie says it's obvious you have no respect for me. Jeremy says I guess so.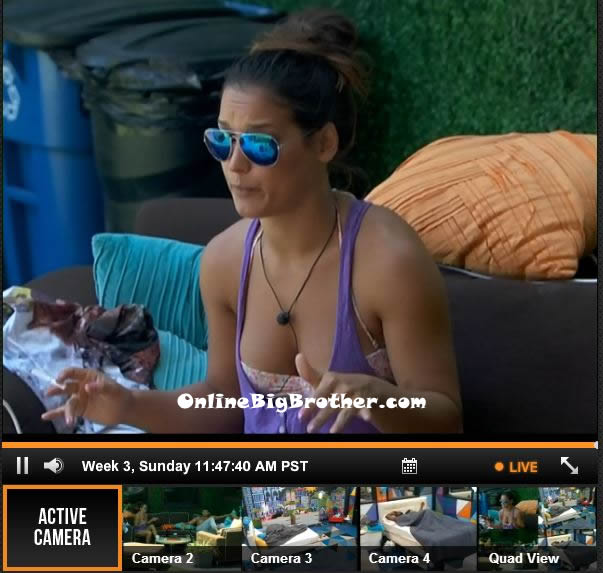 11:50am – 12:10pm Up in the HOH room – Helen and Andy are talking about whether or not Kaitlin will use the veto. Helen says that Aaryn was telling her that Jeremy was telling Kaitlin that he loves her to try and get her to not use the veto. Helen says that when girls hear those words and fall in love they don't care about $500,000. Helen says we need to drill into her that this is for the house! This is for AMERICA! There is a reason why America keeps giving Elissa the MVP! Andy says that he thinks she will use it but that he will talk to her. They both agree that Jeremy has to go. Helen says that there is an exorcism in the house, we need to get the evil out! Andy says HE HAS GOT TO GO! Helen says what do we have to do to get the devil out of hell! Helen and Andy talk about not nominating Kaitlin for at least a few weeks. Helen says that the worst possible scenario is if Candice wins HOH. Helen says that they need to talk to Elissa about Howard because he is using her and using his religion to get on her side. Helen says we cant let Elissa win HOH next week because she won't get rid of Howard. Andy says that he just wishes Elissa wasn't such a lose cannon. Helen says we just need to keep her in check. Helen says we need to evict 7 more people before jury – Jeremy, Aaryn, Ginamarie, Howard, and maybe Spencer. Jury and final 2 would be me, you, Elissa, Jessie, Judd, Amanda, McCrae, Candice, Kaitlin, and Spencer. They think even if Howard got HOH he would go after Aaryn. Andy says he better not go after one of us. Helen and Andy continue to talk about how shaddy Nick was and how it was so good they got him out now.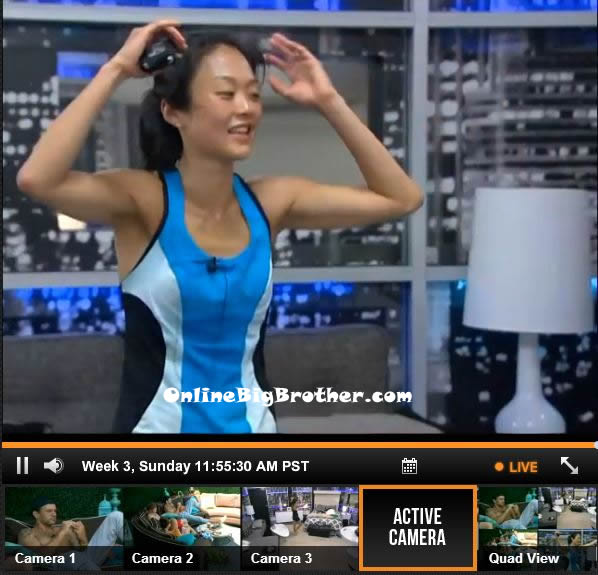 12:30pm Candice and Jessie join Andy/Helen in the HOH room. Helen tells Jessie how instrumental she was in the vote to get Nick out of the house. Helen talks about how Jeremy is now telling Kaitlin that he loves her. Helen says that she will do her best to help Kaitlin in the game if she uses the veto. Jessie asks if she doesn't is she going home. Helen says yes, she is going home and we can tell her that. Candice talks about how it was Spencers job to work on me. Helen says that now Spencer and Howard owe us. Helen thanks Jessie for voting with them. Jessie thanks Helen for taking her in and showing her respect. Helen says that Jeremy doesn't deserve to be here, why did he get cast. Andy talks about what horrible players Nick and Jeremy are. Jessie says that she won't be friends with Jeremy after the show.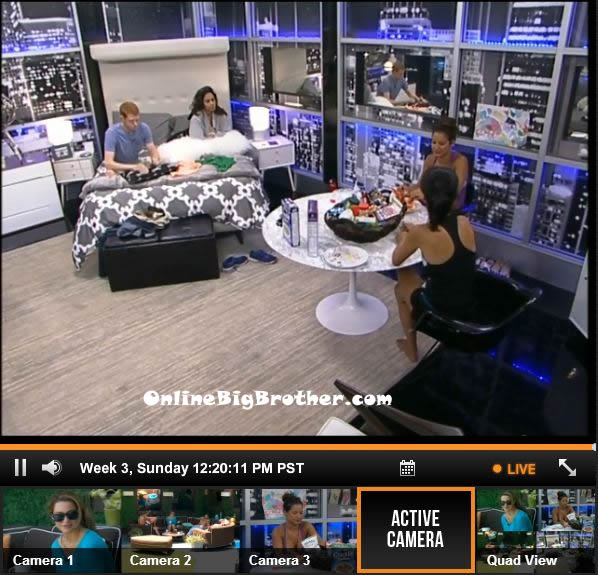 12:35pm – 12:45pm Helen is up in the HOH room screaming Jeremy's name and about how he has disrespected the other house guests. Down in the Kitchen Jeremy talks to Elissa about how he heard his name screamed. Helen continues her rant about how Jeremy doesn't deserve to be here. She says that he can leave week 3 with his never not pass. He doesn't even deserve a $1! Helen looks at the camera and starts yelling to Jeremy's mom telling her that she is sure he ruined Big Brother for her. Helen continues to yell and scream at the camera about what a horrible person Jeremy is. Helen says sorry for her disappointment. Helen says she will never be able to watch the show without thinking what an a$$ her son was on the show. Judd comes up to the HOH room and laughs about how they all heard Helen yelling out Jeremy's name in the kitchen. Helen says I don't normally talk bad about people but I have a right to talk bad about him. It would be wrong if I didn't talk bad about him.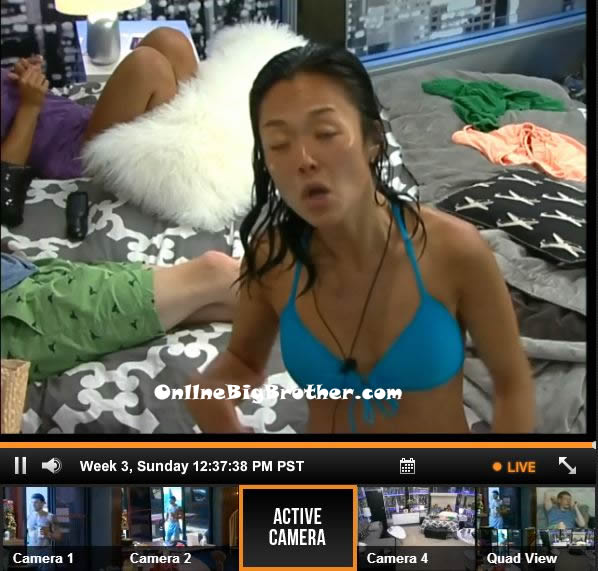 Stay connected and interact with other Big Brother Fans on our Facebook page.
And Follow: @BigBspoilers and @Dawgsbigbrother on Twitter for the most up to date spoilers.