POV Holder:
Kaitlin
Next POV
July 13th
POV Used
?
POV Ceremony
July 15
HOH Winner:
Helen
Next HOH:
July 18
MVP:
Elissa
Original Nominations:
Kaitlin, Aaryn, Spencer (MVP)
Current Nominations:
Last Evicted Houseguest
David, Nick
Have Nots
? Judd, Jessie, McCrea, Amanda ?
Big Brother Live Feeds OFFICIALLY AVAILABLE IN CANADA: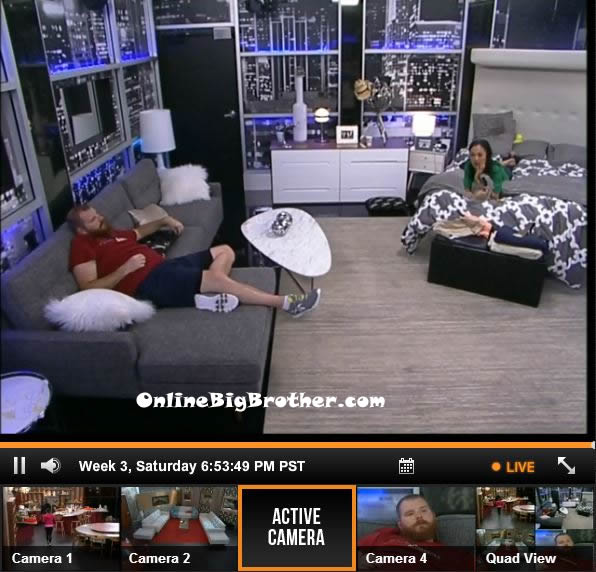 6:50pm – 7:10pm Up in the HOH room – Spencer is talking to Helen about the competition. Helen asks if he thinks Kaitlin will use it. Spencer says that he isn't sure but that would be the best case scenario. Spencer asks so where do I stand? Helen says well you didn't win the veto but you are the pawn. I could easily send you home though. Make sure you tell Howard that I could back door him too because I feel really duped. Helen talks about how Jeremy is ready to give her the world and that she is ready to give that up to Spencer and Howard. Helen tells Spencer that she shares a lot with him. She asks if you win HOH who would you put up? Spencer I know that the plan is to get rid of Gina, Jeremy, Kaitlin and Aaryn. Helen says that she loves Gina but that she isn't going to ask everyone to protect her. Helen says I could revive you. I want that protection from you and Howard. And I don't ever want to hear you say I should be voted out because I am smart. You should look at that as an asset. You really hurt me. Spencer says that he feels really bad that he hurt her. You have my 100% loyalty. Helen says you owe me, Elissa, Andy, and Jessie huge props. Spencer says that he is sorry he hurt Andy. Helen asks why would you hurt Andy just to save Jeremy. Spencer says one thing I would like to ask of you, I would like to make it to jury. Helen say okay, but then I want your vote in final two. Spencer says you got it. Helen says she loves him and Howard. Spencer says that he knows Helen could get the votes to send him home. If the tides do turn can you tell me so that I can add to my speech to give a shout out to my girlfriend and my work. Helen says that she doesn't think that will happen unless people turn on me but I don't think that would happen. Spencer tells Helen and she and Elissa have his protection. If you are in the final two, you have a guaranteed vote from me. Spencer asks if Helen has given a deal to Ginamarie. Helen says that she made a one week deal with Gina and Nick. Helen asks do you trust Howard? Spencer says yes. Helen says even though he swore on a bible. Spencer says he likes Howard, he is a great physical player but maybe doesn't play the best game. Helen tells Spencer that Kaitlin is going to take herself off the block.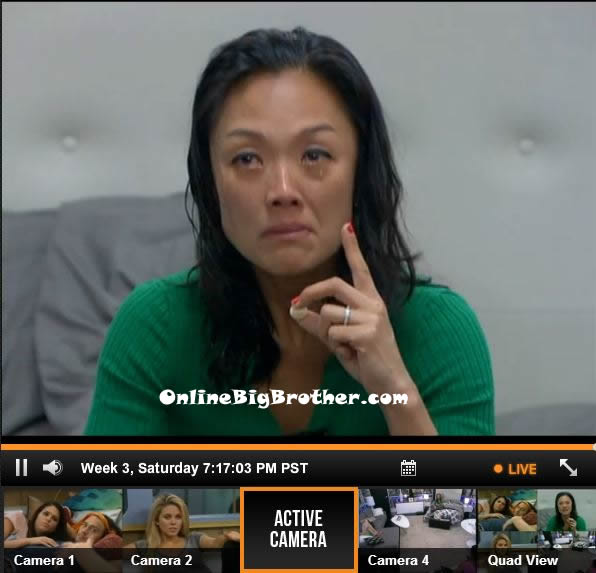 7:15pm – 7:30pm Kaitlin comes up to the HOH room with Andy. Helen congratulates Kaitlin. Helen tells Kaitlin that she is seriously considering putting up Jeremy if you use the veto. I know that you two are very close. I feel if I don't I am going against the house. Kaitlin says that Howard is super untrustworthy. He swore on the bible that he voted to keep David. He is using religion to his full advantage. He talked unbelievable sh*t about Candice and now that the moving company is out he is making out with her to use her for her protection with you. Kaitlin talks about how Howard has been throwing every competition. It doesn't make sense that he has that much muscle and played 4 yrs of football and comes out so uncoordinated in competitions. It just doesn't make sense. Helen says that Jeremy has never treated me well, he has treated me horribly. By keeping him I am going against my own moral code. Helen says that Kaitlin is right about Howard he has lied to me. Kaitlin says that Spencer has lied repeatedly to my face. Kaitlin talks about how Howard was telling us everything that you guys were talking about last week. Kaitlin says I don't know if I want to stay in the house without Jeremy. I am using the veto on myself. Helen says thank you for using the veto on yourself. Kaitlin says that she can rally the votes to get out Howard. Kaitlin says that if you keep Jeremy and when it gets down to it, I will vote him out. Helen says that the house wants Jeremy out. Andy says if we didn't nominate and evict Jeremy – we would have a huge target on our backs by people who aren't coming after us. Kaitlin, Andy and Helen are all crying. Helen says that if she could she would keep Jeremy for her because of seeing how much it hurt Gina. Kaitlin says and he and I are so much closer than they were. Kaitlin says its so hard because he is going up in my place. Helen says America will hate me if I don't do this. Helen says if Jeremy does go out, Andy and I will protect you. You can come over to our side. Helen says I know you love him.. Kaitlin says I don't love him. Helen says you can come over and work with us. We will make sure Elissa doesn't put you up. You and Gina are the people that I like on that side.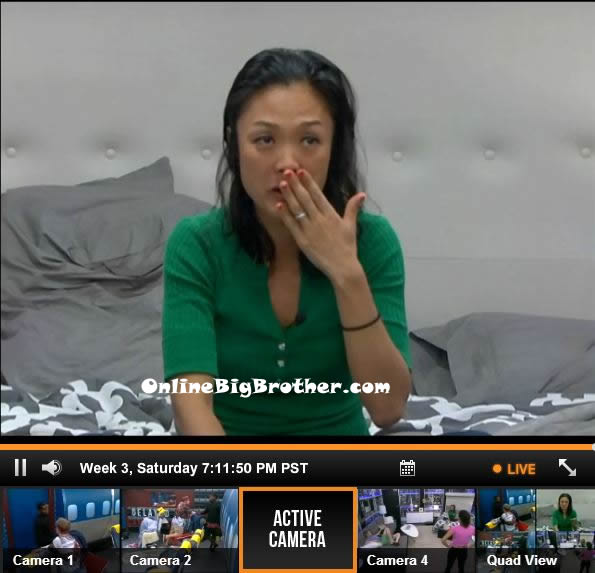 The target will immediately turn off of you. Jeremy dug his own grave and you dont need to go down with him. Helen says I will make sure a large majority of the house won't come after you. We will just rotate winning. You will see Jeremy when this is all done. I will make sure Elissa never nominates you. You can go further in this game without him. You would have been the next one out if you hadn't won it. You have been as sweet as pie and we would like to bring you into the fold. Kaitlin says okay. I can't tell Aaryn right away though. I still will talk to her. Helen tells her that is okay you are taking a huge one for the team. We will do it how you want to do it. Kaitlin says oh my god this is so heart wrenching! Helen says we will go after Howard next, and Spencer right after Jeremy. Kaitlin says that she cant vote out Jeremy. I can't do it. Helen says okay you can vote out Spencer, and I will make sure no one holds that against you. For now you need to act like you don't know if you will you use it. Kaitlin says I think I already told Elissa that I would. Helen says that's okay we can spin it that you are unsure. Helen says if you and Jeremy want the HOH room to spend some last time together you can use it. Kaitlin says okay. Helen says that she will also talk to Jeremy and that tell him that if he goes I will tell him that we will protect you. Helen asks Kaitlin and Andy to put their hands in and Helen welcomes her onto their team. Helen says that she owes Kaitlin more than anyone in the house. Kaitlin asks if she can go tell Jeremy. Helen says yes you can tell him.
FREE 2 DAY TRIAL: Watch the Big Brother Live Feeds NOW!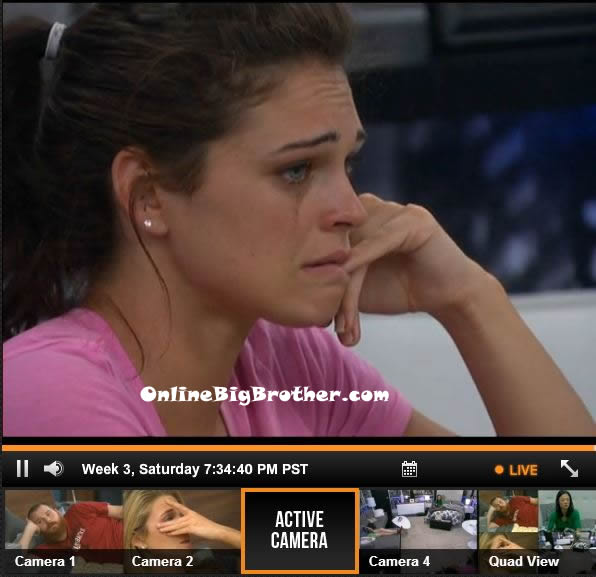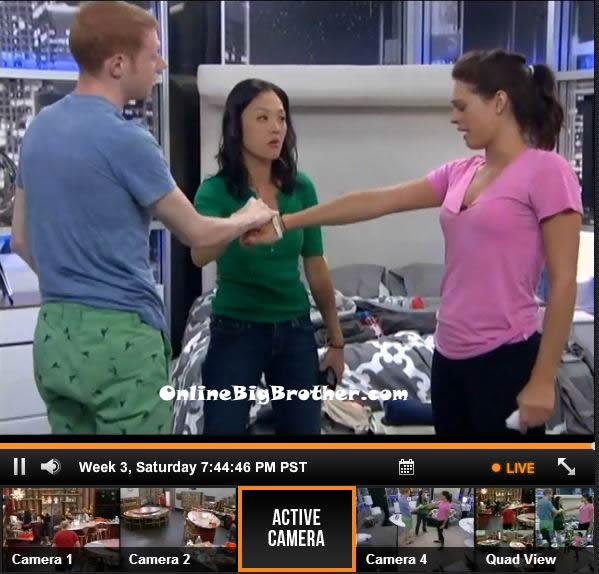 7:45pm Kaitlin brings Jeremy into the storage room and she tells him how he is definitely being back doored, there is no way around it. Jeremy says it's okay. Kaitlin says that Helen said it's what the house wants and that they are afraid if they put up Howard then the house will come after them. Jeremy says that he is okay. Kaitlin says that he dug his grave. Kaitlin says if I do this Helen said I will go far in this game and that Elissa wont put me up. Jeremy says McCrae has had MVP the last two weeks, he told me. Jeremy says I don't want you to be on the wrong side of the house at this point. And if you need help spending the money I will help you. Kaitlin says you aren't even going to be in sequester with me. Jeremy says I can leave with my head held high. Kaitlin says you are not going home because of your strengths you are going home because you are an a$$hole. Jeremy says that he will be there at the finale to see her again.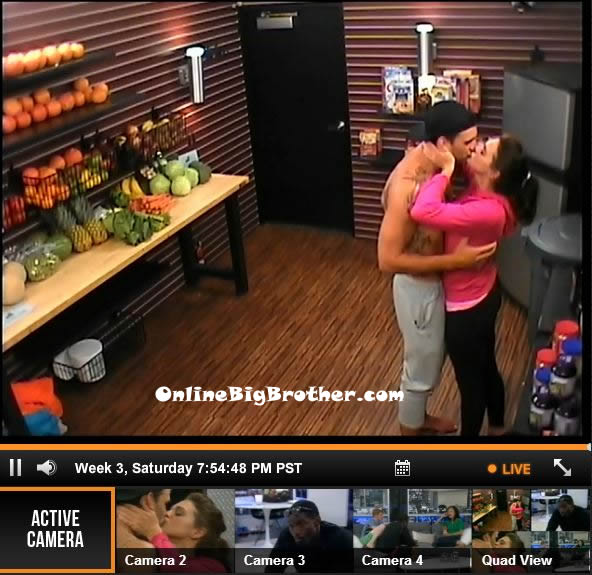 7:55pm – 8:10pm Jeremy goes up to the HOH room. He tells Helen that he was going to come up here and offer her a deal where she would have a hand in all of my nominations if I win HOH but I know I am going home. Helen talks about the things Jeremy has done like attacking her, bullying Jessie before the vote and wiping his butt with Elissa's hat. Jeremy says that he has made some poor judgements in the house and feels bad about the things he's done. Helen asks if you stay that would be the bare minimum for you to let me have a hand in your nominations. I would also want you to take me to the final three if we made it that far. Helen tells Jeremy if he had been this way from the beginning .. Jeremy says yeah I am cocky and I love to win. Helen and Andy tell Jeremy that they have mad respect for him. Jeremy says that he is going to enjoy his last few days in the house. It is what it is, I have learned my lessons and I will be a better person because of it. Jeremy heads down stairs. Andy tells Helen that if that person had been in this game from the beginning… Helen says he would have won this game.
8:20pm – 8:30pm Elissa comes up to the HOH room. Helen talks to Elissa about how Kaitlin is going to use the Veto. Helen explains how they are going to be offering her safety for taking herself off the block and coming over to work with us. Elissa agrees with everything about offering safety and that Jeremy has to go. Elissa is a little concerned about Kaitlins behaviour the last couple days. Elissa says that I don't feel comfortable with a middle man promising her safety from me nominating her. I think she should come and talk to me about it. Helen repeats that she is worried about Kaitlin not using the veto. If we are making deals I want to be involved. Helen and Andy agree. Helen says why not turn one of our enemies into an ally. Elissa agrees I just want her to come talk to me. Helen says we will have her come talk to you, but we need her to use that POV. The problem with Jeremy is that he wants to come talk to you. He offered everything to stay. Elissa, Andy and Helen discuss making a final three deal.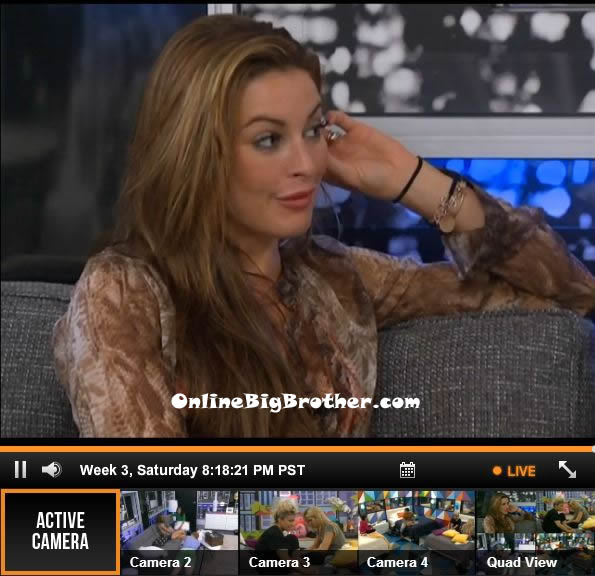 8:35pm – 8:45pm McCrae and Amanda are in the lounge room talking about random things. Andy joins them and tells them about conversation that he and Helen had with Kaitlin up in the HOH room. He reiterates the entire conversation. He then tells them about the conversation they had with Jeremy. McCrae asks if they talked about the MVP? Andy says no not really Helen just said that who ever gets it McCrae or Elissa then we will make sure they don't nominate you. McCrae says okay good. Andy says that Howard will be my demise, and all of our demise. Howard needs to go, then Spencer needs to go. Andy says with Kaitlin staying I can guarantee we are all safe and she will be going after Howards blood. Amanda talks about how we can get other people to do the dirty work for us. Andy, McCrae and Amanda talk about how Helen and Elissa need to shut her mouth, they are doing a lot of damage up there. Amanda comments how Aaryn knows that McCrae isn't the MVP. Meanwhile in the bedroom – Jeremy tells Gina and Aaryn that he is going to probably be going this week and he wants them to be happy and play hard. Amanda talks about how she doesn't really trust Helen. Andy says that he has gained a lot of trust with her in their conversations.
8:55pm Up in the HOH room – Helen and Candice are talking. Candice talks about how Aaryn has apologized to her 4 times now, she isn't sorry. Helen thinks Aaryn will look back are realize how wrong she has acted. Candice says she is a narcissist. Candice says I feel like I am on the outside of the group. I am asked to leave when I come up here when conversations are going on. Helen offers to tell Candice what her conversations were tonight. Candice asks if it is because she is getting close to Howard. Helen tells Candice that a lot of people in the house are concerned with Howard. Helen starts telling Candice about her conversation with Spencer. Candice says that she just found out that Spencer was the one to tell Aaryn that I sat on her hat. Candice talks about how she will be loyal to Howard through what he is going through and I hope he sticks with me too. Candice gets called to the diary room. She leaves. Howard comes into the HOH room to pray.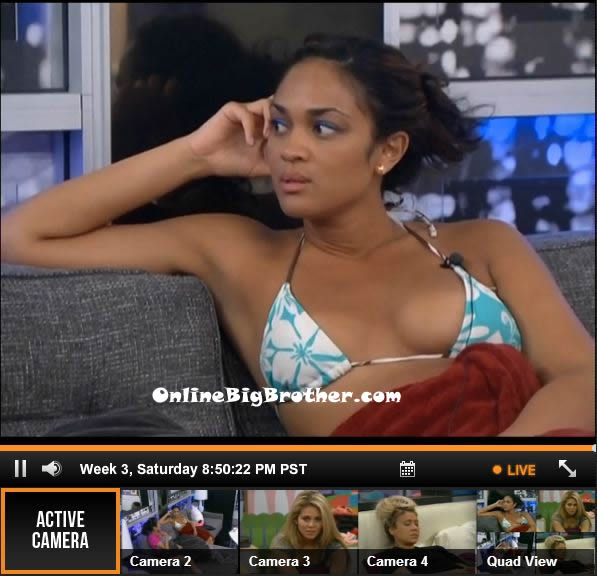 9:05pm – 9:20pm Meanwhile in the bedroom – Aaryn, Gina, kaitlin and Jeremy are talking about random things. Gina tells Kaitlin that if anyone of you leave it is going to suck in here. It is going to be nerd alert. Jeremy talks about ninja jumping or sky diving back into the house. Kaitlin comments that Jeremy is in a chipper mood. Jeremy says that he has something cute planned. Kaitlin tells Gina that we can't go against them, we will just do what they want. Kaitlin tells Jeremy that she already told them she is voting for him to stay. Jeremy tells her no. You need to vote with the house. Meanwhile Andy heads back up to the HOH room. Helen comments on how Spencers answer to who he would nominate next week wasn't sufficient. He said Aaryn.. Andy says and I think Gina. Helen asks Andy who he would put up if he won HOH. Andy says that he would put up Howard, Aaryn, and Spencer as the third nomination. Judd joins them. Judd asks who they are going to have put up if Kaitlin uses the veto. Helen yells Jeremy! Judd says he thinks Candice would be a good person to.. Big Brother cuts the feeds. When the feeds come back Judd, Andy and Helen are talking about who Elissa will put up as the MVP. Judd thinks she might just flip a coin. Andy is worried she might just put him up because she knows he is safe. They talk about Howard lying on the bible. Judd and Helen think next week could be a double eviction. Judd thinks that Kaitlin should go before Spencer. He isn't athletic, he doesn't win challenges. Helen says that if I hadn't won – Howard, Jeremy, Spencer would still be operating as MC.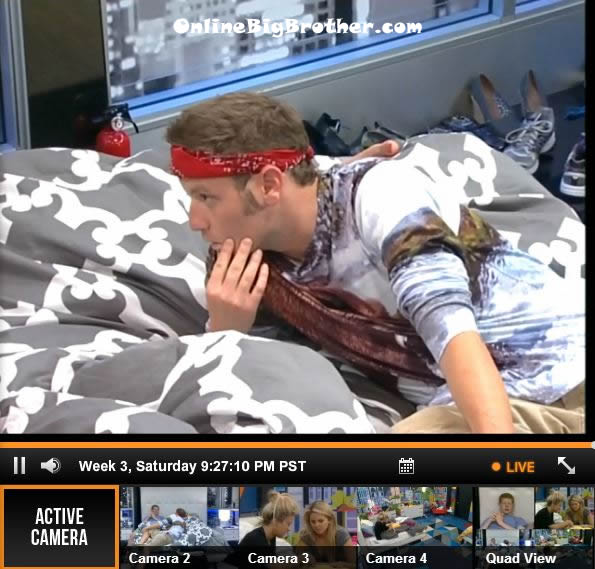 9:30pm – 9:35pm In the bedroom – Jeremy and Amanda are talking about how Jeremy is pretty sure he is leaving. Amanda says that she isn't even sure how she is voting. Jeremy says that there is still a lot of game to be played before Thursday. I am not giving up. Amanda ask Jeremy if he is still working with Spencer. Jeremy asks do you know what they did to me? Jeremy talks about how if the MC had stuck together we could have coasted through this game. Amanda tells Jeremy that there are bigger threats to her game in the house than him. You should definitely campaign. Jeremy says that he will.
9:35pm – 10:05pm Spencer heads up to the HOH room. Andy, Helen and Judd are still talking. Judd starts going off about how guacamole is nothing without chips. Candice and Howard join them. They continue to talk about random things. Meanwhile – McCrae, Amanda and Jessie are in the lounge room talking about wanting the backyard to open up. Judd heads down from the HOH room to the bathroom to sit with Aaryn. Aaryn asks Judd if he threw the POV Competition. Judd says hell no I didn't. Aaryn says she thinks Howard threw it. Judd says that he thinks he was trying to get in good with them. Judd tells Aaryn that she went from being on the bottom to being back in it. Aaryn says she hopes she is. Judd tells Aaryn from what he is hearing she is 100% safe this week. Aaryn asks what about next week. Judd says he doesn't know. Judd talks about the MC and how he and Nick hated each other. Jessie joins them and Judd starts giving her a massage.
Stay connected and interact with other Big Brother Fans on our Facebook page.
And Follow: @BigBspoilers and @Dawgsbigbrother on Twitter for the most up to date spoilers.
[polldaddy poll=7248812]