POV Holder:
Kaitlin
Next POV
July 13th
POV Used
?
POV Ceremony
July 15
HOH Winner:
Helen
Next HOH:
July 18
MVP:
Elissa
Original Nominations:
Kaitlin, Aaryn, Spencer (MVP)
Current Nominations:
Last Evicted Houseguest
David, Nick
Have Nots
? Judd, Jessie, McCrea, Amanda ?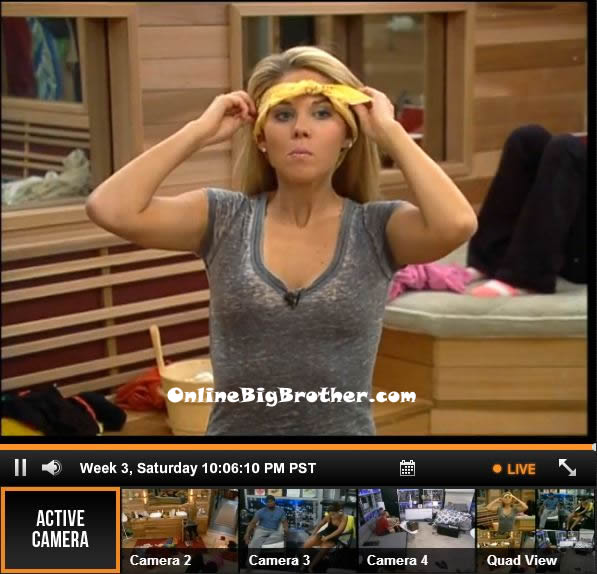 10:05pm – 10:10pm In the bathroom – Aaryn is doing her hair and makeup. Jessie is laying on the bathroom bench after her massage. Aayrn asks Jessie if she is okay. Jessie says yeah just listening to this bullsh*t! It is time for him (Jeremy) to go. Aaryn says that everyone has said things they should be embarrassed about. Aaryn and Jessie start talking about Kaitlin using the veto and how Jeremy will be going home. Aaryn says that Jeremy is trying to be super sweet so that Kaitlin doesn't use it and she goes home. Maybe I am being a bit*h but the only way I stay is if I go with the majority of the house.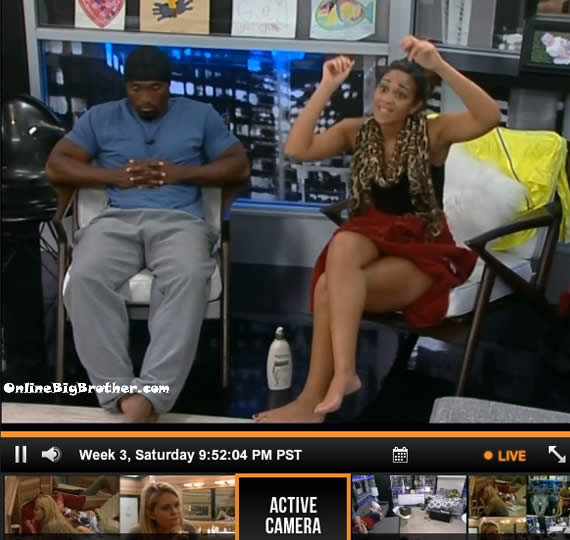 9:50pm HOH Howard, Candace, Helen, Andy, Spencer, Judd
They are talking about the Power of Veto competition. Candace says when Kaitlin was done she was out of breath like she just ran a marathon.
Helen: 'Her time is amazing"
Spencer says She was 5 minutes faster than he was
Helen says the TV audience will not get it but 7 minutes is amazing for a competition like that.
The POV had painting of the house guests, Apparently Jeremy's was of him as the president. Andy says he looked like John travolta.
helen asks Spencer who told him they could take the painting after the show
Spencer: "Heath "
Feeds cut
Andy starts in on his Nick hate saying how stupid Nick was hiding the fact he was a professional roller blader.
Spencer says he got kick out of Yale. Andy says he dropped out. Andy says the first day he saw NIck his "red flag shot straight up in the air" They agree that Nick was called into the diary room a lot they all thought something was up with that.
Candace: "I felt bad for him"
Andy: 'I didn't" (LOL why does Andy hate Nick do much?)
They start joking about the Moving Company. Andy laughs about Jeremy walking around the house saying "I have ears all over the house"
Andy drives it back to Nick.
Judd says he hated Nick the very first week he was here. Brings up when Nick would talk about corn syrup he wanted to hold him down and pour it in his mouth.
Candace says Nick never talked about sexual things
Spencer and Howard say Nick never said anything bad about Gina. He may have said "Ohh my ears are bleeding" but that was just general bullsh!t.
Helen says she liked their name "The Moving Company"
Howard: 'That was spence"
Judd and Andy laughing at Nick for getting out 15th
Judd: "I'm just joking Nick"
Any: "I'm not F*** No"
Howard and Spencer really bash the Moving Company. Howard plays it up that he didn't want to be in the Moving company because he liked the people he was with (Helen, Candace, Andy, Elissa..)
10:26pm
Jessie saying that Jeremy is really working Kaitlin trying to get her to not use the POV. Helen says that would be stupid if she doesn't use it she goes home.
Helen says that Elissa is not a pushover once Elissa has set her mind to something she cannot persuade her. Elissa comes in.. the super friends are doing their thing in the HOH.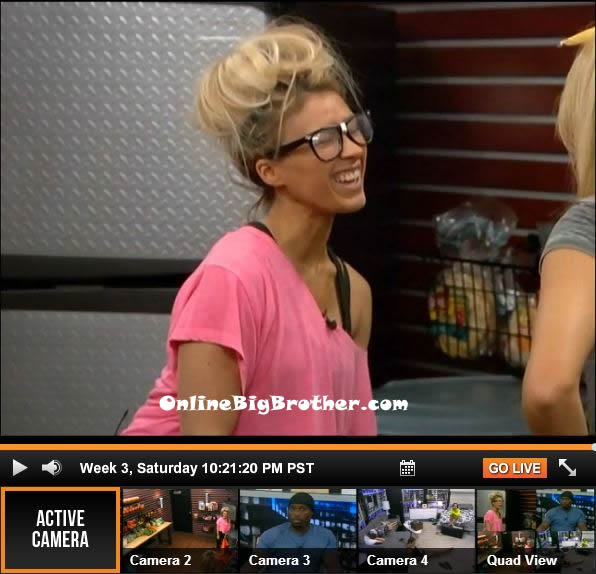 10:20pm – 10:30pm Aaryn and Gina are in the storage room. Gina asks if you had to pick the who the worst girls voice was, who would you pick? Aaryn says obviously Elissa's, why did someone ask you that? Gina laughs and says no I am just asking you that. Gina then imitates Elissa's voice and says "Sorry big brother!" Aaryn says I hate her. I could legitimately go the rest of my life without thinking about her. Aaryn and Gina leave the storage room and go to the bathroom where Jeremy is sitting on the bench. They joke around. Aaryn bring up how Spencer said she might get a job after this but that she might have to forget about her no nude policy. He was making fun of me in a back handed way. Gina says that was rude. Jeremy says he is a scrub and everyone knows it. He is 31 years old. He acts like a little boy. Aaryn, Gina and Kaitlin talk about moving in together in New York.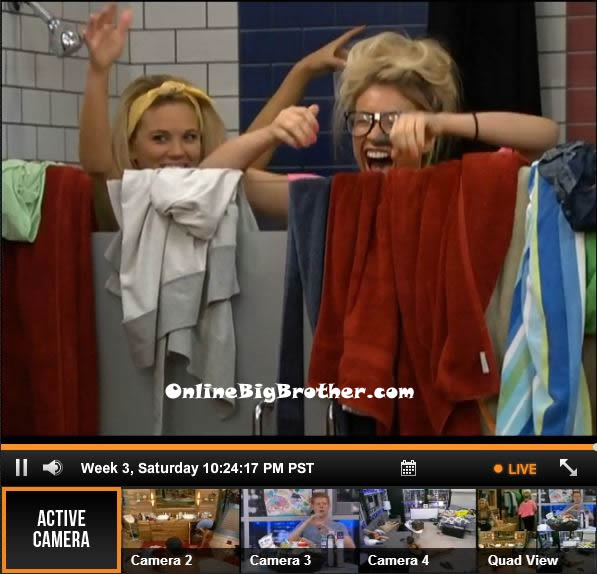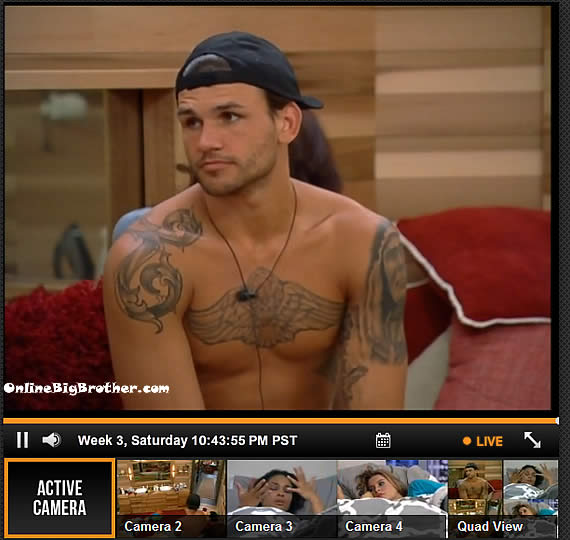 10:41pm Bathroom Jeremy, Judd, Kaitlin
Judd: "If you can get the numbers I'm in"
Jeremy: "I got 3"
Kaitlin: "Helen already told me everyone wants him out"
Jeremy leaves.
Judd: "I've heard people don't want you out for a long time.. I don't want you out I think you are one of the nicest people here for sure"
Jeremy comes back says he's not going to give up but it's not looking good.. he's got 3 more days.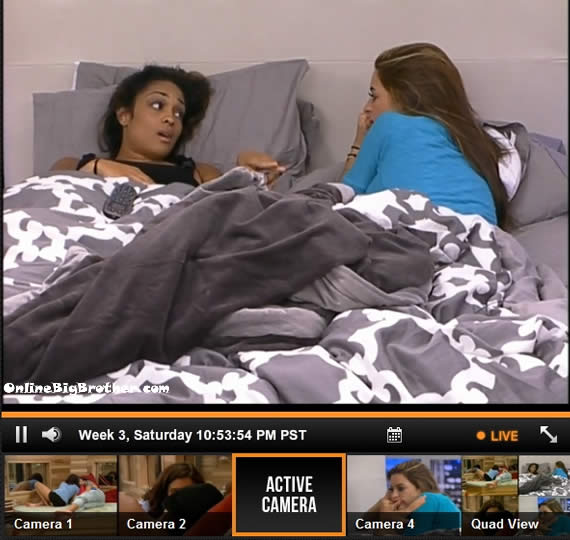 10:48pm Cam3-4 Candace and Elissa
Candace says she bounded with Kaitlin early on She was super sweet she was a super nice girl. Kaitlin shared some personal things about her family adn they got close, "I really liked her it's a shame that she got pulled away by Jeremy and Aaryn"
Candace says she wouldn't use the Veto on Spencer because he screwed her over in the vote week one, made up the hat story and lied to her. "I don't trust Spencer.. She would use it on Howie though at this point there's a level of closeness between them. She points out they've only started talking to each other these past 4 days.
Candace says that Howard is the type of person she would want to know outside the house. She's not sure why Amanda has such a beef with Howie "Why is McCrae's lie any different than Howies"
Elissa thinks that Amanda is trying to protect Candace because she's worried that Howard is using her
Candace makes it clear that she does not trust Spencer at all and wouldn't mind if he left but she trusts Howard a lot because he's a good man.
Candace: "I've already told Howie.. that's your boy.. but he did two things to me that pissed me the hell off"
Candace: "I'm almost 30 years old I've dated a plethora of boys.. I think he's a really good man "
Candace says when she's around Howie she feels like she's on a date.
Candace: "I'm 100% with you guys and Howie is 100% with spencer"
Elissa mostly just listens.. (They're building a bond the friendship grows)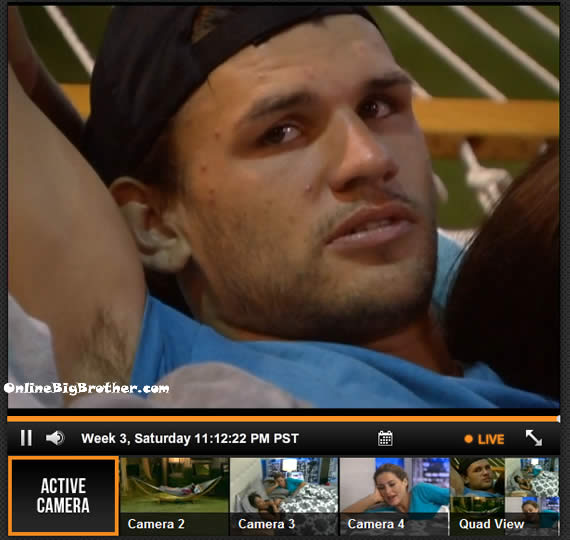 11:07pm Cam 1-2 Hammock
Kaitlin is talking about her conversation with Helen where she proposed flipping the house and rolling with a group of 8.
Gina: "Not everybody can be on one side"
Kaitlin says the HOH group was so happy that Jeremy's name didn't get pulled
Jeremy: 'Everything is done for a reason"
Gina: "I've never seen Amanda in such a bad mood"
KAitlin: "She's on her period.. thats it"
Gina thinks it's also the slop.
Kaitlin: 'I tried to save you babe"
Jeremy: "Everything happens for a reason" he's disgusted that players like Jessie are left in the game.
it's funny because KAitlin and Gian both assume Jeremy is leave and he has to keep reminding them he's not gone yet.
Jermey tells them they can't give up, "I've I got home and y'all quit it means I go home for nothing"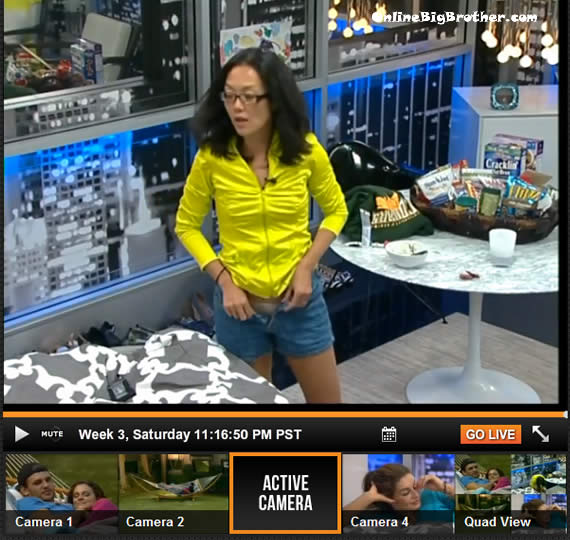 11:17pm HOH Helen, Elissa and Candace
Candice tells her she doesn't trust Spencer and if she had won the veto she would have saved KAitlin. Candace says her loyalty is with Helen and Elissa (The friendship grows). Elissa and Candace want Aaryn to go home next. Helen says Amanda wants to win it and take out Howard so they will be fighting against her in the comp.
Helen: "Amanda is friends with Aaryn and she's not going to help us get her out"
Helen suggests that Amanda will eventually want to get them out.
11:45pm Super friends playing volley ball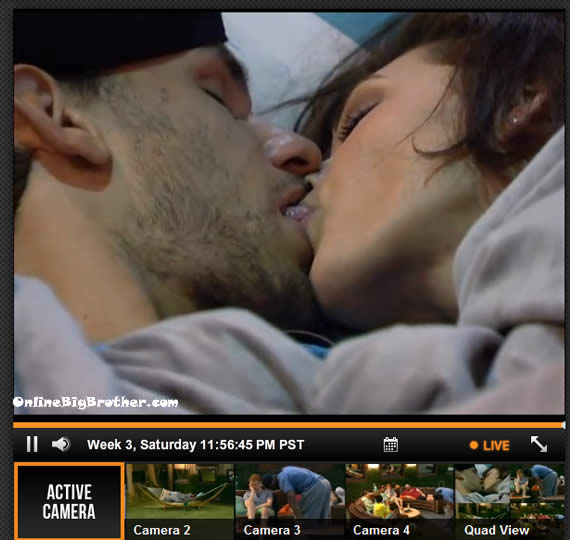 11:58pm Kissing on the hammock..
About 10 minutes ago Gina was in the kitchen sobbing about losing Nick in the game. Judd goes up to her to confront her . once Amanda is done in the kitchen she heads out to the backyard couch where Andy and Spencer are talking. Amanda starts in on how embarrassing Gina is being. Spencer throws in some jabs about Gina thinking her and Nick's time in the house was like dating for a year outside the house.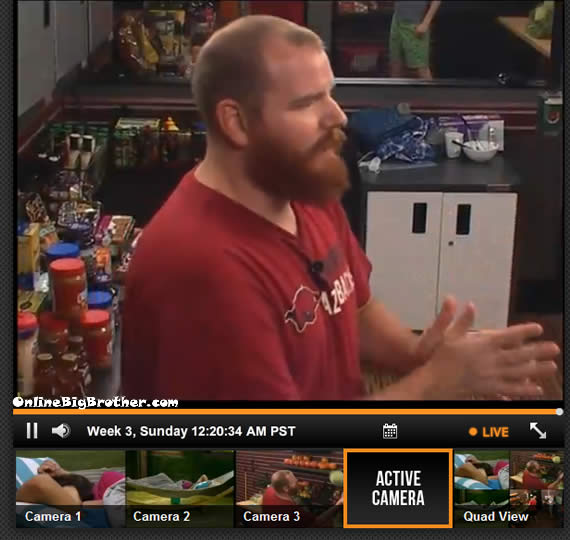 12:18am Storage room Spencer and Andy
Andy: "What are you taking"
Spencer: "Hydro condone" Feeds cut
Andy says that Helen and Kaitlin were with him in the HOH and we told her Jeremy is going home.
Andy: "There are bigger targets in teh house once Jeremy goes"
Spencer: 'Naturally I'm pretty nervous"
Andy: "I trust you again and you are good with me .." Andy says if Spencer lies to him again it over
Spencer saying he wishes he had invited And into the alliance, "I've never badmouthed you behind your back.."
Spencer says that he just couldn't turn his back on good people like Helen and Andy and that is why he left the Moving Company.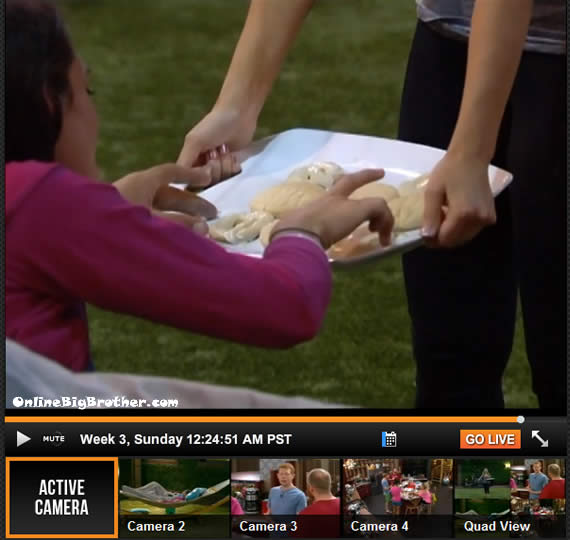 12:27am Aaryn's cookies are done she deliveries some to Kaitlin and Jeremy on the hammock
Stay connected and interact with other Big Brother Fans on our Facebook page.
And Follow: @BigBspoilers and @Dawgsbigbrother on Twitter for the most up to date spoilers.
[polldaddy poll=7248812]