POV Holder:
Kaitlin
Next POV
July 13th
POV Used
?
POV Ceremony
July 15
HOH Winner:
Helen
Next HOH:
July 18
MVP:
Elissa
Original Nominations:
Kaitlin, Aaryn, Spencer (MVP)
Current Nominations:
Last Evicted Houseguest
David, Nick
Have Nots
? Judd, Jessie, McCrea, Amanda ?
6:12pm Cam 1-2 bedroom
Random conversations going around.. Spencer and Helen saying "they will give us the artwork after the show is over"
6:16pm Storage room helen and Candace
Helen: 'I thought you got it"
Helen: "My was 8:46"
Candace: "I fell I shouldn't have fallen.. it took me awhile to get up from the fall"
Helen: 'Kaitlin's time was very good"
Candace: "I wouldn't have beat her even without the fall"
Helen: "I didn't do that well"
Helen: "when I saw her 7 I was like holy sh!t"
Candace: "Kaitlin's time was 7:09…." Candace add that Kaitlin was "Super out of breath.. I knew that meant she went really really fast "
Helen wonder is KAitlin will use the POV. Candace thinks she will.
Candace: "100% sure.. he wasn't worried about her last week and she would be a dumb girl if she didn't.. he kept telling her play for yourself play for yourself.. "
Candace: "KAitlin was 7:09"Candace: "She's going to take her selfe off"
Helen: 'I hope so because if she doesn't it will be disastrous"
Candace: 'We'll just have to scare her be like you are going home dude// we're voting you out .. you pick .. I don't think she's stupid enough to want to go home"
6:25pm Helen in the HOH pacing around saying "Please use it please use it… " "Being HOH is exhausting.. seriously.. could it be any more exhausting than it already is.. how did i lose that I didn't even come close.. I sucked really bad.. hopefully she saves herself.. Please use it""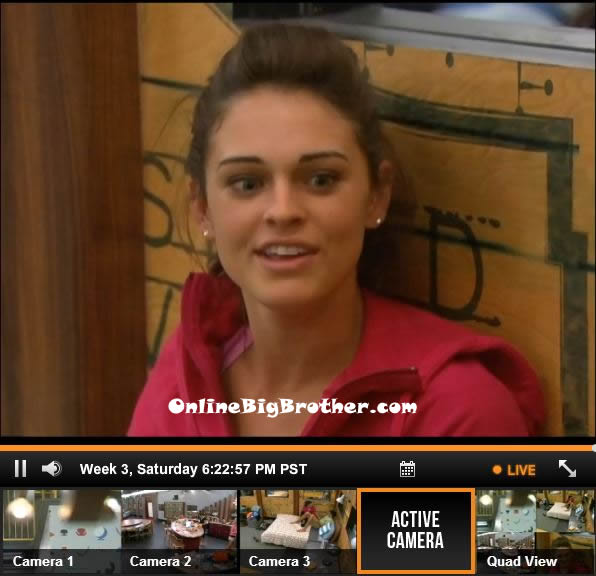 6pm – 6:25pm In the havenot room – Howard talks Amanda and McCrae. McCrae asks Howard if he wants to pull Candice in with them. Howard says um no not really, I am in here alone. I would rather not. McCrae and Amanda say okay. Howard leaves. Amanda and McCrae question whether or not Kaitlin will even use the veto. (Kaitlin won the Power of Veto). The cameras switch to the other bedroom – Judd and Aaryn congratulate Kaitlin on winning the POV. Spencer talks about how they were up in the room for 4 and a half hours. Jeremy tells Kaitlin that he is proud of her. Kaitlin says thanks. Judd says that he bid on her to win. Jeremy asks if Kaitlin wants him to talk to them for her. Kaitlin says that she wants to talk to Helen alone. Kaitlin asks okay did he vote for David to go or stay? Jeremy says he voted for him to go. Kaitlin says okay he swore on the bible and said he didn't. That means he's word means nothing. He is untrustworthy. Kaitlin says that anyone that swears on the bible and goes back on it means his religion means nothing. Kaitlin brings up how Howard is now lying with Candice when he talked sh*t about her the first 2 weeks. Jeremy says that he will win the next HOH and let Helen have a strong hand in who goes up. Kaitlin says that Howard betrayed Helen. Kaitlin says that she can't believe she won! I smoked everyone! Kaitlin says that Aaryn is pretty upset. You should go comfort her. Jeremy says I want to have $ex with her right now!
6:26pm Bedroom Aaryn and Gina
They are talking about KAitlin's win. Aaryn thinks it's because she weighed it out first. Aaryn says she broke one of the pegs and had to wait for them to fix it, "I hope it didn't f*** up my time.. i had to wait for them to come fix it" Feeds are cut*****
Andy is in the room with them. Gina complaining about how crappy she did in the Power of Veto competition. Andy thinks she did great she came in third.
6:37pm bedroom Kaitlin saying that while she didn the POV competition "Three dudes were laughing at her"
*** Feeds cut***
Jeremy: 'I'm so happy for your.. not only are you drop dead gorgeous you are a fighter and it's turning me on"
Kaitlin: 'I hope she takes into what I say into consideration.. I think she has a deal with Howard"
Jeremy says he talked to Helen and she told him she doesn't accept 2 strikes and Jeremy thinks Howard has more strikes than him.
Kaitlin says she has so many good points to go over with Helen. Jeremy says be confident go in there and look her in the eye.. be confident and honest.
They start talking about the showmances this year
Amanda/McCrea, Judd/Jessie, David/Aaryn, Howard/Candace
Jeremy doesn't call what they have is a showmance he calls it a romance. *-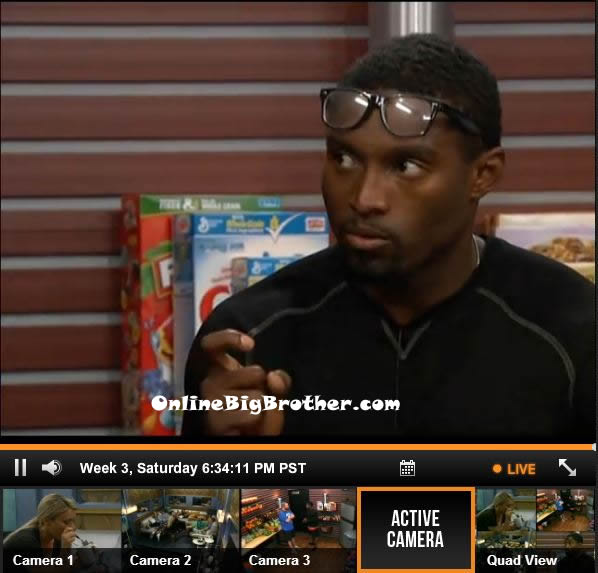 6:30pm – 6:40pm Howard and Spencer are in the storage room talking. Spencer asks Howard if he is with Candice. Howard says no, we are just kicking it. Howard says that is what I just told them (Amanda, McCrae). Howard says its trouble if Aaryn and Jeremy stay. Spencer says if Kaitlin pulls herself off then Jeremy will go up and he will go home. Spencer tells Howard I did the right thing, if I go home then I am okay with that. Howard tells Spencer that he is always good with him. Howard says that he wants to make it clear that I am not associated with Candice from a game stand point at all. Spencer says I need 6 votes this week. Howard says it is going to be unanimous for Jeremy or Aaryn to go. Spencer says because moving company got split up it is like starting over week 1. Spencer says that he thinks he is good but that with everything that happened he is worried that they might not tell him. Spencer says that he would like to make it to at least Jury House. Spencer says if he is going home this week he just wants some notice so that he can do some shout outs to his girlfriend on national tv and to his employment for letting him take a leave to come out here. He says that if it's his time he has no problem with it as long as they tell him ahead of time. Spencer asks Howard to just keep an eye out if he hears anything going down. Howard says that he will but since everyone pretty much knows we are together they probably wont let me in on it either. Howard and Spencer break up their conversation and leave the room.
6:40pm Gina and Howard are up outside the HOH room at the chess board. They talk about the fight the other night. Howard says that he appreciate her and Kaitlin apologizing but says that Aaryn never apologized. Gina talks about how she feels like she has to defend everyone but says she needs to let people fight their own battles.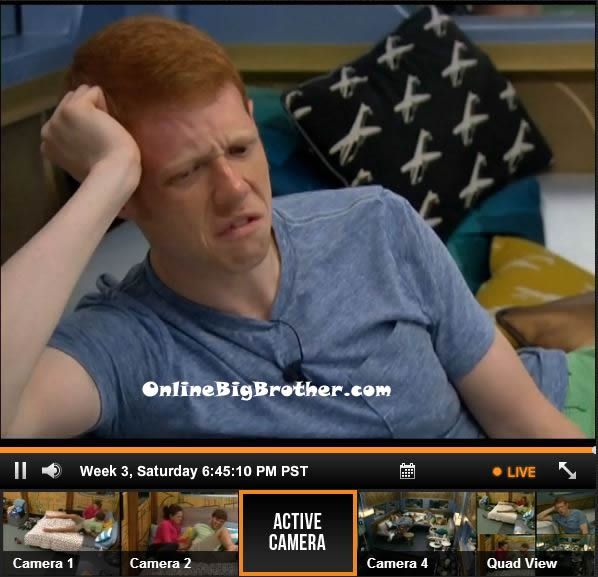 6:45pm The camera switches to the lounge room where Andy, McCrae and Amanda are talking. Andy worries that he could be thrown up if Kaitlin uses the veto. He says that he doesn't think it would happen but isn't sure. Elissa joins them. McCrae says that someone needs to tell Kaitlin that she needs to use it. McCrae, Jeremy and Elissa all think she will use it but Amanda says she thinks she won't because she knows Aaryn is a bigger target. Amanda says that is why I wanted Howard up so that if she didn't use it we could send home the next biggest problem in here. Andy says that he wants Jeremy out of here! Andy says that he thinks Kaitlin is smarter than people give her credit for. Amanda says I don't care if she doesn't use it I will vote her a$$ out. McCrae, Amanda, Elissa says that they will too. Amanda says if she doesn't use it and tries to protect Jeremy then she will always protect him. Judd joins them. He asks them what they are talking about. They all say him. They tell him that they wonder if Kaitlin will use the veto. Judd says that Kaitlin already said that she will use it.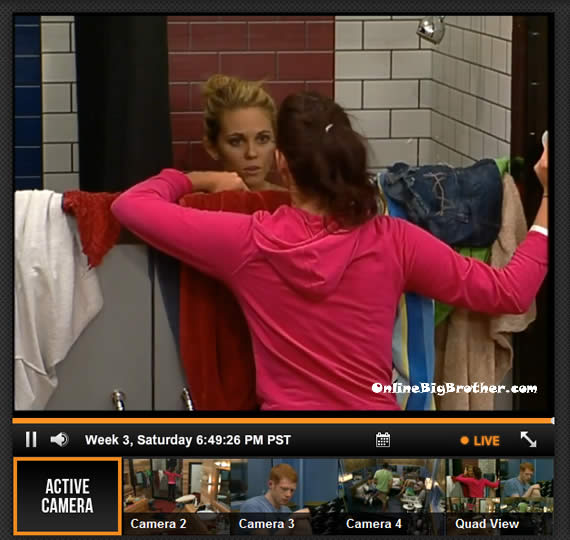 6:49pm Bathroom Kaitlin and Aaryn
Kaitlin is going over her talking points to Helen, "I'm sorry for talking to you about this right now while you are in the shower"
"If Jeremy makes it to jury he will vote Helen final 2 she doesn't know what Howard will do"
"howard beats around the bush doesn't make full points"
"Howard was talking mad Sh!t about candace for 3 weeks but now is in a showmance because he needs the her"
Howard was conspiring to get Candace out and at one point pulled Kaitlin aside and got mad at her for getting close to Candace.
"howard swears on the bible"
She has 5 talking points to try save Jeremy.
Kaitlin knows that if anybody won POV and used it they would have taken spencer off the block and let Elissa get the blood on her hands.
kaitlin: 'The fact now that it's Helen (Who has to make the replacement choice) we have a better chance of her putting Howard up"
Kaitlin "Heres the thing I almost won HOH and I won't the veto sending Jeremy home will put the fire under my ass if they are not scared of me before I'm sure they are now.. I have to back a deal with her now.. "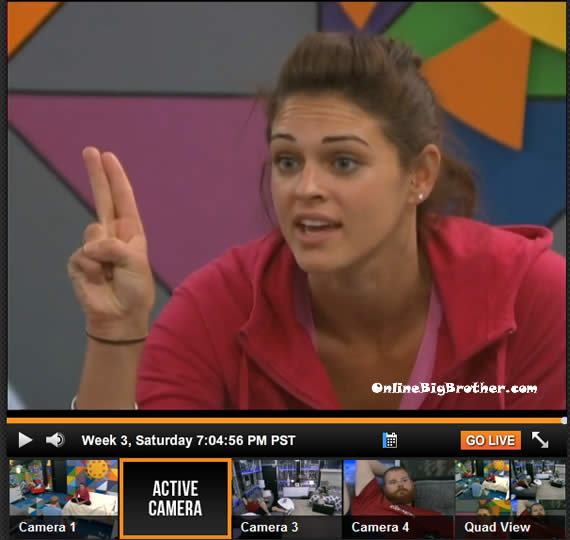 6:55pm bedroom KAitlin and Andy
Kaitlin is going over her 5 points. Andy is agreeing with them all but say Jeremy has been public enemy number one it'll be hard to say Helen away from that. Kaitlin mentions that Jeremy can be trusted but it's obvious that Howard cannot be. Andy think she needs to talk to Amanda and McCrea first to get their support then go up to speak to Helen. Kaitlin brings up Howard and how he sore on the Bible. Andy says out of everything Howard and his bible scares him the most because there are people in the house that are easily manipulated when religion is involved (Jessie and Elissa)
Andy: "He's using his religion to manipulate people"
Andy adds that Helen putting anybody else other than Jeremy up would mean the house would target her.
Kaitlin wants to know if she has Andy's back when she goes up to HOH. Andy says for sure.
Andy: 'I think Howard is the most dangerous person in this game he is a rat and liar"
Kaitlin agrees
Andy: "He's using religion against Elissa and Elissa is so religious we all wanted Howard up as MVP and Elissa would not put him up.. Elissa is so moldable"
Andy is worried that Helen made a deal with Helen and Elissa.