POV Holder:
Kaitlin
Next POV
July 20th
POV Used
YES
POV Ceremony
July 15
HOH Winner:
Helen
Next HOH:
July 18
MVP:
Elissa
Original Nominations:
Kaitlin, Aaryn, Spencer (MVP)
Current Nominations:
Jeremy, Aaryn, Spencer (MVP)
Last Evicted Houseguest
David, Nick
Have Nots
Judd, Jessie, McCrea, Amanda
3:10pm In the bathroom – Aaryn tells Judd – These bathing suit bottoms are completely see through, you can see the outline of my vag!n@ and my butt is completely out in these as well.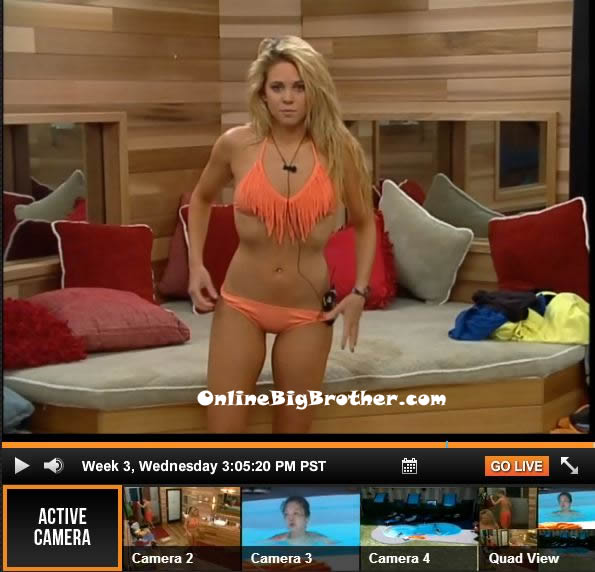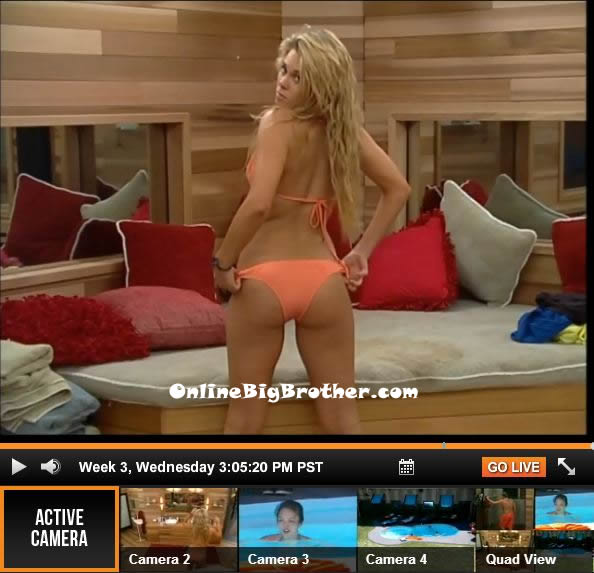 Big Brother 15 Live Feeds: FREE 2 DAY TRIAL

Meanwhile in the bedroom – Kaitlin is telling Gina about how Aaryn is acting super sketchy. Kaitlin says if there is one way to keep Jeremy here it is if you and I vote out Aaryn. Gina says I was going to vote out Spencer. Kaitlin says we need to go up to Helen in the HOH and make a deal with her to keep Jeremy. I am going to tell Helen that I want her to keep Jeremy here and I want to know if you will vote Aaryn out. Kaitlin says that Aaryn made that wine situation out of nothing and Jeremy is going home because of it. She is a huge enemy in the house and she is bringing down all of our games. Gina says that Aaryn keeps telling me Nick didn't like me and that he was gay. Kaitlin says I have already been talking to Helen about how I don't want to be associated with Aaryn. Gina asks won't Helen question why I am throwing Aaryn who's my friend under the bus. Kaitlin says she is a target, if you want to stay in the game you need to figure this out. Kaitlin says I don't want Aaryn to see us in here talking and get suspicious.. we need to talk to Helen today though. Kaitlin and Gina leave the bedroom. In the kitchen Kaitlin tells McCrae her plan to try and save Jeremy.
In the havenot room – Judd and McCrae are talking. Judd says that he is nervous because Spencer is obsessed with Jessie. Judd says that he hopes Jessie isn't being swayed. McCrae says we need to keep Jessie close. Judd says we haven't really included Jessie in anything. McCrae says agrees and says we need to include her more. McCrae tells Judd to do the showmance thing. McCrae says turn on the mack daddy charm on. Judd says that he thinks Aaryn made something up and might be trying to turn Judd against Jessie. McCrae says that Aaryn has been telling people Judd is very smart. Judd says we need Aaryn out of here. McCrae agrees. Judd says that he told Howard he had his and Candice's back. McCrae said that's good. McCrae says that Aaryn needs to go but Howard needs to go first. Judd says that he doesn't like Aaryn is going around saying he isn't smart. Judd says he doesn't understand why Aaryn scrambling so much? McCrae says that she is trying to create chaos.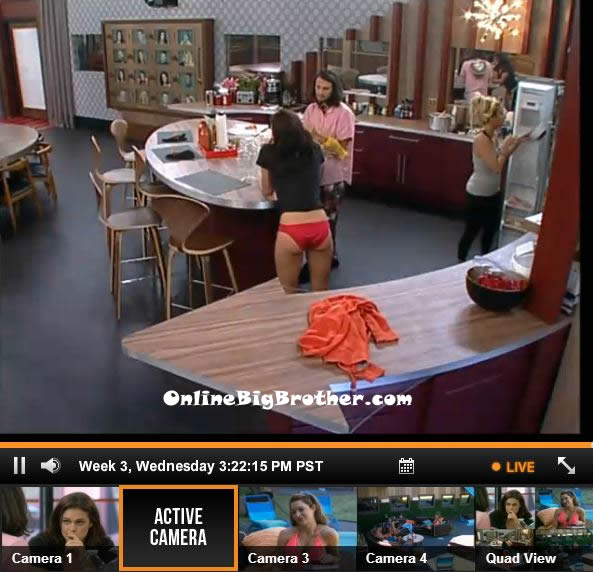 3:30pm Out in the backyard – Kaitlin tells Jeremy about her plan to try and save him. He doesn't think it will work but says that they should talk to Helen when the lock down happens.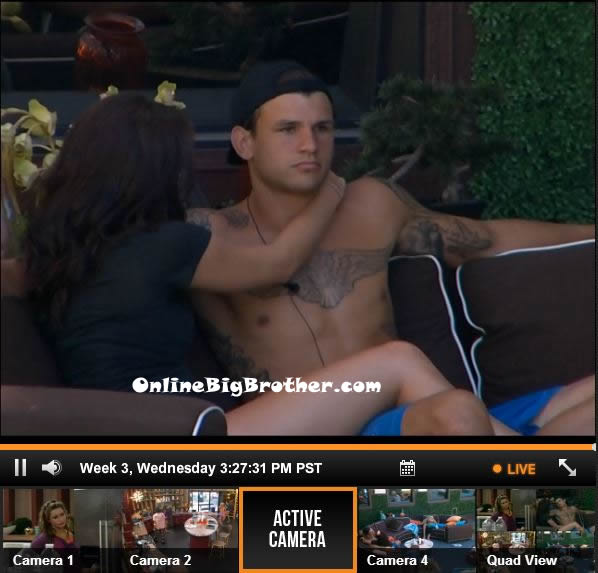 3:40pm Jeremy has a quick conversation with Elissa about how Kaitlin is trying to flip the vote. He tells her that Aaryn has been trying to start sh*t and needs to go. Jeremy says that he just wanted to bring it to her attention and says that when the lock down happens he is going to try and talk to Helen in private. Jeremy says I can pull you up there too if you would like. Elissa says okay that sounds good. Jeremy and Elissa end their conversation. Elissa calls McCrae inside from the backyard and shows him some jewellery that she found that he can use to make a ring to propose to Amanda with. McCrae is super excited and thinks it could really work. He says this is great! McCrae hides it in his drawer to make it later.

3:50pm – 3:55pm Judd pulls Jessie into the havenot room to tell her that Spencer and Howard are shaddy and that she can't trust them. He says that Aaryn is telling people that you are working with them. Jessie says that she isn't, why would she say that?! Judd says that she is trying to start chaos. Judd says that Aaryn is telling people that I am not that smart too. Jessie asks what is she supposed to say when they talk to her. Judd tells her to tell them whatever they want to hear. Jessie says that its just so annoying when people say lies like that about me, I want to go call them out! Judd tells her not to. Judd tells Jessie that he has her back. Judd and Jessie leave the room.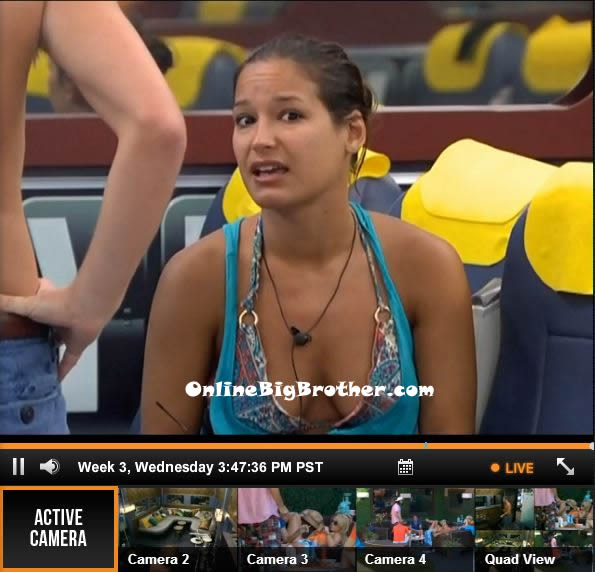 4:05pm – 4:15pm Kaitlin talks to Amanda about what's going on and how she is going to get Aaryn out instead of Jeremy. Amanda tells Kaitlin that she doesn't think it will work. Kaitlin says that Howard should be going this week, not Jeremy. I feel like it is going to bite us in the a$$ later in the game that we didn't get Howard out. Kaitlin says that she will definitely be hanging out with McCrae and Amanda because she says she doesn't want to be associated with Aaryn. Amanda says that the reason why people wont keep Jeremy is because everyone would think that you, Jeremy, Howard Aaryn and Spencer would align. Kaitlin says that will never happen. Amanda says yeah but people are going to think that. Kaitlin says if we keep Jeremy here I can control him. Amanda says that it's convincing everyone of that and I don't think you can convince Elissa of that. Kaitlin says Howard is using the sh*t out of Candice. Using the sh*t out of her. Amanda says hopefully we get him out next week. Amanda says that the people that are loyal to Helen wont be next week when she isn't in power.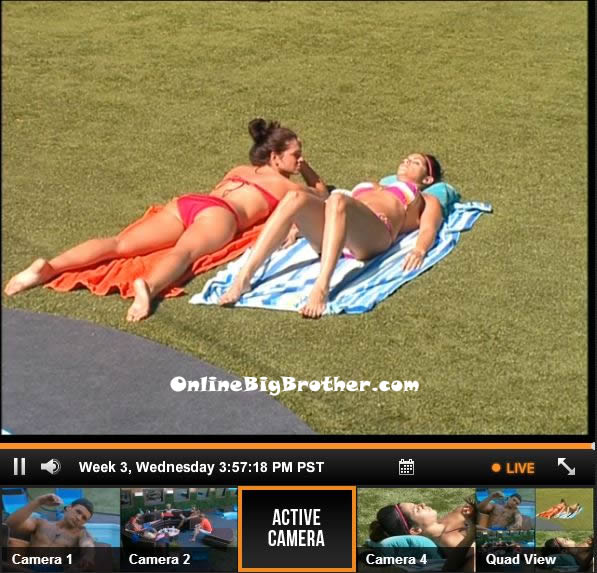 [polldaddy poll=7256699]
Stay connected and interact with other Big Brother Fans on our Facebook page.
And Follow: @BigBspoilers and @Dawgsbigbrother on Twitter for the most up to date spoilers.