POV Holder:
Kaitlin
Next POV
July 20th
POV Used
YES
POV Ceremony
July 22
HOH Winner:
Helen
Next HOH:
July 18
MVP:
Elissa
Original Nominations:
Kaitlin, Aaryn, Spencer (MVP)
Current Nominations:
Jeremy, Aaryn, Spencer (MVP)
Last Evicted Houseguest
David, Nick
Have Nots
Judd, Jessie, McCrea, Amanda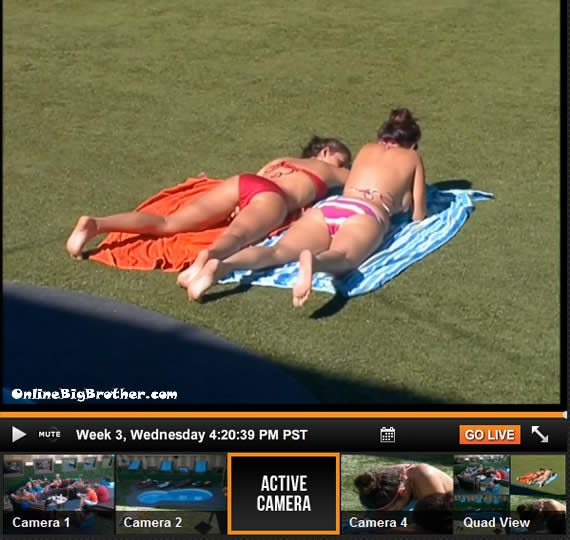 4:18pm Kaitlin and Amanda suntanning
Amanda says that McCrae won the MVP because he's got such a large following of fans. She adds that McCrea is a huge Big Brother fan he's been involved in the fan community for years.
Kaitlin brings up talking to McCrae about getting the votes needed to evict Aaryn.
Amanda says Spencer makes Howard stronger he might be a better target than Aaryn. Amanda adds that Jeremy is too much of a target to not send home this week, he's pissed way too many people off these first few weeks.
Kaitlin is worried if Howard wins HOH he will put her up and she doesn't have the votes to stay. Amanda doesn't think so she thinks Aaryn will be the main target next week.
Kaitlin says Aaryn is getting mad at her because Jeremy is campaigning and she knows Aaryn is the only other target being considered other than Jeremy. Amanda doesn't think that is Kaitlin's fault.
Kaitlin asks if the super-friends want all the guys out first. Amanda says it's Spencer/Howard out first then Aaryn/Gina. kaitlin: "Aaryn keeps talking game to me by I just refuse"
Amanda points out that Helen isn't in the best position right now because tomorrow she steps down from being the Head of Household. Amanda adds that Helen was suppose to put up Howard and it's pi$$ed a few people off.
Kaitlin: 'I swear to god Howard should be the one leaving not Jeremy and I think it's going to bite everyone in the a$$"
Amanda: 'I agree.."
Kaitlin says she doesn't want to hang out with Aaryn anymore she doesn't want to be guilty by association. Amanda: 'She's a trouble maker" Kaitlin wants to start hanging out with Amanda and McCrae.
Kaaltin: "I love Gin but I can only handle her in small dosses.." She adds that she doesn't feel like talking to the other people in the house right now.
Amanda says it drives her nuts when people try and be your best friends when you are HOH. Kaitlin: "Like Jessie" (+ like Andy and Amanda)
Amanda isn't worried about Jessie she's going to be really easy to get her out.
Amanda brings up how Howard lies to peoples faces and nobody catches on, "He's very manipulative.."
Kaitlin: 'So is Spencer"
Amanda mentions how Howard is already working on Aaryn by training her at night.
Amanda tell her the reason why people will not vote to keep Jeremy is because they are scared that Kaitlin, Jeremy, Spencer, Howard, Candace and Gina will join forces. Kaitlin: 'F*** no"
4:32 Andy and Jessie hammock
Andy saying that Jessie is not going anywhere as long as the group sticks together they will be win
Jessie thinks there is a really good chance Kaitlin will win HOH. Andy doesn't think she should worry Kaitlin is targeting Howard.
Jessie is starting to get worried because she see's Amanda and Kaitlin close.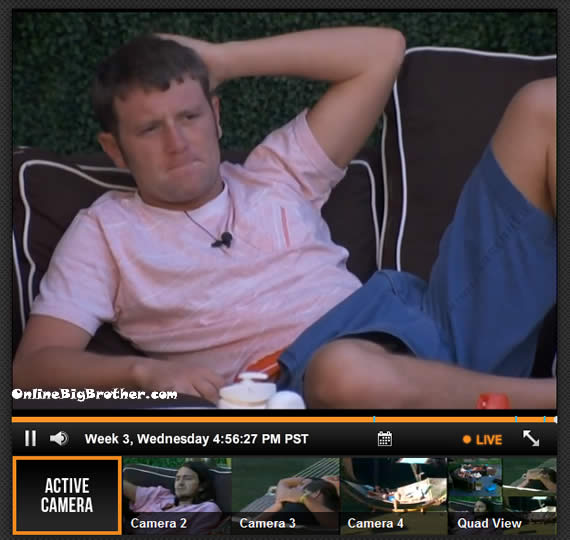 4:52pm Backyard Couch JUDD and McCrae
Judd says that a lot of people in the house are saying they want Aaryn out before Howard. McCrea doesn't think so.
JUDD doesn't think it's a half bad idea they need to start getting girls out.
MC doesn't give two sh!ts about the girls alliance, "Once He get him out it's going to be all girls to the end" (Howard)
MC: "He scares me too much.. "
Judd: "Howard?"
MC: "ya he's coming after us"
MC thinks Howard is more dangerous than the girls. JUDD isn't convinced.
Elissa walks by "Hey .. it would be a good idea to make swim wear with the food we have"
MC says Howard is using religion and race to manipulate people he's gotta go.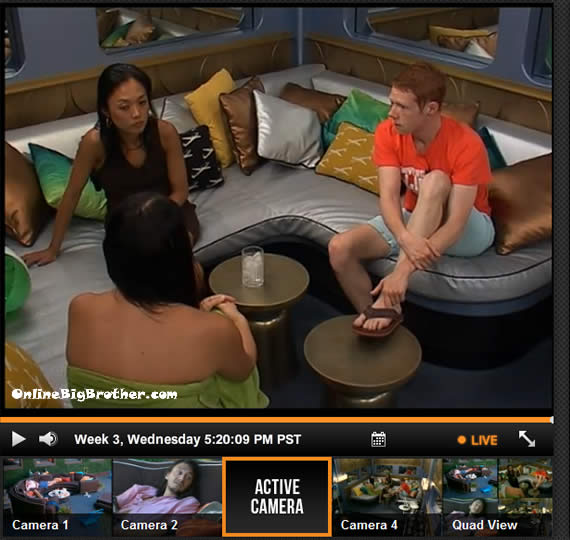 4:58pm Cockpit Andy, Helen and Amanda
Amanda saying at this point Jeremy and Kaitlin are desperate they will say whatever it takes.
Andy wishes they could get both of them out this week. (Jer and Howard)
Amanda tells them right now Howard is the most dangerous, "Candace and Elissa won't put him up"
Helen is working on ELissa so she uses the MVP on Howard. Helen thinks it's pretty important they win the HOH this coming week if they want to get Howard out.
Amanda keeps talking like the next HOH is going to be endurance geared towards girls. She's planning on Elissa doing very well in it and is worried Elissa won't put Howard up. Helen mentions that Howard is one of three targets for Elissa (Spencer, Howard, Aaryn)
Helen believes that Spencer and Howard feel like they are in a fragile space they will probably do whatever they say for one more week. She thinks they can get them to put up Aaryn and Kaitlin. Both Andy and Amanda want Kaitlin to stay longer than Aaryn, Spencer and Howard. They feel they are close enough to her so they can keep them all safe in case Kaitlin wins HOH. Amanda and Andy tell Helen Kailtin is with them now.
They all agree that Jeremy is leaving 100% Andy says that they have Judd and Jessie he's going home 150%
Amanda says they have to drill in to everyone that Howard is the threat he has to go up next week.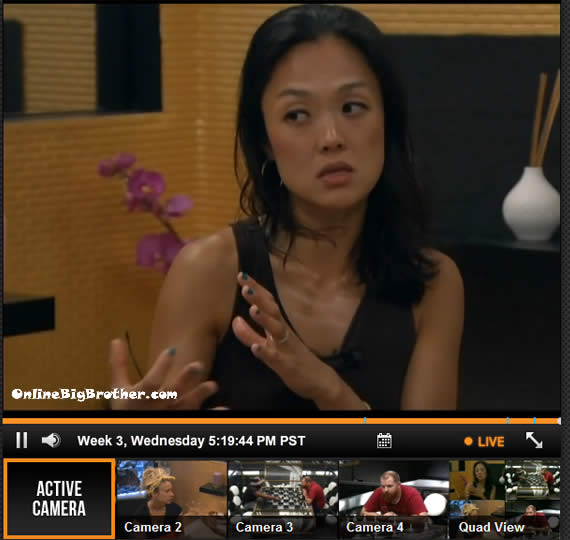 5:13 HOH Gina and Helen
Helen tells her that the best play is for her to take out Aaryn next week so that she can join the superfriends. Helen points out that unless she does that Gina runs a big risk being sent home the following week.
Helen starts explaining to Gina that with Jeremy going it's going to help her game because it will give everyone a chance to win HOH. Helen says it's such a wonderful feeling to win HOH she wants everyone in the house that isn't targeting her to experience it.
Helen says that the other girls Gina's been hanging out with are no good for her they bring out the bad in Gina. Helen thinks that once
Helen starts trying to tell her she should vote Jermey out as a token of good will , "And maybe that will help a little.. be like hey guys I'm doing this as a apology for screaming cockroaches "
Helen: 'We understands why you were upset because everyone lied to you I would have been upset to" Helen adds what's she's trying to say is the first step in Gina becoming a super\friend is for her to vote Jeremy out tomorrow.
Helen tells her another option would be for Gina to vote to evict Spencer. Helen wishes that Gina and Nick would have joined the super friends from the start she really wanted to be friends. Gina brings up that Howard is throwing all the competitions. Helen doesn't think Howard is the type of guy to throw the competition.
Helen says the only way back into the game for Gina is for her to win HOH and put up Aaryn.
(5:43pm Helen is still talking about alliance's friendships, sportsmanship, the house, doing what the house wants, My nominations are game not personal, Jeremy is going home etc etc.. )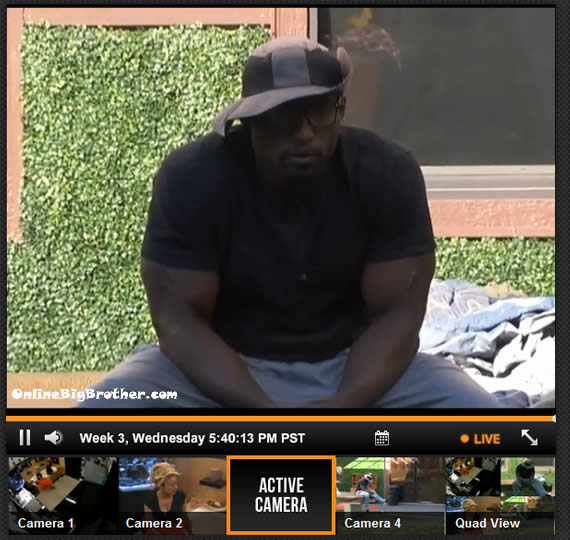 5:40pm Backyard Cam 3-4 Howard and Aaryn
Howard training Aaryn .. (Amanda is probably freaking out about this)
[polldaddy poll=7256699]