POV Holder:
Kaitlin
Next POV
July 20th
POV Used
YES
POV Ceremony
July 15
HOH Winner:
Helen
Next HOH:
July 18
MVP:
Elissa
Original Nominations:
Kaitlin, Aaryn, Spencer (MVP)
Current Nominations:
Jeremy, Aaryn, Spencer (MVP)
Last Evicted Houseguest
David, Nick
Have Nots
Judd, Jessie, McCrea, Amanda
11:55am – 12:15pm In the kitchen – Candice, Helen, Howard, Jeremy, Elissa and Judd are talking and eating. Helen talks about a talk show segment called the "Veto Show" – she says she wants to do it with Judd tonight and other house guests. Helen says maybe we can have a special segment with "Judd the Stud" on how to stay up late at night. Judd says and get up early. Candice will also do a segment called "Keeping it Real with Candi" and Howard will do a sports segment. The conversation turns to talking about "crazy girls". Elissa says that she thought guys liked girls to be crazy. Helen says that she husband says the hotter a girl is the more crazy a guy will let her get away with and if you're not hot – you have no room for crazy. Elissa jokes with Judd might get a penalty nomination if he doesn't agree to do the talk show segment. They jokingly think that Nick was an undercover cop. Helen says that they will also interview the moving company members. Helen says that she thinks the reason she got a rash on her neck was because of the HOH sheets because it happened right after she got HOH. Big Brother asks the house guests to clean the bathroom including the mirror above the sink today. Immediately Judd heads to the bathroom and starts cleaning. When he's done, Big Brother says Judd, Thank you!
J U DOUBLE D for #BBMVP – He will work for your VOTES! @bigbspoilers #BigBrother15 #cbsbigbrother #bb15 pic.twitter.com/laAMpf5XKt

— Dawg (@DawgsBigBrother) July 17, 2013
12:15pm Out in the backyard – Judd asks Elissa if she really wants to win HOH tomorrow? Elissa says yeah! I want to win it. Judd says that he really wants to see her family. Elissa says she does too. Judd says if it comes down to you and me I will let you win it. Elissa says awe you don't have to do that. You're too sweet. Meanwhile in the bathroom – Helen Spencer and Jeremy continue to clean the bathroom.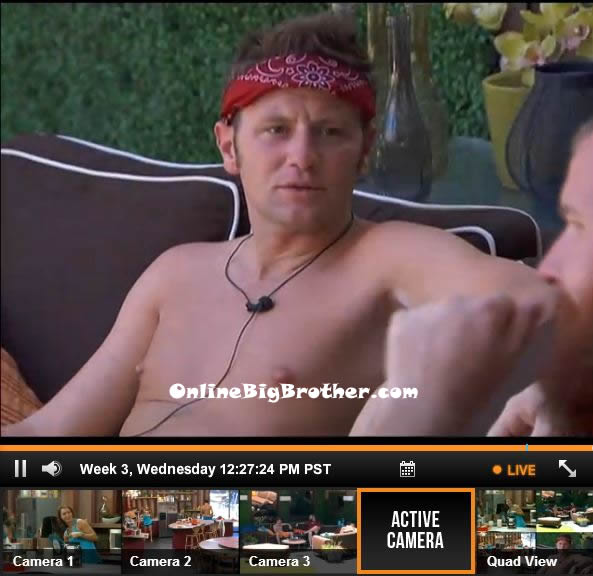 12:25pm Out on the backyard couch – Judd tells Spencer it's going to be a close vote tomorrow. Spencer says is it?? Judd says no I am just fu*king with you! Judd talks to Spencer about how he was talking to Gina last night to try and get her to throw the HOH. Spencer asks if Judd knows what kind of deal Jeremy was trying to strike up with them. Judd says no – it doesn't matter though whatever he offers doesn't benefit me. You being here benefits me. Spencer says that he has Judd's back. Judd tells Spencer I need you here, I want you here. I would rather you here than Gina who just mopes around over some one she just met 20 days a go. Judd says I think you're good – I am still trying to help you out even though I don't think you need it. Spencer says anything you can do to help I would appreciate it. We might not get the opportunity to get Jeremy out for another few weeks. Judd says it's starting to turn into a chick-fest around here. We need to get another girl out. Judd says that he is confused if Elissa or McCrae got MVP. They talk about how bat sh*t crazy Gina is. Judd says I hate to dog her but.. Spencer says I wouldn't even want to have $ex with her. Judd says she is trashy. Spencer says all that farting and burping isn't attractive. Judd mentions how the first day she was hot and I don't know what happened to her. Spencer says it's like she melted. Judd heads inside.
Big Brother 15 Live Feeds: FREE 2 DAY TRIAL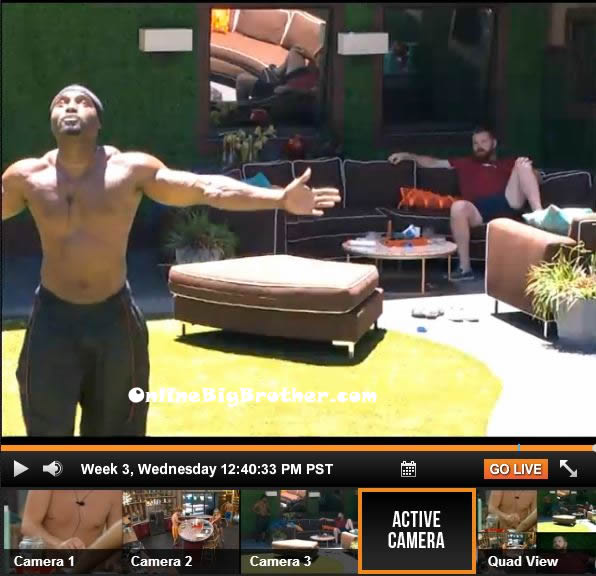 12:40pm Spencer asks Howard what he wanted to say to him the other day. Howard says that he is just trying to reassure everything goes our way. I don't think you have anything to worry about. Spencer says that he is just worried about all the deals Jeremy is making with Helen. Howard says yeah if Jeremy doesn't go this week they we know that Helen had something to do with it. Spencer says yeah she ain't going to be nothing next week. They talk about how they are good with Judd. Howard walks away and puts his hands up in the air and says it ain't in my hands dude. However they want to do it … heaven that is. Judd comes back out and Spencer talks about how he will talk to Helen tomorrow. Judd says do it today. Spencer say he wants to do it tomorrow so Jeremy doesn't have any more time to talk to her. Judd says she doesn't have a vote. Spencer says she is the tie breaker, all Jeremy needs is 3 more votes. Judd says that Jessie is voting Jeremy out for sure. Judd asks who Spencer would put up. Spencer says Aaryn and Kaitlin. Judd says I've lied to Aaryn so many times but I had to because everything she wanted me to didn't benefit me. Jeremy joins them and conversation ends. Jeremy leaves. Judd says that he thinks Aaryn will be the main target after Jeremy leaves but she isn't a threat to me. Andy joins them.
1pm In the bathrooom – Kaitlin, Aaryn and Jeremy. Jeremy talking about 2 girls 1 cup.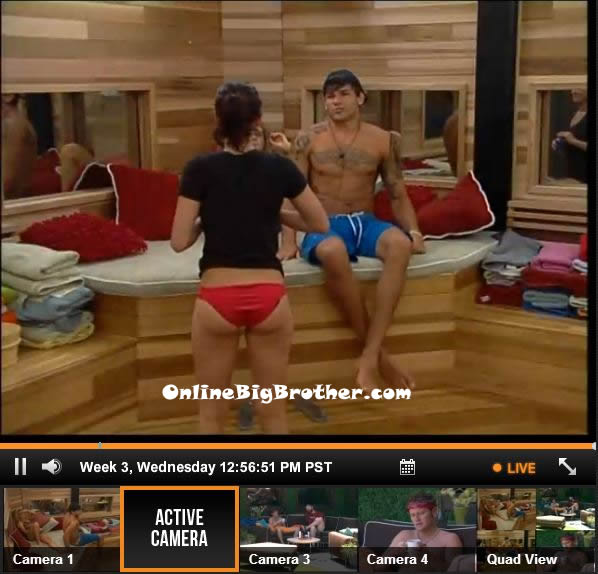 1:20pm – 1:35pm Up in the HOH room – Candice, Helen, Jessie, Gina and Andy talk about the talk show they're going to do tonight. Meanwhile in the bathroom -Judd is talking to Aaryn about the talk show. He says god this talk show – I don't want to participate. Aayryn says her either. I had a suggestion to and she shut it down. I don't want to talk about the cockroaches. Judd cracks up laughing.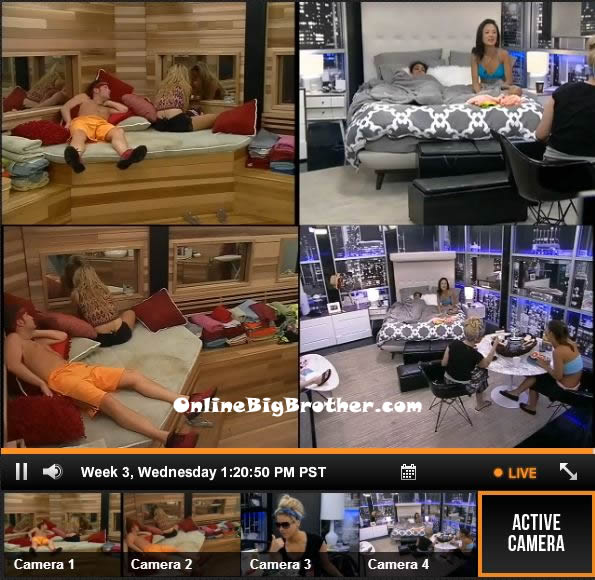 1:40pm Out on the backyard couch – Andy, Amanda and McCrae are talking about random things. Amanda comments on how she is out of cigarettes and that Big Brother won't give her any more. She says that she is going to look for the nicotine patch. She asks McCrae if he will quit with her. He says hell no. Amanda says I am pretty sure I haven't poop'd in a week. Amanda tells Jessie that she is really glad to have her on their team. Jessie says I've been meaning to talk to you – I wanted to tell you that you are my girl and I've got your back. Amanda says you too girl. Meanwhile in the bathroom – Gina is talking to Aaryn about how she is pissed that "Everybody" is sick of her talking about Nick. Aaryn pretends she hasn't heard people complaining about Gina and says oh really. She says that people are saying they are sick of it because they have loved ones at home that miss them and can't see them. Helen and Jeremy come out to the backyard. Helen announces there's a new segment to the talk show to night – Newly Weds – where they will ask the showmances questions to see how well they know each other.
1:50pm – 2:15pm Up in the HOH room Howard talks to Candice alone about the Moving Company. Candice says that she really wants to win HOH because she thinks she is a target and needs it to stay safe. Candice says that Jeremy is going home tomorrow. Howard says he isn't so sure. Keeping Jeremy around who is strong but will never win in the end is good for people. Howard says that he and Spencer got targeted because people personalized their actions when all they were doing was playing the game. Candice tells Howard he needs to win HOH. Howard says okay – I am not going to throw no more. He says that he didn't throw the honey one. Meanwhile out in the backyard – McCrae says that me, you and Amanda should play just the tip tonight. Andy says I'd do that. McCrae says yeah it seems like a you me and Amanda kind of thing. Andy says I have a topic to reveal tonight but its kind of embarrassing. I had a wet dream last night and I woke up and looked down and was like WTF.. I hope the live feeders didn't see that. McCrae laughs.
2:25pm – 2:55pm Helen and Jeremy play backyard Volleyball. Howard and Candice join in on the game. Candice comments that Howards breasts are bigger than mine! The talk turns to talking about last season of Big Brother. In the bathroom Aaryn asks Andy if Jeremy is still going home. Andy tells her yes. She says okay because he is acting all happy with everyone and cleaning so I didn't know if something was up. Aaryn then asks Andy if he will tell her if something is up and she needs to campaign. Andy tells her he will. Andy leaves. Kaitlin joins her. Aaryn tells Kaitlin that Spencer told Judd that he and Howard are more scared of you. Andy and Aaryn notice that the wood flooring in the bathroom floor is lifting up. Amanda brings up how she thought her period was done and then she got up and had a huge splotch on her butt. Gina says yeah I saw a spot on the couch, so I cleaned it up. Girls know what period blood looks like. Amanda says my boyfriend went to a psychic and she told him that I wouldn't cheat on him and that I would be gone after a month.
[polldaddy poll=7256699]
Stay connected and interact with other Big Brother Fans on our Facebook page.
And Follow: @BigBspoilers and @Dawgsbigbrother on Twitter for the most up to date spoilers.