POV Holder:
Jeremy
Next POV
July 13th
POV Used
?
POV Ceremony
?
HOH Winner:
Aaryn
Next HOH:
MVP:
Elissa
Original Nominations:
Elissa, Helen and Jeremy (MVP)
Current Nominations:
?
Last Evicted Houseguest
David
Have Nots
Helen, Elissa, Candice, and Andy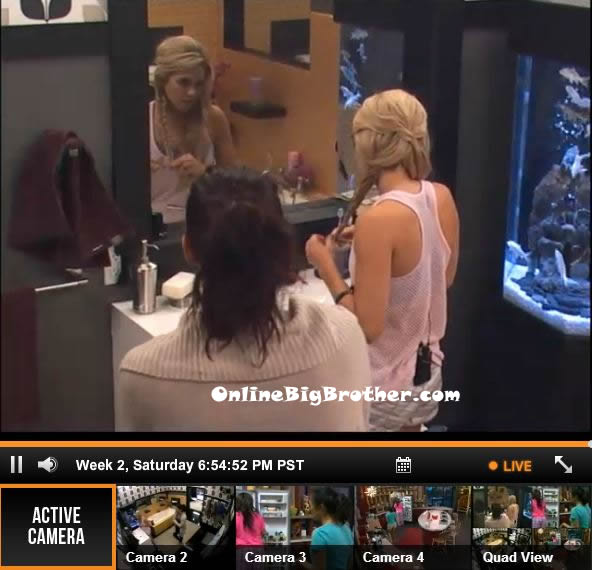 6:55pm Up in the HOH room. Aaryn and Kaitlin are talking about how Elissa and others have commented that Jeremy was a part of the plan to get out David. Aaryn and Kaitlin talk about how fu*ked up that would be if it was true. Aaryn says and we can't let him know that we suspect him either. Aaryn comments on how whenever we bring up David he doesn't want to talk about it and wants to just move on. Kaitlin says that she is going to talk to him tonight and find out the truth. Kaitlin says circle of trust – Jeremy told me that before it happened he had a feeling David was going home. Kaitlin says I don't think he orchestrated it but he had a feeling. Kaitlin says if Jeremy is playing us then that is f*cked up! Aaryn says that when it all when down she had a sick feeling about Jeremy. Don't tell Jeremy. Kaitlin says that she won't but that she is going to question him tonight. Kaitlin heads down stairs and asks Jeremy if she can talk to him after he is done eating. Jeremy says yes. Kaitlin comes back up stairs and asks Aaryn – do you think he would really be playing us like a fiddle? Aaryn says no, but you see how he likes to be the top dog. Kaitlin says that she has already thought all of this before. Aaryn says that if he thinks we are against him he won't work with us. Kaitlin says that she knows how she is going to word it and it will be all right. I will tell him that someone threw his name out there and see what he says. Aaryn asks what if he has deals with everyone in the house. Kaitlin says that she will get to the bottom of it. Kaitlin says he already freaked out before when I questioned him. Aaryn and Kaitlin comment on how they think Jeremy would protect them and how they think he would rather be at the end with girls. Aaryn questions whether or not Jeremy made an alliance with Helen the night he had the blow up. This could be a good cover up. Kaitlin says that he hates Elissa though. Aaryn says that she trusts him and her 100% – these are just words. Kaitlin says that she trusts Aaryn more than Jeremy because I have trust issues with guys because of my dad.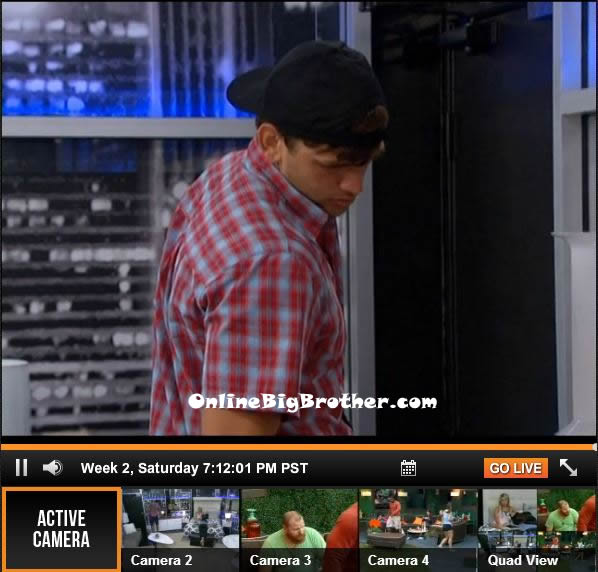 7:10pm Jeremy comes up and asks what Kaitlin wanted to talk about. Kaitlin says not now, not in front of Aaryn. Jeremy says okay. He gets up to leave and Aaryn tells him that they think Elissa is conspiring against him. Jeremy says okay that's fine. He then leaves. Kaitlin says okay that answer was sketchy. Kaitlin comments on how Jeremy knew I had something to talk about and asked what, when he had plans with Howard to play chess. Aaryn tells Kaitlin not to talk to him now. Kaitlin says that she has to, I already told him I had to talk to him.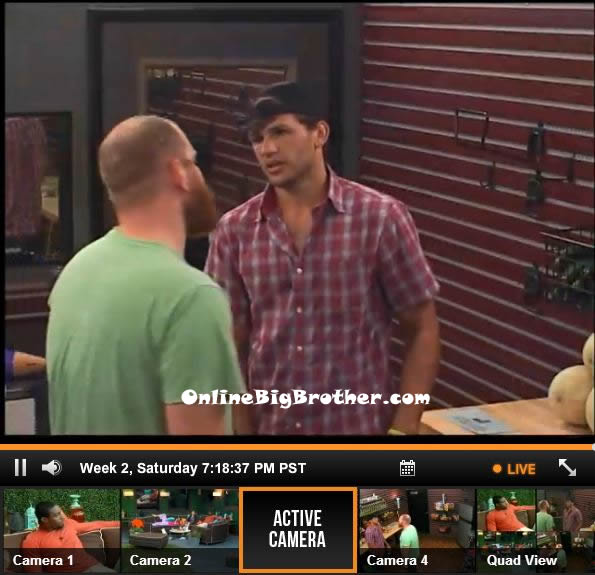 7:20pm In the storage room – Jeremy talks to Spencer about how they are trying to get Nick put up on the block. Jeremy says that he thinks Nick is making side alliances out there. Jeremy mentions that he thinks they can trust McCrae but not Amanda. He says that they need to get Amanda out soon. Spencer says that he is not keeping Elissa, I am voting her out. Jeremy says that we have the MC, and if MC really has my back we have the numbers. Jeremy is worried that Nick is scheming. I think he is trying to keep Elissa but I am not down with that. If I feel betrayed by MC it will kill me. Spencer says that he has his back. I think of you ..not like a father but as a brother. I want you to win this. I've got your back, Howard has your back. You are good. Spencer says you can always come and talk to me. Jeremy and Spencer break up their conversation and leave the storage room.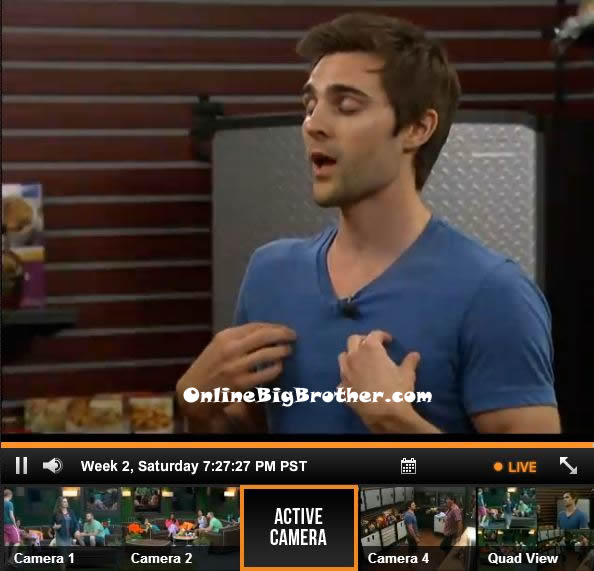 7:30pm Jeremy asks Nick to go to the storage room to talk. Jeremy tells Nick that he has been hearing that there is some scheming shit going on the side. I am not coming at you hard. Jeremy says we have the six, if it doesn't go down the way its supposed to then I will know that something fish is going down. I will back out of the moving company if that is true. I have been hearing that you are making side deals with Elissa that they would put you up as the pawn. Nick says that he really tried to win today to show his allegiance. Nick says that Elissa did come to me to ask me to throw it but I wouldn't have done that. Jeremy says that if Elissa doesn't go home then Moving Company didn't do what they were supposed to. Nick says that he has been pegged as the sketchy guy and now I am laying low. Nick tells Jeremy that he can bet his life on him voting out Elissa. Jeremy says that he just wanted to make Nick aware. If the votes don't go the way they should, even one wrong vote and I can't trust anyone. Nick talks about how their girls are crazy. Jeremy says Just so you know you might be going up. Nick says that's fine, they can put me up. Nick asks what about next week. Jeremy says that he wants Amanda out. Nick agrees. Jeremy tells Nick that they are good and then leaves the room.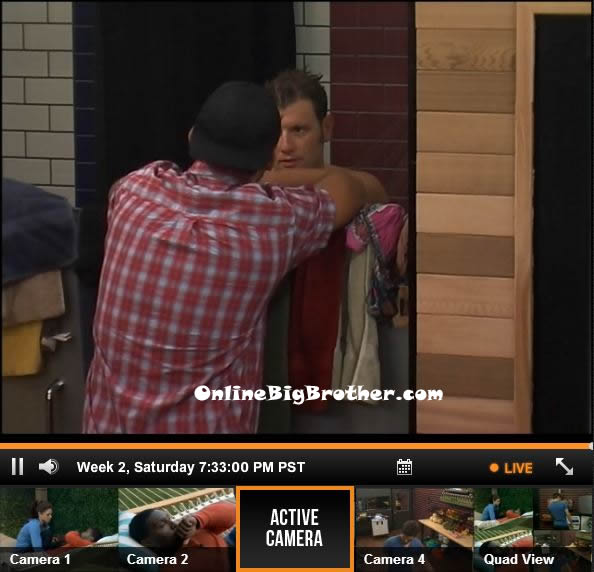 7:30pm Jeremy goes into the bathroom and tells Judd in the shower that he has his back and he hopes he has his. Jeremy says that he will protect Judd if he protects him. You want to play with a strong group and that is with us. In the lounge room – Jeremy talks to McCrae and says that he has crunched the numbers and says that if something sketchy goes down then I will know that the moving company didn't vote Elissa out. McCrae says that he and Amanda are voting out Elissa. . She is on with me. Jeremy says that if she isn't voted out I will be fucking pissed. McCrae tells Jeremy not to worry, Elissa is going home. Jeremy says that's great, that's what I want to hear.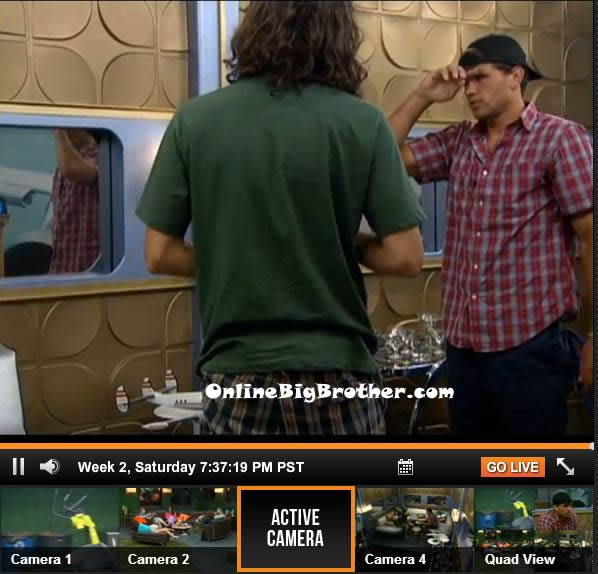 7:50pm Out in the backyard – Kaitlin questions Jeremy if he had anything to do with David going home because she has been hearing things. Jeremy says that he had nothing to do with David going home. He says all I did was that blow up which I apologized for. Kaitlin brings up how she thinks McCrae and Amanda had something to do with David being voted out and Elissa staying. Jeremy says that he knows they did. Aaryn comes out to join them. She tells Jeremy her concerns and Jeremy tells her that these girls are just trying to stir the pot. Jeremy says that they think you are vulnerable because they say you are alone. You're not alone though you are with the triangle of thrust. Jeremy says that he talked to Spencer, Nick, Judd and McCrae and they are all down to vote out Elissa. Jeremy says that he tells her and Kaitlin everything.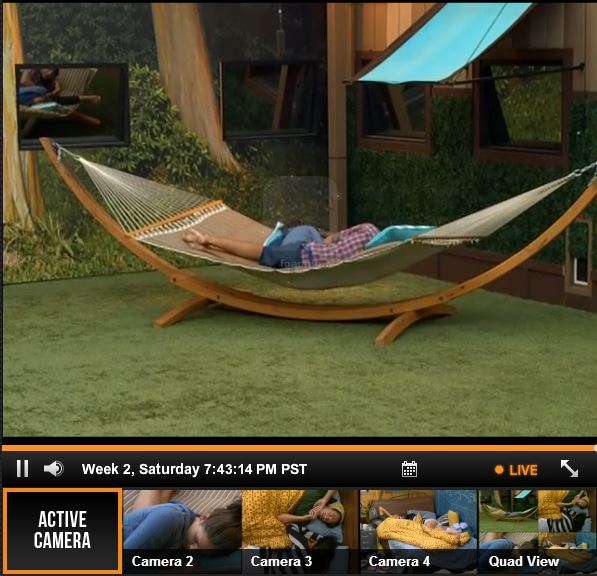 Stay connected and interact with other Big Brother Fans on our Facebook page.
And Follow: @BigBspoilers and @Dawgsbigbrother on Twitter for the most up to date spoilers.