POV Holder:
Jeremy
Next POV
July 13th
POV Used
?
POV Ceremony
?
HOH Winner:
Aaryn
Next HOH:
MVP:
Elissa
Original Nominations:
Elissa, Helen and Jeremy (MVP)
Current Nominations:
?
Last Evicted Houseguest
David
Have Nots
Helen, Elissa, Candice, and Andy
8:00pm Bedroom Elissa, Judd, McCrae and Amanda
Elissa: "Hey.. you do you think I should put up.. kaitlin"
McCrae: 'Ya"
E: "And you'll vote her out"
Judd nods
MC: "Ya that's what we promised"
E: "100%"
Amanda: "YA"
E: "Because they need to be broken up" (Jeremy and Kaitlin)
E: "I don't see why i'm a threat.. I don't even want to win it, I'm here to entertain, I'm here to have fun"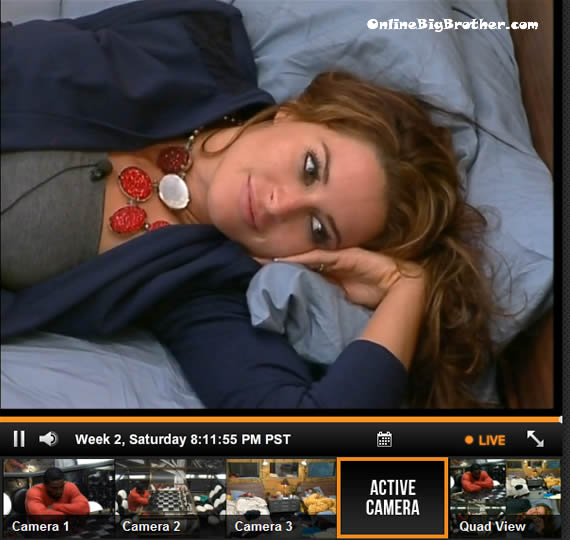 8:10pm bedroom McCrae and Elissa
Elissa thinks that maybe they cast people that specifically didn't like her sister and will therefore not like her. Elissa says that production is being nice to her but the people in the house are not, "It's tough to do well when you have all the odds stacked against you" (You may have had a lot of enemies but you did win 2 MVP powers)
Elissa: "I feel like I should get a golden power of veto of something"
McCrae says it feels weird right now. Elissa thinks that some former houseguests are going to come back into the house. McCrae: 'I think you're onto something" Feeds switch to the backyard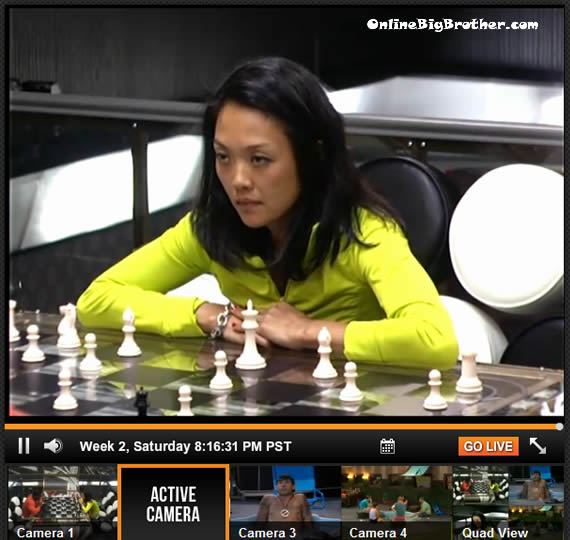 8:14pm Helen and Howard Cam 1-2 Chess board
Howard: "I need you and Candace.. I need you to stay"
Howard: "I don't know about Spencer I think Nick and Jeremy have something going on"
It's really hard to hear Howard talk but I think he's telling Helen that ?Spencer? is wanting to backdoor Jeremy.
8:40pm Cam 1-2 Chessboard Howard and Spencer
Howard: "Candace and Elissa and Alliance think you jeremy and Nick are in an alliance.. but they trust me" Howard explains that he told Candace that Spencer is trying to backdoor Jeremy. Howard has already talked to Jeremy about this.
Howard adds that Helen and Candace think there is a boy alliance going on. He suggests Spencer lay back and chill for awhile.
Howard says that Even if Nick is the replacement for Jeremy they still have the numbers to get her out.
H: 'I'm MC till the end i'm loyal to you guys." Howard adds that he's getting closer to Helen and Candace but only for information so he doesn't want other member of the MC freaking out.
(Almost impossible to hear them talk.. it's too bad because a lot of game went down. )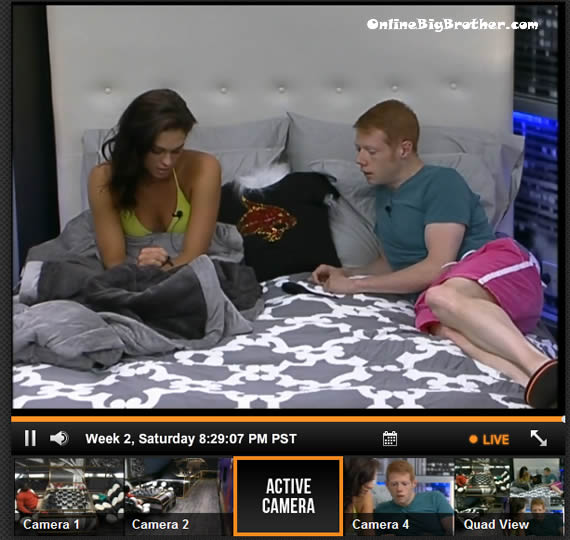 8:28pm HOH Cam 3-4 Kaitlin and Andy
Someone just came and told me you are in an alliance with Elissa. Andy wants to know who Kaitlin says she can't say but then accidentally slips out Candace. Kaitlin: 'She also told me Jeremy is playing me".
Andy: 'Here the thing don't f**** believe anything she says"
Kaitlin brings up Jeremy heard from someone else that Andy had an alliance with Elissa. Kaitlin: 'They didn't even want me to just tell you so if that that gets out my trust will be broken with them and I don't want that"
9:06pm Cam 3-4 Candace, Gina, Aaryn, Jessie, Jeremy and Kaitlin
They've been out in the hot tub for the past 40 minutes random chit chat. The highlight is Jeremy wearing the Power of Veto the entire time.
9:13pm Have Nots Spencer and Andy
Andy: "Kaitlin just told me everybody is throwing me under the bus.. I still feel totally solid with you guys"
Spencer tells him not to worry the house is scattering.
Andy mentions the more he talks to Jeremy, KAitlin and Aaryn the more he realizes they are terrible bullies.. "Elissa will win MVP next week I think we should keep her around"
Spencer wants him to just hold on and see who goes up to replace Jeremy. Andy: 'I'm starting to feel like i'm f***ed.. even if I vote ELissa out I feel they don't trust me" (Aaryn side of the house doesn't trust Andy)
Spencer thinks aaryn group will be after candice after Elissa goes, "I hear them badmouthing Nick, Candace and Jessie all the time"
Spencer "Helen has got something against me SHe' not trusting me any more"
Candace joins them they're stressing about who Elissa will put up.
Spencer says if Elissa was smart she would have put up Gina at first and won the veto. Why would she put the strongest person up person most likely to win., "Like Gina she had an injured hand"
Candace wishes someone would have told Eliisa that. SPencer says he did many times.
Spencer: 'I asked Elissa this morning if she had it she told me no"
Andy:L 'She told me know to"
Spencer: "She lied"
Candace: "It's starting to make me feel like why are we keeping her"
Spencer says if Elissa isn't helping them with the MVP then maybe they should get rid of her and free it up for them to win.
Andy leaves. Spencer says that McCrae F***ed up getting in the bed with Amanda. Candace agrees says every time you walk into a room Amanda is sitting there talking about someone.
SPencer: "It's f**** up.. something is going on"
9:30pm Storage room Nick and Elissa
Nick says everyone is sketched out that I talked to Elissa. Nick explains that Elissa tried to blackmail him but she what she doesn't know is by doing so she exposed that she is working with Helen, Andy, and Candace.
Kristen : "We'll we scared the shit out of Andy"
Nick told Elissa that he would tell her his answer in 30 minutes and he hasn't talked to her since..
Kaitlin says she doesn't deserve to go home this week. Nick warns her that they have to stop talking game in front of Andy. Just a bit ago they were in the "Cockpit" (lounge) and Aaryn was talking game with Andy right beside them
Nick:'I don't care if I go up tomorrow.. I'll smile.. I'm dead serious she is going home"
Nick swears Elissa is going home.
KAitlin: "She makes me nervous… we need to fu**** get her out"
Nick:"WE ARE"
Kailtin: 'I got you back if you go mine""
Nick: 'I do game on"
Kaitlin: 'Game on"