POV Holder:
Jeremy
Next POV
July 13th
POV Used
?
POV Ceremony
?
HOH Winner:
Aaryn
Next HOH:
MVP:
Elissa
Original Nominations:
Elissa, Helen and Jeremy (MVP)
Current Nominations:
?
Last Evicted Houseguest
David
Have Nots
Helen, Elissa, Candice, and Andy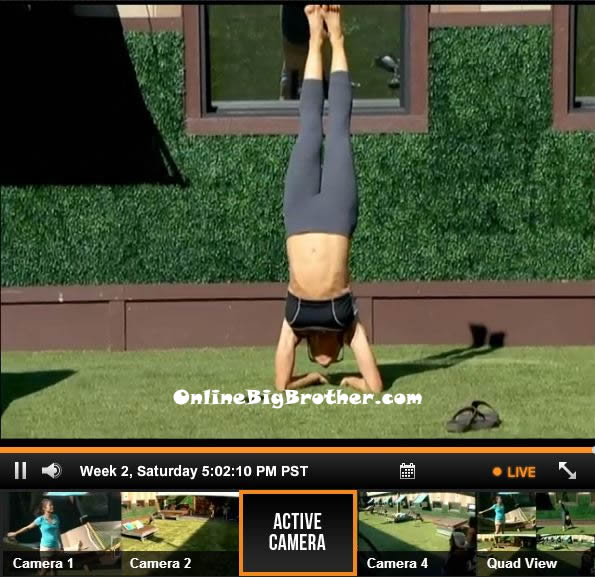 5pm Out in the backyard Elissa is doing her yoga and stretching. Helen and McCrae are tossing the "bandanna ball" across the yard trying to get it in the trash can. McCrae yells "BANDANNA BALL 2013!!" Amanda is sitting on the backyard couch watching. Andy joins in and tries out the game. Elissa then starts doing flips in the backyard. Over by the pool – Andy and Helen are talking. Andy tells her to come inside to talk in the cockpit. Andy heads inside first. Helen starts to head inside and then Spencer asks her to join him on the hammock. Helen says then says she has to go pee. She heads inside to the lounge room to talk to Andy. In the lounge room – Andy says if we play our cards and keep Elissa here, they are all going to know and their red flag will go up on all of us. Helen says that it doesn't matter we still have the numbers. Helen says if we get out Kaitlin out this week, we could get Aaryn out next week. Andy says if we could keep this thing on wraps for right now it would benefit us. Helen says I am on the block this isn't benefiting us. Andy says if we get rid of Elissa then it will keep them happy. Helen says that she is taking one for the team by being on the block. Andy says if we get Elissa out we have a better chance of getting MVP over Kaitlin, Jeremy and Aaryn. Andy says that they don't trust Jessie. Andy says if we get rid of Elissa they will freak out. The second Jeremy feels safe and doesn't win HOH, we take him out. If we appease them now, they will not see us coming. Helen says that with Elissa still in the house the target is on her. Andy says no they have straight up said if we keep her, then they are coming after us. Helen says she wants to get more numbers. I am on the block. Andy tells her she isn't going any where. The least we can do is get one more of that group out of here. Andy says you, me, Howard, Spencer and McCrae are all solid. If you hear anything about any of those people you can't trust it. Helen says that if Jeremy wins next week, three of us will go up. Andy says no, I am in good with him. I won't let that happen.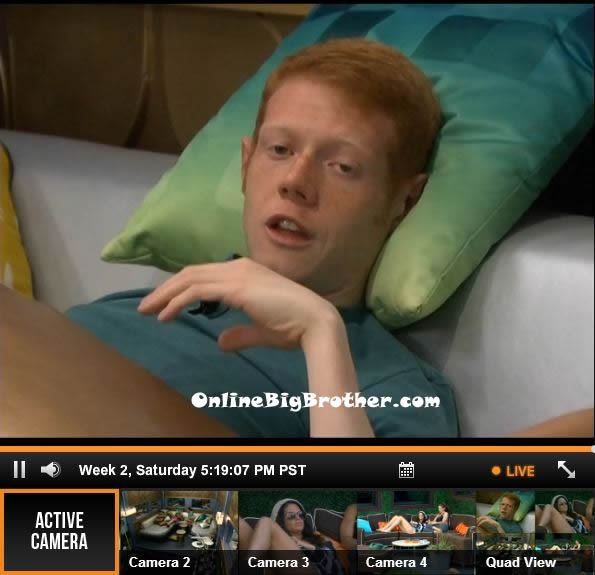 Helen says the whole part of having the numbers is to go after the other side. If we don't I might as well go to Aaryn and ask to join their side. Andy tells her we are fine. Helen says again that she is on the block its not fine! If we vote out Elissa they then get the majority and can start voting us out. Andy says they still won't, they won't get Candice. Helen says I think this is a stupid move, but you guys talk about it. Andy says that he is going to talk to Elissa about putting up Kaitlin. Helen says that she doesn't think that's a smart idea. Helen says this is stupid, America is voting and will not understand why we voted out one of our side when they gave it to us. If we do this America will give the MVP to Aaryn. We can not lose the MVP on our side. You won't get MVP if you vote out Elissa. Andy says we won't do it if you don't want to. We have to stay united. Helen says when we have the numbers, we don't give them the numbers. We have the MVP in our hands, she is doing what we tell her to do with it. Andy asks who we should get Elissa to put up? Helen says that's what I have been asking you guys. They talk about how Nick is being a shaddy player and how they want to get him out. Helen says I will not be on a side that votes out the MVP when they are on our side. I will walk over to Aaryn.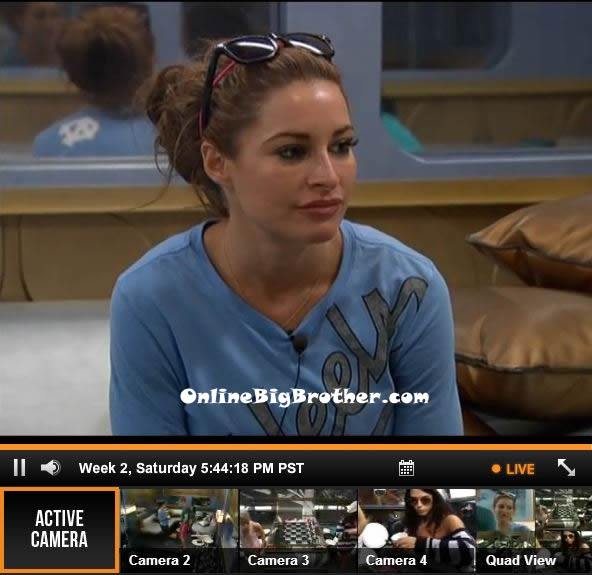 5:40pm Elissa joins them. They briefly talk about who she should nominate as MVP. Elissa thinks Kaitlin. Elissa leaves. Helen and Andy discuss convincing Elissa to nominate Nick and get him out. Helen tells Andy if he can convince the others that Nick should go up, then she can convince Elissa. Elissa comes back in and Andy tells her about putting up Nick. Elissa say how bad would that look if I went back on my deal. I would just feel so bad going back on my word. Would you do it? Helen says to stay in the house I would. Elissa says oh my gosh I just shouldn't have said anything to him. If I do this I am going to be the biggest jerk in the world. Candice comes in and Elissa asks her who should go up. Candice says Nick or Ginamarie. Elissa asks if you made a deal with someone would you go back on it? Candice says she is a woman of her word and wouldn't go back on it. Candice thinks that Nick is loyal to them, more so with Jeremy. Helen tells Elissa that she is worried that she wouldn't get enough votes over Kaitlin. People don't want Jeremy to come after them, that is why people might not vote out Kaitlin.
5:55pm – 6:05pm Up in the HOH room – Aaryn and Kaitlin are talking. Aaryn says that she has to know we are voting her out. kaitlin asks why would Andy say that to about Elissa when she can't even vote this round. Aaryn says why don't we just assume that you are going up so that it's not a surprise when it happens. Kaitlin says that she just sat there and smiled when Jeremy went up. Aaryn says that she needs to stop being so cocky, I don't know if you've noticed but Jeremy and I are exactly alike. Kaitlin says that's why I love you guys. kaitlin talks about how smart Jeremy is at the game. Aaryn asks if Jeremy knows about Nick. Kaitlin says yeah. They talk about Nick throwing the competition. Kaitlin heads down stairs to go outside.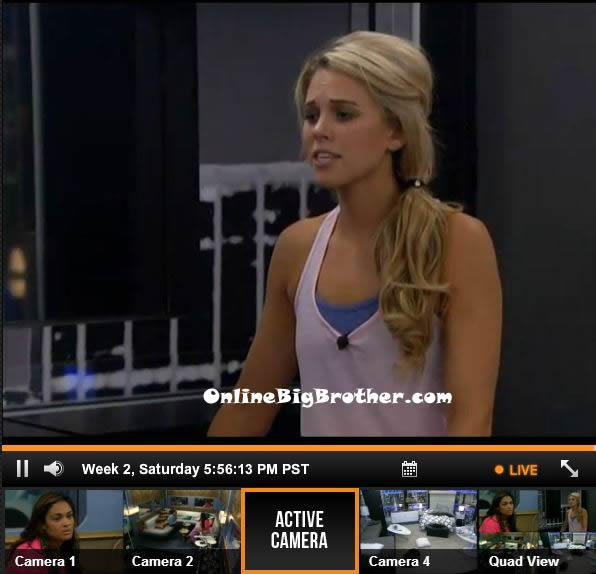 6:05pm – 6:50pm Out in the backyard – McCrae, Judd, Spencer, Candice, Kaitlin and Amanda are on the backyard couch talking about random things. McCrae and Amanda head inside to take a nap. Amanda says how cool would it be to be in the final two together. McCrae says that he can't believe how easily Jeremy will drop Kaitlin. McCrae thinks he will go with Aaryn then because she is strong. They start talking about the competition. Up in the HOH room – Candice is talking to Aaryn. Aaryn tells her that when she and Jeremy were up here talking to people a lot of people threw your name out. Candice says that she knows. Candice says that she was already prepared for that. Candice says that she doesn't think Elissa has the MVP. She doesn't talk about it and I was just talking to her and she was sad. Aaryn says yeah but she has told people already that she got MVP. Candice says oh. Aaryn says everyone wants her out because once she leaves it will make everything fair for everyone. Aaryn says that who ever doesn't vote out Elissa this week, we will go after. Kaitlin says that Candice is guilty by association. Candice says she spends time with both sides. Kaitlin says that we will see who the MVP puts up and then we will know if she is it. We knew Jeremy was going up if it was her and that's what happened. Kaitlin tells her that everyone that talks to her comes up and tells us what she is saying. Aaryn tells Candice – people think that you, Helen and Elissa are working together. Candice says that's not true, I am not working with anyone. Candice starts crying about how people would stop talking to her and move away if she sat on the couch with them. Aaryn says that is why we put Helen up instead of you because we didn't know where your loyalties lie. Aaryn says that people come up here and throw people under the bus just to stay off the block. They threw out your name because you voted out David and were persuading others to do it too. Kaitlin comments on how mean Elissa is to Aaryn, her and Jeremy. She called me a wh*re on national tv. This game is going to be rigged and unfair until she is gone. Aaryn says after Elissa leaves we don't have any other targets. It basically resets the game. Kaitlin says if people don't vote Elissa out – Jeremy is going to have even more fire under his a$$ and go after those the don't vote her out. Kaitlin says that Elissa has no loyalty to anyone. Aaryn says that she wouldn't even talk to us on nomination day. Kaitlin says if you are willing to work with us, they we are obviously willing to work with you.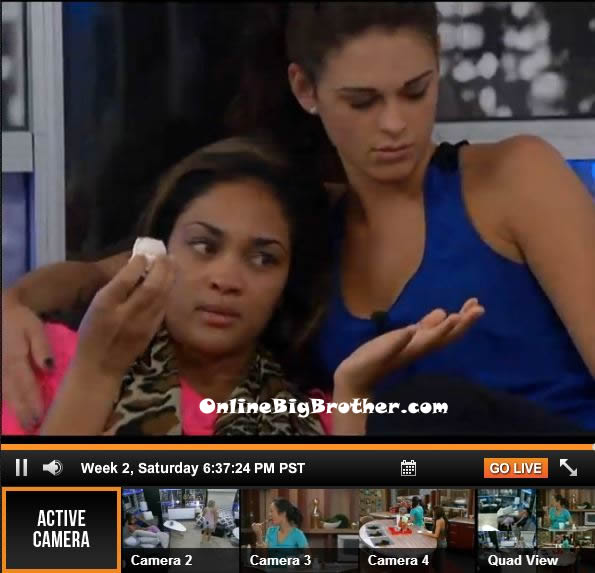 6:55pm Aaryn asks is it possible that it was a decoy, that people wanted Elissa gone when really they wanted David gone? Candice says that she doesn't know. Candice heads down stairs to "eat some lima beans." Meanwhile out in the backyard – the house guests in the backyard continue to play bandanna ball. In the kitchen Helen is cooking and Elissa is making a drink.
Stay connected and interact with other Big Brother Fans on our Facebook page.
And Follow: @BigBspoilers and @Dawgsbigbrother on Twitter for the most up to date spoilers.