POV Holder:
Kaitlin
Next POV
July 20th
POV Used
YES
POV Ceremony
July 15
HOH Winner:
Helen
Next HOH:
July 18
MVP:
Elissa
Original Nominations:
Kaitlin, Aaryn, Spencer (MVP)
Current Nominations:
Jeremy, Aaryn, Spencer (MVP)
Last Evicted Houseguest
David, Nick
Have Nots
Judd, Jessie, McCrea, Amanda
9:20am – 10am All of the house guests are still sleeping except for Jessie. Jessie heads into the storage room to change her batteries. She then heads out to the backyard and sits with her feet in the hot tub as she smokes. At 9:40am Judd wakes up changes his batteries and heads out to the backyard to lay with Jessie on the lounge chair. Judd says what's up? Jessie says morning. Judd asks her if her back is better? Jessie says yeah. Judd says he hopes Ginamarie and Elissa havenots this week. Judd asks Jessie if he can stay with her in her bed. Jessie says yeah. Judd talks about how he hung out with Gina last night and says that it seemed longer that it was because everything they talked about got turned back to talking about Nick. It kills me. Judd says its day 27! Jessie says wow, almost 30 days! Judd says that last night he was talking to Gina just to try and cover bases and stuff. I asked her what she would do if she won HOH .. She still blames me for Nick going home even though there were 7 votes. Judd tells Jessie about how he tried to convince Gina not to win HOH this week due to the MVP. Jessie says she knows its going to be an endurance competition. Judd says that's what McCrae thinks too. Judd tells Jessie to win it. Jessie says they might have to take her to the hospital after but.. Judd tells her not to hurt herself we still have the MVP so we control the votes. Jessie says even without the MVP we control the votes. Judd agrees. Jessie says we can't let Kaitlin win. Judd says yeah then we would go up. Judd says that Howard wanted to talk to me today. he is so sneaky. I am always wondering what he's talking about, what he's up to. Judd says that Gina was talking about spend the holidays with Nick. Judd says that its scary to think if Gina won HOH, she would just randomly pick whoever pissed her off that day. Big Brother switches the feeds to the we'll be right back screen to wake up the other house guests.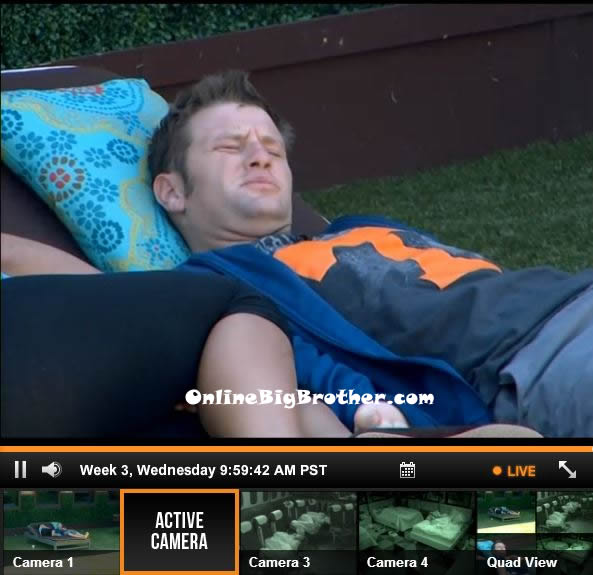 10:15am – 10:30am When the feeds come back – Andy is awake and in the bathroom getting ready for the day. Helen is also up in the HOH room. Meanwhile – Judd and Jessie are still on the backyard lounge. Judd says that he thinks he will stay up till the lock down and then take a nap. Helen comes does from the HOH room and changes her batteries in the storage room. She notices the suit cases are in there for the House Guests on the block to pack. She heads out to the kitchen and runs into Judd. She tells Judd tomorrow is a big day. Judd says yup. They both head out into the backyard. Helen starts her morning run. Jessie heads inside to take a nap.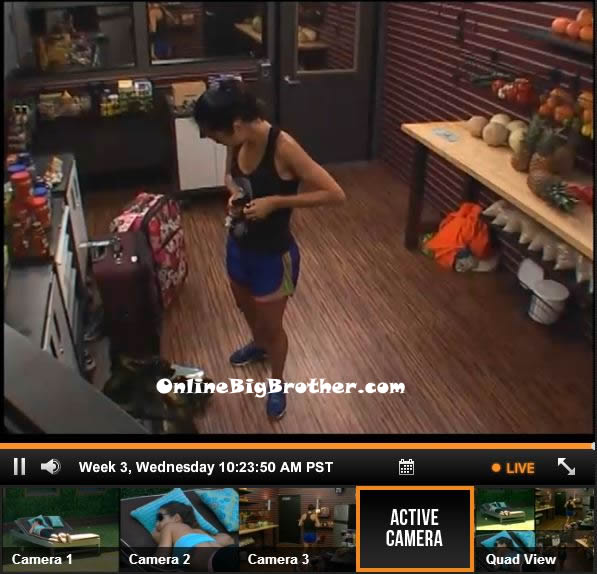 10:30am – 11am Helen continues to run. Judd does laundry. Candice is called to the diary room. Howard is up and praying in the cockpit room.
11:15am – 11:30am Out on the backyard couch – Judd asks Howard what he wanted to talk about. Howard says oh it was nothing big I just wanted to talk to you quick. Howard tells Judd that he is good with him, I would never come at you no matter what. I was going to tell Jessie the same thing. Even when I was in the moving company you and Jessie were never my target. I just wanted to tell you that. Judd says I know I was Nick's target though. Howard says not me though. Howard tells Judd that he has Judd and Jessie's back. Judd tells him that he will watch out for him and Candices too. They end the conversation and Howard goes over to coach Helen during her work out. Helen talks about being excited to watch the HOH competition tomorrow. Howard says that he is excited for someone else on our side to win it. Howard says that he even teared up listening to Helen read his letter and hopes someone else gets a letter. He says that if he won it he thinks his sister would write the letter. They both think it will be an endurance. Howard heads inside to talk to Candice in the kitchen. Howard catches Candice cursing and tells her not to. Candice says okay I will not curse today – give me a consequence. Howard says 50 sit-ups. Candice says okay.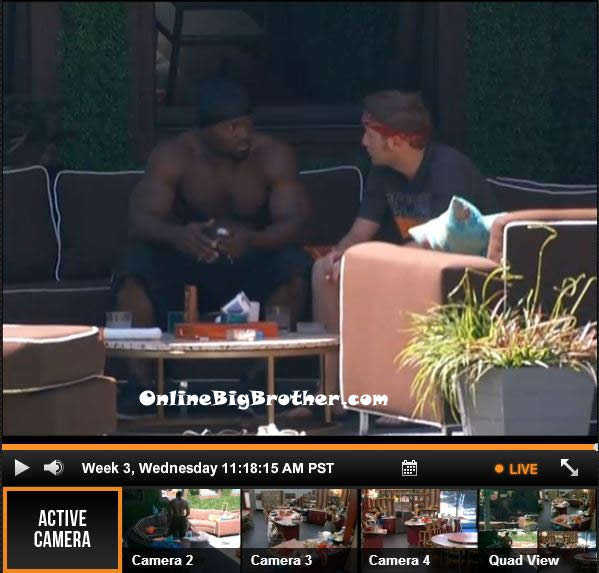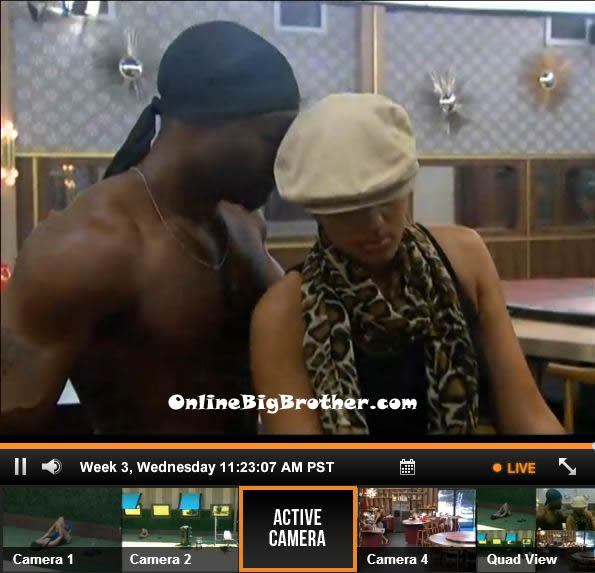 11:45am Judd is in the backyard doing sprints. Helen, Howard and Candice are in the kitchen. And America's Most Valuable Player is trying to rally the votes for another week as BBMVP:
MOST VALUABLE PLAYER ELISSA hard at work! It's a tough life being the #BBMVP @bigbspoilers #CBSBigBrother #BB15 pic.twitter.com/PRt7vOHRFW

— Dawg (@DawgsBigBrother) July 17, 2013
[polldaddy poll=7256699]
Stay connected and interact with other Big Brother Fans on our Facebook page.
And Follow: @BigBspoilers and @Dawgsbigbrother on Twitter for the most up to date spoilers.