POV Holder:
Kaitlin
Next POV
July 20th
POV Used
YES
POV Ceremony
July 15
HOH Winner:
Helen
Next HOH:
July 18
MVP:
Elissa
Original Nominations:
Kaitlin, Aaryn, Spencer (MVP)
Current Nominations:
Jeremy, Aaryn, Spencer (MVP)
Last Evicted Houseguest
David, Nick
Have Nots
Judd, Jessie, McCrea, Amanda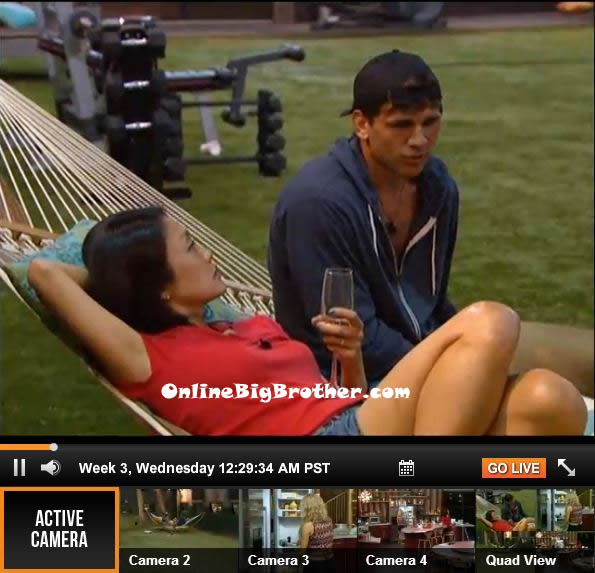 12:30am On the backyard hammock – Helen, Jeremy and Elissa are talking. Elissa talks to Jeremy about him needing to go seek therapy to heal his relationship with his father. Jeremy agrees and says being in the house has opened his eyes. He says he doesn't want to go through life with a broken heart. Elissa says you can't be the person that you're supposed to be with broken heart. Jeremy says that the last time he saw his father 10 years ago they were fighting and it wasn't word fighting. He says this probably won't be good for tv but the last time I saw him I got punched in the face. Big Brother cuts the feeds. When the feeds come back – Elissa continues to talk to Jeremy about how to repair his relationship with his father.
Big Brother 15 Live Feeds: FREE 2 DAY TRIAL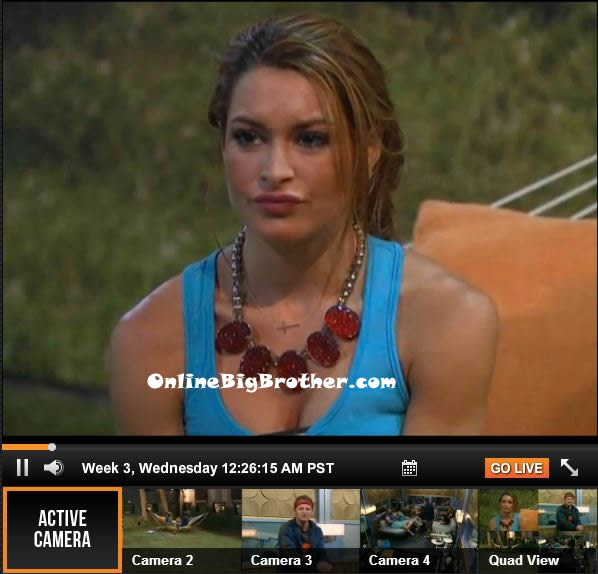 12:40pm Candice, Howard, Spencer, McCrae, Andy, Helen, Gina and Judd are in the lounge room talking about random things and joking around. Meanwhile out on the backyard couch – Jeremy talks to Kaitlin. Kaitlin tells him that he should have told them that he would prove to them over the next week through his actions. Jeremy says I did say that. Kaitlin says you are a monster if you campaign to stay. Kaitlin says McCrae and Amanda already promised me they are going to throw it to me. Jeremy says not if I am here I am going to win it. Kaitlin says you don't need to win it, if I win it. Jeremy says he has to. Kaitlin tells him if he wins he can't put up the people he wants, he has to put up who they want. Jeremy says duh! Kaitlin says that's what Aaryn doesn't get. Kaitlin tells Jeremy that he fu*ked up his own game. Jeremy says if the moving company wasn't tw*ts it would have worked out. Jeremy says hopefully I got to a sympathy level with them and they will keep me. Kaitlin says I doubt it. Jeremy and Kaitlin move to the hammock.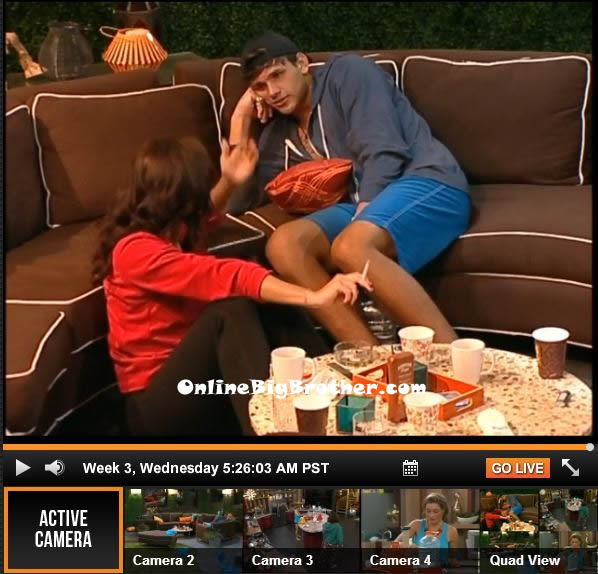 1am Helen is up in the HOH room with Andy, McCrae and Amanda. They talk to Helen about how she exposed their alliance. Helen feels bad but Amanda says that she tried to throw Jeremy off by telling him that they weren't protecting Helen like she was. They all agree that Jeremy is going home on Thursday. Helen says that she will tell him right before the vote. McCrae says that he doesn't know why Jeremy even thought he would get the money in the end after he destroyed someone's property. McCrae and Amanda head down to the backyard couch. McCrae says that Aaryn worries him. Amanda says that she knows that she does. Judd joins them. They talk about being havenots and appreciating food more. Aaryn joins join them. They talk about the Aaryn and Gina fight. Aaryn says that the fight started with talking about whether or not Nick went to Yale. Judd says that Gina told Aaryn to check herself. Aaryn comments that it looks like Jeremy and Kaitlin are having $ex on the hammock. Aaryn says that she didn't know it was a secret that Nick went to Yale. Amanda says that Aaryn is passive aggressive because she knew that comment would bother Gina because it made it seem she knew Nick just as well.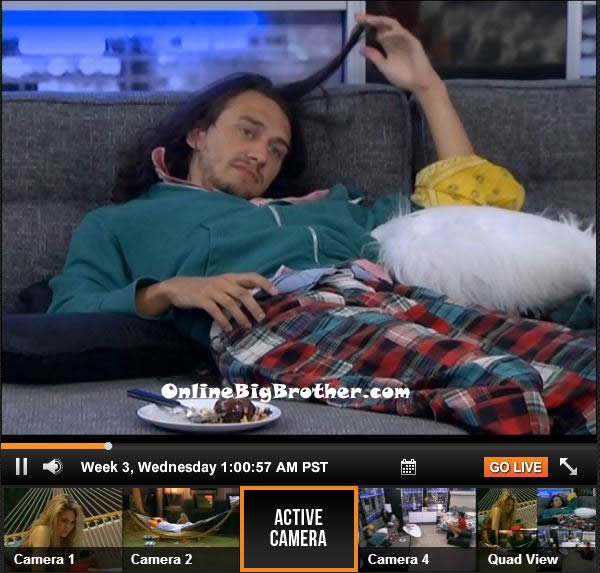 1:30am McCrae, Kaitlin, Aaryn, Judd and Spence are talking about $ex. Judd talks about he walked in on Aaryn in the bathroom. She jokes that she was masturbating. Spencer says he holds the door sometimes. Kailin says she doesn't care if people see her. Judd jokes about his albino anaconda. Aaryn says that Judd gets into bed with her at night and uses his albino anaconda. Spencer asks he tries to put it in you? Aaryn says he doesn't try, he does it. They discuss the age's males and females when they hit their sexual peak. McCrae comments that when he pee's sometimes his dick tickles water. Aaryn says that she bleached her butt hole with honey and lemon. Amanda says oh my god we can all bleach our butt hole here. Spence asks the ladies outside if they would rather be fingered while someone goes down on them. Kaitlin says yes. Aaryn jokes that she is asexual. Kaitlin says that she thinks she is. Jeremy and Spence says that Aaryn takes it in the face. Aaryn says that she doesn't. Jeremy asks Aaryn if she spits or swallows. Jeremy and Spencer make her wink if she swallows. Aaryn winks. Aaryn talks about how she doesn't like butt $ex because one time it slipped in and she curled up in a ball in tears. Spencer and Jeremy bet in 10 years she will like to take it in the butt. Jeremy tells Aaryn that he would eat the lint in her belly button. Spence says that he would drink her bathwater. Jeremy says that he would drink her toilet water after she take a dump. Aaryn says that David said he has a foot fetish. Aaryn says that she doesn't like that. Aaryn says that the weirdest thing that ever happened to her was a choke grab. Spence and Jeremy says that they never know how hard to choke when their asked to do it. Aaryn asks Spencer and Jeremy how many people they've had sex with. Jeremy says 24. Spence says 37. Aaryn says 7. Jeremy says that he thinks that's amazing.
Test out the Live Feeds and if you don't like them – just cancel: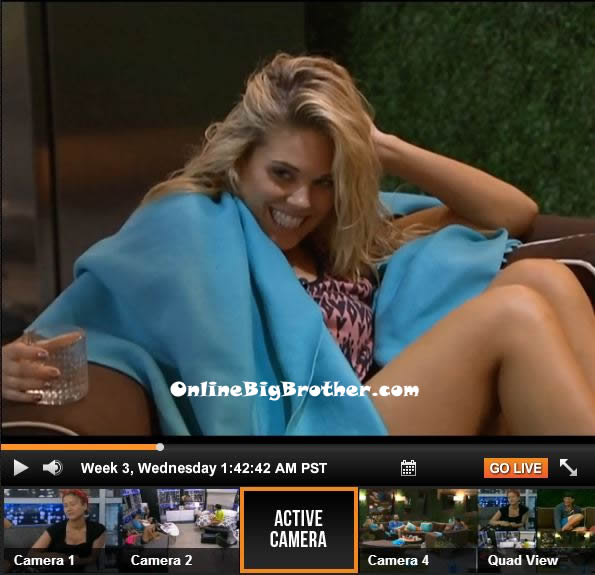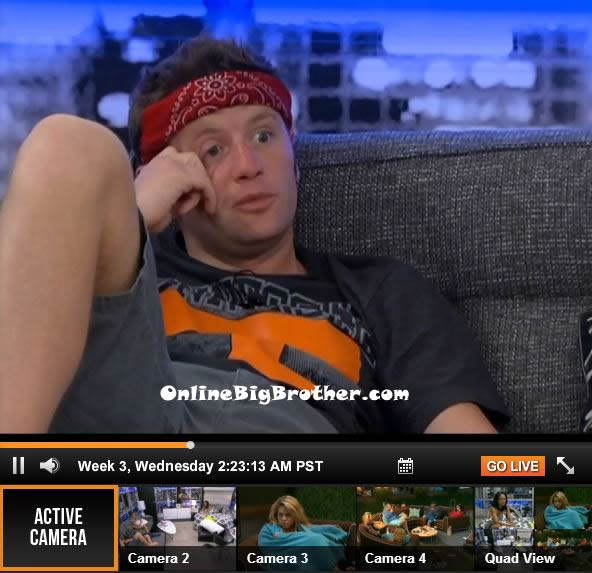 Up in the HOH room – Judd is talking to Elissa and Helen. Judd asks them if they have a final four deal with Andy and Kaitlin. Helen and Elissa deny it. Judd says that Jeremy thinks he might get the votes. Judd asks if Jeremy is still going home. Helen says yes. Helen tells Judd how she told Jeremy that he needed to keep Judd, Elissa, Helen, McCrae, Amanda and Andy safe if Jeremy had the votes to stay. Judd says that he wants to make sure Gina goes home before the jury. He says that she would be a bitter jury member. Helen says that Amanda and McCrae want Howard gone. Helen and Elissa say that they want Aaryn out next. Elissa says that if she won HOH she would put up Aaryn, Spencer and Kaitlin as the MVP. Helen says that she needs to put up Howard. Helen says that the house wants Howard out. Judd tells Elissa that he heard that she wants an all-girl alliance. Elissa asks who told him that? Judd says Jeremy told him. Elissa says he never talks game to me. Judd asks again if she wants only girls. Elissa comments how she wants Aaryn out. Judd says that if he wins HOH, he won't put up Aaryn but he will vote her out. Helen and Elissa ask why he wouldn't put her up. Judd says that he lied to her before and gave her his work that he wouldn't. Judd says that he put up Candice and Howard, or Gina and Kaitlin. Helen says that she wants Jessie to make it to at least jury. Judd agrees. Judd talks about havenots and says that everyone who hasn't been a havenot should be this week (Spencer, Aaryn, Gina and Kaitlin.
3:30am – 5am Out in the backyard – Aaryn, Gina and Judd are on the backyard couch hanging out. Aaryn heads inside to bed. Gina says that she misses Nick. She asks Judd why he voted Nick out. Judd says that it wouldn't have even mattered the vote was 7-4. Judd says that Nick told the moving company he wanted me out. Gina says the moving company lasted 3 days. Judd says no since the beginning. Gina asks what are you doing – voting Jeremy or Spencer out. Judd says Jeremy because that's what the house wants. But if Jeremy gets the number then I am down.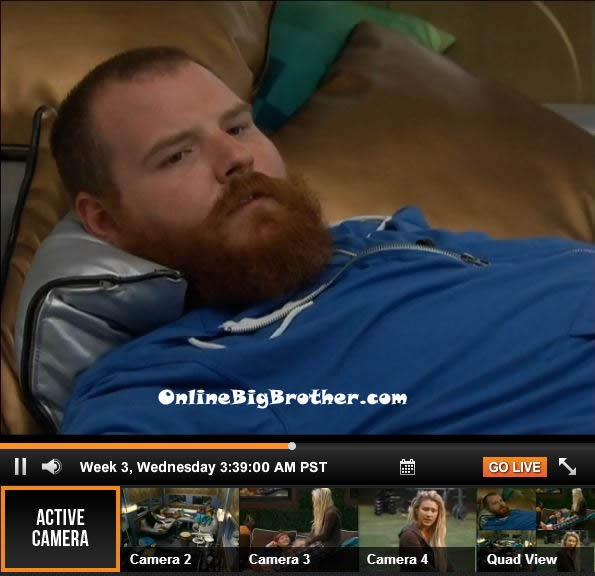 Meanwhile – McCrae Amanda and Spencer are in the lounge room talking. Spence asks McCrae if he is still going to be staying. McCrae assures Spencer that he is. McCrae says that Helen is just humoring Jeremy until right before the vote. McCrae says that Aaryn is making herself a bigger target. Spence wonders what the logic was to put him up instead of Howard. McCrae says that he doesn't know. McCrae says that he wonders if they were worried about Howard getting upset with them or if he had a deal with them. Spence says he doesn't know if they have a deal. Spence asks McCrae who he would put up once Aaryn and Gina go home. McCrae says he would probably put up Candice and Jessie. Spence says that he thinks that Helen nominated him because he told Jeremy that Helen should go. McCrae says that the girls were pushing so hard for Spencer to go up and says that he didn't want to fight it. Spencer says that he thinks Howard has a good shot at an endurance HOH. McCrae agrees. He says unless it's a girls endurance. Spencer leaves. They talk about how they think Spencer knows that McCrae wasn't the MVP. Judd joins them and tells them he was just tortured with a hour and a half talk with Gina. Judd talks about how he tried to convince Gina to throw the HOH. He says that he told her that it would be scary to get HOH with the MVP twist because only 1 of 3 people go home and you still have two people coming after you. Judd says that he also told her to vote with the house. The talk turns to Howard and how he uses his religion. Amanda says that Howard uses race and religion. Judd says that from Howard race thing is over the top now. Amanda says if someone says there's a lovely black couch – Howard acts offended and walks away. Amanda says that she thinks Howard tried to make Aaryn look like a racist. Amanda says that they better not try to make me seem racist because I am the least racist person ever. Judd says same with him. Judd heads to bed. Amanda tells McCrae that she will make sure that either Spence or Howard go next week. McCrae says that he is worried that he will be the one to go. Amanda says no way. Amanda tells McCrae I don't want to like you, I don't want to love you. She says you give me goose bumps. McCrae and Amanda start making out. Amanda asks McCrae if he likes her? McCrae says MMhm. Amanda asks do you love me? McCrae says MMhm. Amanda says you do? Do you swear? McCrea says MMhm. They then head into the havenot room and go to sleep.
7:30am All the house guests are still sleeping..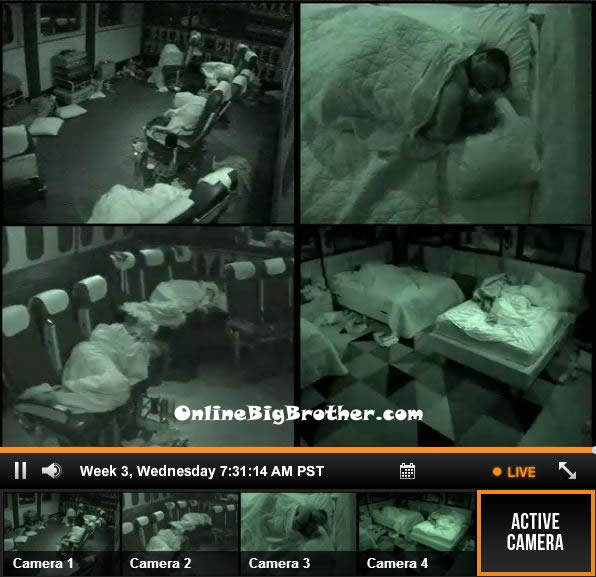 [polldaddy poll=7256699]
Stay connected and interact with other Big Brother Fans on our Facebook page.
And Follow: @BigBspoilers and @Dawgsbigbrother on Twitter for the most up to date spoilers.