POV Holder:
Jeremy
Next POV
July 13th
POV Used
?
POV Ceremony
?
HOH Winner:
Aaryn
Next HOH:
MVP:
Elissa
Original Nominations:
Elissa, Helen and Jeremy (MVP)
Current Nominations:
?
Last Evicted Houseguest
David
Have Nots
Helen, Elissa, Candice, and Andy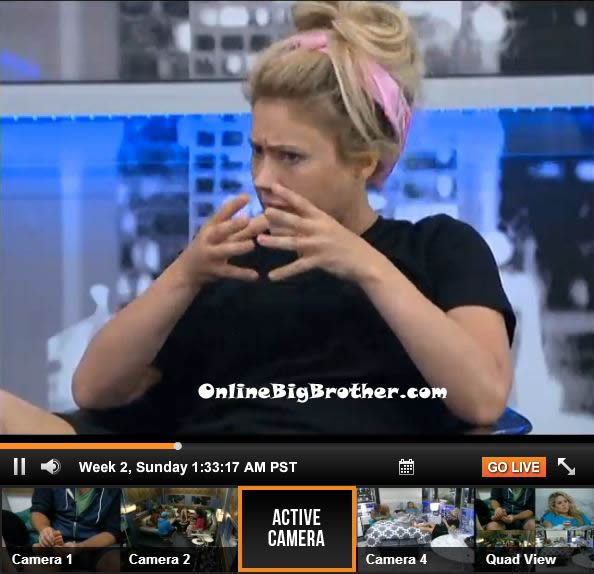 1:30am Up in the HOH room – Gina is talking to Jeremy and Aaryn. Gina says that if she ever got the MVP she would want it to be a team decision. She says that even just talking to Nick about things helps her realize different aspects of the game that she might not have thought about. Jeremy comments that he trust Nick more than Amanda. Aaryn questions how he could trust Nick more than Amanda. Gina agrees with Jeremy and says that the more and more she talks with Nick, the more she trusts him. Gina says that she trusts Amanda more than she trusts Jessie. She laughs. Gina heads down stairs.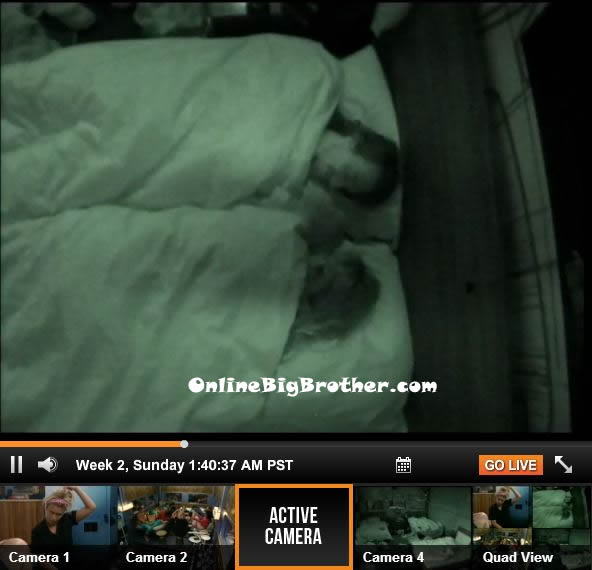 1:40am In the bedroom – McCrae and Amanda are talking with the lights off. She comments that she doesn't want to leave. She says that it makes her sad to think about leaving the house and says that she wants to try and stay as long as possible. Meanwhile in the lounge room – Jeremy, Gina, Howard, Spencer, Judd, Helen, Andy, Kaitlin and Candice are hanging out and talking. Gina tells them all in front of Nick that she like "fruity guys".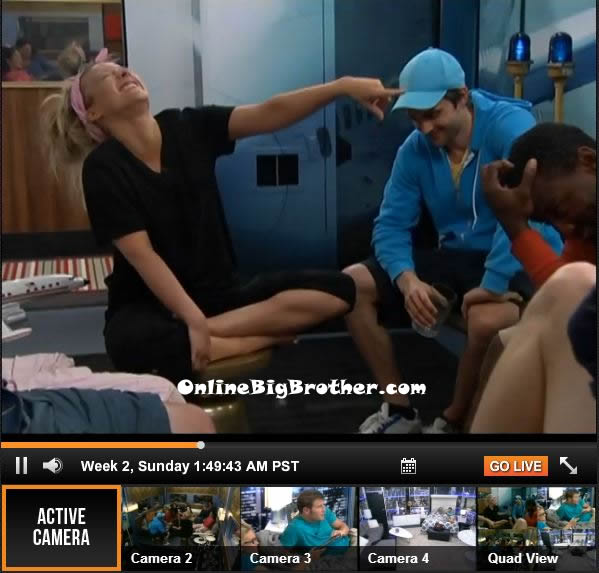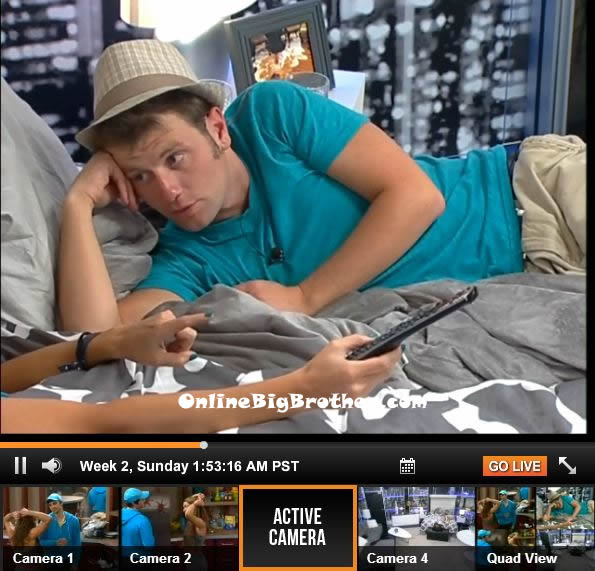 1:50am Up in the HOH room – Judd goes up to talk to Aaryn. Judd is talking to Aaryn about how she said she has no one in the game. Judd tells her that could be that person for her because he doesn't have anyone either. Judd says that he is tight with McCrae. Judd says but he has Amanda so he would cut me in a second. Aaryn starts going over the duos in the house. She says the only people in the house that don't have final two deals are probably Judd, Aaryn, Jessie & Andy. Judd comments that Jessie is cracking. Judd says that he is worried about the MVP nomination and says that although he isn't worried about Elissa putting him up but that he thinks that everyone is acting sketchy. Judd asks Aaryn if she's noticed that. Aaryn says that she's noticed. She says that Kaitlin is really scared about being nominated. Judd says he thinks everyone is going into corners and talking. He wonders if they are just scared about the MVP nominee. Aaryn says that she thinks that Elissa is scared. Aaryn starts going over the votes that evicted David. She discusses how she still isn't sure who is lying to her about the votes. Aaryn says that the only people that are being honest about evicting David to her are him (Judd), Andy and Helen because you all admitted to it. Judd is surprised that still only 3 people admitted to it.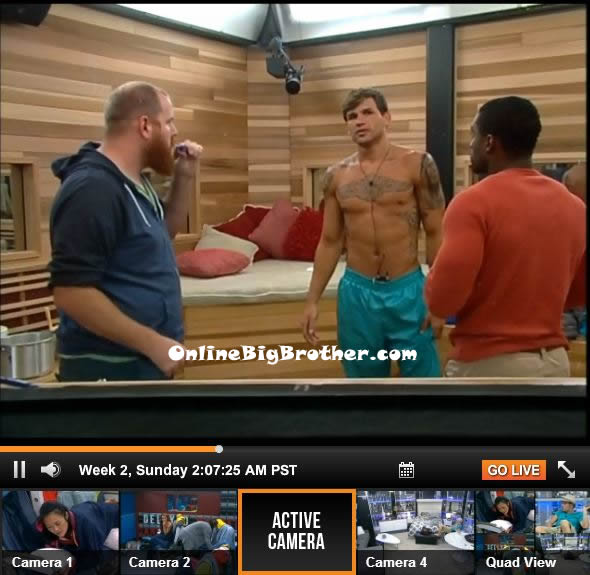 1:55am – 2am In the havenot room – Elissa is talking to Helen. Elissa says that she asked Nick if she were to put up Kaitlin as the MVP nominee – would Nick vote to evict her. She says that Nick told her that he needed to think about it. Elissa tells Helen that Nick basically told her that he would evict her (Elissa). Elissa tells Helen that say she knows she isn't winning this game. Helen tells her that she can't throw in the towel and that once she wins HOH she can build new relationships with the others. Helen tells her to play on Wednesday like you have never played before if you stay. Helen tells her that she has all these people supporting her. Elissa says that is the only reason why she hasn't given up because all these people are voting for her. Elissa says that Aaryn talks about me making waves since the first week. Elissa says that Aaryn has been making comments about her sister. Helen tells her that she understands but she needs to try not to take it personal. Elissa says she is offended that on national TV, Aaryn says that Elissa is making waves for the 2nd week. Candice joins them and then conversation ends.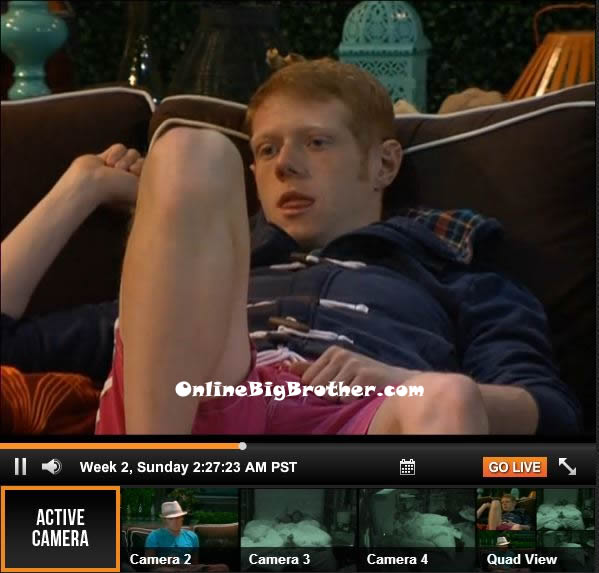 Out in the backyard – Andy is talking to Nick about how frustrated he is with Candice. Andy says that he feels like he is getting doubted just for talking to people, even if he is just being nice he gets questioned. Nick agrees and says that he is in the same boat. Andy says that he likes Helen so much but he has to tell her to stop hanging out with Elissa all the time because it hurts her. Meanwhile in the bathroom – Jeremy, Howard and Spencer are talking about McCrae and Amanda. Jeremy tells them that McCrae told him he is worried about MC not trusting them. Jeremy says that he reassured him. Jeremy says that them that Amanda is shady one and he doesn't trust her. Jeremy says that Amanda tried to form a final four with him, Aaryn, McCrae and her (Amanda). Howard tells Jeremy that Amanda is trying to get him (Jeremy) out. Jeremy says that he is worried about McCrae's vote. He says that his loyalty may lie with Amanda. Jeremy says that he thinks Amanda is getting really cocky and talking about how she has the votes. Jeremy then heads up to the HOH room. Up in the HOH room Jeremy, Aaryn, Kaitlin and Judd talk. They discuss how nosy Candice is being around the house. Aaryn says that when Candice walks out the door, I'm going to say I guess you got your life vest. Judd says that he thought Candice was just a nice, nosy girl until he heard about Candice going off on McCrae after being nominated. Aaryn and Kaitlin say that Candice isn't nice. Judd says I am going to shave my head, get a tattoo on it and go hard on Wednesday! Aaryn says that Judd doesn't get excited, it's probably going to be an HOH trade-off between Jeremy and me the whole time we're here. Aaryn laughs and then says that she is totally kidding. Aaryn asks Judd – did you think I was serious? Judd says na. Judd heads downstairs and Jeremy, Aaryn and Kaitlin go to bed.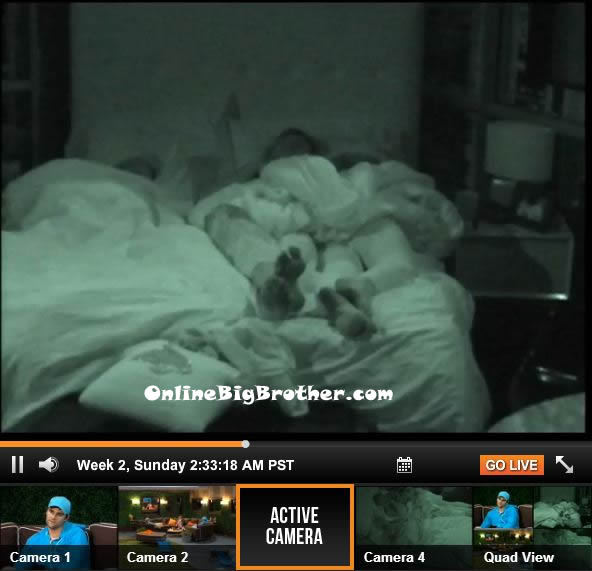 2:25am Judd heads out into the backyard and talks to Andy about the past competition. Andy asks if Judd has any idea who will go up as the MVP. Andy says he's heard Kaitlin. Judd asks again why everyone is so shady today. Andy says that he will talk to him about it later. Judd asks if people are upset with him (Judd). Andy reassures him they aren't. Meanwhile Nick comes up to the HOH room but finds that the lights are out. They have a quick conversation about what everyone has been up to. Nick comments that Andy is being gay. Aaryn tells Nick to go cuddle with Andy. Nick says maybe we should. She says maybe someone needs to tell Ginamarie. Nick leaves so they can sleep. Jeremy says that Amanda is stupid for saying how she thinks people are being portrayed. Jeremy says that she is just a huge dyke. Jeremy says that everyone wants Amanda gone. Aaryn is surprised that everyone wants her gone. Jeremy says that it disgusts him that people are going around playing the game like that but they want us gone. Jeremy asks and do you know why? Aaryn says that they are scared of us. Jeremy says yeah and because we are beautiful people. He says that everyone hates beautiful people. Aaryn laughs. Aaryn says that there must be more to life than being ridiculously good looking. They talk about Jeremy winning the POV. Jeremy says that she looked good in her green onesie. Jeremy wonders why he got Jewed with a gay colour like lavender. Aaryn laughs and says that it was a queer colour.
Judd and Andy talk about how they think they should keep Elissa. Andy tells Judd that he is tired of Jeremy's group threatening people. Judd asks who is against keeping Elissa? Andy says Spencer, Howard and McCrae. Judd says that he wonders if those guys are with the other side. Andy says that everyone in their group needs to stop being paranoid about each other. Judd agrees and says that if people keep pushing then he doesn't know what else to do. Andy says that it doesn't make sense for anyone in their alliance to go with Jeremy's group. Judd says it doesn't but he is scared that some of them have. Andy says that it doesn't make sense to get rid of Elissa because they can control a nomination every week. Judd agrees. Andy says that he likes Elissa a lot more than the other alliance. Judd says Elissa is really nice. Andy says that he thinks that Aaryn acts super entitled and isn't nice. He says and Jeremy goes around bullying people.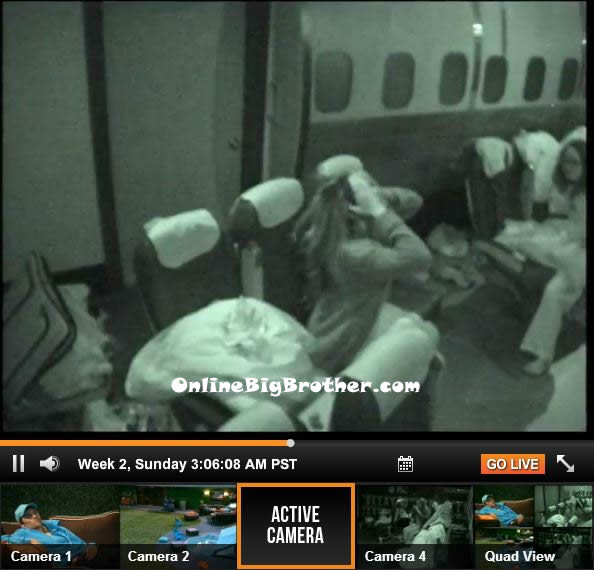 In the havenot room Helen is talking to Candice. Helen says that she is worried Jeremy will get MVP if Elissa is evicted. Helen talks to Candice about how keeping Elissa is good for them because of the MVP. Candice says that Elissa says things that rub people the wrong way, including her. Helen tells Candice that Jeremy is this year's Frank because they eventually become the underdog with everyone against them even though they're winning everything. Candice points out that Frank didn't go around bullying people and that America won't vote for the douche. Candice says that she thinks America will vote for someone that's funny for MVP like Andy or Ginamarie. Candice says that Gina needs to go.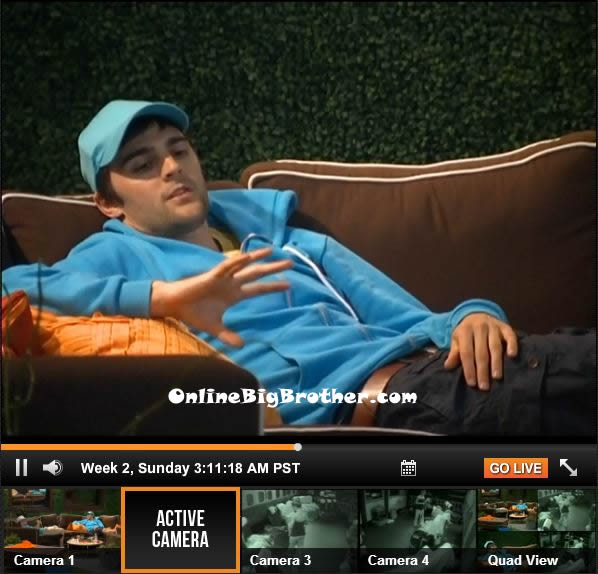 4am Out in the back yard – Nick and Judd are talking. Judd asks Nick if he feels good about the MVP nomination. Nick says he feels good about it because I haven't ruffled any feathers. Judd says he feels that Elissa would go against Judd but says that David didn't upset anyone either and he left. Nick agrees. Judd asks Nick if he has thought about making a deal with Elissa so that he wouldn't be nominated. Nick says that that house wants her out so it wouldn't be a good idea to make a deal with her. Judd says he assumes that Elissa will put up Kaitlin since Jeremy won the POV. Nick and Judd talk about random things and then decide to go to bed.
6:40am All the house guests are still sleeping..
9am Still sleeping..
9:50am No wake up call yet..
10:30am Big Brother switches the live feeds to the we'll be right back screen to wake up the house guests.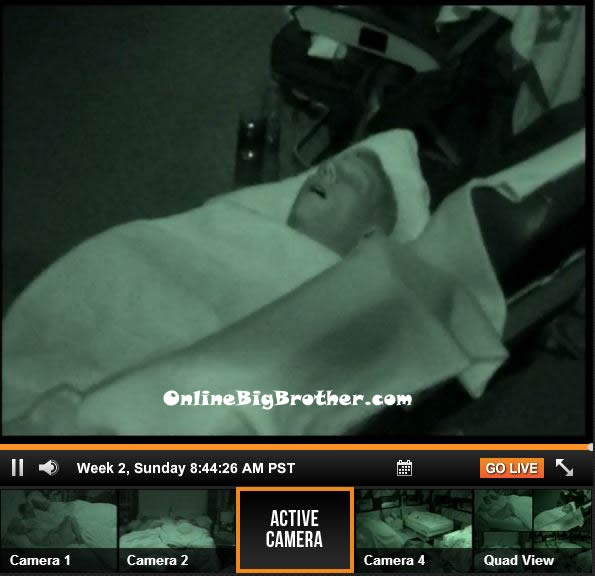 FYI you can re-watch ever second on the feeds using their flashback feature.. It's super easy to use click this link for a FREE Trial —> Big Brother Live
Stay connected and interact with other Big Brother Fans on our Facebook page.
And Follow: @BigBspoilers and @Dawgsbigbrother on Twitter for the most up to date spoilers.