POV Holder:
Jeremy
Next POV
July 13th
POV Used
?
POV Ceremony
?
HOH Winner:
Aaryn
Next HOH:
MVP:
Elissa
Original Nominations:
Elissa, Helen and Jeremy (MVP)
Current Nominations:
?
Last Evicted Houseguest
David
Have Nots
Helen, Elissa, Candice, and Andy
9:35pm Helen and Elissa
Helen: 'I don't know if Kaitlin is the right now.. we need someone for sure that will get the votes to be evicted"
Helen says it's not going to be her evicted on wednesday it'll be with Elissa and whoever she nominates with the MVP power.
H: "Houseguests are getting nervous.. We need a target that is a bigger threat than you and I and I think that is Nick "
Helen adds that both sides of the house are unsure about Nick they wouldn't have to do as much work to get the votes against him.
Helen: 'Let me go and get the temperament of the houseguests because right now I don't think you would stay against Kaitlin"
Helen says that some of the people that voted to keep Elissa last week will not vote to keep her this week, "Fairweather friends" Helen is really pissed at them.
Elissa: 'Who do you think specifically"
Helen is going to tell people if Elissa leaves MVP is going to Jeremy because he's winning the competitions and people like that. H: 'They like to to cheer for the underdog and he's gone from Evil Dick to underdog"
Elissa: "I don't think America will like Jeremy"
Elissa wonders who out of their group is thinking about switching to the other side. Helen doesn't know yet but when she finds out she'll be pissed and they'll hear her wrath.
Helen is going to tell them "The second elissa walks out that door you might as well write Jeremy that MVP cheque if 500 thousands"
Nobody has said straight up that they are voting you out but it's been an option thrown around.
Helen: 'I love nick.. the only other person is Amanda but I don't think you can win against her.. "
Helen: 'Maybe you could beat Gina.. I don't know"
Elissa: "Be careful what you say around Candace I've seen her talking to them"
Elissa: 'It'll be kinda exciting to see what will happen next from home.. Jeremy will win this if he stays"
Candace comes in tells them that Candace and McCrae were the ones that told Bieber fever that Candace masterminded voting out Dave.
Helen: 'What did you even know who he was"
9:45pm Candace and Helen makeup
9:45pm Elissa and Howard Howard tells her to put Nick up.
9:54pm bedroom Howard, McCrea and Amanda
Howard brings up that Jeremy is telling everyone if they don't vote out Elissa he will be coming after them. H: Once he says something JEremy honours it.. He's a big target I wants him out"
Howard explains that they have to do it strategically though they just can't put him up.
Howard says that Jeremy is screwing himself up by being so competitive. Howard and Spencer are trying to get in good with Jeremy so once some more of their side is gone they can go in for the kill . H: 'You can't go in for the kill until you got it in the bag" Howard suggesting they take out some of Jeremy's allies before going after Jeremy.
Amanda brings up losing Elissa's MVP when she goes.
H: "If Elissa gets her a$$ out of here and he keeps being a butthole the MVP will go to whoever will vote him out"
H: "If you don't get him out you get Kaitlin out and if Kaitlin is out he's going to implode"
Amanda: "My fear is he's going to put up Candace and he'll put up one of us to"
MC: 'He'll put up Jessie'
Amanda: 'He won't put up Jessie he can control her it'll be me"
Andy joins them
Howard: "this week make the game fair by getting Elissa out"
They talk about getting Jeremy out and how they need HOH and MVP to do it. Howard says it's all about timing.
Andy says if they get Elissa out America is going to hate them and might give the MVP to the other side.
ELissa and Judd walk in.. everyone is quiet.. Amanda says there's too many people in this room. Andy says he's going to leave. After Elissa leaves they go back to talking.
Judd: "So we're voting elissa out"
Andy: "I told Helen about the possibility of getting Elissa out and Helen freaked out"
Now Amanda is going back to telling them how they need to keep Elissa because they control her MVP.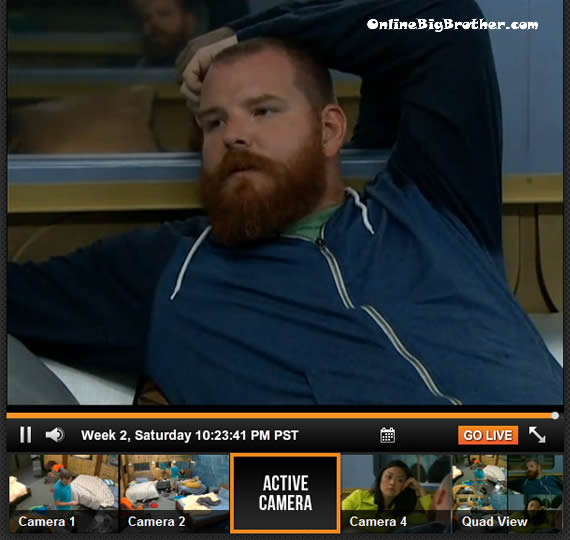 10:23pm Spencer and Helen
Spencer says to her he treats her game like he treats his own he wants her to make it with him. Helen knows he's told her that before they have the number to get out however they want. Spencer says there is one problem "McCrae and Amanda are about to jump ship and the first thing she does is rat out everybody"
Spencer has faith that a person on their side has the best chance of getting MVP when Elissa leaves. Spencer doesn't see the other side getting it. Helen thinks MVP is now a curse because if you win MVP people will try to vote you out like they are voting out ELissa.
Helen thinks Jeremy will get it. Spencer thinks the MVP twist will be over soon.
Spencer says if Elissa goes this week the other side will target Candace.
Helen says she doesn't trust Candace because she's all over the place, Andy and Spencer are her Foundation.
Helen: "Who would you put up if you got MVP"
Spencer: 'Amanda.. if we put her up they will vote her out"
Helen agrees. Helen: "I'm OK with Elissa going home if we make an agreement to get Amanda out next week"
Spencer is keen on this plan. Helen doesn't think they can do it because "Amanda is kissing Jeremy's butt right now"
Spencer: "I think aaryn knows that Amanda was the ramrod to get david out"
Howard joins them. Helen says she is the most loyal to Howard, Spencer, Andy and if he can get his shit together McCrea. Helen does one last pitch to the guys to keep Elissa. Mainly they want to keep her around so they can continue to control her MVP. Helen thinks Jeremy is going to get MVP because he wins comps like Frank (BB14) and is the underdog.
Spencer says Jeremy getting MVp is speculation he thinks it'll be Andy or Helen. Helen doesn't want to win MVP she would rather Elissa wins it and they tell Elissa who to put up. Spencer mentions how Elissa didn't put up Gina like they all suggested she put up the strongest player to play in the Veto.
They all agree that they need to get rid of Amanda soon. Spencer thinks if Jeremy wins HOH he'll put up Candace and possibly Amanda. Howard nods.
Helen thinks it's crazy to keep Kaitlin, Gina or Nick in the game they now have a chance to take one of them out. Helen says that Evil Dick won the game and was hated by everyone. Spencer points out that Big Brother 8 had no twists that required the fans to vote.
Helen want so know who they put up if Amanda wins POV, she suggests JEremy. Spencer thinks it's a great idea. They are all very much on board to get Amanda out soon.
Spencer: "Amanda is sketchy.. but Judd is a person that is up and down.. as far as Judd goes I wouldn't be surprised if he's up stairs spreading things around"
Spencer proposes their 5 go after the otehr sides 5. (There 5 is Howard, Spencer, Andy, Helen and MCCrae)
Helen wants a name for the five of them.. Howard: "I don't know I have too much inside my head" Spencer: "Amanda wants to call it the area 51". Spencer mentions there is no way the 7 perosn alliance was going to stand.
Spencer: "I like bad dudes"
Helen: 'I don't like dudes because I'm a girl"
Spencer says he really trusts Andy, Howard agrees.
Helen wants them all to promise if they get on the block they have to vote their way. Spencer says until they can get McCrae 100% if it comes down to McCrae and HElen he'll pick Helen.
Howard warns Helen that she needs to stop hanging out with Elissa.
Helen: "I know when to surrender something"
Spencer: 'We all have to make sacrifices"
10:48pm Candace joins them.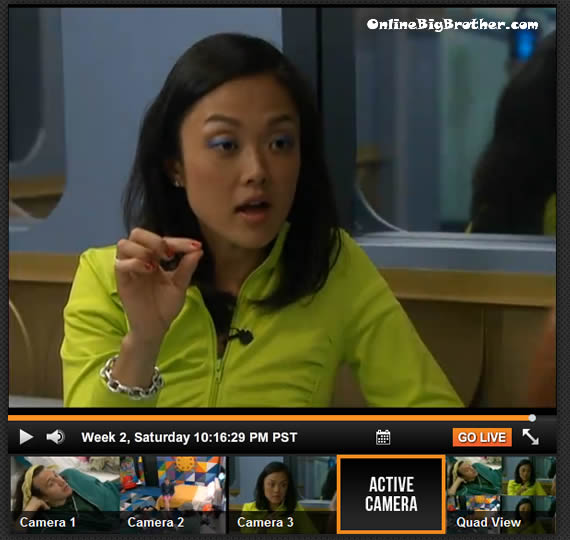 11:38pm HOH Kaitlin and Aaryn
Aaryn: 'Kaitlin I hate to say this but we're going to have to be the fakest person alive"
Kaitlin: "Honey,. I know how to be fake"
Aaryn mentions that downstairs she caught Elissa staring at him.
Aaryn called her out "Dude why are you always staring at me it's so creepy"
K: "What did she say "
A: "Nothing She laughed.. like why is she always staring at me it's so creepy.. she so obsessed with me"
K: "That now how she sees it"
A: 'Well that's how it's coming off"
K: " She's super insecure about herself and both you and I are all natural and it drives her crazy"
A: "I wonder what she looked like before the 17 surgeries"
K: "You can only imagine.. She probably looked as trashy as Rachel"
A: "Rachel kinda looks like a frog.. that is what they remind me of cartoon frogs.. Think about it like their lips and their faces.. "
A: Think about it.. why does her lips stick out .. it freaks me out"
K: "because she's had lip injections and thats what happens.. yet she will not admit to anybody that she's had plastic surgery which is sto stupid because everyone can tell.. "
A: "She's probably so ashamed of herself.. when she goes to bed she's not happy with herself.. "
K: "I walked by the lounge and Helen and candace were there Helen said hi to me but was snarky"
A: "Their sketchball anonymous"
Kaitlin says she got in trouble by production today for not wearing her microphone.. they told her she would get a penalty .
Aaryn wonders why Elissa doesn't get a penalty for walking around talking about her medications and medical condition .. "I asked them this morning and they still haven't gotten back to me"
Kaitlin: "This whole thing is favored for her they are not going to do anything"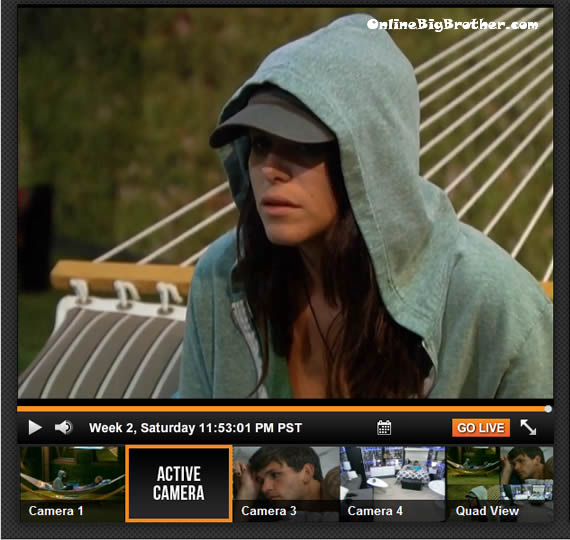 11:50pm Amanda and Andy Hammock
Andy says he's been acting scared with the other group (See image) Andy: "I know they are making shit up to scare us.. we cannot let Jeremy win"
Andy says that their alliance is so strong and they all trust each other so much unlike the other side who is always doubting their team..
Andy: "I can't stand them they are standing around bullying us and I do not stand for that"
Amanda: 'I 150% agree with you"
Andy: "Helen has a good point America loves Elissa and if they go and vote her out they will be pissed and give Jeremy the MVP"
Andy wants Elissa to stay and so does Amanda.
12:26am Elissa tells them she knows that there is a 5 minute delay on the feeds so it can be edited
Jessie went to bed early. random chit chat..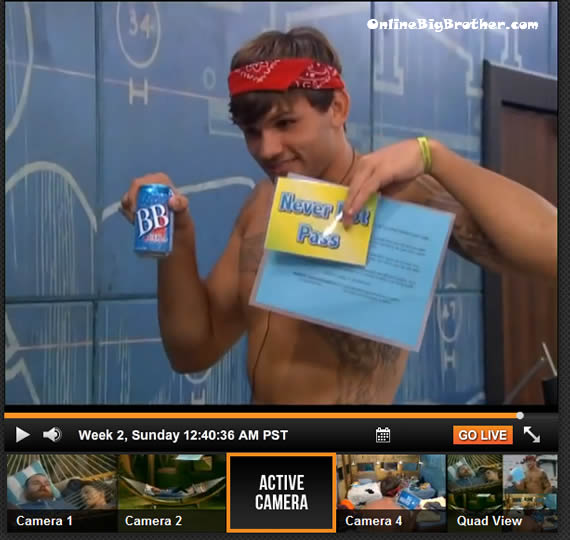 12:40AM Bedroom Jeremy, Amanda and McCrea
Jeremy saved a bunch of stuff to give to his mom for her scrap book..
1:00am HOH Cam 3-4 Aaryn and Gina
Gina saying that she say Helen, Spencer and howard doing major game talk in the cockpit.
Aaryn says the only people Jeremy trusts are her, Kaitlin and Gina. "Thats a big deal Gina"
Kaitlin comes in.. Gina brings up the meeting in the cockpit room. Kaitlin asked Spencer what they were talking about. Spencer says Helen broke down.
Kaitlin doesn't know if they can believe Spencer. She's also certain Andy is relaying information. They discuss who is going up. It's a toss up between Kaitlin and Nick.
KAitlin: "McCrea and Amanda areally sketch me out.." Kaitlin is freaking out she isn't trusting anyone. She says spencer was telling her about Elissa "This C*** gotta go… but why didn't he vote her out the first tim"
Gina says she would take a 500,000 bet that David was going to stay last week. Kaitlin was shocked to she was telling David to not even pack her things.
Aaryn tells Kaitlin to stop being so paranoid because people are noticing and it's going to get her votes against.
Kaitlin: "Do you know what Elissa said to me today… Umm doesn't Jeremy have a little boy.."
Kaitlin says Elissa was trying to cause a fight between her and Jeremy thinking Kaitlin would charge up to Jermey "YOU never told me about a KID"