POV Holder:
Jeremy
Next POV
July 13th
POV Used
?
POV Ceremony
?
HOH Winner:
Aaryn
Next HOH:
MVP:
Elissa
Original Nominations:
Elissa, Helen and Jeremy (MVP)
Current Nominations:
?
Last Evicted Houseguest
David
Have Nots
Helen, Elissa, Candice, and Andy
Cold Morning in the Big Brother 15 house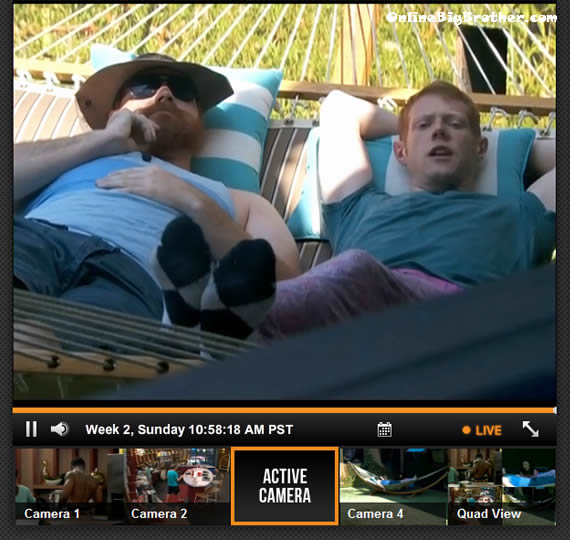 10:57am Hammock Helen, Spencer and Andy
Helen says that Elissa talked to Nick last night and asked him if she put up Candace would he vote her out and Nick said no.
H: "Elissa thinks that Jeremy and Nick have a final two deal"
A: "I'm thinking that Kaitlin is the better choice for her to put up"
H: "I'll support any decision you make but I think we should keep Elissa"
A: "Same"
S: "The ceremony is today.. we need to wait to see who the replacement nominee is"
Helen leaves
Andy saying that if they keep elissa they'll control the MVP every week and get the other side out "bam bam bam bam "
Andy thinks even though he's trying to be close to jeremy and Aaryn he feels that they still don't trust him and Spencer. So there is no doubt in his head if Jeremy wins HOH he'll put them up.
Spencer: "ya f*** I dunno"
Andy: "I trust you more than anyone .. this is why I want to pick your brain to figure this shit out"
S: "I am undecided I see pros and cons for both"
A: "What are the big pros to getting out Elissa"
Spencer says the pros are this
Elissa has the great chance of getting MVP. Spencer thinks Jeremy, Aaryn and Kailtin are being perceived poorly like bullies and arrogant a$$holes.
S: "I think Helen has a great chance of getting it with all this rachel army bullsh!t"
Spencer remind him the other side hates Candace and if they get control again they'll put her up next week
Andy: "they are smarter than that.. Candace is dead weight they are just telling us that"
Spencer: "no there not that smart"
Andy doesn't agree
Spencer points out that all of Andy's fears are based on the other side winning HOH every week "you almost one last week"
Andy: "Elissa is a loose cannon I know "
S: "that's the thing that deal with keeping her last week.. if she was honest with the MVP and she wasn't "
A: "she's close to Helen and Helen is close to us"
A: "kaitlin is the shit disturber same with Aryun and Jeremy.
Andy says that keeping Elissa is best for their side he's talked to other people and they all agree.
Spencer says the difference between him and Andy is andy is afraid that Jeremy is going to get the MVP and win HOH every week and spencer doesn't see that happening he see either Andy, Helen or Himself winning.
Andy: "We are all positive that america loves Elissa and we are aligned with her Elissa.. "
Andy says Amanda, Judd and Helen are on the same side and Howard, McCrae and Spencer are on another page and they just need to talk it out.
Andy goes on and on about being bullied by Jeremy and how that is not the way play Big Brother.
Spencer: "I'm not being bullied at all about ANYTHING.. If elissa goes the 7 is still intact and there not aware of the 7"
Spencer: "Jeremy is smart but he openly talks about who he hates and that person is Candace and Elissa"
Helen comes back tells them that Nick and Jeremy are going to win every HOH they can easily get Elissa out next week.. She leaves
Andy: "Last week Elissa's choice went home and this week Elissa's choice should go home.. why don't we just keep doing that"
Spencer: "let me just share one of my fears which is valid .. This is something I want you to pay attention to and don't fu***** talk to anybody about it "
Andy.. this alliance is big it's too hard to maintain because you have conflicts of interest.. I'm worried about McCrae and Amanda flipping..
he explains that MC and Amanda flipping means the other side has the numbers.
They are a pair and they see that side as the strong side.. "don't f***** bring it up with anybody just watch this week and see how McCrae and Amanda act.
Andy doesn't see that happening he's talked to Amanda extensively
They talk around in circles neither backing down from their stance.
(Looks like keeping Elissa is back on the table and only the MC stands in it's way)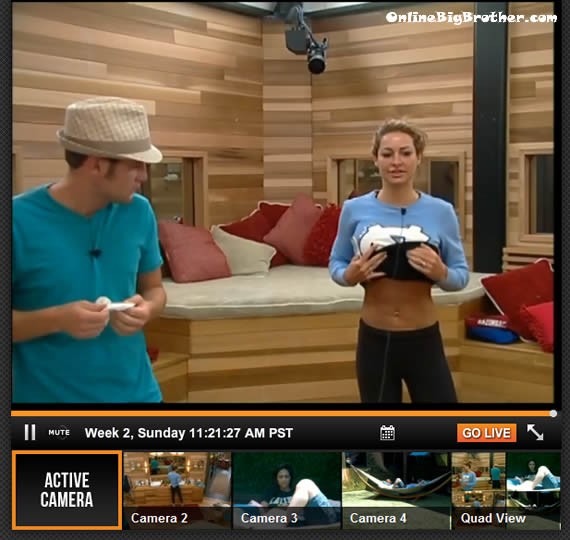 11:22am Bathroom Elissa and Judd
Elissa: "I think I'm going to but Nick up. He told me he basically told me he wasn't going to do what I told him anyways"
Jud: "MHMHMHMHMhmhmhuihjuh XANAXdfdkfbnasdkfasdkjn as,dfhaskjfhasdkif ghasdiklulflsad" (OK)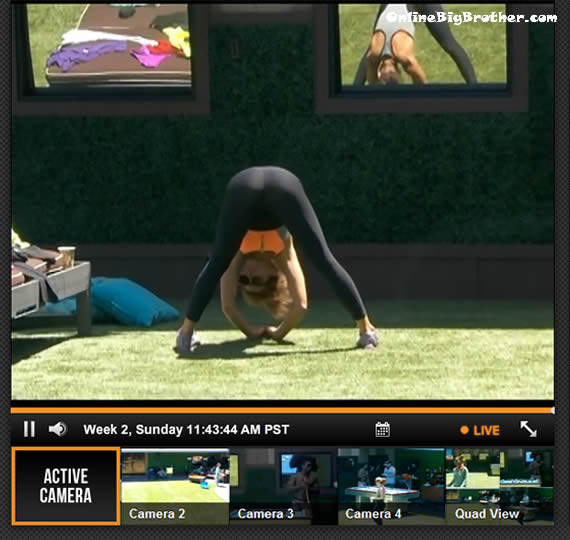 Elissa starts her morning yoga.. (I'll post a gallery in a bit)
11:48am Judd and Andy cam 1-2 backyard couch
Judd is on board with voting Nick out. He likes Nick but it's a game and NIck is a threat. Judd doesn't think Howard is going to vote their way. Andy says the group is strong they will all sit down and get on the same page with the plan. (Andy is going to be sad when He finds out how unsolid his group is)