POV Holder:
Kaitlin
Next POV
July 20th
POV Used
?
POV Ceremony
July 15
HOH Winner:
Helen
Next HOH:
July 18
MVP:
Elissa
Original Nominations:
Kaitlin, Aaryn, Spencer (MVP)
Current Nominations:
Last Evicted Houseguest
David, Nick
Have Nots
Judd, Jessie, McCrea, Amanda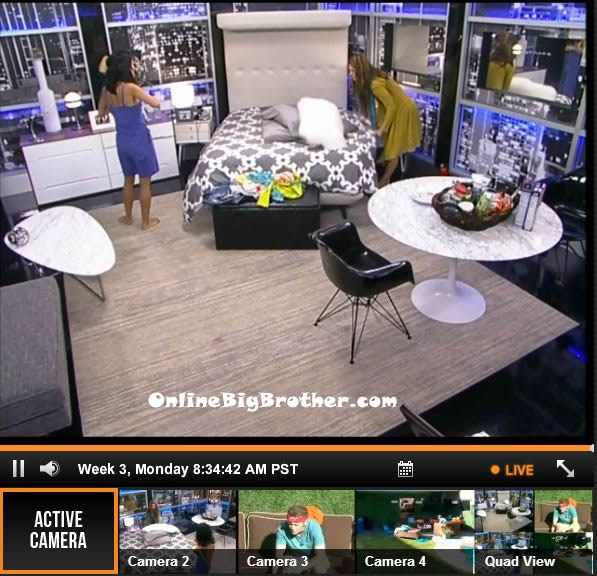 8:20am – 8:30am Big Brother switches the live feeds to the we'll be right back screen. When the feeds return, Helen and Elissa are up in the HOH room talking. Helen is talking to Elissa about how Kaitlin is doing them a huge favour. Helen says that she is just going to ask Jeremy to take a seat. Elissa says take a seat my dude. Helen heads downstairs to the backyard where Judd is to ask him is she can get his bear tshirt to wear during the veto ceremony. Kaitlin comes out to the backyard and says this is going to be a horrible day. She has a smoke and is told to put her mic on. She says figures! Because she just lit up her cigarette. Kaitlin heads inside. McCrae and Judd talk. Judd says that Helen asked him to promise to not put up Kaitlin for a while. Judd says that he said he wouldn't but tells McCrae that he doesn't want to be tied to that promise. He says that stuff the other night was so high school. Kaitlin comes back out. Meanwhile in the kitchen – Elissa is chatting with Amanda. Big Brother calls Helen to the diary room. Elissa looks at Amanda and says she hopes it isn't happening now because you're not ready. Amanda jokingly says she hopes it does start so her hair stays. Amanda heads out side and tells the others that she woke up feeling like a McDonald's French fry.

9am – 9:30am Judd tells McCrae and Amanda that Aaryn told him that she is on to him. He says that he told her that she is a lot smarter than he lets on to be. Judd says I don't know what that means, I never told anyone I was stupid. Maybe its my accent. The conversation turns to talking about Gina and Nick. Judd laughs and says watch it be Gina that voted her out by saying I love Nick while voting and they take that as her vote. Amanda says that she can't believe Gina thinks she has a chance. Amanda says that watch Nick is married. Amanda tells the other how last night Gina was talking about visiting Nick and how much it will cost her to get into the city to see him. Amanda says that Gina talked about how she and Nick were really together for 6 months in the real world because of how you're together all the time in the house. Amanda says that Gina used her fingers to calculate that. Amanda, Judd, Andy and McCrae talk about Kaitlin using the veto. Amanda says she is worried more if Kaitlin didn't use the veto. Judd says he is worried Kaitlin would put him up if she won HOH> Amanda says no, you are a minnow compared to the fish she wants to fry. Judd asks like Howard and Spencer. Amanda says yeah. Amanda says I called Aaryn a racist right in front of everyone and she is still licking my butt hole. They talk about how Aaryn doesn't care if Jeremy leaves. Amanda says that Kaitlin kicking a$$ in the veto competition makes her look like a bigger threat. Andy says that he doesn't think there are any trail blazing racist in the house, I just think some people say stupid things. Amanda says she has taken so many Porto Rican showers. McCrae says that's racist. Amanda says no it's not. McCrae says yes it is, you are attributing a lesser shower to a group of people. Amanda jokes and says well then they should take more showers. Just kidding! Judd tells her he is going to wash her mouth out with soap. Judd heads inside. Andy tells the others that they need to work on alleviating Judd's paranoia. Amanda says that she can't believe Jeremy took one of the gold dinosaurs and put it in his bag. Amanda says I am going to go grab one of the big planes and put it in my vag!na. They hope when Jeremy goes home, the never not pass comes back up for grabs.
TEST out the Live Feeds for FREE: 2 DAY TRIAL!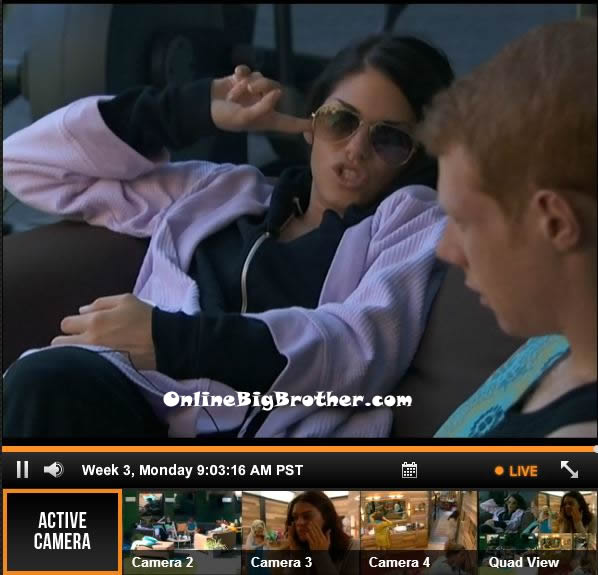 9:40pm Amanda comments on how skinny Kaitlin is and calls her a fu*king c**t rag for being so skinny. Amanda brings up how close Candice and Howard are getting. She says they are kissing and stuff. She says at least it keeps her quiet. Meanwhile up in the HOH – Helen gives Kaitlin that they have her back and tell her that she has told others they can't evict her too. She says others asked if they could use you as a pawn when it gets down to it and I said yes but that we can't vote you out. Helen says that she did have a big speech planned but I not going to say it to be respectful of you. Kaitlin says good because I would get really emotional. Helen says that Howard and Spencer are next, there will be a couple weeks of relaxing. Helen says this is your HOH too, we will have a nail party. You are co-HOH this week. Kaitlin says okay. She says that Jeremy is taking this surprisingly well. Kaitlin heads down stairs.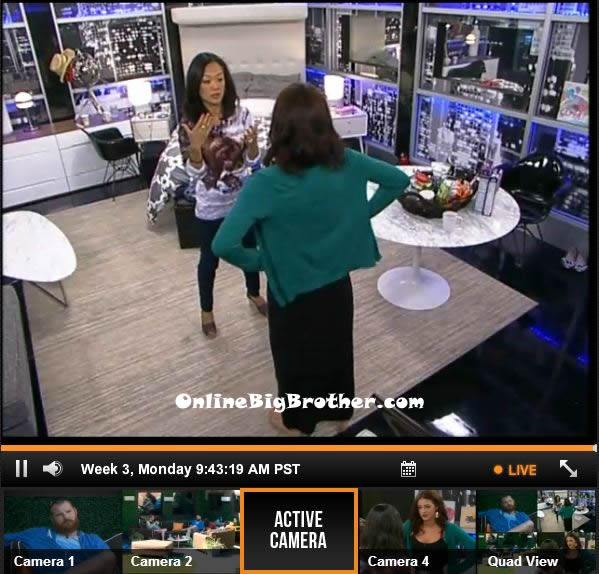 9:55am – 10:05am Candice comes up to the HOH room. Helen explains how she made some deals with Kaitlin because she is doing them a huge favour for doing this. Helen tells Candice that others want Howard out for lying but Jeremy is a jerk on top of being a liar. Helen says that it is kind of symbolic that Jeremy is leaving on my HOH and Kaitlin's POV. They talk about how Gina's behaviour after Nick's eviction hurt her and she will probably go out because of it. Candice says that she thinks Gina is milking the Nick thing for the cameras. Helen says the big question is if Aaryn wins HOH who would she put up. Candice says oh me for sure. Helen says and Howard, and he would go home. Candice says I will hold on for dear life to not let Aaryn win HOH. Helen says that it would be nice for Jessie to win it and to be able to send Aaryn out of the house. They talk about how Jessie needs a lot of affirmations. Helen lets it slip that Elissa is the MVP this week and not McCrae like they had told the others. (Candice didn't question it) Candice says that every time she sees Aaryn she thinks of her flipping my mattress and I want to choke her! Helen says that she thinks Aaryn is so beautiful that she has gotten away with everything. She is just to quiet that her personality never developed. Big Brother tells them this is a lock down, please go outside and close the sliding glass door. Candice heads downstairs and Big Brother switches the feeds to TRIVIA for the veto ceremony.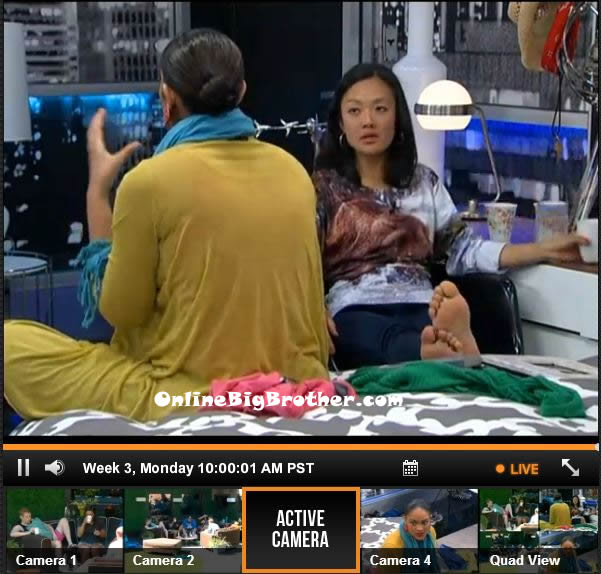 [polldaddy poll=7248812]
Stay connected and interact with other Big Brother Fans on our Facebook page.
And Follow: @BigBspoilers and @Dawgsbigbrother on Twitter for the most up to date spoilers.