POV Holder:
Kaitlin
Next POV
July 20th
POV Used
?
POV Ceremony
July 15
HOH Winner:
Helen
Next HOH:
July 18
MVP:
Elissa
Original Nominations:
Kaitlin, Aaryn, Spencer (MVP)
Current Nominations:
Last Evicted Houseguest
David, Nick
Have Nots
Judd, Jessie, McCrea, Amanda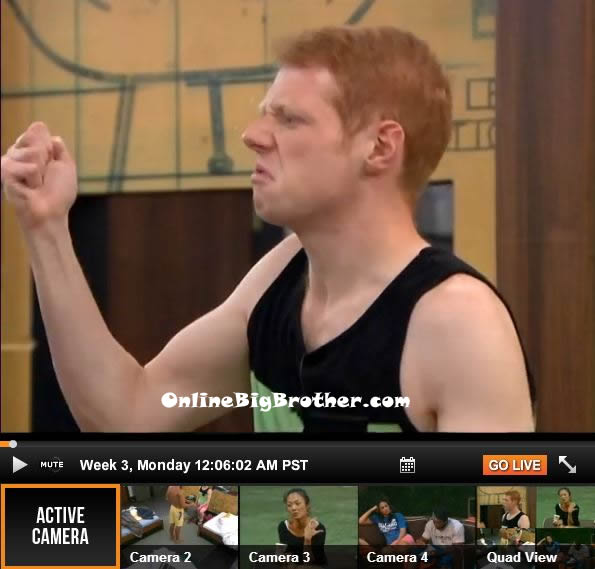 12am Jeremy asks Andy to send Howard home after him because he has been throwing me under the bus. Jeremy tells Andy that hit disgust him. Jeremy says that Howard told Kaitlin that from day one that Jeremy had been making Kaitlin a target. Jeremy says that he knows Kaitlin will see that's not true when she goes home. Jeremy says that he feels he deserves here to be over Howard. Andy says that Howard would pull him aside and would tell him he wanted to work with Andy to the end when he didn't. Andy says that he doesn't think Jeremy threw Howard under the bus by revealing the Moving Company. Andy says that Jeremy told Andy that Spencer always had Andy's back even in the Moving Company. Andy says that Spencer about that too which it shows the type of g uy Jeremy is that he didn't throw Spencer under the bus. Andy says that he wants Jeremy to know he really respects him as a player in this game and that he didn't want Jeremy to go like this. Jeremy says it's not over yet. Andy says yeah, but if this Jeremy had come in week one, it would be a totally different story. Jeremy says that his mom told him not to win everything coming in too. Jeremy says but I am a champion and I couldn't help having that mindset.
FREE 2 DAY LIVE FEED TRIAL: Subscribe Today!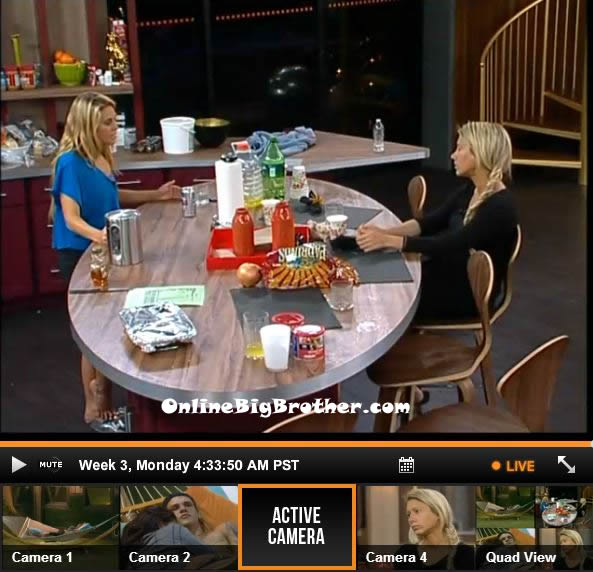 12:35am In the kitchen Gina and Aayrn are talking. Gina tells Aaryn that viewers will change the channel when we're evicted. Gina says what the fu*k, those two hot blondes are gone? Fu*kk this! Aaryn says that she thinks people like Gina. Gina says that they like Aaryn. Gina tells Aaryn to win the HOH, as she is not good with smart questions. Gina says that the last HOH screwed her up because Nick had just been evicted. Gina says I need diagrams. Aaryn says it sucked a$$ sitting there and not being able to do a thing about it. Gina says that Jeremy was stupid walking around like the fu*king man. Gina says dude, not everything is physical! Aaryn says that one of them need to gets HOH send one of them home. Gina asks why Nick? Aaryn says because he tried to make deals with everyone in the house. Gina asks he did? Aaryn says the last thing she is going to do is go home and watch someone play her in front of her friends, family, colleagues. Aaryn says that at any point people can google any of what they have done. Gina wonders why Nick would play her. Aaryn says for your vote. Aaryn tries to convince Gina that Nick might have been playing her and that he didn't like her the way she did. Gina making excuses. Aaryn keeps on telling her that she just doesn't want her to look like an idiot. Aaryn says that she has heard from multiple people that Nick said bad things about her. Aaryn says that she isn't trying to be harsh, but says that people say that all Gina thinks about is Nick. Aaryn says that Jeremy wants to be here, but all Gina does is talk about Nick, and Nick talks behind her back. Gina says Nick would only talk behind her back to throw people off and make them think we weren't close. Aaryn says that she thinks her and Gina might be the only two real people in the house. Kaitlin joins them and tells them how the others are outside talking sh*t about Nick. Gina says she is going to go out there and see if they continue. Aaryn says that Gina is embarrassing and it pushes her away. Kaitlin says that she is not going home for a long time. Aaryn asks who told her that. Kaitlin says a lot of people said it. Jeremy says that people never got upset when she called them cockroaches.
1:15am In the storage room Amanda and Judd are talking about how annoying Gina is in the house. Back in the the kitchen – Kaitlin says that her and Jeremy worked on a sign to communicate after he is gone. She says it's I'm okay a**hole! Andy says that he told his family that he would wear yellow socks when he was thinking them and he wears them at live shows. Aaryn says she told her family she would fart really loud when she was thinking of them. Andy jokes that he wants to screw up a live show and go in the diary room during voting and vote out house guests that aren't even nominated. He says or vote out house guests that doesn't even exist. Jeremy says that once dated a girl and made her say yes sir, no sir everytime she talked to him. Aaryn asks why she is not surprised he would do something so douchey like that.
1:35am Out on the backyard hammock – Amanda, Aaryn and McCrae are joking around. Amanda says that McCrae told her to shut the fuck up. Aaryn says that they should call McCrae an abusive woman beater. Aaryn says that she wonders if people will come up and ask if they were on Big Brother. Aaryn says that Ian said he feels like he is 1% a celebrity. Saying that he forgets that people know who he is. Amanda says she thinks both Aaryn and McCrae will both be pretty memorable. Aaryn says yeah the ones that actually do sh*t will be remembered and the racist ones. McCrae and Amanda laugh. Aaryn says thanks for making me reference that night a$$hole. Aaryn says that she can't deal with Gina anymore. Amanda says her and Nick were fatal attraction. Amanda says that they are going to make her look like a crazy person. McCrae says it will be a funny segment. Amanda says that Nick said he fu*king hated Gina but she didn't listen. Aaryn says that she told Gina if she keeps it up, she will never find a guy.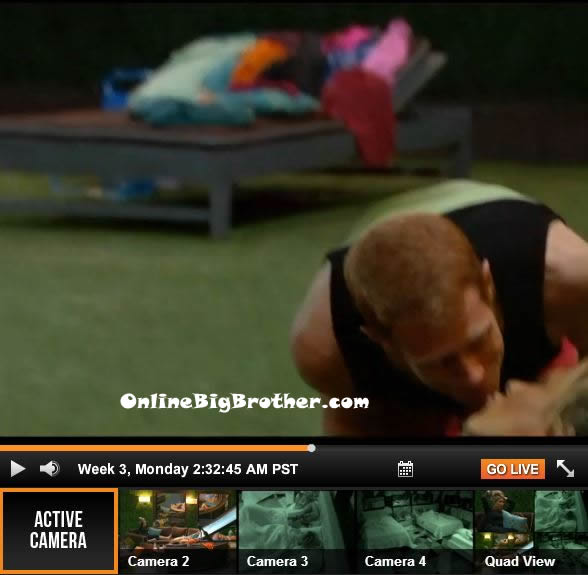 2:30am Andy comes out into the backyard and says goodnight to the house guests. Andy kisses Gina goodnight. Judd says you just made out with Andy. Spencer says that is more than you've made out in the whole house. Gina says that was hot! Spencer says he puts dicks in his mouth. Gina says YUM, so do I! Gina then says sorry mom!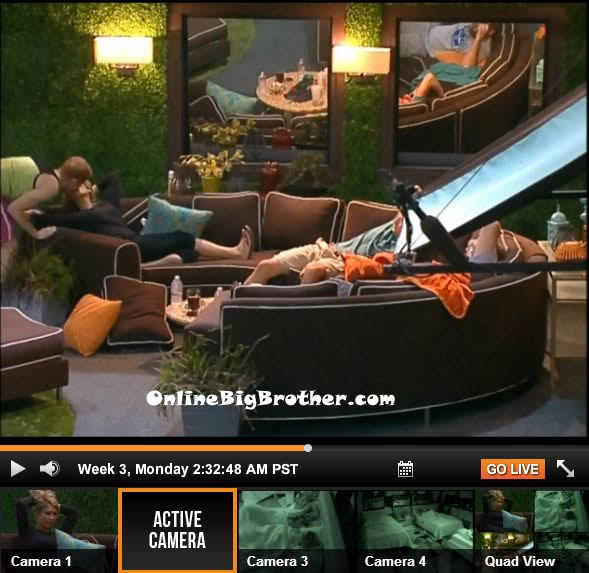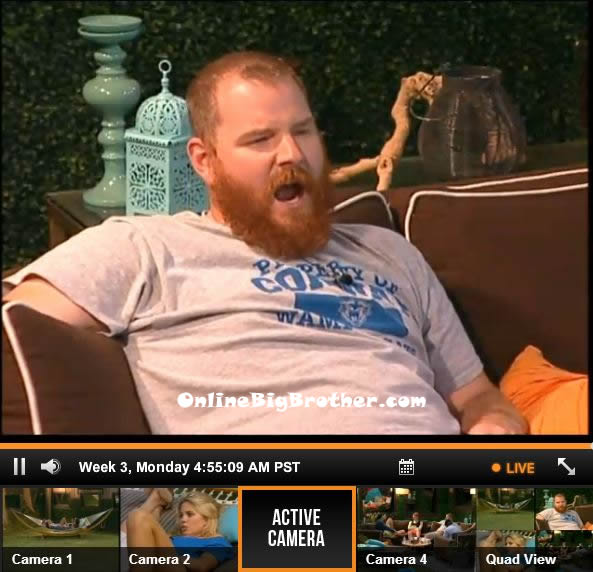 2:50am – 4am Judd and Gina talk on the backyard couches. Judd says that Nick wanted him out next. Gina says no he didn't. Judd says that he stayed up too late and it prevented Nick from talking to his alliance. Gina says that Nick liked him and says that is not true. Judd says that even if he had voted for Nick to stay, he still would have gone. Judd says that he heard Nick wanted Judd and then Andy out after. Gina says that Nick liked Judd. Gina talks about how she could move in with Nick. The only thing we haven't done is meet each others families. Gina continues to talk about Nick and about how she knew his schedule. Everyone heads to bed but Amanda and McCrae who hand out in the lounge room for a bit talking about random things. They then head off to bed.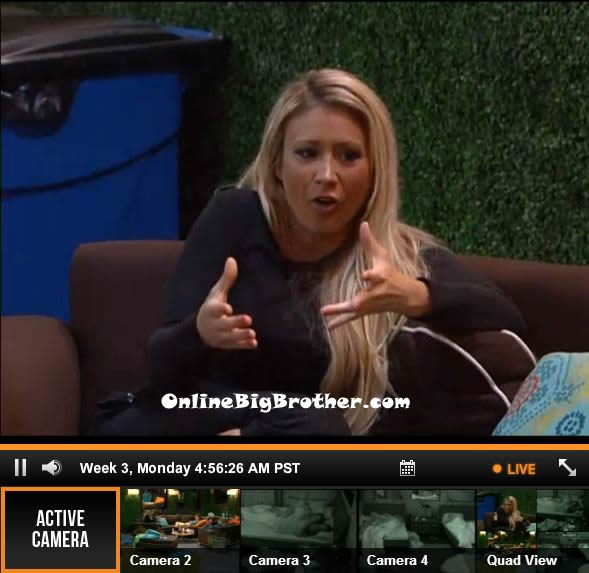 [polldaddy poll=7248812]
Stay connected and interact with other Big Brother Fans on our Facebook page.
And Follow: @BigBspoilers and @Dawgsbigbrother on Twitter for the most up to date spoilers.