POV Holder:
Jeremy
Next POV
July 13th
POV Used
YES
POV Ceremony
July 8
HOH Winner:
Aaryn
Next HOH:
MVP:
Elissa
Original Nominations:
Elissa, Helen and Jeremy (MVP nom)
Current Nominations:
Elissa, Helen and Nick (MVP nom)
Last Evicted Houseguest
David
Have Nots
Helen, Elissa, Candice, and Andy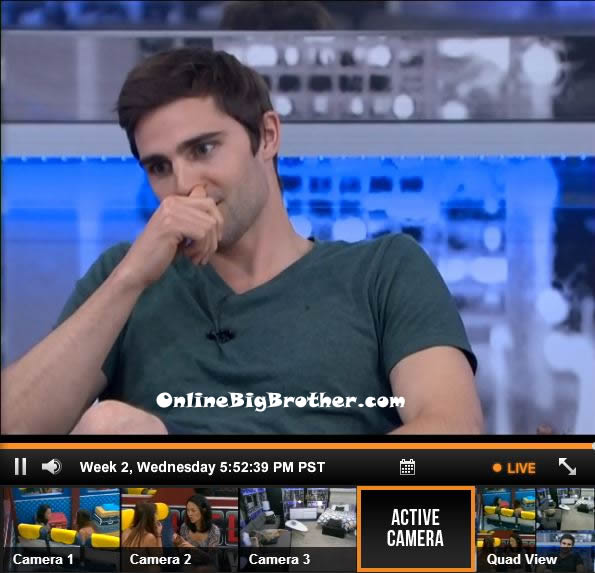 5:50pm Nick and Judd are up in the HOH room. Judd says that he doesn't think Elissa is a super horrible person but he doesn't see how she could benefit his game. Nick agrees. Judd says that he just doesn't have conversations with her and she doesn't try to ask him about anything personal. He says that after he realized that he didn't feel bad about deciding to vote her out. Judd tells Nick that he is cool as sh*t. Judd asks Nick if can ask him something. Nick says sure. Judd tells him that he should ask Gina out on a Big Brother date inside the house. Nick says that he would but will wait till he gets HOH. Judd tells him that others were talking about it too and even Aaryn offered you her HOH room. He says that they would wait on you and bring you food and stuff. I won't do any of that but they will. Judd laughs. Nick says na, I will wait till I get HOH. Judd says what if you never get HOH. Nick says I WILL GET HOH. The cameras switch to Amanda and McCrae in the lounge room. Jeremy joins Amanda and McCrae. Jeremy says that one of us four need to win the next HOH. They talk about how Big Brother starting to build it now. Jeremy hopes it's the spinning one from BB12, or the horse race from BB14. Jeremy says that one was awesome! Andy joins them. Amanda says it better not be a team challenge, that was bullsh*t. Andy asks what would you have done if you were with Elissa. Jeremy says that he would have thrown it. They talk about Jeremy/Aaryn's strategy for who would take the HOH. Amanda says that it was smart for him to give it to Aaryn because he was still basically HOH and still gets to compete this week. Jeremy says that his mom would have been mad at him if he didn't give it to Aaryn. Kaitlin joins them. Jeremy jokes that Andy isn't even gay, he just says he is to get women. Kaitlin asks him if he is the catcher or the pitcher. Andy says catcher.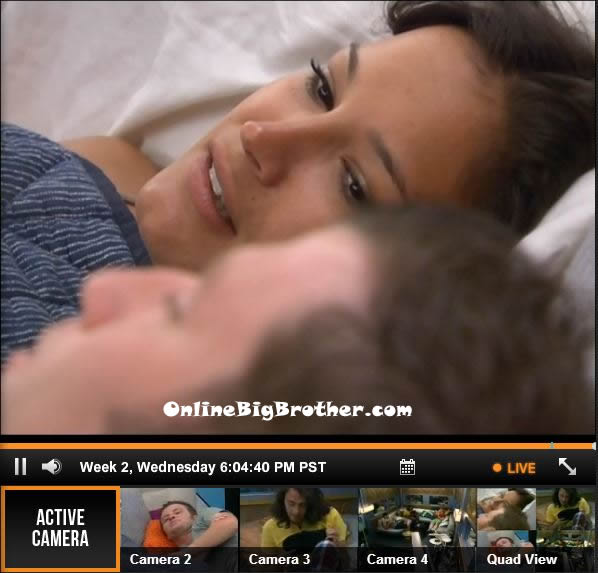 6:05pm Judd is talking to Jessie in the bedroom. Judd says if I don't win, you have too. Judd leans in and hugs Jessie. Amanda walks in and asks what they are doing. They say nothing.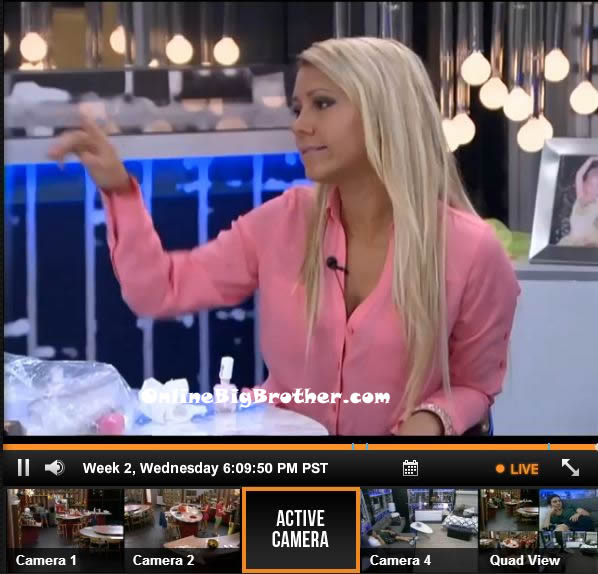 6:10pm Up in the HOH room – Gina, Nick and Aaryn are talking about how everyone is trying to plan a date for them. Gina tells them not to. Nick says he said when we get HOH. Gina says yeah when you or I get it right. Nick says yeah. Gina complains how everyone but Elissa told her that she looked good today. Gina says that she can walk around with booty shorts too and still look better than her. Jeremy and Andy join them in the HOH room. Judd comes up to the HOH and says that he can't wait to move in here tomorrow. They talk about how the episode was changed to Thursday night. The talk about how the ratings must be up. Gina says we are rocking it, hottest cast in BB history! Kaitlin joins them. Gina complains that BB took 80% of her clothes. Judd says yeah they took my crayon too. They asks him why he had a crayon. Judd says he went to Burger King a few weeks ago. Andy says he is fu*king with you! Judd says that he is Big Brother Royalty! Aaryn asks Kaitlin what is up with her attitude. Kaitlin says that she was joking. Aaryn says okay well its all the time. Kaitlin laughs and says okay. Kaitlin walks out of the HOH room.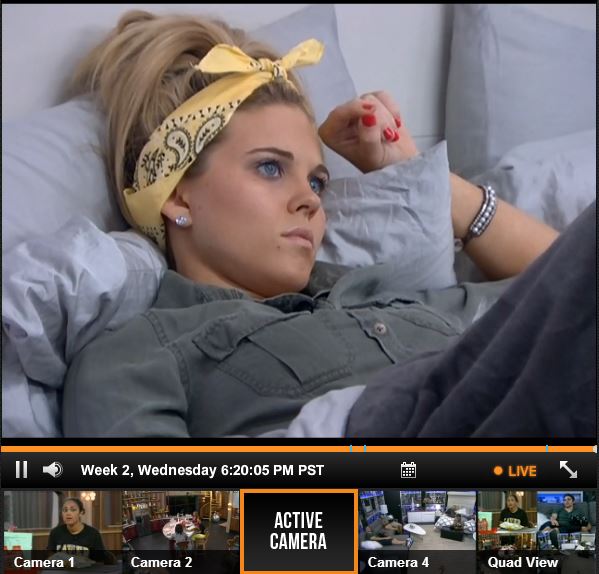 6:20pm Kaitlin is in the bedroom talking smack about Aaryn to Jessie. She says that Aaryn keeps making comments to her and attacking her. Kaitlin says we are a team but she is trying to get us to turn against each other. Kaitlin says that Aaryn exaggerates things. Kaitlin says that Aaryn says that people are annoyed because they can't talk to Jeremy without me around but she hangs out with him more than I do. Kaitlin brings up how Aaryn just told her that she always has an attitude problem. I am just venting to you. Jessie tells Kaitlin that she can hang out with her in the coloured room when ever she wants. Kaitlin says that she hopes Elissa goes home tomorrow. Jessie agrees.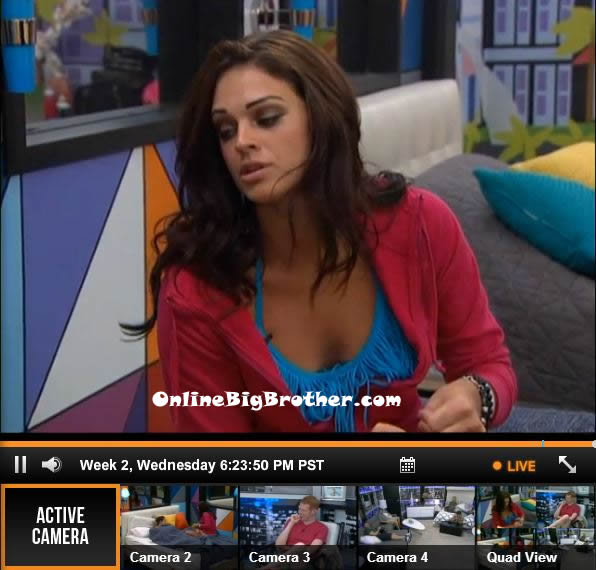 6:35pm In the lounge – Amanda and McCrae are talking. Amanda says that she wants to stick her tongue down McCrae's mouth till she suffocates him, then take his dead body and stuff it in her vag!na. (WTF!?) Amanda says wait did I just say that out loud. Amanda tells McCrae to be careful of who he talks to. She tells him that she feels really good about this though. This is a secure thing. There is just no proof that you and I didn't vote the way that .. you know what I mean. Amanda says even it Jessie votes the way we do .. McCrae says then we are fu*ked. Amanda says they really trust us up there. McCrae says they have no other choice. Andy comes in and tells them that he thinks they are good. Either we will have 6 votes or 8. They talk about how they can't let Nick get Jessie alone. Andy says that Nick already talked to her. We will just be the last to talk to her right before the vote. Andy tells them that he trusts that and if something happens where it switches last minute he wants them to tell him. Amanda says that they trust him too. Andy says that he can't wait to find out what is up with Nick. Andy comments that even in the diary room they asks him questions about Nick. He says that they asked him about how he said on day 1 he thought Nick was suspicious.. lets elaborate on that. Andy leaves. McCrae tells Amanda that he is excited about the plan and that if it works out its going to be good. Amanda agrees. Meanwhile Andy goes to the havenot room and tells Helen about how he is going to talk to Jessie before the vote. He says that he will tell her they have 8 votes and will have the MVP on our side to keep her safe.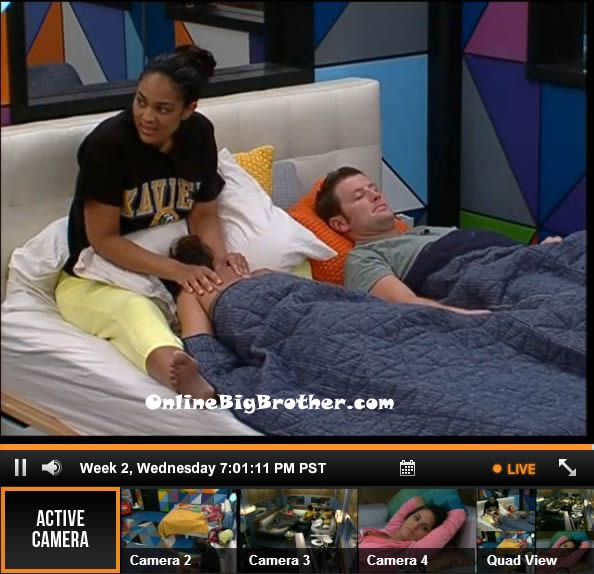 7pm – 7:10pm In the bedroom – Candice, Howard, Jessie, Judd, Kaitlin, Elissa and Andy are playing a what would you do/rather game. Candice asks what would you do if you were going to have $ex with a girl and her vag!na smelled really bad. Howard says that he would make up an excuse why he couldn't do it. Judd says he doesn't smell right any ways. Candice asks Jessie if she had bad $ex with someone would she have another date. Jessie says no way, goodbye. Jeremy joins them. Candice asks Jeremy if she was about to sleep with a girl and her vag!na smelled would he tell her. Jeremy says yes I would tell her. They asks Andy to come up with a question. Andy says that all his questions have to do with flatulence. Judd asks what do flash lights have to do with anything. The others laugh.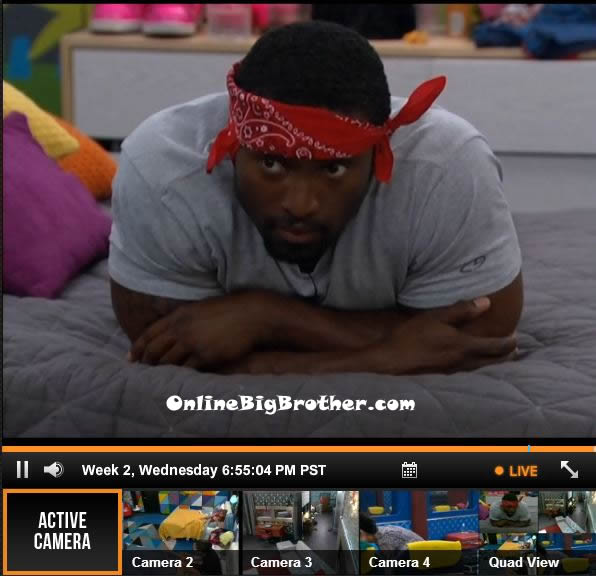 7:10pm – 7:25pm Aaryn, Amanda, and McCrae are in the lounge talking. Aaryn is complaining about how Kaitlin stained her bathing suite bottoms from the medication she is taking. Amanda asks what from her Who-Ha? Aaryn says yeah from the dye in the medication. Amanda asks didn't she know that was coming out of her vag!na? Aaryn says yeah she just didn't care I guess. Aaryn leave to go up to the HOH room. McCrae has been building a game for a while now. He tries it out. Amanda tells him that he is such a kid. McCrae says what you wanted me to be ambitious. McCrae says that he is ingenuitious. Amanda asks what is that? McCrae says ingenuity to make something out of nothing, to be creative. Amanda doesn't believe that its a real word and asks him if he learned that at pizza school. They talk about Big Brother building the HOH competition right now. Amanda wonders what it is. McCrae says that it's probably another endurance. Amanda asks McCrae if he went to school to study dorkism. McCrae says fuck ya, I major'd in that.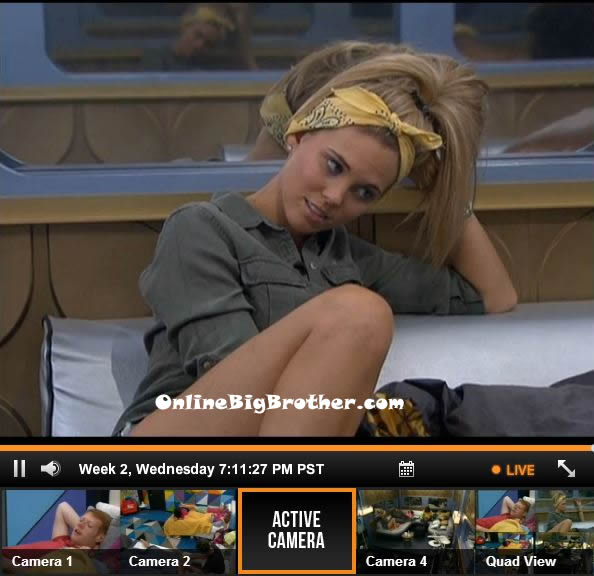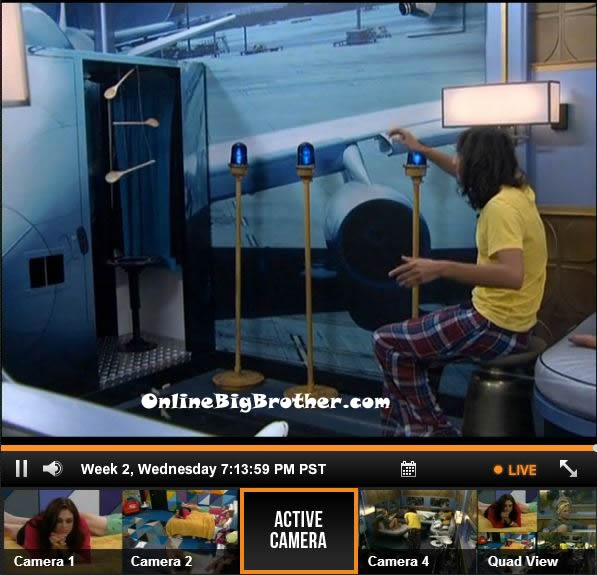 [polldaddy poll=7235287]

Stay connected and interact with other Big Brother Fans on our Facebook page.
And Follow: @BigBspoilers and @Dawgsbigbrother on Twitter for the most up to date spoilers.