POV Holder:
Jeremy
Next POV
July 13th
POV Used
YES
POV Ceremony
July 8
HOH Winner:
Aaryn
Next HOH:
MVP:
Elissa
Original Nominations:
Elissa, Helen and Jeremy (MVP nom)
Current Nominations:
Elissa, Helen and Nick (MVP nom)
Last Evicted Houseguest
David
Have Nots
Helen, Elissa, Candice, and Andy
7:25pm – 7:35pm In the bedroom – Gina asks would you rather have two girls, or a guy and a girl? Jeremy asks what?! Who would want another guy? Jeremy says two girls. Gina says a guy she won't name asked her to have a three some with his friend. Elissa asks would you rather have 1 girl that would want it all the time or have 50 girls you could sleep with but you have to work for it. Jeremy says oh man you stumped me. Howard says that he wants to go get Nick ..to run the numbers. Elissa says basically do you want to be married to one girl that is a nympho or be a wh*re. Howard says that he would rather be married. Elissa asks if it only lasted for one poke does that count as $ex? Jeremy says if it pokes, it's $ex. Elissa says okay that's gross. Jessie asks if someone has had only oral $ex, are they still a virgin? Jeremy says no only if it pokes in the vag!na or butt. Helen asks hot girl that is poor or ugly girl that is rich. Jeremy and Howard both say poor hot girl. Howard says poor girl we will get there together. Nick joins them. Nick asks would you rather move to tropical Guatamala or the desert. Jeremy asks are you really asking where would you rather move? We are asking $ex questions. Nick says sorry I am not 23 any more. They all laugh. Spencer joins them.
7:50pm Up in the HOH room – Howard is talking to Aaryn about how much of a competitor Aaryn is and how well she does in comps both mentally and physically. Howard says that he didn't want David to leave for nothing. Howard says that it was poetic justice that he left and she won HOH. Howard says let them hate. Howard says that he would like to make an alliance with someone that is off the radar. He says that he hangs out on the other side a lot. Howard talks about how Amanda is preying on McCrae. He says that McCrae doesn't even have a sack any more. Howard says that he thinks Amanda will try and infiltrate your side. Howard says that Kaitlin isn't as mentally strong as you. Amanda is going to feed on the weak and create some division on this side. She won't prey on you because you are strong, she will prey on Kaitlin. Aaryn says that she doesn't have an alliance, I have a friends that will protect me. Aaryn says that Kaitlin is rubbing her the wrong way. Howard asks if you and Jeremy could get her focused would that help? Aaryn says she doesn't know. Aaryn brings up how if Kaitlin is up on the block with anyone .. they are going home .. because Jeremy will convince everyone to keep kaitlin just like he did with Elissa. Howard thinks that getting rid of Elissa is better for everyones game so that everyone has a fair shot at the MVP. It's not fair. Aaryn says that she wants Elissa to go home too. Aaryn thinks that once Elissa leaves they are going to come over here. Howard says they might think of me or Spencer to lead which we can use to our advantage. Howard tells Kaitlin to think about keeping Kaitlin around because she will be loyal to you through Jeremy and she is another vote. Howard heads downstairs.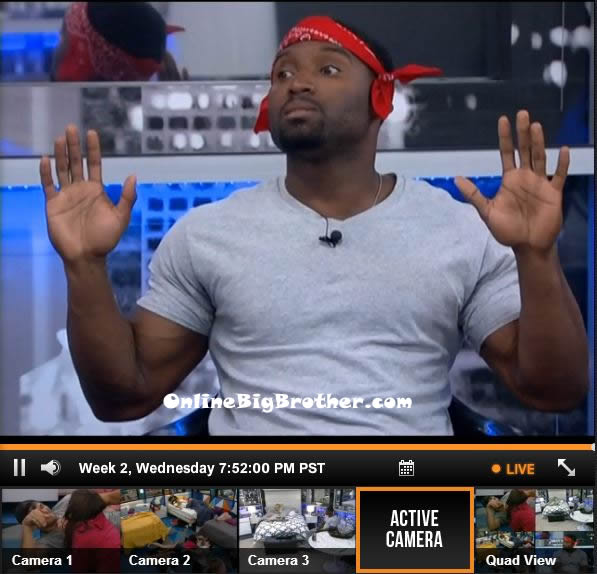 8pm Jeremy comes up to the HOH room and talks with Aaryn. Jeremy suggests that they make a deal with Spencer and Howard. He says then we can drop them like flies when we don't need them. Aaryn asks what if they talk and find out we are making deals with everyone. Jeremy says then we drop them before they find out. Jeremy says lets get them up here with Kaitlin and make a fake deal with them. Jeremy says that Kaitlin is cool with it. Aaryn says of course she is, she has no idea what is going on in this game. She walks around this house like she owns it. Aaryn says that other people are noticing it too. Jeremy says that he doesn't notice it. Jeremy says Aaryn doesn't need to work with him if she doesn't want to. Jeremy says I don't want to force myself on you. Aaryn says you aren't forcing yourself on me. Jeremy says maybe I should just tell her YO, Triangle of Thrust needs to Trust!" Jeremy says if she is making problems they are going to go after her not us. Jeremy says that he will talk to her.
8:10pm – 8:25pm In the havenot room – Howard is talking to Kaitlin about how she needs to leave the personal stuff aside. Kaitlin agrees. The conversation turns to talking about Amanda preying on McCrae. Howard says that McCrae says that he has her under control. Howard says no you don't you follow her around, she doesn't follow you around. Howard tells Aaryn to squash it with Aaryn. Kaitlin says that Aaryn is getting it to it with her and its getting to her. Howard tells Kaitlin that Kaitlin, Aaryn and Jeremy are a strong nucleolus, you just need a few more numbers. Talk to Jeremy about it. Elissa walks in. Howard tells Kaitlin to jsut squash it with her, that's all I got to say. Kaitlin leaves to go talk to Aaryn. Elissa tells Howard – you know she is making that fight up. Howard says oh really. Howard says that he is just trying to get more votes to get Nick out. Elissa thinks they are making up the fight for more camera time or to get information. Helen joins them and Elissa talks the made up fight. Elissa asks Howard if he is 100% to vote out who? Howard says Nick. Elissa says that they are going to pick us off to have the majority in the jury house. They aren't going to keep a strong player like you so that you can come back. Howard says lets just worry about to tomorrow, not about next week. Howard leaves. Candice comes in and Elissa tells her she thinks Aaryn and Kaitlin are making up their fight. Candice says I thought so. Candice tells them that Jessie isn't voting with them. Candice talks about the Jeremy/Kaitlin fight is real. Candice says that Kaitlin was made because Jeremy embarrassed her in front of Aaryn. She says that Jeremy has been flirting with Aaryn a lot. Helen says just so no one knows what we are talking about lets call Jeremy = George, Aaryn = Dolly, Kaitlin = Martha. Elissa talks about the comments that Aaryn has made about Asians and says that it really upset her. Candice agrees and says that especially when we have a black president addressing the country. Elissa brings up how she called McCrae = McGay.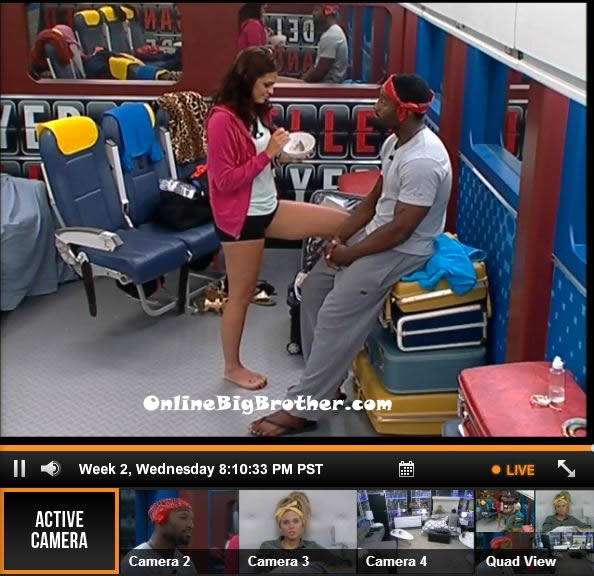 8:25pm – 8:45pm Jeremy is talking to Aaryn outside the HOH room at the chess board. Jeremy tells her that she needs to get along with Aaryn and to trust them. Kaitlin says that Aaryn is starting it. Jessie joins them and asks if she is interrupting anything. Jeremy says nothing important. Meanwhile in the bathroom – Howard and Spencer are talking. Spencer says that next week it has to be either Helen or Amanda to go home. Spencer says that Amanda is bringing McCrae down. Judd joins them. They talk about random things. Howard heads up to the chess table.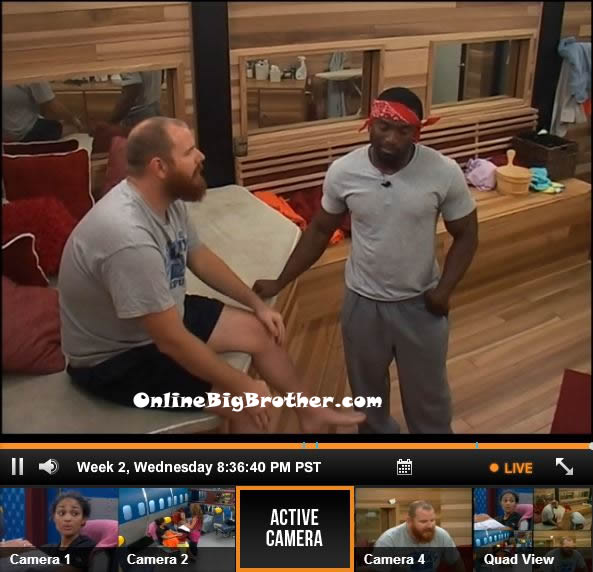 8:50pm – 9pm Jeremy, Kaitlin and Howard are talking at the chess table. Jeremy comments about that they should bring up Spencer to make it official. Kaitlin brings up how Amanda was threatening her about not voting Elissa out. Jeremy tells her that she better vote Elissa out. Kaitlin says that she never said that she wasn't going to. Jeremy and Kaitlin start fighting. Jeremy says it doesn't matter any ways because Amanda is going home next week. Soon after they kiss and make up. Jeremy says I want to see your boobies. Kaitlin asks what did you just say? Jeremy says he wants to see a movie. Meanwhile the others in the kitchen finish cooking and eating pizza.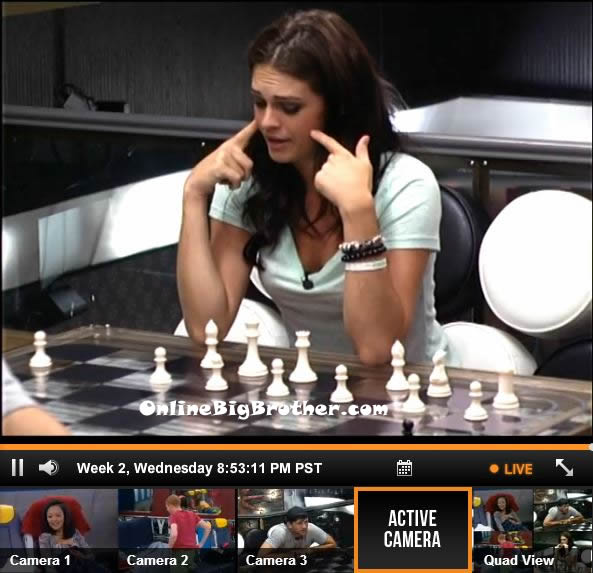 9:05pm Spencer joins Kaitlin and Jeremy. Jeremy says I wish we could all talk together but we can't. He says so everyone is on board, we will all protect each other. We will protect you and you will protect us. Jeremy says we will take this game by storm. Spencer agrees. Spencer sits and watches Jeremy/Kaitlins chess game. Jeremy leaves after he beats Kaitlin. Spencer tells Kaitlin that he will always have her back.
Aaryn & Judd find a BEER in the fridge. Aaryn asks should we drink it? Judd says yeah I love you! @bigbspoilers #bb15 pic.twitter.com/lNpSeQtcvJ

— Dawg (@DawgsBigBrother) July 11, 2013
9:10pm – 9:20pm In the storage room – Aaryn and Judd are looking in the fridge. Aaryn finds a beer at the back of the fridge and says hey look!!! Who put that here? Should we drink it?! Judd says yeah, I love you! Aayrn asks who put it there? Judd says probably Nick. Aaryn chugs half the beer and then Judd chugs the second half. They leave the storage room before they're caught.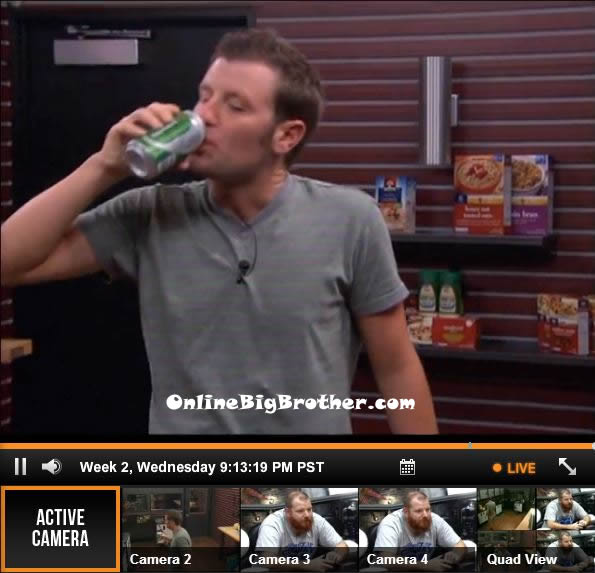 9:20pm – 9:25pm Up in the HOH room – Kaitlin tells Judd that she found a beer in the back of the fridge. Was that you? Did you hide it there? Judd says no. Kaitlin asks do you want to drink it tonight? Judd pauses for a minute then says um.. Me and Aaryn found it! We killed that motha-fu*ker already. Kaitlin laughs and calls him an a$$hole. Judd says sorry I didn't know you knew about it. Don't get mad at Aaryn it was me.

9:35pm – 9:44pm Judd and Jessie are in the bedroom. Judd says that they will make jury voting out Nick. Judd tells her that he thinks the guys are trying to start a guys alliance and he isn't in it. Judd says if you aren't with me you are against me. Judd heads into the lounge room with McCrae. Judd tells him that Jessie is stoked. She is down. We are playing an awesome game. If this works we will make it to jury. Judd says you, me, Amanda and Jessie to the final four.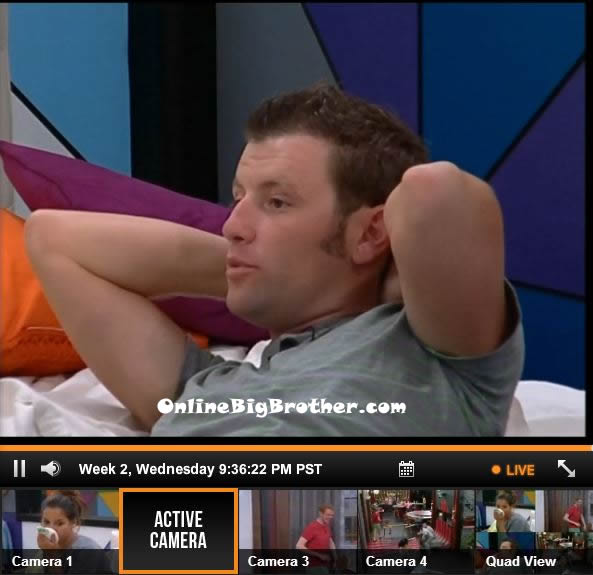 The house guests are playing a new game that McCrae made up where you you have two corks tied together with a string and you toss it at the swiffer handle to wrap it around.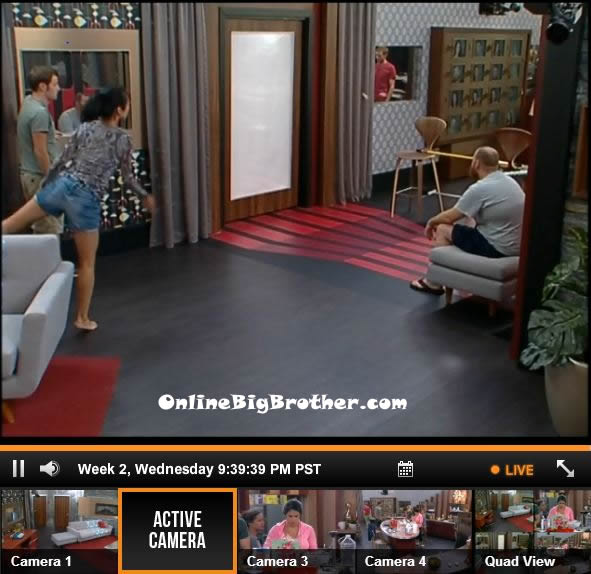 9:55pm Up in the HOH room – Jeremy and Kaitlin are talking. Kaitlin asks why Aayrn is being such a skank. We don't even know if we are going to make it to final 3. Jeremy says that he will be there. Jeremy goes to leave. She jokingly tells him to go fu*k himself. Jeremy says I wish I could I have tried for years. Kaitlin tells him he is disgusting. Jeremy leaves. Kaitlin stays to paint her nails. Meanwhile in the bathroom – Elissa is straightening Candices hair.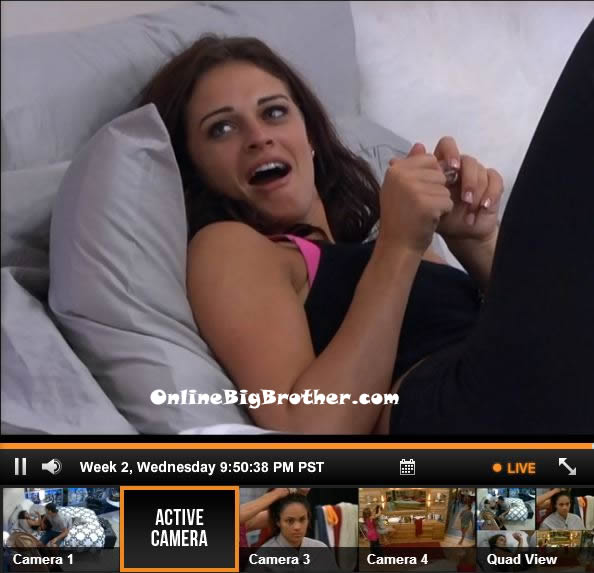 10pm In the storage room – Nick asks McCrae if they are good. McCrae says yeah, I am just trying to make stuff to not be bored. Meanwhile in the lounge room – Howard, Andy, Spencer and Judd are talking. Helen enters. Andy tells her to join the SFC. Helen asks what the SFC is? Andy says the Shady Fu*k Club. They continue to laugh and joke around.
[polldaddy poll=7235287]
Stay connected and interact with other Big Brother Fans on our Facebook page.
And Follow: @BigBspoilers and @Dawgsbigbrother on Twitter for the most up to date spoilers.