POV Holder:
Jeremy
Next POV
July 13th
POV Used
YES
POV Ceremony
July 8
HOH Winner:
Aaryn
Next HOH:
MVP:
Elissa
Original Nominations:
Elissa, Helen and Jeremy (MVP nom)
Current Nominations:
Elissa, Helen and Nick (MVP nom)
Last Evicted Houseguest
David
Have Nots
Helen, Elissa, Candice, and Andy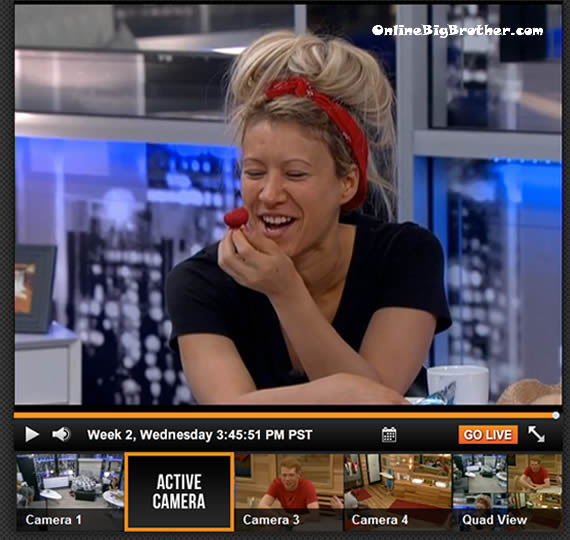 3:45pm HOH Aaryn and Gina
talking about how unfair Jessie is being sleeping in the same bed by herself for the past three weeks. Gina says its a 3 person bed that Jessie's been sleeping on. Aaryn mention how it's not fair that Elissa and the havenots don't get to share beds with the other people.
Aaryn says she likes to flirt with guys thats the way she is but she's not going to hook up in the bIg Brother House. She adds the difference between her and Jessie is that Jessie is looking for a real relationship whereas Aaryn just likes to have a guy around just a friend. "I like to flirt"
Gina: "She (Jessie) bumps her a$$ around it draws the wrong attention"
Aaryn: "There are glimpses of KAitlin being cool.." They both agree Kaitlin is getting much too cocky in the house.
Gina: "She acts like shes the queen of the house"
Aaryn: 'Yes because Jeremy is the king.. we'll I have news for you b!tch i'm the queen"
Gina: "I want to be the princess then.. you know two blondes are better than one"
Aaryn: "I'm starting to realize that I have to use Flirting as a tactic in this game.. the guys are super easy to do" (Manipulate)
Aaryn says she wasn't going to play the flirty game coming into the house but "It's crunch time" and she's invested too much time in this show "We've been here for 20 days.. I need to see some returns.. I'm not going to kiss anyone"
Gina: "Ohh goodness no I'm the same way"
Aaryn says if Kaitlin leaves, "It's going to get real weird in here" (she's implying getting close to Jeremy)
Gina and Aaryn agree that Kaitlin is mean to Jeremy.
Aaryn: "Kaitlin is falling for him.. "
4:14pm HOH Aaryn and Amanda
Aaryn saying she's not liking Amanda's attitude in the house that she's coming across as fake.
Amanda says that Nick is going around saying he's going to put up Howard and Candace but Amanda doesn't think he's that dumb. She thinks Nick planned something with Howard and went around saying Howard is his target so people are suspicious.
Aaryn: "Nick and Jeremy don't talk"
Amadan: "I thought they were allied"
Aaryn: 'Jeremy never talks to Nick"
Aaryn says that Jeremy has taken everything away from her HOH except for the safety
Amanda says that Jeremy is doing all the wheeling and dealing. She adds that everyone knows Aaryn would have put up whoever Jeremy says. Aaryn says Jeremy wanted Candace and Elissa up.
Amanda wonders where Candace's head is at.
Aaryn: "Candace is with Elissa "
Amanda: "I thought Candace was close to Howard"
Aaryn: "maybe now that they're sleeping together"
Aaryn: "Jeremy has an alliance with Howard and Spencer.. That's what Kaitlin told me" (KABOOM )
Aaryn says Jeremy is getting really annoying, "He's so cocky he's annoying me so much"
Amanda says she needs to hang out with her and McCrea.
Amanda says that everyone is targeting Jeremy. Aaryn is worried that people will target her because they want to weaken Jeremy so they will take out the people closest to him like her and Kaitlin.
Aaryn wonders why Jeremy is making deals with everyone in the house because everyone knows he has these deals now.
McCRae and Gina join them. Aaryn thinks Helen will win MVP.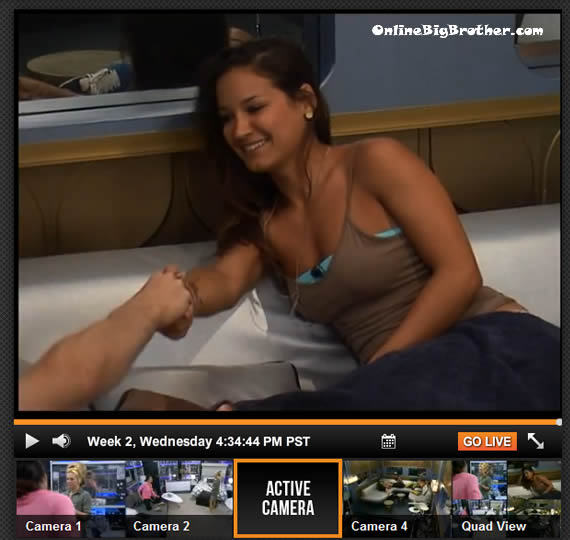 4:33pm Cockpit Jessie and Nick
Jessie is saying she been on board with the whole Elissa thing since day one.
Nick tells her she is guaranteed not to go up if he wins HOH. They agree that everything is cool between them and shake
Jessie says Elissa did mentioned to her that Nick threw her under the bus for MVP vote
Nick: "6 people have told me that'"
Jessie: "I never believed her"
Jessie: "did you give her a name"
Nick: "no"
Nick explains that when Elissa started going around saying that he hadn't even spoken to her at that point.
Jessie: "you didn't even talk to her"
Nick: "no"
Jessie: "oh my gosh.. that is what she did she came to me and told me you threw me under the bus for a MVP Nomination"
Nick: "you are on our side I wouldn't do that"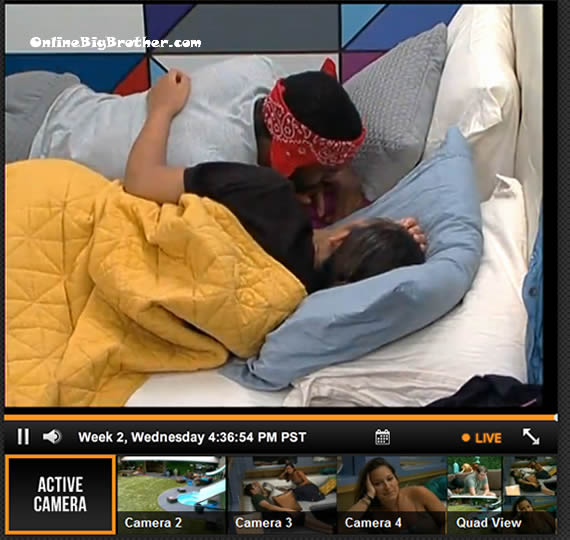 Howard locking down Candace's vote (He's been sleeping in teh same bed as her and has been a lot more cuddly around her. Candace is 100% digging him)
You can re-watch ever second on the feeds using their flashback feature.. It's super easy to use click this link for a free trial —> Big Brother Live Feeds
The CBS feeds are a HUGE improvement over the super pass feeds and they are 30% cheaper with no subscription to cancel. You pay a flat fee for the season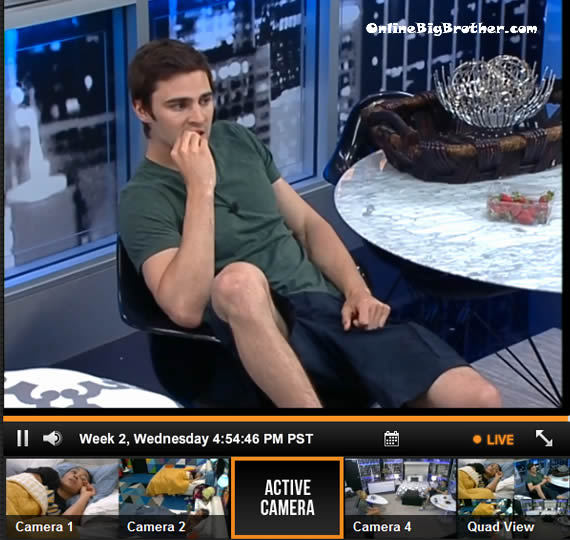 4:54pm Cam 3-4 Nick and Aaryn
Aaryn tells him the other side is scared of Jeremy. Nick is worried that people are too afraid of Jeremy. Aaryn: "I agree he needs to stop now"
Andy says he needs to talk to McCrea and Amanda next. Aaryn suggests he uses the HOH.
Nick asks her what's up.
Aaryn leaves and Amanda comes in. Amanda: "I think you are a very smart person and I don't know what your deal is.. I think you are smarter than throwing a name out there like Howard out there as a target. "
Nick: "Who would you put up if you had to put up three people "
Amanda: "3 floaters that are not allied with anybody"
Nick: "who would that be "
Amanda: "the third one would be hard.. I won't get MVP so it doesn't matter .. I would do the same thing McCrae did, Candace and Jessie".
Nick: "no third"
Amanda: "i don't have a third.. I have a very strong gut feeling you are getting MVP" .
Nick: "how do to you feel about Helen"
Amanda: "I have no allegiance to her".
Nick: "how do you feel about Howard"
Amanda: "I don't' know about him there are some people that have proven themselves and there are people that haven't had the opportunity.. i don't know yet"
Amanda asks him who he's loyal to
Nick: "Aaryn, GM, McCrea, Amanda, Jeremy and kaitlin"
Amanda asks him why he says he's targeting Howard..
Nick:"he's a floater"
Amanda says that JEremy at one point thought Howard was a threat but now he doesn't think that.. she's confused.
Nick : "I think there is another side of the house and Helen, Howard and candace are working together"
Amanda says that Spencer and Howard human behavior has changed a lot lately. says Spencer and Andy use to be b*tt buddies and now they never talk.
Nick says he has three targets Helen, Howard and Candace and he swears if he wins MVP everyone on his side will know about it.
Amanda says that her and McCrae are voting to keep him.
5:17pm Nick asks her if she was in his position what would she do?
She isn't sure she would do anything because Nick is safe right now.
Amanda: "maybe I would make deals with Elissa to get Helen out because Elissa is so powerful"
Nick thinks it's too late to swing a plan like that
Amanda agrees.
He asks her who she would talk to. She doesn't know because the people she trusts is different than the people he trusts.
McCrea joins them "Whats good in the hood"
Amanda leaves. Nick to McCrae: "she's so smart bro"
McCrea isn't worried about the vote but says Andy and Judd and flipping a lot.
Nick says his relationship with Judd is improving.. McCrea adds that Judd and Andy are very paranoid.
Amanda comes back and starts joking that they should vote out Helen.
5:42pm HOH Nick and Andy Andy tells him he's on the same page to keep Nick
[polldaddy poll=7235287]