POV Holder:
Shane
Next POV:
July 28 (Saturday)
POV Used
Yes
POV Ceremony
July 23rd (Monday)
HOH Winner:
Frank
Next HOH:
July 26 (Thurs)
Original Nominations:
JOJO and Shane
Current Nominations:
JOJO and Danielle
Have Nots /Slop
Willie, Shane, JOJO, Ian
Coach Competition Winner
Janelle (Ashley Safe)
Next Coaches Competition
July 27 (Friday)
Last Evicted Houseguest
Kara, Willie
Who is Safe this Week
Shane, Frank and Ashley
My prediction as of writing this post
JOJO Goes Home

10:15pm Cam 1-2 JoJO and AShley Watch FREE TRIAL!
JOJO campaigning for votes..
JOJO: "This coaches thing is retarded.. I know this game I studied before I came in here"
Jojo tells Ashley that Janelle and Boogie probably have a deal to get Frank and Wil in the final 2. She adds that Janelle and Boogie are ruthless they play stone cold and have no feeling they will have no problems cutting Ashley loose.
Jojo asks why don't we start our own alliance, "You me, Shane, Ian and Jenn" Ashley doesn't say anything she seems legitimately sad at the position Jojo is in.
Jojo is very pissed at Janelle talks about , "I swear to god if she says anything to you i will get in her face I don't give a shit" JOJO adds that Janelle wants her out of the house she's getting everyone against her. She warns AShley about Wil and Joe and the dirty game they are playing. Thats not the game Jojo will play she's straight up and loyal.
Jojo: "are you scared of her" (Janelle)
Ashley: "no… i'm scared of the house .. This sounds so selfish because I love you but I don't want the whole house against me.. what happened to Frank last night you were talking about teaming up with him"
Jojo: "I can't trust Frank anymore he goes to Janelle about everything I told him"
Jojo: "I DON'T GIVE A F**K about Janelle I'll stand my ground with her"
Ashley trusts JOJO and Shane but she's not sure she can trust the other players, "Ian tells Boogie everything… thats the only reason why i'm, not jumping on board"
Jojo isn't looking for a commitment she just wants Ashley think.
Jojo starts pushing the angle that the show is boring right now she wants to shake it up. she doesn't want this season to be boring lik last year. Ashley: "You're proposing 4 vs 2… I don't know I don't trust the other players"
Shane joins them and they start hammering the point that people need to stop playing with their coaches team and start playing the game for themselves.
Jojo goes off on a rant about how boring this season is she wants to take ian, Jenn, Ashley and Shane and flip the house. Shane thinks there is no way she'll get Ian's vote he tells Boogie everything. Jojo thinks she can she claims he seemed on board earlier today.
Ashley: "I feel so bad for you Jojo"
Shane: "You sticking with JoJO's vote?"
Ashley: "I'm voting with janelle…"
Ashley is trying to explain to them if she does this everyone will be gunning for them. Jojo asks what if they can get Ian and Jen. Ashley: "Wil and Joe will be gunning for me even harder then"
Ashley tells them she can't do it she has to vote with Janelle and her team this week.
10:40pm Cam 1-2 Arcade room Britney and AShley Watch FREE TRIAL!
Ashley explains to Britney that she just told Jojo she's voting with the house majority.
Britney: "I don't blame you one bit.. it's a tough spot to be in you're not going to take any grief from me" Ashley feels horrible about it.
10:44 cam 3-4 HOH Dan, Joe. Janelle, Jenn, Boogie
Joe comes up tells them that JOJO's taken all the cigarettes back because ashley told her she;s going home because the house is voting against her. Boogie laughs says there is going to be some fun tonight.
They all run downstairs so Joe can confront her about the 2 packs of cigarettes. Dan notices Jenn isn't too keen on egging Jojo on. He take's her to the side to play chess. Says he doesn't understand why people need to rub it in her face.. She's going home just leave her be. Jenn completely agrees says she doesn't want to torment people when they are down.
11:12pm Cam 3-4 havenots JoJO and Joe Joe tells her He's 100% going to vote for her to stay and everyone knows it. Jojo give him back the 2 packs. Joe: "you're one vote away.. work on ashley" Jojo is just worried about looking like a fool having given him 2 packs for a vote then he doesn't vote for her. joe understands.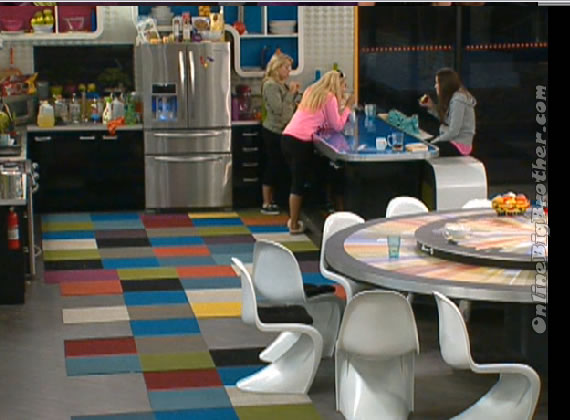 11:33pm Cam 3-4 Kitchen Ashley, Danielle and AShley Ashley tells them about her conversation about JOJO says she's sick of talking to her and hearing her campaigning. AShley impersonates JOJO a bit..
11:44PM Cam 3-4 Danielle and Dan Danielle tells him about Joe giving JOJO his vote for Smokes. Dan asks her whats her confidence for staying. Danielle thinks it's pretty good.
11:55pm Cam 1-2 Britney and JOJO Britney telling her that the entire house is pissed at her. Britney: "At this point Janelle's entire team is voting you out"
11:57pm Arcade room Janelle and Ashley Janelle saying that Frank and Boogie are TIGHT. Ashley adds that Ian said the same thing to her that he tells everything to Boogie.
12:00AM Janelle, JOJO and Brintey JOJO explains herself to Janelle tells her that she's just trying to get votes. Telling players to get vote for their own game. Jojo says her and Janelle use to be close and now she see Janelle spending all her time with Danielle. janelle brings up why is JOJO going around saying Britney told you Janelle is coming after her. JOjo says that it isn't like that. Janelle and JOJO are now talking again and it looks like all the Drama is subsiding. Britney leaves.
**Check out the Gallery below for Pictures of the HOH competition tomorrow.
Watch what happens, AS it happens: Big Brother 14 Live Feeds!
Subscribe today for your FREE 3 DAY TRIAL!