POV Holder:
Shane
Next POV:
July 28 (Saturday)
POV Used
Yes
POV Ceremony
July 23rd (Monday)
HOH Winner:
Frank
Next HOH:
July 26 (Thurs)
Original Nominations:
JOJO and Shane
Current Nominations:
JOJO and Danielle
Have Nots /Slop
Willie, Shane, JOJO, Ian
Coach Competition Winner
Janelle
Next Coaches Competition
July 27 (Friday)
Last Evicted Houseguest
Kara, Willie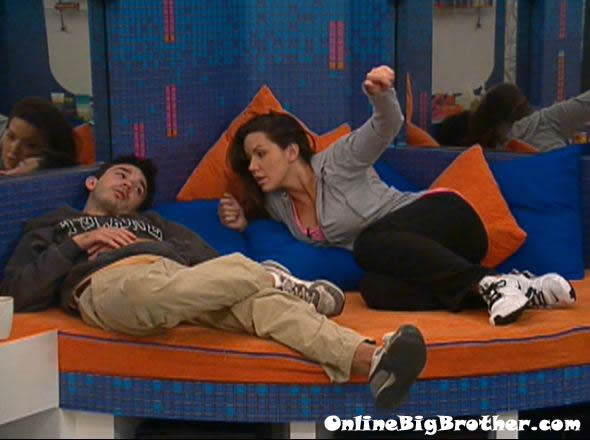 12:40am Danielle and Ian are sitting on the bathroom couch talking quietly. Ian tells her next week nobody here is safe. Ian tells Danielle that JoJo blew any chance she had to stay this week. He tells her that he is voting to keep her (Danielle). Ian says that he has no reason to keep JoJo. He says that she has nothing that I need. Ian says that JoJo has dug her own grave. They break up the conversation and leave the room.
Sign-up for the Big Brother Live Feeds and get the MOBILE Feeds for FREE!
Joe, Frank, Janelle, Wil and Ashley are talking. Janelle asks Joe if he is giving Jojo a vote. Joe says that he isn't if it bothers the others, he says unless we wants a couple extra packs of cigarettes. Janelle says that they should offer her some memorabilia she can sell outside the house in exchange for a carton of cigarettes. The conversation turns to how Big Brother doesn't allow them to tell the evicted house guests they are the one going home. Ashley is surprised by this and wonders if she broke the rules by telling Jojo she's the one going home. Big Brother tells them they are not allowed to talk about your diary room session.
Frank leaves to head up to the HOH room. Ashley tells them that Jojo was telling her that if she goes home this season is going to be so boring. They talk about how they can't believe Jojo would say that. Wil says that if Shane wins he is going to be gunning for Frank. Janelle says that because there are so many men in this house, Big Brother will do a challenge that a girl can win. She says that she the lighter you are the better chance you'll have to win, meaning it's suited for a girl to win. Wil says that he will hold on until his body caves away. They worry that Ian could win it. Janelle says that Ian is like a hundred pounds. Frank joins them again. Janelle says that she feels bad about Jojo leaving 6-0 and says that she should get at least one vote. They talk about how they don't want Danielle to win HOH because she won't put up Shane. Joe says he's got the HOH. Janelle says eagle eyed Joe! Frank heads to bed. Janelle wonders if Ian might throw this competition because he thinks next week will be endurance. She says that Ian knows Big Brother like she know it. The talk turns to whether or not the coaches will enter the game.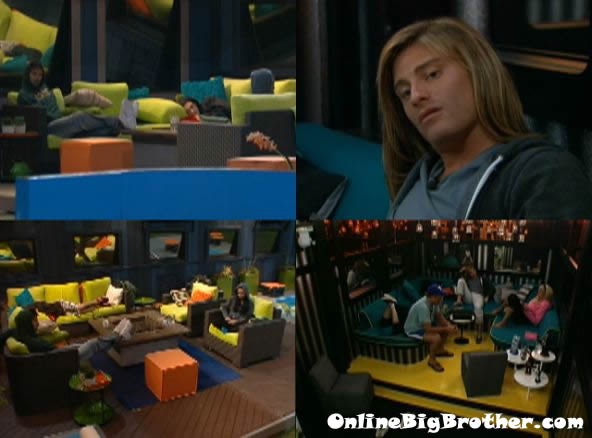 Janelle says that if someone is coming back, it would have to be this week. She says that you can't send someone back when it's Jury. She tells them that Jury will start after this week. Wil says so Dan and Danielle would come back. Wil also thinks maybe JoJo will have to compete against Kara and Jodi to re-enter the house. Janelle says that she hates to put things in their head, but did you ever think why did Boogie and Frank never say we should get rid of Dan? Joe and Wil tell her they have said that in the past. Janelle says that she was told Jojo has to go from those guys and that they might be trying to keep Dan to work with him in the future. Joe says that Frank did want to get Danielle out. Janelle says that this week it has to be Ian and Shane on the block. She says that trying to backdoor Shane will just piss people off so Shane has to go up right off the bat. Wil says that Shane's nice guy act is a shame, it's bullsh*t. Joe asks Janelle how Britney is? Janelle says that Britney is a mess. Wil says she misses her husband but she needs to pick up the pieces. Janelle then calls Britney a bit*h. They all head out to the backyard.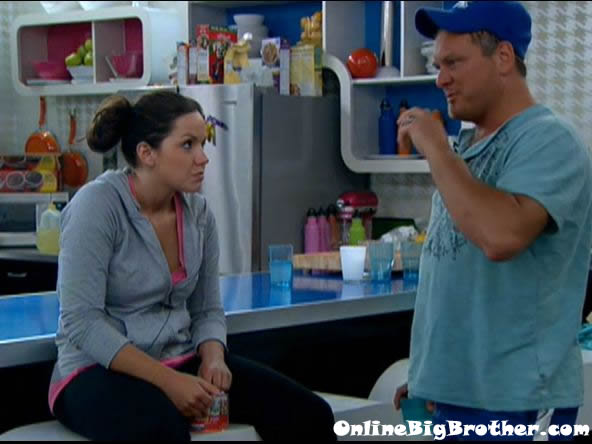 1:30am
In the kitchen Joe and Danielle are talking. Danielle asks Joe if she is still staying? Joe says that she's 110% good. He says that it is going to be a 6-0 vote to keep Danielle. Danielle says she was getting nervous because Shane and Jojo are outside practicing really hard for the HOH. Joe tells her not to worry he was going to throw Jojo a vote for some cigarettes but he isn't going to anymore. Jenn joins them and they talk about someone coming back into the game. Danielle and Joe head out to the backyard. They sit on the couch with Dan and Shane.
FREE Big Brother 14 Live Feeds: 3 Day Trial!
2am Ashley and Jojo are talking. Jojo says that she want Ashley to do what she think is best for her. She says that she is not Willie. Ashley says that she feels compassion for Jojo. Ashley says that she thinks she is taking it really well, Jojo says that she is trying not to cry. Ashley tells her it's not over yet. She says that people are talking about someone getting to come back into the game. Jojo asks so I'm going? Jojo tries to convince Ashley that the best move this week is to get rid of Danielle because that means they get rid of Dan at the same time. She says that this game has had a new twist each week and a possible twist could be that the players will get shuffled and each coach will have two players. So why wouldn't you want to get Dan out, Dan with two players is really dangerous. Jojo tells her that they will be left with a bunch of beast guys and a genius. Jojo says that if she stays her and Shane will be huge targets. Jojo says that tomorrow when she leaves she is only hugging her, Shane, Britney, Dan and Danielle. She says that everyone else can go fu*k themselves.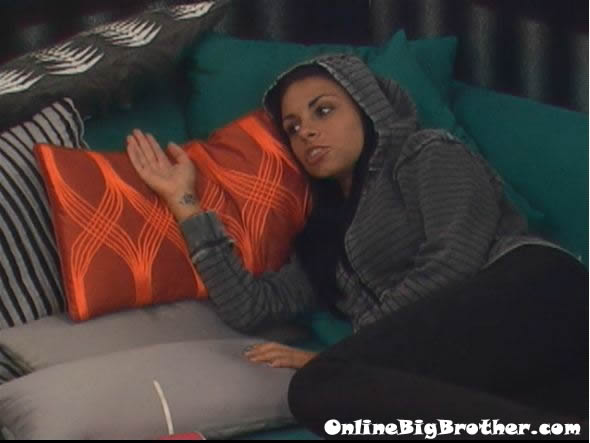 2:20am – 3:30am In the backyard Wil, Janelle, and Joe are practicing the game in the backyard. Dan, Danielle and Shane are on the couch watching. Dan is giving Danielle pointers and tells her that he thinks the game will be twice as big. Dan and Danielle then go and practice the game. Joe, Wil and Janelle sit down and start talking about past competitions. Joe heads to bed. Wil and Janelle head inside to get some tea. Janelle says that Frank is dangerous and makes her nervous! They talk about whether it is best to get rid of floaters first or the strong players. Janelle says that she wishes Wil would have watched her season because she says she was left with a bunch of strong people in the game she couldn't beat at the end. Janelle says that things Frank says don't add up. She says that he scares the sh*t out of her. Ashley says that she feel like Joe is hypnotized by him Frank. Janelle says that when people finally realize it is time to go after Frank it will be too late and he'll start winning POVs. They talk about back dooring Frank to get him out. Dan joins them. Janelle tells Dan that Frank scares her and if her team wins HOH they are going after him. She also tells Dan that he is safe. Dan smiles and laughs and then heads to bed. Janelle tells Danielle not to be nervous about tomorrow because she is staying. Danielle asks if Janelle's team wins HOH if she will be safe. Janelle tells her yes. They starts talking about make-up and then head to bed.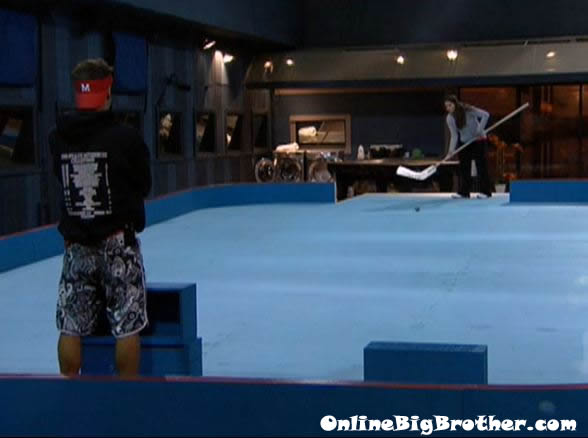 5:45am All the house guests are sleeping..
9:30am Big Brother is letting the house guests sleep in..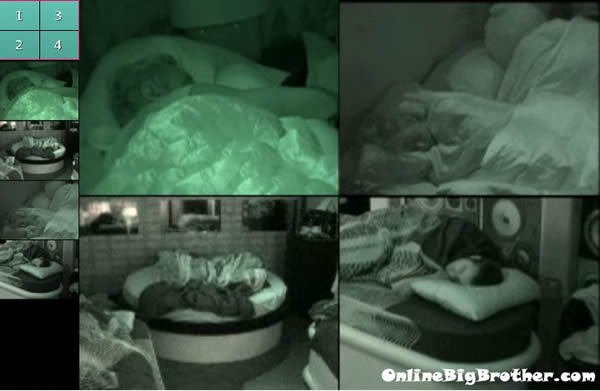 Share it YO!
Tweet