POV Holder:
Jeremy
Next POV
July 13th
POV Used
?
POV Ceremony
?
HOH Winner:
Aaryn
Next HOH:
MVP:
Elissa
Original Nominations:
Elissa, Helen and Jeremy (MVP)
Current Nominations:
?
Last Evicted Houseguest
David
Have Nots
Helen, Elissa, Candice, and Andy
9:10pm Up in the HOH room – Jeremy and Kaitlin are laying out in the HOH bed. Kaitlin says that she can't wait till they can turn the lights out. Kaitlin and Jeremy start making out under the covers. Nick walks into the room and breaks up the make out session. Gina then heads up and walks in on them. Jeremy comments that she is up here checking up on her man. Gina says no I am not, I am bringing Aaryn's cup back up. Jeremy and Nick head down to play bandanna ball.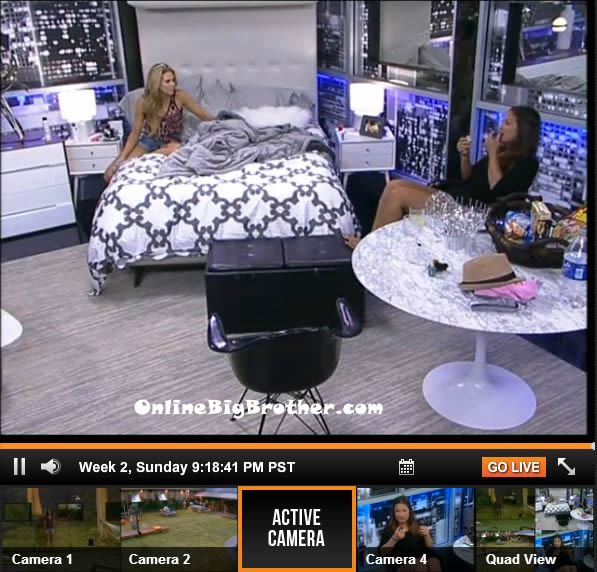 Up in the HOH room – Aaryn and Jessie are talking alone. Aaryn is talking to Jessie about how nervous she is feeling about the way things are right now. Aaryn says that the plan is starting to freak her out. She says that Jeremy is making plans and deals …and he is not telling me about them. Aaryn asks what are we going to do, he is going to kill us off. We need to make sure he doesn't suspect that we don't trust him. Jessie says lets just make it to sequester. Aaryn says that Jeremy and Kaitlin are walking around like the are tough sh*t. Jessie says I don't see how that is a problem .. it puts a target on their backs. Aaryn agrees. She says that me winning this HOH and him acting like that takes the target off me and puts it on him. Aaryn says so the first 3 people to go Candice, Spencer and Howard… don't repeat that. Jessie says how about Amanda? Aaryn says she is scared of Amanda. Jessie says exactly that's how people get to the end of the game. Aaryn comments that she is starting to trust Howard and Spencer more. Jessie says that she has been trying to trust McCrae and Amanda but McCrae threw me under the bus. She says that McCrae told Amanda that I was trying to come in between them. Jessie says that she wants to break them up. They are too strong together. Aaryn talks about how Amanda tried to called Aaryn out on a necklace she has that costs $15,000. Aaryn says that its a replica but what's surprising is that she called it out by name. Jessie says that she thinks Amanda has a lot of money …she is a Jew. I know that is a stereotype but what Jew does not have a lot of money. Aaryn says that its part of Jeremy's game to take a hot girl to the end that doesn't know the game so that he will win hands down. If he took me, he knows he wouldn't win. Aaryn and Jessie head screaming downstairs. They realize they got alcohol so they head downstairs.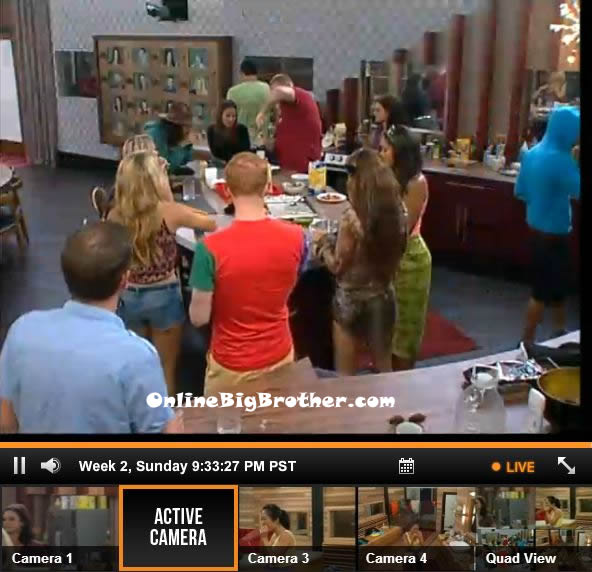 9:30pm – 9:45pm Most of the house guests head to the kitchen to get their share of the alcohol. Judd holds up a beer and says thank you Big Brother, you're my dude! Kaitlin and Aaryn head out to the backyard to play a game of pool.
#bb15 house guests get alcohol – Judd holds up a beer and says thank you Big Brother you're my dude! #bigbrother15 pic.twitter.com/xjatUeoSge

— Dawg (@DawgsBigBrother) July 8, 2013
9:50pm – 10pm Andy and Elissa are in the kitchen talking. Andy keeps asking Elissa what Ragan is like in real person. Elissa says that she can guarantee that she will never talk to half of these people ever again outside this house. She says that she will talk to Andy and Helen though. Nick joins them. They continue to talk about Rachel and other house guests. Elissa heads outside. Andy asks Nick why he thinks Elissa wants to put him up. Nick says that he isn't sure.. you know how things go around this house. Nick says I have heard everyone's name at one point since the beginning of this game so who knows. Candice joins them. Nick talks about how Frank is his all time favourite player. Andy says that he loved Ragan even though he didn't play an amazing game. He says that he liked Britney and Daniele too. Meanwhile out in the backyard the house guests continue to play bandanna ball.

10:10pm Out in the backyard – Aaryn and Kaitlin talk about Jeremy. She talks about how much she likes him. She says that she really wants him. Aaryn says so do it. Kaitlin says that she can't not in this house. Kaitlin says that she didn't even find him that attractive in the beginning. Kaitlin tells Aaryn that Jeremy told her that he has a weak crush on her. Kaitlin says that she doesn't think that is good. Aaryn thinks it means weak in the knees. Aaryn leaves to go talk to Amanda over on the backyard couch.
10:10pm – 10:15pm Judd joins Aaryn on the backyard couch with Jeremy and Amanda. Aaryn tells Judd we can kick them out of the HOH room …them we can have a bubble bath later, get naked and sleep together. Judd says alright! Judd talks about rug burns. Aaryn tells him that she will give him rug burns. Jeremy says oh!!!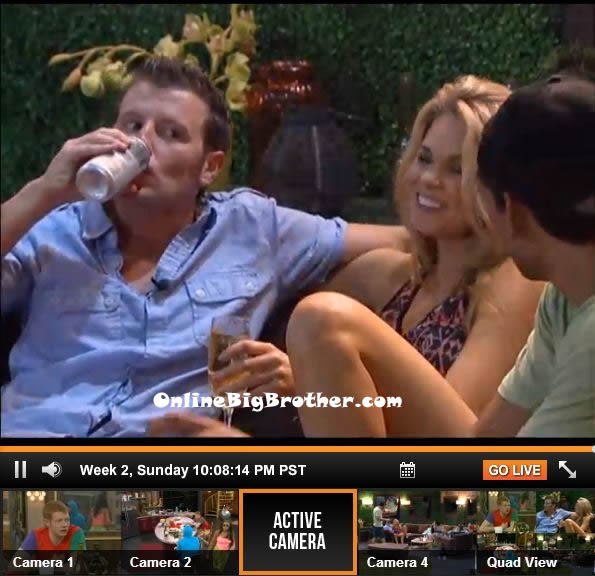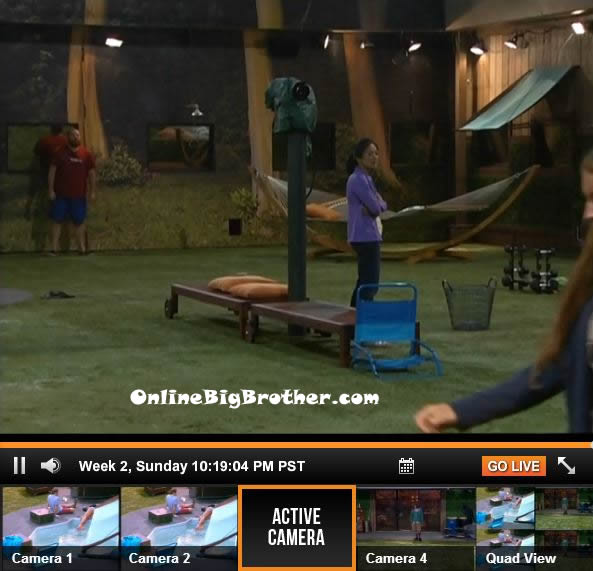 10:20pm – 10:30pm McCrae and Spencer are playing bandanna ball. Helen is in the middle of the yard retrieving the ball and keeping score. Aaryn, Andy, Nick, Judd, Amanda, Jessie and Elissa are sitting on the backyard couch talking about random things. Andy heads up to the HOH room to listen to the spice girls cd. Up in the HOH room – Kaitlin is up in the HOH room talking to Andy about how buzzed she is right now. Kaitlin comments on how the camera is pointed right at her and it is making her uncomfortable. She then fingers the camera.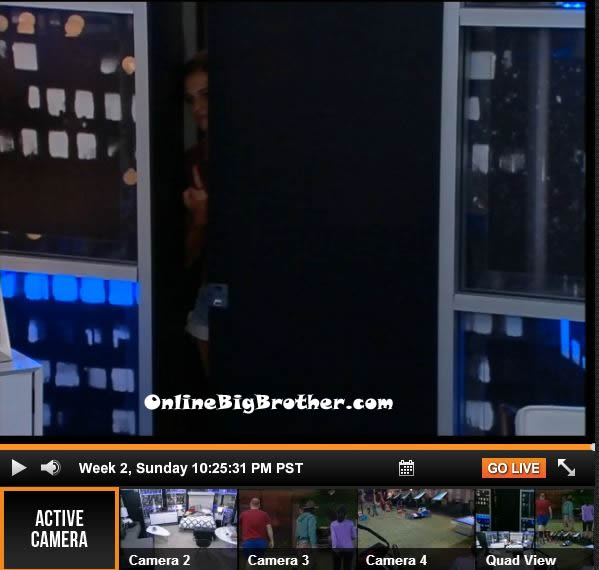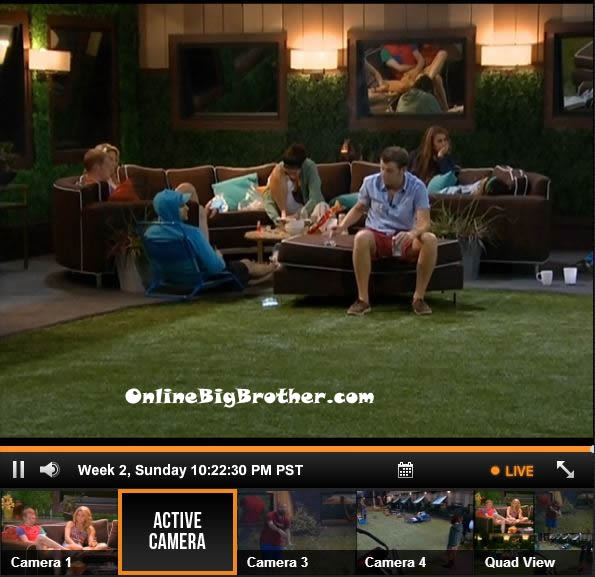 Stay connected and interact with other Big Brother Fans on our Facebook page.
And Follow: @BigBspoilers and @Dawgsbigbrother on Twitter for the most up to date spoilers.