POV Holder:
Jeremy
Next POV
July 13th
POV Used
?
POV Ceremony
?
HOH Winner:
Aaryn
Next HOH:
MVP:
Elissa
Original Nominations:
Elissa, Helen and Jeremy (MVP)
Current Nominations:
?
Last Evicted Houseguest
David
Have Nots
Helen, Elissa, Candice, and Andy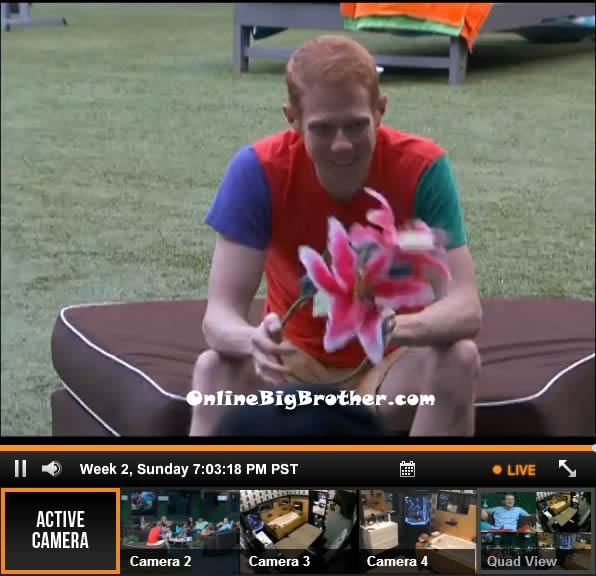 7pm Out in the backyard – Andy, McCrae, Amanda, Kaitlin, Jeremy, Judd, Gina and Elissa are talking about random things. Jeremy comments that he took a drag of a cigarette this morning and I am kind of upset with myself. Candice ask him why he would do that. He says he doesn't know. Judd says that it calms you down when you are stress. Jeremy says yeah maybe when you're a smoker. They talk about past house guests like Daniele Donato and Britney Haynes. Andy asks Elissa if Rachel and Britney are good friends. Elissa says that she has no idea, I didn't even know about her until I was about to come in here. Andy asks if they are friends with Ragan. Elissa says oh ya I love Ragan. Amanda brings up how her titties are probably all over the internet now. If they were ugly I would care, but they not. Maybe Playboy will give me a call. They start commenting on each others HG photo. Amanda says that Gina's looks the best. She says that her's looks like little midgets are hanging on her eyes. They laugh. Amanda talks about how she is a botox junkie. Gina starts talking about how she got a breast lift. Candice shows the other house guests how she can bounce her boobs.
Try the LIVE FEEDS for FREE – Watch Amanda bounce her boobs –
Flashback to July 7th @ 7:21pm on Camera 1
FREE 48 hour TRIAL –> Big Brother Live Feeds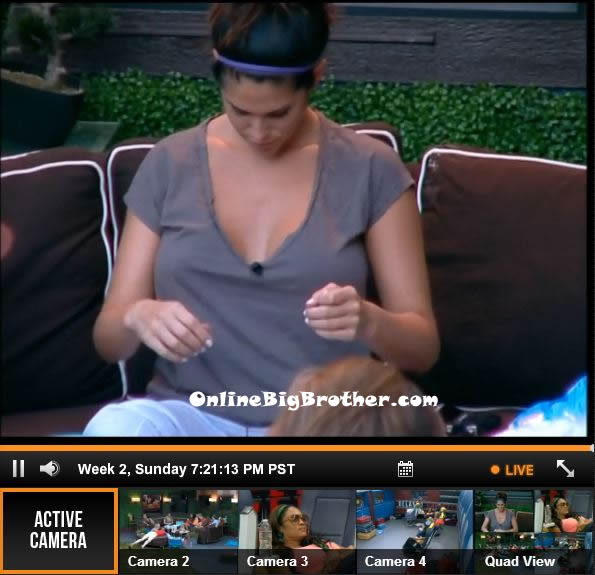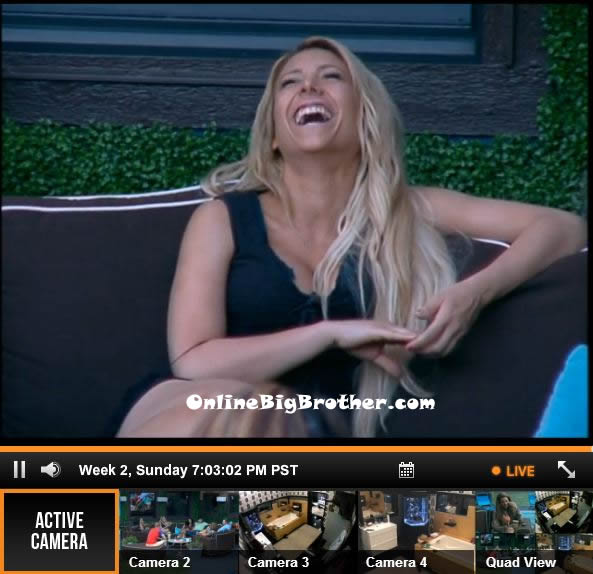 7:20pm – 7:35pm Meanwhile in the havenot room – Candice and Helen are talking about their lives outside the house. Candice talks about a date she went on before coming into the house where she did so much exercise before the date that she could barely stand up. In the bathroom – Judd and Aaryn are talking about how bored they are. Judd says lets go play pranks. Aaryn tells him to go right ahead. They talk about how they hope they get boose tonight. Aaryn says that she feels like she hasn't been able to stop and think the entire time they have been in here. Everything is just so fast paced and crazy. Judd says that he was in sequester for a week. Some people were in it for more. Aaryn comments on how some of the questions she has been asked make her wonder what she is being portrayed as. She says that her real fans will know and the ones that watch the live feeds will know what we are really like.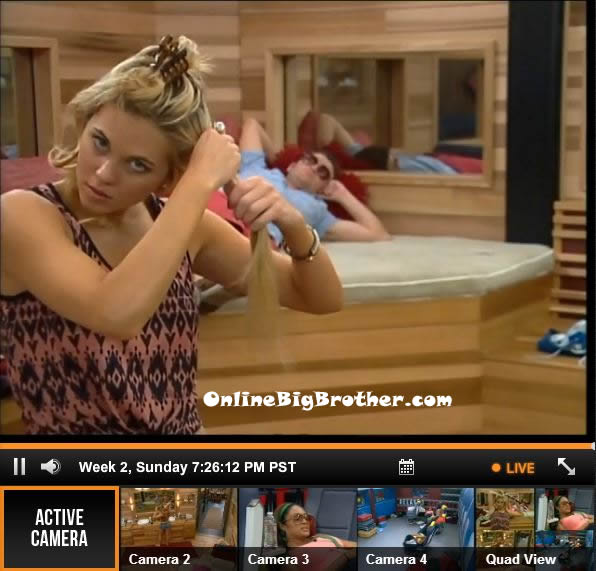 7:40pm Out in the backyard – Andy, McCrae, Gina, Aaryn, Jeremy, Spencer and Ananda are talking about random things. Jeremy comments that he hopes everyone sticks to their guns. (Meaning voting Elissa out) Amanda says that she wants the HOH room back even though she never had it. She says she wants it to be able to orgasm. Jeremy says that he had a dream that he was spiderman and climbed into a womans bedroom and made love to her. He says that he didn't wake up with sticky shorts or nothing though. Jeremy asks Aaryn if she has. Aaryn says that she thinks everyone has. Jeremy says that he must have cooties because Aaryn sleeps with a pillow between them. Amanda keeps talking about her boyfriend and how they sleep together. She says he is so great! Howard, Nick and Judd join the backyard crew.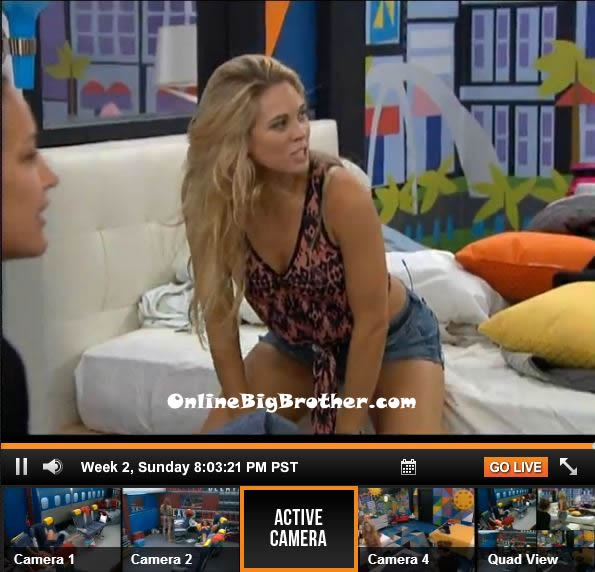 7:55pm – 8:10pm Jessie wakes up and she looks like morning. Aaryn talks to Jessie about how annoying Amanda is being. Aaryn says that it is getting worse and worse as the days go on. She is getting cockier and cockier every day. Aaryn the re-enacts how Amanda enters the room. Spencer comes in and they tell him that he just missed the funniest thing. Meanwhile out in the backyard – The house guests talk about last season of big brother.
8:10pm Andy tells Amanda that he nipples are almost hanging out. Jeremy says leave it to the gay dude to point that out and ruin it for us. Meanwhile Gina and Aaryn head up to the HOH room. Aaryn asks Gina if there is a reason why she doesn't drink alcohol. Gina says no, she just doesn't like it. Gina says that she thinks when they tell Kaitlin things she over reacts. Aaryn comments that she doesn't like all three of us sleeping up here. It's awkward. Gina says between you and I (They pinky swear). She says day one I wanted to be with Jeremy, David, Nick and you. Gina says then we needed a dope girl.. Aaryn. Gina says that Kaitlin wasn't even in the equation. I think that Jeremy is going to protect her. Gina says that she doesn't like fat people. I like people that push for stuff. Gina says I am a nice person. I won't say sh*t behind your back, I will say it to your face. Aaryn says that this is really starting to get to me because I can't even get a second to talk game with him because they are always together. Aaryn says that Jeremy just told her that he loves her. She says that right after he said he didn't mean it but when people fall in love they don't think about game. Aaryn says that she thinks if it was just Gina, Jeremy and her ..they could tear this place apart. Gina says that Jeremy said he is focused but ..that a$$. Aaryn says that it sucks that if I am up on the block with her.. I am going home. Aaryn says she was found in a bar and didn't even know what Big Brother was. Aaryn says we need to figure out a way to get her out without Jeremy knowing. Aaryn comments that Elissa is going this week for sure. Gina is doubts that Kaitlin and Jeremy will be together in real life outside of the house. She asks what is he going to move his boat to Vegas. Aaryn talks about how Kaitlin has been threatening people to vote out Elissa and that's not the way to do it. Andy comes up and Gina leaves.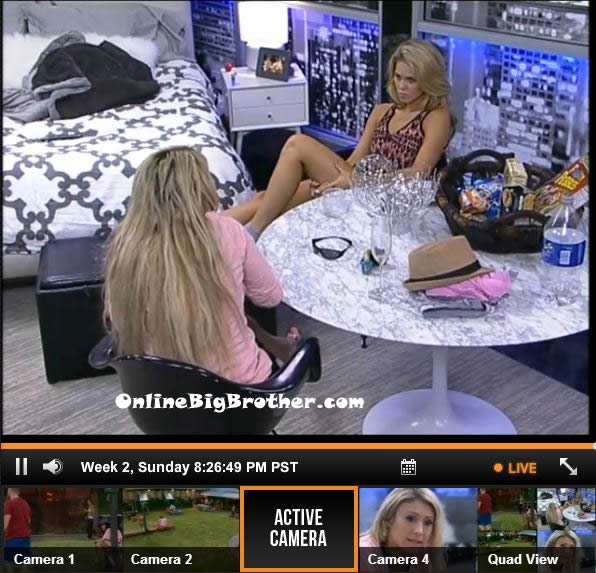 8:40pm – 9pm Andy and Aaryn talk in the HOH room. Aaryn comments that she really likes Helen. Andy agrees but says that she is hanging out with Candice and Elissa when she shouldn't be to keep the target off her. Aaryn brings up how the plan is to go after Amanda. Aaryn says that Jeremy is starting to scare her. Aaryn tells her to not tell anyone this not even Helen or Elissa. Andy says that he won't. Aaryn says that she wants to align with people that she feels she can trust and is safe with. Andy and Aaryn talk about working together. Andy says if Jeremy wins HOH then you keep me safe and if Helen wins HOH I will keep you safe. No one would ever suspect it. Aaryn agrees and says that she thinks Helen would be on board with it too once Elissa leaves. Kaitlin joins them and the conversation turns to where Andy bought his flip flops from. Aaryn tells Kaitlin that she put self tanner on and she is going to stink in bed tonight.. Sorry .. but not really. Kaitlin says that maybe she will sleep down stairs and you can sleep with Jeremy. Aaryn says um no. Kaitlin says just kidding. Jeremy joins them and Aaryn heads downstairs to the backyard.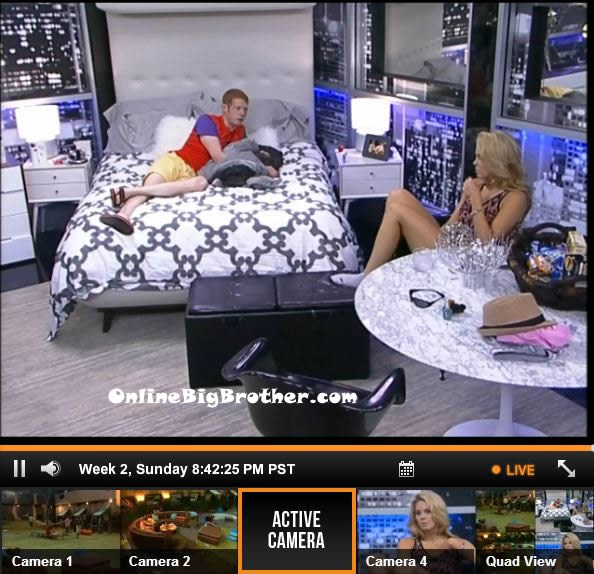 9pm – 9:10pmIn the bedroom – Gina talks to Nick about her conversation with Aaryn. Gina says that Aaryn is scared that if someone goes after her, Jeremy is going to blow up and it is going to come back on her. Gina talks about how Aaryn isn't comfortable with Kaitlin. Gina tells Nick that Jeremy told Kaitlin that he loves her. Nick says wow! Gina says I know I have said that before but she bothers me. Gina warns Nick if he has to say something to Jeremy make sure its just him and not her too. Gina talks about how Kaitlin was threatening people. Gina says Kaitlin got picked up in a bar and doesn't even know big brother. It was probably a strip club. Gina says we need people that are focused. Aaryn was focused even when David was here. Nick says Aaryn says that she is scared.. then lets protect her! Gina says that she cares about Aaryn and Jeremy .. and you Nick! Nick says that he can't be flying the Kaitlin flag at the front of my ship.(To try and get her out) Maybe Jeremy can but not me. Nick tells Gina to tell Aaryn that we have her back. They decide to go look for Aaryn to talk to her.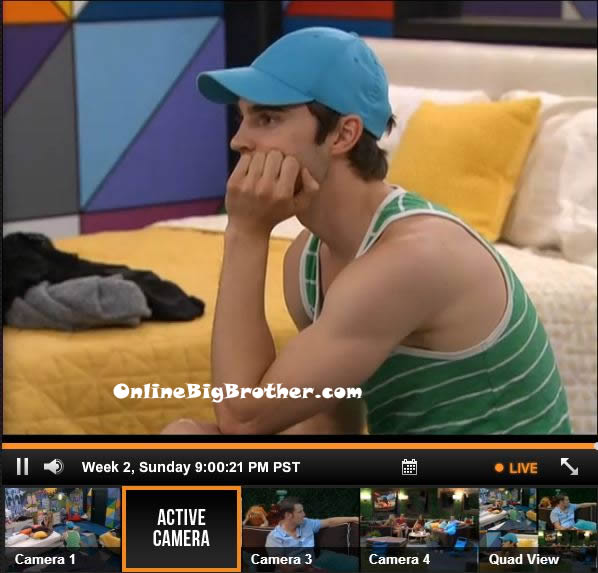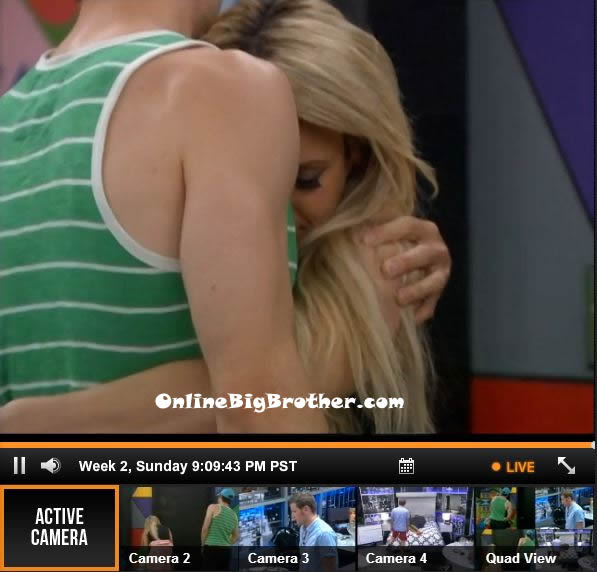 You can re-watch ever second on the feeds using their flashback feature.. It's super easy to use click this link for a free trial —> Big Brother Live Feeds
 The CBS feeds are a HUGE improvement over the super pass feeds and they are 30% cheaper with no subscription to cancel. You pay a flat fee for the season.
Stay connected and interact with other Big Brother Fans on our Facebook page.
And Follow: @BigBspoilers and @Dawgsbigbrother on Twitter for the most up to date spoilers.