POV Holder:
Jeremy
Next POV
July 13th
POV Used
?
POV Ceremony
?
HOH Winner:
Aaryn
Next HOH:
MVP:
Elissa
Original Nominations:
Elissa, Helen and Jeremy (MVP)
Current Nominations:
?
Last Evicted Houseguest
David
Have Nots
Helen, Elissa, Candice, and Andy
10:40 Hammock Cam 3-4 Jeremy, Aaryn and Gina
They are talking about losing David
Jeremy: "you aren't the only one that didn't take a lose.. He was my bro to we can bond over it"
Aaryn: "I can't bond with you"
Jeremy: "You bum me out"
Gigi asks him a question, "You're in the zone right.. you focuses cause we need to know that we're all in the same page"
Gigi: "I needed to know that you're in the f**** zone.. if you need to whack **f than whack **f in the bathroom bro" (gigi just kinda blurted this out.. )
Jeremy: "I'm not going to s***m the entire time I'm here yo"
Gigi: 'You're the man bro you're the man"
Jeremy: "Like MIke Tyson and Muhammad Ali .. they didn't s***m for two years and they were undefeated"
GiGi: "nice"
Jeremy: "Jeremy is going 90 days undefeated"
Amanda asking everyone in the back yard if they know how to make alcohol.
Jeremy: "Water, Apples, Sugars and potatoes in a bag leave it out in the heat for 2 weeks and you got alcohol" (LOL this was hilarious because Aaryn was in mid sentence at the time)
Jeremy: 'Stupid f****"
Aaryn is complaining that Kaitlin is going around acting emotional and messing up her game. Jeremy thinks everyone has had some wine and they need to think about it tonight and talk tomorrow.
J: "I'm not going to let anybody take you out"
A: "you can't control it"
J: "Wanna bet "
A: "Didn't help David"
Jeremy explains to her that David was a awesome "Bro" but "he didn't socialize with anybody.. it's hard to keep someone here when they don't have any friends.. he played a bad game because he wasn't socially aware.. theres nothing we can do about it now.. we gotta think of the future 500K lets take it home.. lets kick a$$ and take names "
Kaitlin joins them says that her and Amanda offered the camera b**b flashes for alcohol shook no.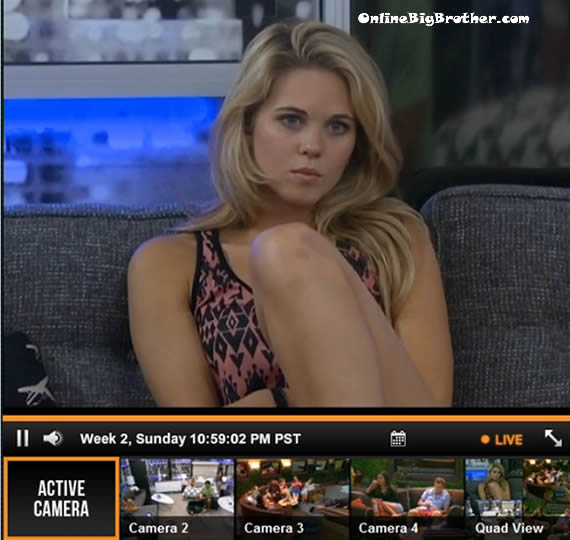 We just want to bring it to you attention we think Kaitlin is a fucking time bomb.
Aaryn I'll tell you the story so you know it's f*** real
Aaryn "Everyone here is on an understanding that we're getting Elissa out now Kaitlin starts freaking out that she's going up and now she's going to everyone in the house saying to them if they don't vote out Elissa Jeremy is going to get them next week"
Sorry that i'm slurring I had two drinks
11:15pm Amanda running around with her nipples being only covered with bandaids.
She does a little dance in front of everyone essentially showing off her entire chest for a good 20 minutes. Spencer is squealing "T!ttEs, T!ttEs, T!ttEs"
You'll have to go to our tumbler site to see the pictures.. it's here
You can re-watch ever second on the feeds using their flashback feature.. It's super easy to use click this link for a free trial —> Big Brother Live Feeds
The CBS feeds are a HUGE improvement over the super pass feeds and they are 30% cheaper with no subscription to cancel. You pay a flat fee for the season
11:23pm Have Nots Cam 1-2
Helen: "So far the plan on our part is to put up nick do you think we have the votes"
Andy: "people are starting to doubt Amanda and Spencer but I still trust them"
Helen: "I think spencer is working with Jeremy and Nick because Spencer Wanted to put up Amanda"
Helen: 'why take out Amanda when you can take out Nick he's one of the big guys"
Helen knows Spencer is shady but they need him on their side for awhile.
Helen says that Jessie will vote to keep Elissa if Elissa can get the votes. Andy: "She's Lying.. she just doesn't want to go up"
Helen says she talked
Helen says that they have the votes they only need six, Candace, Judd, McCrae, Amanda, Andy and Howard.
Helen: 'Thats it.. we don't even need spencer"
Andy: 'How about Candace"
Helen: 'Candace wants Elissa to stay she wants Nick out"
Andy mentions how Aaron has been experiencing concern with her group because she doesn't think Jeremy and Kaitlin will take her to the end. Helen says they need to bring Aaryn in and they will keep her save if she keeps them safe.
Andy and Helen are pretty excited about the prospects of having Aaryn on their side
10:40pm HOH Kaitlin, Jeremy and Aaryn
Jeremy is asking BB for more alcohol. Telling them Look at what the girls are doing a;ready think about what they could be doing with more..
Aaryn says she's cool with Helen and Andy. Jeremy doesn't think he's good with Andy. He reassures them that they have the numbers they need to relax.
Jeremy tells them he's got the umber he promises them he's got "Spencer and Howard in my back pocket"
11:49pm Amanda is sprawl on the bathroom couch naked.. McCrae is asking her to put clothes on. She eventually leaves to put clothes on
11:51pm Backyard Aaryn, Gina and Andy Aaryn is playing up her disagreements with Jeremy and KAitlin. Trying to look like she's distancing herself from them.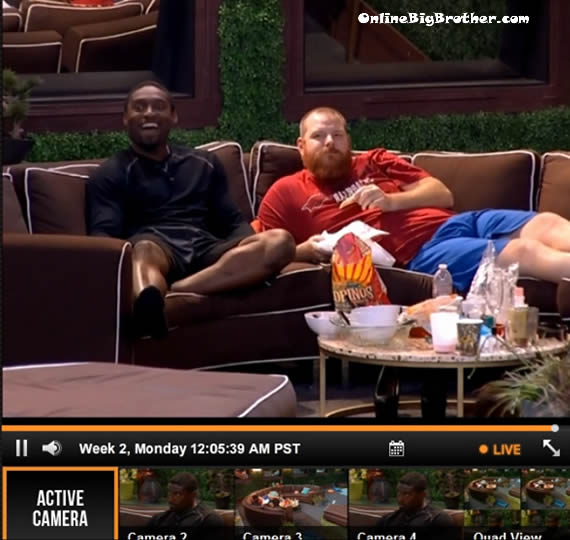 12:05Am Howard and Spencer Cam1-2
Howard would like Jeremy's group to get HOH again so they can take out Amanda.
Spencer says that will not happen it'll be Andy and Candace going up.
S: 'MC got to respect McCrea unless something shady happens"
H: "I just don't want to lose him.. you know if she stays.. we'll lose him.. to me (Her leaving) shows some loyalty we all have to show some loyalty"
Howard says that he thinks they can trust McCrae but when you "got t!tt!es and A$$ up in your face and you're not use to it"
Howard and spencer calling Gina and Nick the Odd Couple.
Howard: "Gina is on Jeremy's nut"
H asks who the target is next week. Spencer thinks it'll probably be Andy. Spencer doubts
Howard: 'I'm not going to try and get HOH"
Spencer: "NOO"
H: "When should he get it"
S: "We'll cross that bridge when we get there"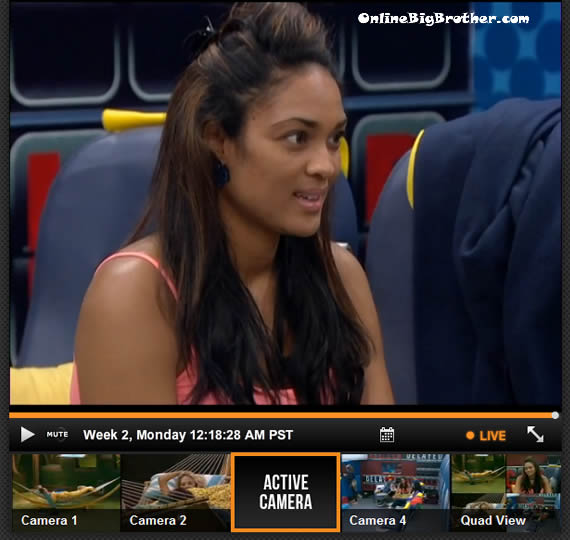 12:10AM Have Nots Helen, Candace, Elissa
They're confident they have the votes to get Nick out this week. Their vote count is Candace, Andy, Amanda, McCrae, Judd, and Howard (In actuality the votes will be at best Candace, Andy, Amanda, Judd and Jessie)
Elissa: "Solid vote.. everyone said they are solid"
They all agree that Spencer is working with Jeremy. Helen says if Spencer doesn't vote with them he's the first to go. Helen says they need to stop speaking with Spencer because he'll relay information back to Jeremy. Candace says that Howard has been talking to Spencer a lot and she needs it to stop. Helen: "I will talk to Howard and Make sure he votes out way"
Elissa: "I think howard knows that Spencer, Nick and Jeremy are working together"
Helen: "We're going to get HOH and we're not going to go after the girls we're going after the guys"
Helen: 'Howard will want to vote Nick out because that will make him the second strongest guy int he house"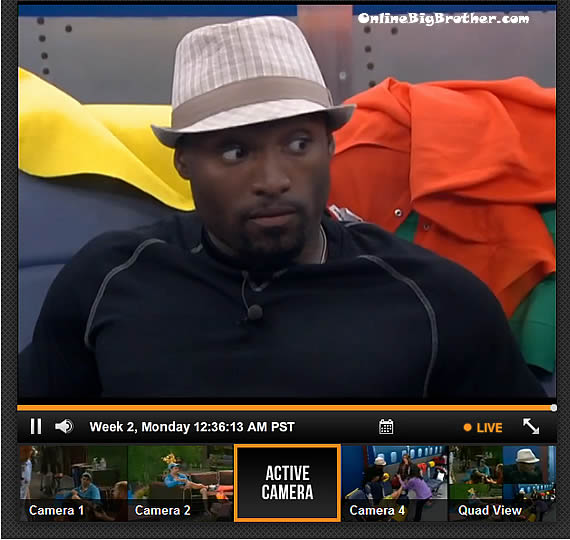 12:35AM have nots Helen, Candace and Howard Helen tries to tell him that because of her Diary room sessions and talks with Elissa she's figured out that Nick is Dan's (Season 10 14) cousin. If they vote out Elissa Nick will start getting the MVPs. Howard just smiles nodes..