POV Holder:
Jeremy
Next POV
July 13th
POV Used
YES
POV Ceremony
July 8
HOH Winner:
Aaryn
Next HOH:
MVP:
Elissa
Original Nominations:
Elissa, Helen and Jeremy (MVP nom)
Current Nominations:
Elissa, Helen and Nick (MVP nom)
Last Evicted Houseguest
David
Have Nots
Helen, Elissa, Candice, and Andy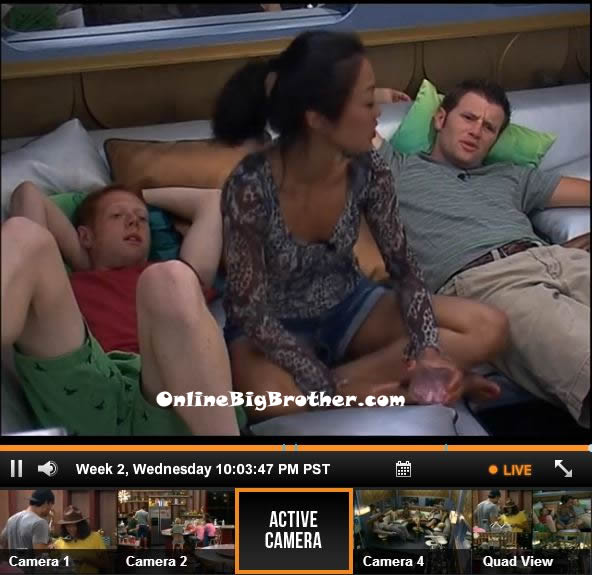 10pm – 10:25pm In the lounge room – Howard, Andy, Helen, Judd and Spencer are talking and joking around. They talk about swearing. Howard says that's how he and his family talk to each other when they see each other. Like Hey what's up b*tch! Howard says that his ex-girlfriend used to hate him swearing. Jessie joins them. They continue to talk about random stuff. Meanwhile in the kitchen – Jeremy is trying to blow bubbles with dish soap. Aaryn comes in to the kitchen and asks who's nail polish is the red one. Kaitlin says it's hers. Aaryn says good because someone told he it was Elissa's and I was scared it was. Kaitlin says I wouldn't wear that bit*ches nail polish either. Jeremy says EWWW.. there's a monster in the bathroom! Nick goes to look and says oh.. Jeremy tells Howard there's a monster in the bathroom. He says and she is worried about pooping.. and she looks like that with a face mask on. Gina starts getting mad about how Big Brother let Elissa bring in a dress like that but took all of her clothes away when she has one that looks just like that. Aaryn tells her to go into the diary room and get them to go through your clothes again. In the kitchen Kaitlin talks to Aaryn about how her last boyfriend used to get super physical with her and throw her around. She says he never like smacked her.. Big Brother cuts the feeds. Jeremy and Nick continue to try and make bubbles.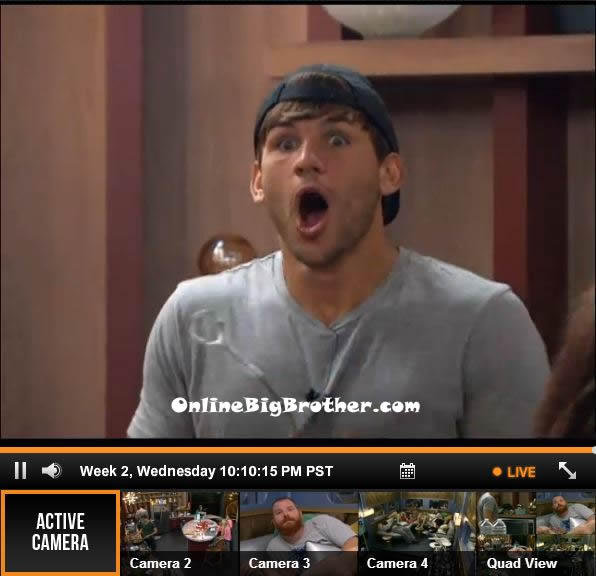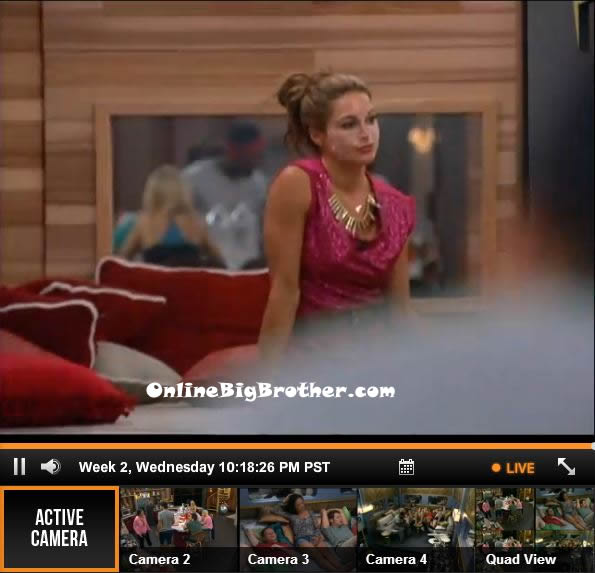 10:35pm – 10:50pm In the kitchen – Howard gives Aaryn a back massage. At the end he squeezes her shoulders/neck. Aaryn says wow thanks a lot Howard just choked the sh*t out of me. Aaryn then looks at Nick and says Eww!! Kaitlin says he probably got a boner that's why he had to walk away. Aaryn says ew! Kaitlin asks if he pulled her hair. Aaryn says yeah he pulled my hair. Aaryn says that the icing isn't ready. Kaitlin says look at how much "gook" came out. McCrae asks "gook"?? Aaryn pretends the icing sugar is semen and spreads it on her lips and chin. Nick says that is so disgusting. Kaitlin says whatever Nick how are you disgusted by that?
TRY Out the Big Brother Live Feeds: FREE TRIAL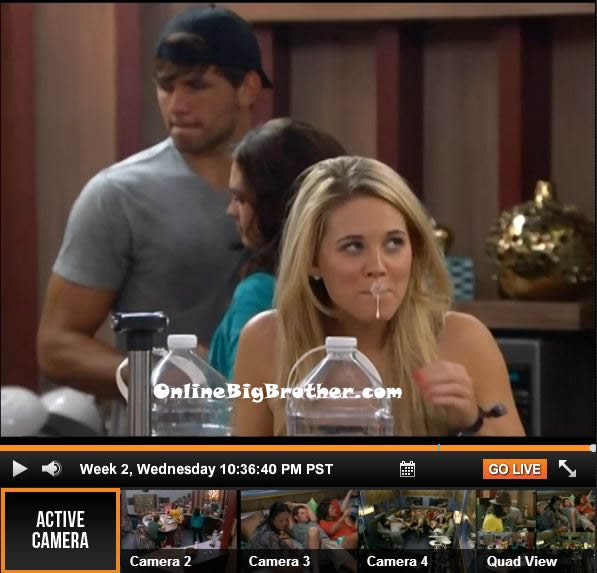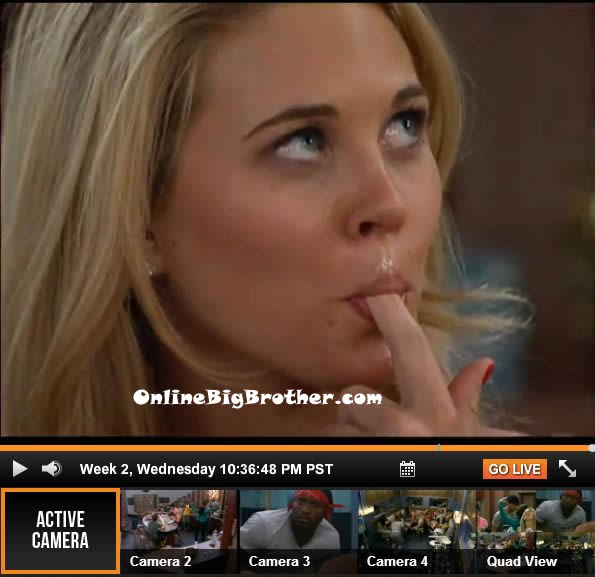 10:55pm – 11pm Most of the house guests are in the lounge room talking about movies, actors and other random things. Meanwhile up in the HOH room – Amanda just finished her shower and is talking to Kaitlin about how she shaved her "kooder". She says it was about time she did it as it was like a wildebeest. Amanda says that she almost though she had her period but didn't. Kaitlin says maybe she is pregnant. Amanda says with McCrae's babies! No you have to have $ex to get pregnant.
11pm – 11:35pm McCrae and Amanda are up in the HOH room talking. McCrae asks how many do we have me, you, Judd, Andy, Candice, Helen, Jessie. Amanda says possibly Howard and Spencer. Amanda says that she is counting them on the other side. McCrae says so the other side Jeremy, Aaryn, Kaitlin, Spencer, Howard, Gina. Amanda and McCrae both laugh about how they have the votes to keep Elissa and vote out Nick. Amanda says that she is already thinking about damage control. McCrae says don't even worry about it. The talk about how they are going to be so pissed off. McCrae thinks he is going to get punched out. Amanda says so then they will go home. They talk about how they didn't think we could get Jessie but she just wanted to feel wanted and needed and we aren't just going to drop her. McCrae says we need to be on top of Elissa to make sure never strays. Amanda agrees. They kiss. Amanda says I think this is really going to work. McCrae says this is going to be the funnest thing ever! This is going to be blood on my hands. Bye Bye mothafu*ker! McCrae says that he wants to get HOH so bad. Amanda says this is our fu*king room! McCrae says don't say that. Amanda says we didn't break our allegiance to you, we can still work with you and then keep picking them off. Amanda says that Judd is on her (Jessie) like flies on sh*t. Amanda says that Jessie was so happy about it too. Amanda asks does this turn you on? McCrae says yes! This is going to make great tv. This better work, this could be reason why I go home. McCrae says that he is going to start yelling what the fu*k! What the fu*k! McCrae says we should get Helen to stick to Jessie so that Howard can't talk to her. McCrae says we could fu*king walk through this game. Andy comes up and Amanda tells Andy to tell Helen to stick to Jessie. McCrae says that he is not going to lose to him (Jeremy), if it's endurance I will die before I give up. Andy explains his plan of what he will say to Jessie. Andy tells them that Helen told Jessie eveyone's name that was on board. Amanda asks what?! Why?! Why would she do that!? She is so fu*king stupid! Amanda says it's fine, it's already done. They agree they have 6 votes. Kaitlin comes into the HOH room. The conversation ends. Amanda and McCrae leave to play chess. Andy listens to the Spice Girls CD. McCrae says he is going to go eat something. Amanda says she will give him something to eat. She says she has something real nice and fresh. McCrae says that he doesn't know what that means…
McCrae and Amanda laugh about how they have the votes to keep ELISSA and vote out NICK. @bigbspoilers #BB15 pic.twitter.com/lF8w8QU7qb

— Dawg (@DawgsBigBrother) July 11, 2013
11:40pm – 12pm Jessie and Elissa are in bed talking. Jessie brings up the fight between Aaryn and Kaitlin. Elissa says that she thinks it is fake. Jessie asks what are the votes for Nick to stay? Elissa asks GinaMarie, Aaryn, Jeremy, Kaitlin.. Jessie says that Aaryn can't vote she is HOH. Elissa says oh okay. Jessie says that the votes are going to be close, they are going to know its me. It's going to come down on me hard. Jessie wonders if there should be at least one ghost vote. Elissa says no I think we should keep it solid. Jessie asks are Howard and Spencer voting Nick out? Elissa says she doesn't know. Jessie asks what the votes are for her to stay. Jessie says Me, McCrae, Amanda, Candice, Judd and Andy. So we don't even need Howard and Spencer. Elissa says no. Jessie says she is excited. Elissa and Jessie comment on how Judd is so great and hilarious. Elissa says he is adorable. Do you like him? It seemed like you two have so much chemistry. Jessie says that she is liking him more and more .. and we have similar personalities but I am not even thinking about that right now. Jessie and Elissa go to sleep..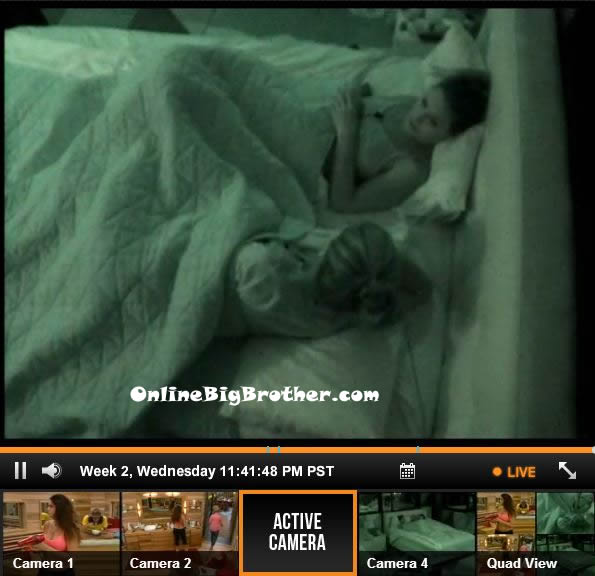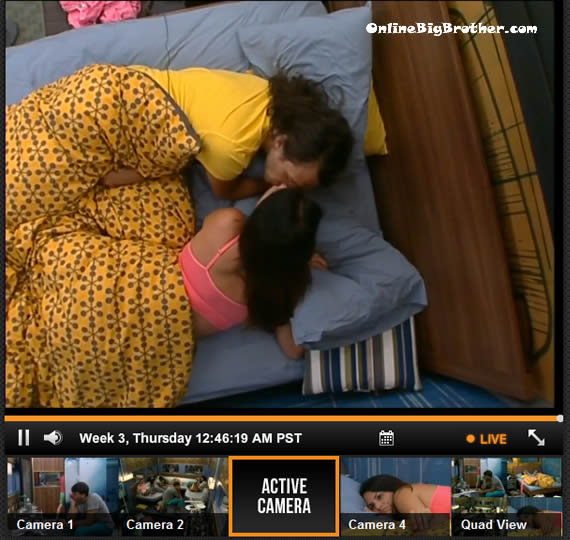 12:32AM McCrea and Amanda
Amanda saying how she wants to be in the HOH room again. McCrea tells her she's has to get out there and win it, "just rub it in Jeremy's face"
Amanda: "You're super anti touching me today"
MC: "No I'm not"
Amanda tells him she's not hiding anything from him, "I can't believe we're almost a month into this thing and you still don't get that"
McCrea tries to explain to her that outside the house he's not a very trusting person so when he's in a game based on deception he's even less trusting.
Andy comes in asks them if they want to stay up and talk otherwise he's going to bed early. They tell him
McCrea: "Aaryn is so full of sh!t she said there was two condom boxes.. but when he was in the HOH there was only 1.. She's a compulsive liar.. why would you make up such an innocuous lie..
Amanda: "She wanted it to look like Kailtin and Jeremy had sex"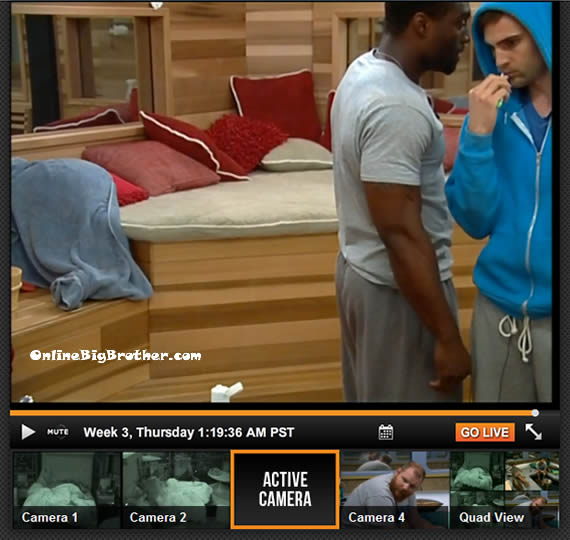 1:19 Bathroom Howard and Nick
Nick asks how Andy and Judd are voting. Howard says right now Andy is voting to evict you and Judd is 50/50. Howard tells him either way it's going to be a landslide because Amanda is voting to evict Elissa.
Howard says the plan is to go in tell Andy and Judd at the last minute that McCrea and Amanda flipped the vote. Nick says that is perfect, "Amanda has to go next week"
1:26Am Judd and Nick
Nick asks him if they are still good
Judd: "KJADHFKLJASDHFKJSDHFKLJSDHFKJ ooi JH KjH KLSDHF"LK SDHF" SLDDJGH SD" (yup)
1:35Am HOH Jeremy, Aaryn and Kaitlin
They all agree Jessie and Judd are going to hook up. Kaitlin: "She just wants it to badly"
Jeremy: "She can't keep it in her pants"
J: "She does not seem 25 to me"
Aaryn: 'She seems 18"
They start talking about relationships and family plans. Jeremy says he thinks it would be awesome to be a stay at home dad. Aaryn use to want to be a stray at home mom but now she isn't sure. Conversation drifts to pinterest.
(All feed cams show either sleeping houseguests or houseguests laying in bed trying to sleep. Early night tomorrow is a big day)
1:48AM Alarm sounds waking everyone up. The backdoor opens and there is a Competition to practice.. feeds go to fish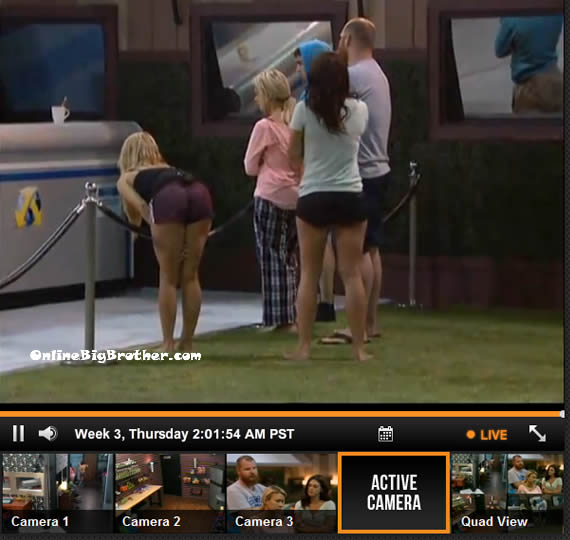 Feeds comes back looks like they were told a series of trivia and stats. Everyone is scrambling to remember what was said. A lock down was called. They think Big Brother will wake them up through out the night and give them more information. They are all thinking this is for tomorrows HOH
Andy: "I have no idea what they are going to ask"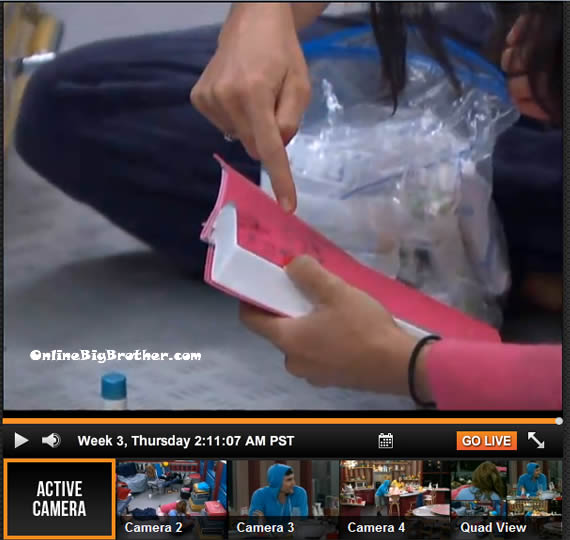 groups of houseguests off in corners studying.
2:17AM Nick, Judd, Gina and Jessie Studying..
Judd is saying he wishes they had pen and paper. Jessie mentions that Amanda is using nail polish. Jessie starts talking about her theories about the competition. Nick just walks off leaving Judd in the room. Jessie: "Or I can be invisible" Judd whispers in her ear that Nick would be very good at this game this is why he has to go.
2:25am Bedroom Spencer and Howard
They both agree they are going to head to bed. Spencer: "people are staying up all night studying I think I have it memorized"
Howard: "Candace is helping me"
Spencer says Candace, Amanda, Helen and Andy they are smart as hell they are going to excell at this shit. Howard really doesn't want to win it, as long as Amanda doesn't get it he's cool. Spencer agrees.
2:26pm Howard tells Jessie and Judd that he's got a photographic memory he's going to head to bed
2:35pm Feeds back on trivia
2:50AM Feeds back
Andy, Judd and Spencer in the living room. Judd says he's going to bed. Andy is rattling off all the stats
Sencer: "I wonder if it's the same each time"
Andy: " we'll know when we call us back"
Amanda cruises by asks him what he means. Andy says they are wondering if the stationary items change like the coffee cups.
2:54AM Cockpit McCrae and Judd.
McCrea tells him to keep working on Jessie. Judd says he's getting really close to her showmance close. (It's hard to understand but It sounds like Judd wants final 4 with McCrae, Jessie, Judd and Amanda)
2:56am Cockpit Judd and Amanda Judd: "Helen is going to win this I can tell you that for sure"
3:00AM Cockpit McCrea and Elissa
McCrea tells her Howard is not to be trusted. Elissa needs to work on Candace and makle sure she knows why she is voting to keep you. McCrea adds that Howard is going to go to everyone right before the vote and tell them that the vote has been flipped. McCrae tells her they are voting for ellissa to stay no matter what.
(looks like McCrea has tossed the MC 🙁 )
3:12AM here is what they were looking at when the horn blew
[polldaddy poll=7235287]
Stay connected and interact with other Big Brother Fans on our Facebook page.
And Follow: @BigBspoilers and @Dawgsbigbrother on Twitter for the most up to date spoilers.