POV Holder:
?
Next POV
?
POV Used
?
POV Ceremony
?
HOH Winner:
Aaryn
Next HOH:
MVP:
?
Original Nominations:
?
Current Nominations:
?
Last Evicted Houseguest
David
Have Nots
Helen, Elissa, Candice, and Andy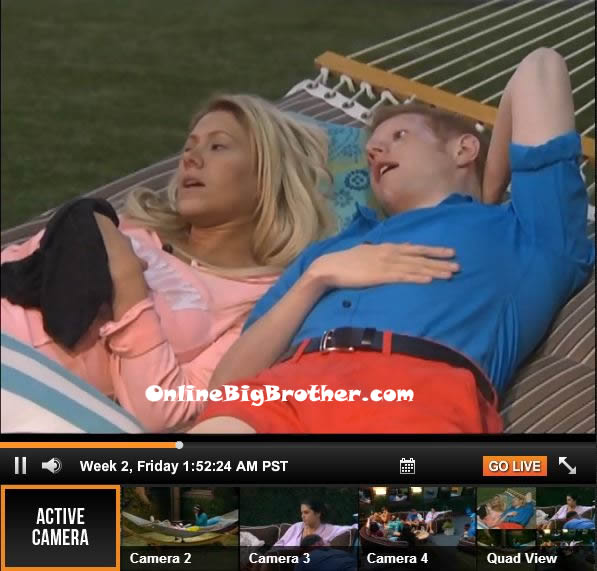 FYI you can re-watch ever second on the feeds using their flashback feature.. It's super easy to use click this link for a free trial —> Big Brother Live

2am Out in the backyard. Andy, Kaitlin and Ginamarie are laying on the hammock. Kaitlin says that she has been freaking out and needs to stop. Andy agrees. He says that it's everyone's downfall in the house. Ginamarie says that she gives props to Andy and Judd for admitting they evicted David. Gina says that Spencer isn't a real man for not admitting it. Andy Kaitlin that other house guests are already freaking out. Gina says that Spencer is a good dude but she says he is iffy with him because he fu*ked them last week. Kaitlin says that she even offered to flash Judd a boob for his vote. Kaitlin says that when she questioned Judd about his vote she says that Judd said he had Kaitlin's back but not David's. Kaitlin, Andy and Gina head over to the backyard couches. Kaitlin talks to Aaryn alone. She asks her why Aaryn thinks that Helen and Elissa will fight if they're on the block together. Aaryn says that she assumes they will towards the end. Kaitlin says that she thinks Elissa and Helen will make the decision together who they will nominate be the MVP to make sure the house votes the that person out. Aaryn tells Kaitlin that she thinks we have the numbers no matter what. Kaitlin tells Aaryn to tell her if she is crazy. Aaryn asks Kaitlin if she has talked to Jeremy about this. Kaitlin says that she hasn't because he gets mad at her every time she brings it up. Aaryn says Elissa has to go home. Kaitlin says that she doubts that Elissa would actually put up Gina or Jeremy because although she's saying that, she knows everyone talks. Aaryn agrees. She says that she can't control who the MVP nominee is but Kaitlin should tell her which nominees would make her the most comfortable. Kaitlin says that she is really scared that she is going to be nominated. She says that even if I am taken off the block by someone other than Jeremy, he could get back doored and evicted him because he is the strongest person in the house. Aaryn says she doesn't think that would happen. Kaitlin says if I go on the block, I'm not taking myself off because I don't want Jeremy to go home. Aaryn says we have the votes. Kaitlin tells Aaryn that she still feels like everyone is lying to them, including Andy. Aaryn says that she disagrees. She says that he is back to the old Andy. Aaryn says that they need to make deals with people because David didn't do that last week.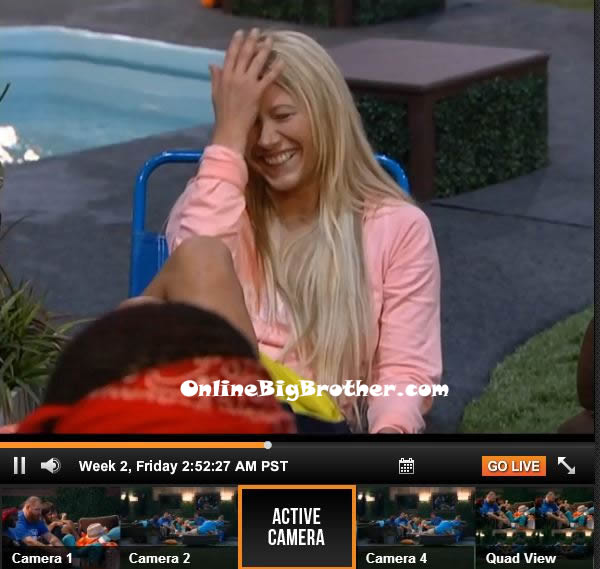 2:35am Out in the backyard – Andy, Howard, Spencer, Kaitlin, Jeremy, Judd, Aaryn, Gina and Candice are chatting about random things. Spencer starts talking about how he dates girls until they have sex with him and then he is done with them and moves on. Spencer says that if a guy talks to you and asks you out, he is really just saying I want to go through the civil process of fu*king you. Spencer says that all girls should be willing to fu*k a lot of guys. Spencer starts talking about sex with his girlfriend but the girls tell him to stop because his girlfriend wouldn't want that on the live feeds. Aaryn talks about Helen and says "no happy endings for you", "Love you long time". GinaMarie says that Helen will do her nails. They both laugh. They say we are just telling it like it is.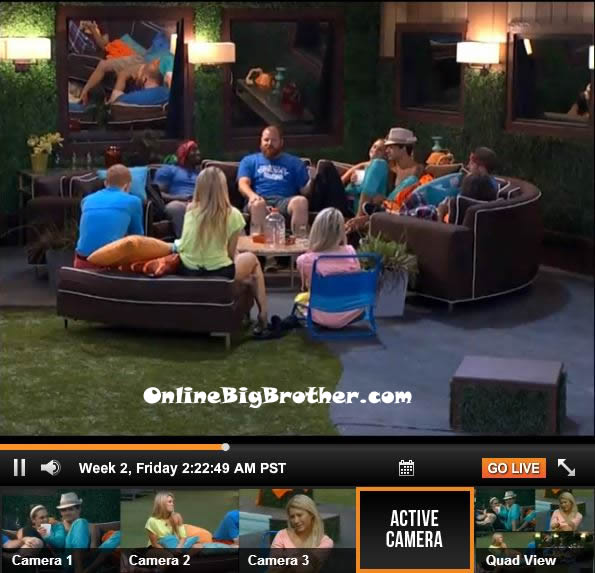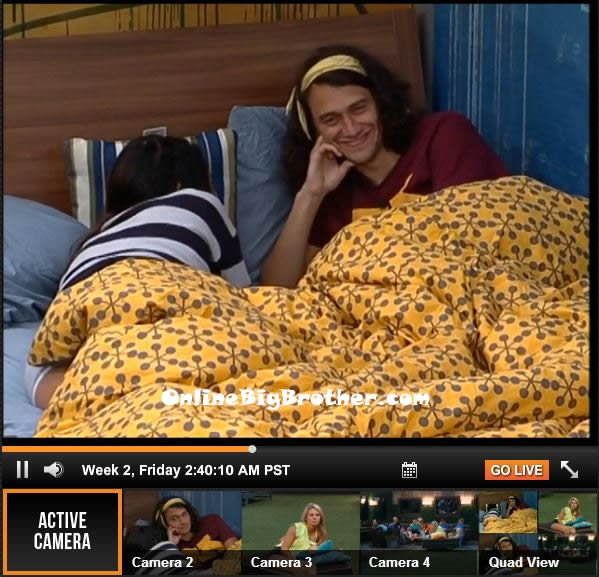 2:45am In the bedroom – Amanda and McCrae are talking about how McCrae should moving to Florida after they leave the Big Brother house. Amanda tells him that he isn't going to have to deliver pizzas when he moves because one of them will win. McCrae tells Amanda to take it step by step and to not get too far ahead because it could jinx it. Amanda asks McCrae who's in the best position. McCrae says that Jessie would be if she wasn't a fu*king idiot. Amanda says that she think Howard is in the best position in this house. She says that he is so quiet but that she thinks he has made alliances with everyone. Amanda talks about how Howard swore on his religion about not voting David out. McCrae says that religion doesn't mean anything in this game. McCrae says that he is sure Howard is religious outside of this game and tells her not to bring that up to other people because that would be bad for her. Amanda agrees. McCrae says that Howard won't win anything. Amanda says that she'll keep flirting with Howard because he wants her. Amanda asks McCrae if he is jealous. McCrae says that he isn't but that he thinks Amanda got jealous about Jessie. Amanda says that she got jealous and wanted to rip Jessie's fu*king face off. Amanda says that she thinks her emotions helped her game because the girls chased after her.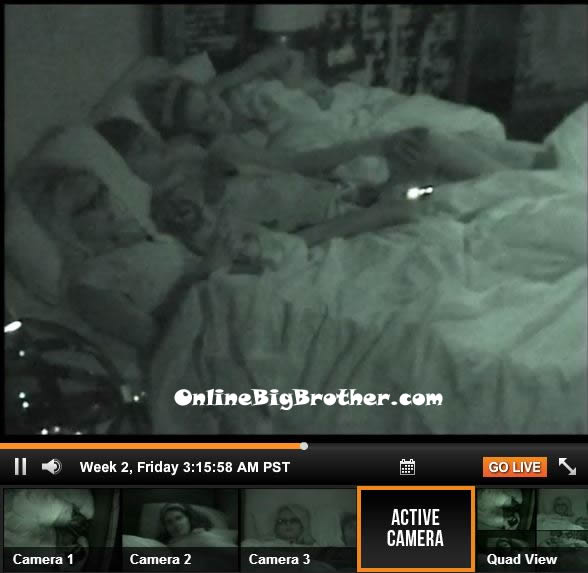 3:15am Up in the HOH bedroom – Aaryn and Kaitlin are talking about Gina and how loud she is. Aaryn says that she wants to say something to her but that she isn't sure how. They talk about how Gina doesn't understand that she can't trust Nick. Kaitlin and Aaryn both say they are frustrated by her. Aaryn says that she might need to stop picking at Judd and Andy. Jeremy joins them. Aaryn grabs a pillow and then puts it between her and Jeremy. Jeremy says that Aaryn is scared of him. Kaitlin says that Aaryn is just trying not to cross a boundary with her and that's why she did it. Aaryn says that she wonders if Judd is an actor. She comments on how he wears designer clothes. Jeremy says that Judd told him he lives in a 3 bedroom house with a game room by himself. They talk about how he sells things for the Government. Aaryn says he's a salesman – ding, ding, ding! Aaryn comments on how Amanda is a real estate agent. They talk about how they're all good at lying except for Jessie. Aaryn says that she wonders why Amanda had an emotional reaction today. Kaitlin says that she thinks that Amanda was really upset over McCrae. . Aaryn starts talking about how she walked in on David and Jessie talking alone in the dark a few nights ago. Kaitlin says that Jessie is emotionally unstable. She says that she doesn't seem to get it. Aaryn says that Jessie is upset by how she is being portrayed because you can tell by the questions that Jessie is being viewed as the house slut.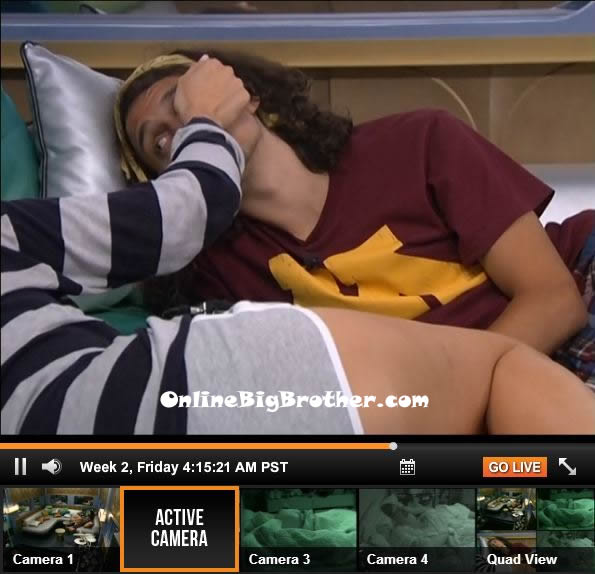 5am In the lounge room McCrae and Amanda are talking. Amanda tells McCrae that she thinks he is the sexiest person in the house. McCrae tells Amanda that he doesn't like to be bossed around. Amanda says that she isn't bossy. She says that she just wants the person she loves to reach their potential. McCrae says that's good. Amanda and McCrae head outside to the hammock. Amanda says she wishes they could sleep outside. McCrae tells Amanda that fu*king Howard wants you so hard. McCrae says that he doesn't know if it's better or not for Amanda flirt with him. Amanda says that him being jealous show that he cares. McCrae says that he cares but that they still need to think about the game.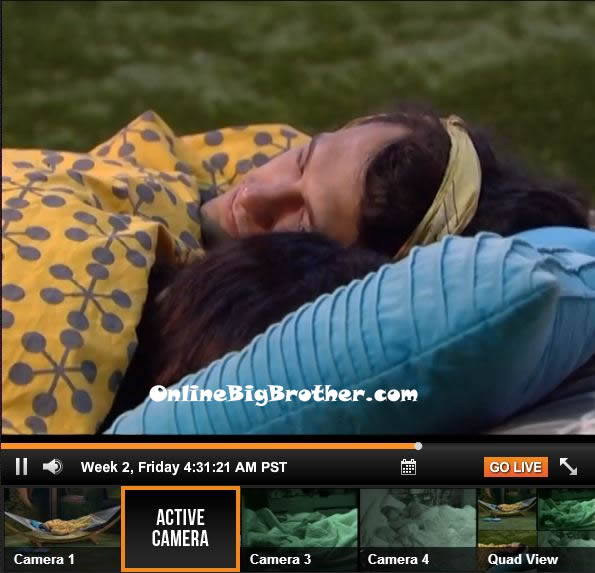 Stay connected and interact with other Big Brother Fans on our Facebook page.
And Follow: @BigBspoilers and @Dawgsbigbrother on Twitter for the most up to date spoilers.