POV Holder:
McCrae
Next POV
June 27
POV Used
Yes
POV Ceremony
June 29th
HOH Winner:
McRae
Next HOH:
Wed July 3rd
MVP:
Elissa
Original Nominations:
Candice, David, Jessie
Current Nominations:
Jessie, Elissa and David
Last Evicted Houseguest
?
Have Nots
Andy, Elissa, Jessie, Howard, Helen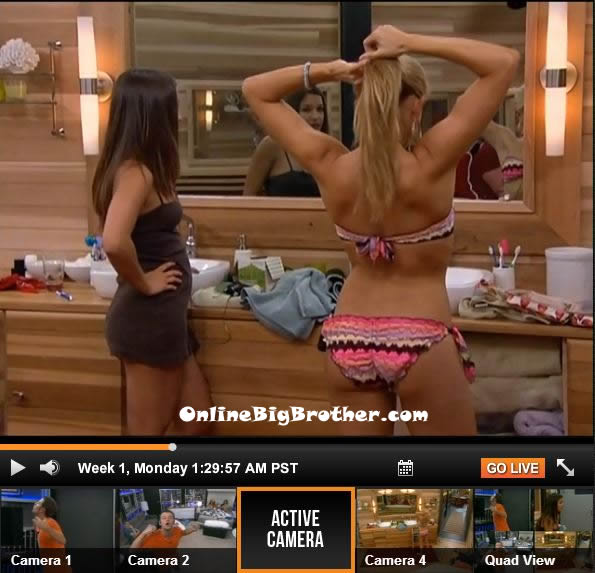 1:30am – 2am In the bathroom – Jessie is talking to Aaryn telling her that none of this involves her but that she isn't scared to tell people where her loyalties lie and that she isn't afraid to stand up for Aaryn. Jessie tells her that if Aaryn ever has a problem with her to just come and talk to her. Jessie says don't you think the best thing for me to do is to go to bed. Aaryn says she can't say, what one person would do is completely different to another, if you feel that is best then go do it. Aaryn and Jessie talk about Candice and the hat incident. Jessie wonders if it was all made up. Aaryn says that Spencer wouldn't lie to her, he wouldn't lie about that. Aaryn leaves and heads out into the backyard. Aaryn talks to Kaitlin in the hot tub about how Jeremy said that Aaryn was partially responsible and that Aaryn over reacts and makes things bigger than they really are. Aaryn says it doesn't matter, none of this fu*king matters, she (Elissa) is still going home. Aaryn says that she watches this game and knows that some many people talk so much crap but won't say it to their faces. I don't fu*king care, I don't need the money, I was fine before and I will be fine after.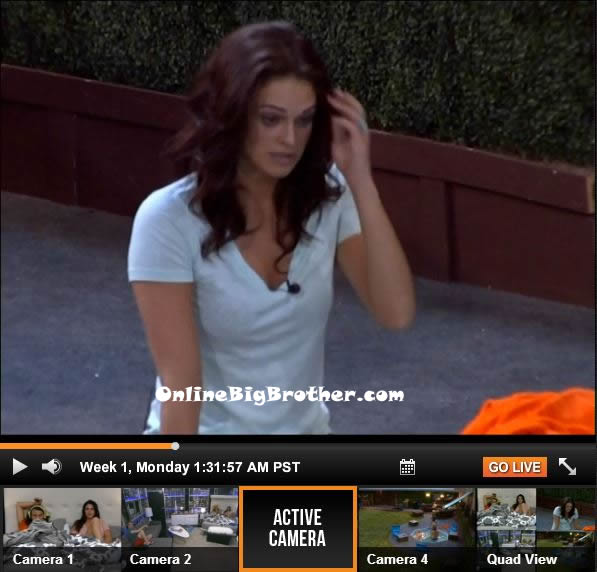 Kaitlin talks about how Jeremy thinks this is all funny and laughing when I called him out on it, which is a big deal to me calling someone out. Kaitlin says that Jeremy took full blame for it, he just threw your name out there. Kaitlin says that just last night he told me that you make things a bigger deal than they are and still he took your word for it when she told you they were talking shit. Kaitlin says that David was right there, I didn't say one bad thing about you. Ask him. Aaryn says that David won't say anything he didn't before. David asks when? Aaryn says that when she asked him about talking with Jeremy. Kaitlin tells Aaryn that she isn't protecting Jeremy and that Aaryn should call him out. I don't care. Aaryn continues to rehash the confrontations from earlier.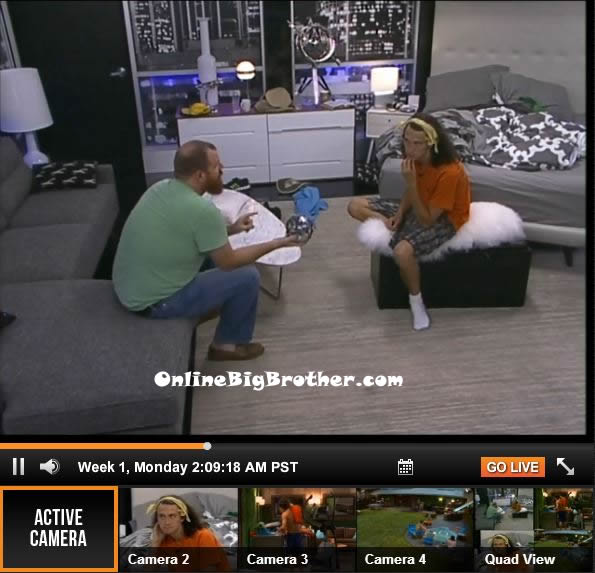 2am Candice is up in the HOH room talking to McCrae about the drama with her and Aaryn. Nick, Howard, David and Spencer join them. Candice heads downstairs. Nick comments that he has never seen so much drama with girls before.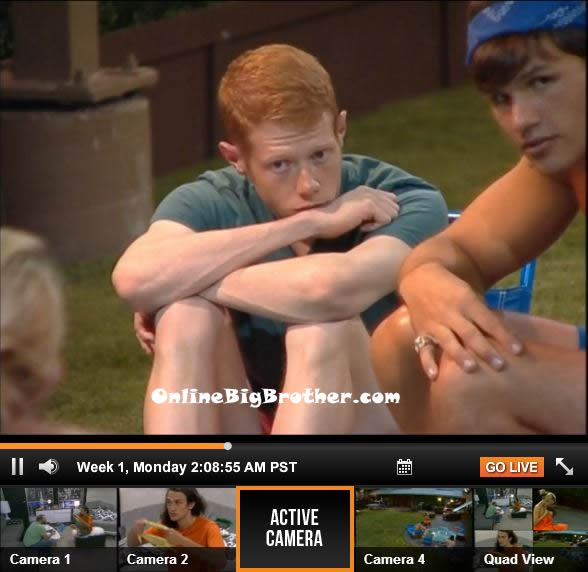 Jeremy joins them at the hot tub. Jeremy and Amanda rehash their confrontation at the hot tub. Jeremy says that he is scared to tell people who he is going after. Jeremy says that when I win HOH, I am going after Elissa becase I really feel like she isn't going home this week. I would also put up Candice, I apologized to her but I would still put her up. Jeremy and Andy talk about Jeremy blowing up. Jeremy says now I have to go lie in bed with the girl that hates me. He says that earlier he was sitting here and could just feel her eyes on him, she was scaring the sh*t out of me. They continue to talk about the fights earlier. Amanda tells Jeremy that Kaitlin has every reason to be mad at you because when you lie in bed with someone you pull them down too when you go off like this. Jeremy realizes that he needs to calm down before confronting people.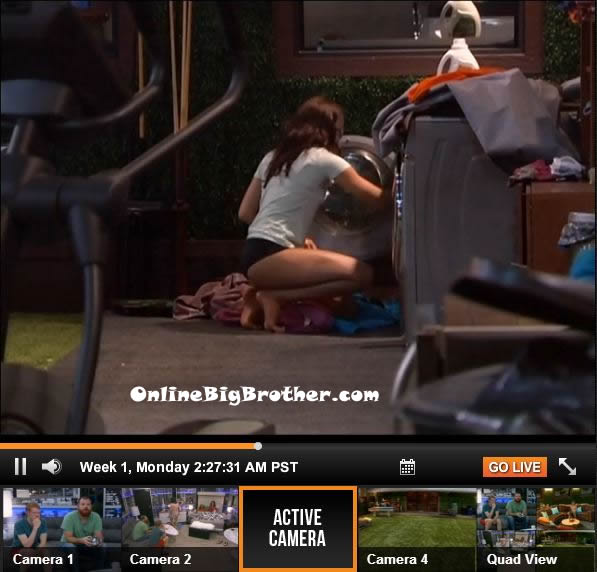 2:25am – 3:25am Nick and Jeremy are talking on the backyard couch. Nick tells Jeremy no matter what happens Moving Company has your back. Jeremy says I hope so because I am laying down moves! Nick says we have your back, we need you too, we need 6 people. Kaitlin walks outside and Jeremy says to Nick – Oh my god I want to lick her butt cheeks so bad. Nick says okay I am going to go back inside so you and her can make up. Jeremy says well she didn't take her ring back when I offered it, so that's a good sign. Kaitlin starts to head inside and Jeremy asks her if she will talk. Jeremy says that it wasn't right to talk to him in front of other people, we could have talked alone first. I need to know where you and I sit. Jeremy and Kaitlin go to the hammock to talk. Jeremy apologizes. Kaitlin tells him that he needs to calm down and think about his actions. Kaitlin and Jeremy continue to talk about the events of earlier. Kaitlin says that she is so embarrassed about being on national tv and acting like this. Candice joins them. Jeremy says I am man enough to know when I am retarded, when I am stupid, I shouldn't say the r word. Candice says that she is going to go inside. Jeremy and Kaitlin wonders why she doesn't jump in bed with Howie. Candice says that she is a slow mover. Candice heads inside. Jeremy and Kaitlin stay in the hammock and continue to talk. Jeremy goes inside to the washroom. Spencer tells him that he needs to lay low for a couple days or a few weeks. Jeremy agrees but says he is going to win HOH this week.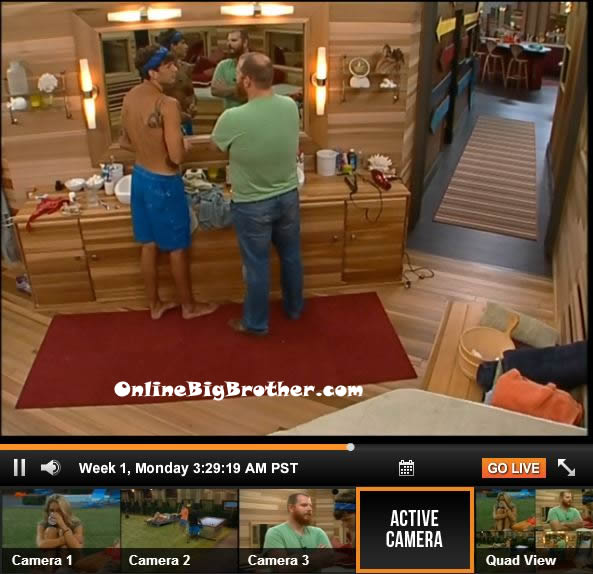 3:45am – 5am Howard, Spencer, Jeremy and Judd are out on the backyard couch talking. Spencer talks about how Aaryn stirs up sh*t and makes things bigger than they are. Jeremy says that he apologized to Kaitlin to make things better. Spencer says that is good. Jeremy says I am going to lay real low, like down to the grass low. Jeremy heads inside to eat hot dogs and then goes to bed with Kaitlin. Meanwhile out on the backyard couch – Howard, Andy, Helen, Judd, and Spencer talk about the fights earlier. Helen comment that we can use this to our advantage. They continue to rehash the events of the night and then head inside to bed.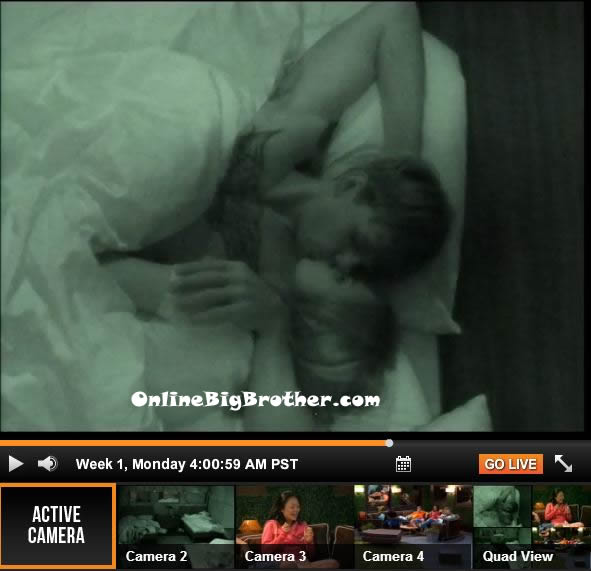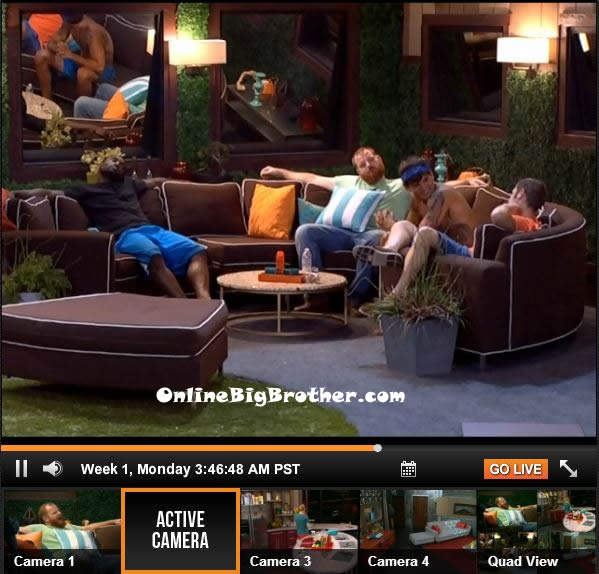 6:30am All the house guests are still sleeping..
9am – 9:30am Jessie is awake and up for the day. She is in the bathroom getting ready, then heads to the kitchen to make breakfast/coffee. All the other house guests are still sleeping. No wake up call yet.

Stay connected and interact with other Big Brother Fans on our Facebook page.
And Follow: @BigBspoilers and @Dawgsbigbrother on Twitter for the most up to date spoilers.