POV Holder:
McCrae
Next POV
June 27
POV Used
Yes
POV Ceremony
June 29th
HOH Winner:
McRae
Next HOH:
Wed July 3rd
MVP:
Elissa
Original Nominations:
Candice, David, Jessie
Current Nominations:
Jessie, Elissa and David
Last Evicted Houseguest
?
Have Nots
Andy, Elissa, Jessie, Howard, Helen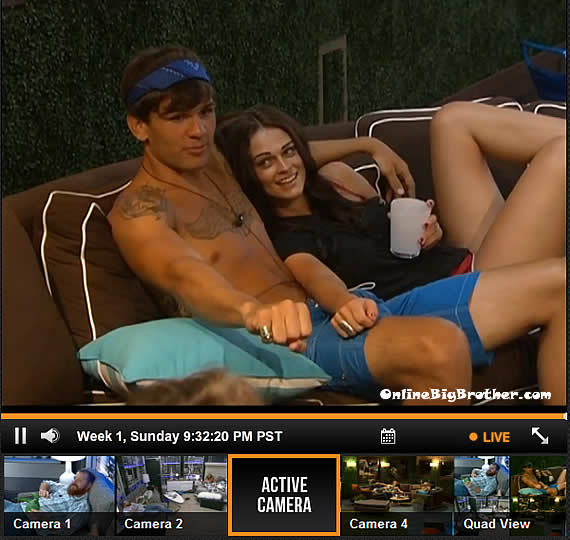 9:31pm Cam 3-4 Beiber Fever acting bored on the backyard couch
Kaitlin: 'What's up guys why do you have a death stare"
Aaryn: "I don't have a death stare"
Jeremy is showing them Kaitlins ring that he has been wearing all day. ..
Jeremy: "It's the most gangster ring I've ever seen in my life.. it's gangster as Sh!t and it fits on my pinky"
The ring is of a cherokee chief. Kaitlin points out how big it is and if she punches them in the face it will leave a giant mark.
David thinks that there is a have nots competition tomorrow he says that they are going to kill it.
Jerremy: 'I feel like I have super powers right now.. I'm ready to wreck shi!t"
9:47cam 2-3 Backyard Fever + Jessie pool table
GIGI tells them she's never really read entire book "GIGI reading is not my thing.. not my thing"
David says he's not into reading either
The rest of the house is either sleeping or up in the HOH
They all agree how much the backyard reeks like garbage.. GIGI keeps singing.. "All I want for my birthday is a FAT b**ty H*E"
Kailtin: "I want to go to a bar and get F*** up.. you guys do not understand I was like blackout for 2 weeks
Kaitlin tells them a story about right before she came into the Big Brother House. She was asked to be in a music video where she went out with people and partied very hard. Her shenanigans was recorded and she's worried that it's going to be made publicly available.
Kaitlin: "Apparently he was w!ping my a$$ with his credit card and l!ck!ng my p*$$*.. it was the most ratchet I have ever been.. and that isn't even the worst part.. I won't say it.. I was taking my clothes off and dancing.""
K: "We killed a bottle of Jameson and snorted adderall"
Kaitlin: "I did ratchet rachet things.. I was on the bar top dancing"
Aaryn wants her to stop "It makes me freaked out for you that is why I don't want to hear that"
Kailtin: "I didn't have s$x i've only had 2 partners in the past 7 years.. I don't lend my sh!t out like candy "
10:05pm Backyard couch Kaitlin and Jessie
Kaitlin plans on moving to Vegas after Big Brother 15. Sounds like they've had a conversation about meeting up there in the past. Kaitlin: "My brother is the CFO for treasure island.. so he can get us a job.. my dad has been trying to convince me.. to move to vegas"
Candace joins them..
Cam 1-2 10:11pm McCrae and Amanda HOH
They are happy to finally be alone, Andy is the final one to leave. They agree that Candace is the worst person to have in HOH to talk to.
MC: "What kind of story is My boyfriend doesn't like Zest
MC tells her she needs to dial back the "Homophobic" remarks to Andy. Amanda thinks it's OK because her and Andy are friends and she's kidding around. "I'm the biggest gay activist"
Amanda calls McCrae out for making anti jewish remarks.. "Jew you down" (Feeds cut in and out during this conversation)
MCrae tells her he never said that.. They laugh. He's worried that her remarks are going to damage their game.
10:22pm Hammock Spencer and Jeremy
Spencer: "Who's Next"
Jer: "I'm putting up Elissa and Amanda but Elissa's got to go..I'm pissed that she's here already .. she's stirring up sh!t.. "
Jer: "She's not threat to me I just don't want that B1tch here so if I win HOH I'll put her a$$ up and I want her gone.."
Spencer: "who would you put up with her"
Jer: "Either Candace, Amanda or Andy"
Jeremy: "I talk to MC last night in the storage room and he really wants to keep Amanda he thinks he controls her.. I told him she's riding you like a fanny pack.. I understand everyone has a side alliance I have kaitlin, MC has Amanda, Nick has GiGi and you have Howard.
Spencer: "I just hope he's 100% on board with the MC or with Amanda's T!tt!es"
Spec: 'My thing is we're sending a good dude home.. " (David)
Jer: "And I'm sending a side alliance home"
Jeremy tells him about the Boat 'n' Hoes and explain that he's with the Moving Company. Jeremy states that David has to go for the MC, "We just got new tires we're leaving treadmarks"
Jer: "I came to this game to play ruthless so i'm playing ruthless"
Spec: 'McCrae is sleeping with Amanda up there and nobody is saying anything about it.. all the attention is on you're showmance"
Spec: "Amanda wants me to play ball with them but she's won't show me her cards"
Jer about McCRae : "The moment he starts keeping secrets his a$$ is up.. you know what I'm going to do put Elissa and Amanda up.. send a message"
Spec: "I was up in HOH earlier and Amanda was up his B** H***.. we need to talk.. Amanda is getting sketchy dude"
Jeremy says he has no hesitation taking out a MovComp member if they are not loyal to the group.
Spec: "I'm protecting your game as much as you're protecting your own game"
Jer: 'I trust you more than anyone else in the MovComp but I want all the MC to final 5"
Spec: "Sometimes you have to trim that fat"
Jer doesn't think any of the MovComp will turn but if there is one person it's McCRae He's MovComp final 5 but if needed he'll take out MovComp "we're cutting heads off right now"
Spencer: "I came here to play.. find a group of guys and do it.. everyone else get's their f*** head cut off put in a box and loaded on a dump truck"
Jeremey: "Call us Los Zetas"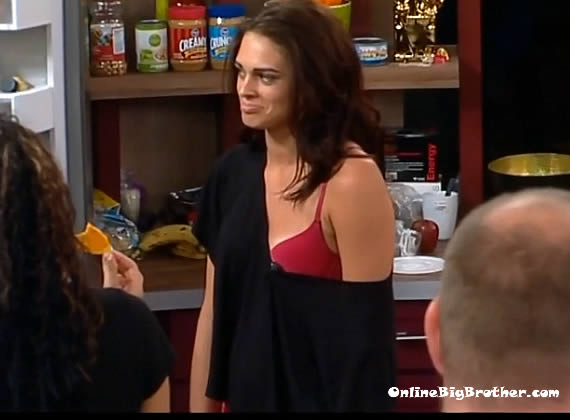 10:45pm Kitchen they get alcohol but decide to save it for later.. Kailtin is bummed about waiting..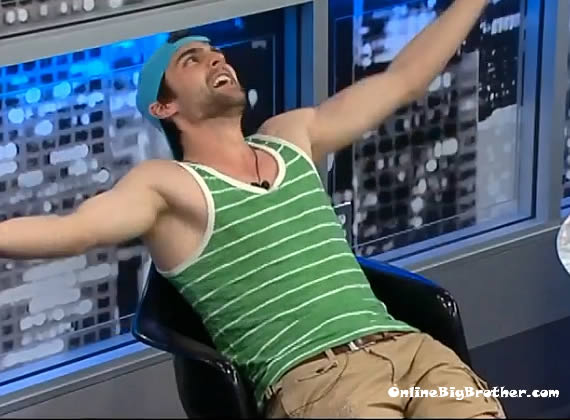 Cam 3-4 10:40pm Nick, McCrae and Spencer
Nick is telling them how difficult it is to hang out with the Boats 'n' hoes alliance.
Nick says he has no fun hanging with them
"I have to listen to Aaryn's dumb a$$ shit"
"GiGi's garbage pail mouth"
Spencer comes in.. He's appearing a little Pissed..
McCrae reassures him that Amanda doesn't know anything..
Spe: "I need to know what she knows so I don't miss say something on some sh!t that she's got me strung along on"
Nick is worried they are talking too loud, "Just so you know that door isn't bullet proof"
Spe: "I like Amanda she's cool whatever but I want the group to know what is going on because she's talking to so many groups.. when this f***er goes down everyone needs to say they voted out Elissa to keep the other side guessing"
McCrae: "That is what she's been saying"
Spec: "She hadn't said that to me or Howard"
Spencer is pissed that Judd told Elissa because now she's happy where she should be acting strung out and stressed.
McCrae agrees
Spencer says that Amanda was trying to switch up the votes so somebody votes for Jessie. He tells them he won't talk to Candace cause they have the votes. He explains that bieber fever will think she voted to evict David and she'll explode because she didn't.
Spencer: "we're trying to cause this rift.. this chaos"
McCrae says they want Elissa and Helen to go up.
Spencer: "Who goes home"
McCrae: "elissa"
Amanda comes in.. Spencer curses. Nick laughs
Animated Gif of What +Nick Uhas Thinks of having to be undercover in Boats 'n' hoes google + here
KAITLIN HAS BEEN DYING TO DRINK ALCOHOL – SHE GOES TO THE KITCHEN AND SNEAKS A BEER INTO THE BEDROOM. @bigbspoilers pic.twitter.com/vuoUxc5Qny

— Dawg (@DawgsBigBrother) July 1, 2013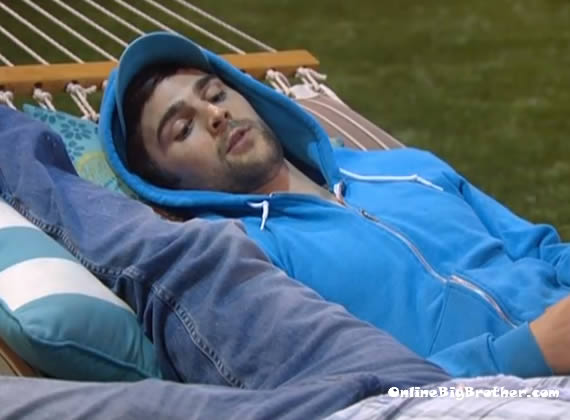 11:28pm Cam 3-4 Hammock Spencer and Nick
Spencer is still nervous about "McCrae is letting Amanda call all his shots"
Spencer thinks once McCrea isn't HOH he'll be much more approachable and easy to shake Amanda loose.
Spec: "Dude ..me personally would like to see her go sooner or later" (Amanda)
Nick: "number two "
Spencer: " 100% "
Nick: "Right now we're taking out a rook"
Spencer: 'Ya.."
Spencer keeps saying they need to separate McCrae and Amanda.
Spencer: "Who would you put up"
Nic: "Amanda and a super strong player like Aaryn"
Spencer: "You would put up Aaryn.. huh"
Nic: "Yea, everyone hates Amanda.. ohh no that is stupid.. it will be Amanda and a pawn .. Jessie.. "
Spencer: "I can control Andy and Helen.. he (Andy) sucks.. i'll cut his F*** head off"
Spencer points out how scared McCrae has been this week he thinks this plan will backfire and he'll be the target of the house.
Nick: "We need to cut everyone's fauxmance ASAP"
Spencer agrees remind him that the girls are about ready to bite each others heads off..
Spencer: "The first priority is to get rid of Amanda and refocus McCrea"
Nick again says how much it sucks hanging with the Boats 'n' h*es "if I have to to talk about D*** and V**** one more time.. "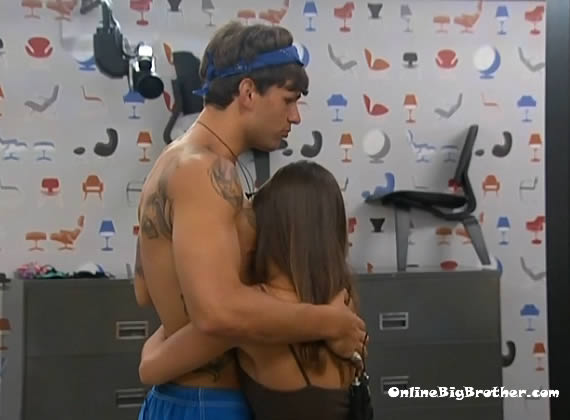 11:48pm Cam 3-4
Jeremy says he knows She's upset about a few things but he just wants to make sure they are still good, "Cause us four is what I care about most"
Jessie: 'Me to.. everything I do out there is for (their alliance.. I can't understand the name of it)
Jer: "As long you are on board we're on board we're keeping you to the end and you are going far with us.. just don't drift off cause I'll C** your head *ff if you do"
Jessie: "As long as we're final 2 I don't care.. it's hard that the 3 of you are so close"
Jeremy: "Kaitlin is kinda a lingering now"
Jessie: "Baby you can come to me whenever you want and I'll come to you whenever you want"
Jessie: "I'm a little perturbed that you don't trust me"
Jer: "I'm not i just see you talking with other people"
Jessie has noticed Aaryn and Kaitlin have become close. Jer: "Aaryn is closest with you in the house"
He heads back into the room. Judd mets him he tells him he drank all the wine but left the beers for judd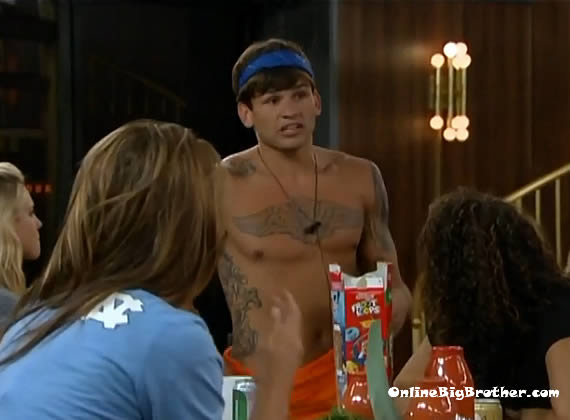 12:19am Cam 1-2 Kitchen Jeremy and most of the floaters, MC
Jeremy took the red wine and gave it out to his Beiber fans. Other houseguests started being "Nasty" to them. Jeremy doesn't like that because it was him who took the wine not the Bieber fans even though they drank it.
Jeremy: "Hey hey guess just so you don;t go off and be rude to someone else I was the one that drank the wine"
Jer: "I'm not going to be considerate if you all are inconsiderate.. you all mugging and talking Sh!t all the time"
Jer: "I'm not trying to be mean and i'm not trying to bully you can't expect me to be nice if you're all not going to be nice.. If you have a problem come to me cause none of these other people only me drank that sh!t"
Jer: 'I drank the sh!t out of it and I feel great.. I don't give a f88888.. if you have a problem talk to me I'll talk to you right in the grill"
Jeremy: "Maybe this put a target on my back but I came here to play so lets go"
Jeremy "I'm here to play anyways so if you want to put me up put me up lets go"
(You can hear Elissa laughing in the background and saying "Oh my god that's so funny" )
When Jeremy leaves to the backyard, Elissa says "He's such a neadtrall"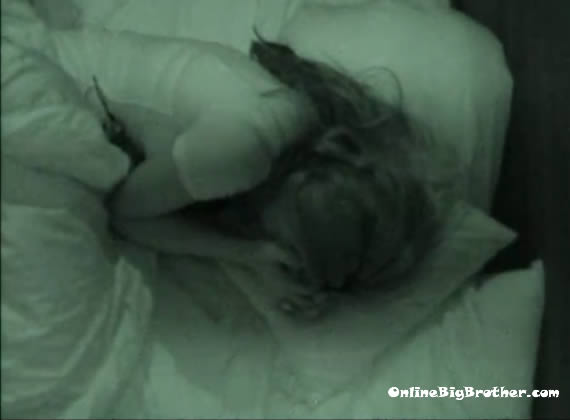 Kaitlin cries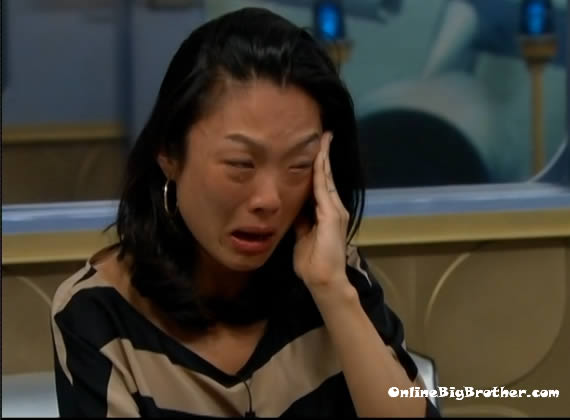 1:00Am HOH McCrae, Amanda and Helen Helen is sad from all the drama. She was trying to enjoy being a have.
Jeremy comes up and says he wants to apologize to her for making her cry.. They head downstairs to the lounge to talk it out.
Jeremy: "I'm man enough to admit I did something wrong I just want to clear the air.. Let just start off by saying that was hostile.. please don't cry.. I wasn't trying to bully
Helen: "I have not said a bad word about you Jeremy"
(Helen is hysterical.. )
Helen thanks him for the apology.
(a lot went on between 12am to 1am i didn't catch all the conversations. Pretty much Jeremy is more of a target than before which may be his strategy I dunno he's "Super smart" after all.. It was a crazy hour of Drama worth a feed subscription 😉 )
FYI you can re-watch ever second on the feeds using their flashback feature.. It's super easy to use Big Brother Live Feeds
HUGE improvement over last year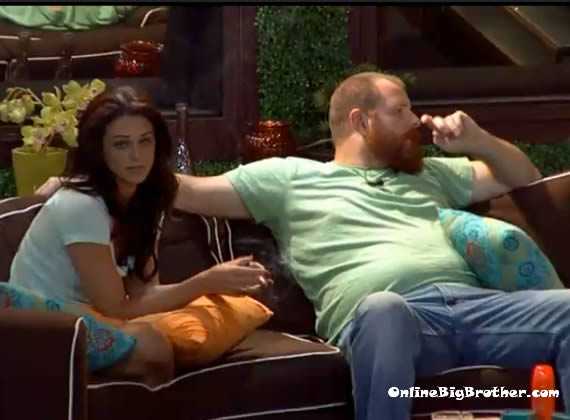 1:15AM Cam 3-4 Candace, Andy, Kaitlin and Spencer Spencer is saying how JEremy handled the post blow up well. Candace agrees says that Jeremy apologized to her and is in the lounge apologizing to Helen. Kaitlin says that Jeremy is pissed because Elissa is saying Sh1t about him, she doesn't understand why he doesn't forget about it.
Jessie joins them and Candace starts talking about the hat thing.. (LOL.. last night there was a big blow up about Candace sitting on Aaryn's hate)
Andy leaves..
Candace questions Jessie acts like Jessie was the one that told Jeremy they were pissed about the win and Jessie was the one that told Aaryn Candace sat on her hat. Jessie denies both..
Candace leaves..
Jessie says she is worried because she is on the block. Kaitlin: "Don't worry it's going to be David"
Jessie leaves says she's going to make sure Candace isn't talking Smack about her
1:31AM Bathroom Jessie and Aaryn Jessie brings up that Candace said the story about the hat was made up by Aaryn. Aaryn: 'Thats not true Spencer wouldn't lie" (Spencer told her that Candace sat on her hat)
[polldaddy poll=7218240]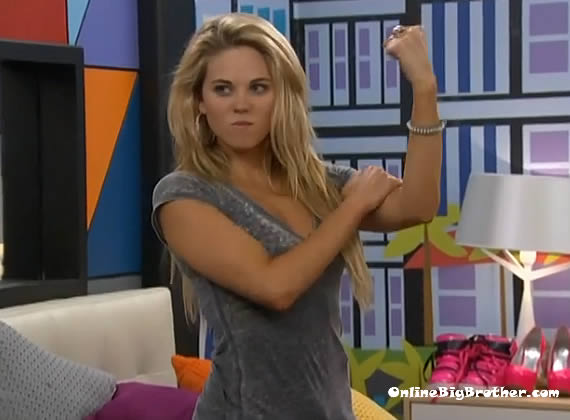 Fight Gallery