POV Holder:
?
Next POV
June 27
POV Used
?
POV Ceremony
?
HOH Winner:
McRae
Next HOH:
Wed July 3rd
MVP:
?
Original Nominations:
Current Nominations:
Jessie and Candace
Last Evicted Houseguest
?
Have Nots
Andy, Elissa, Jessie, Howard, Helen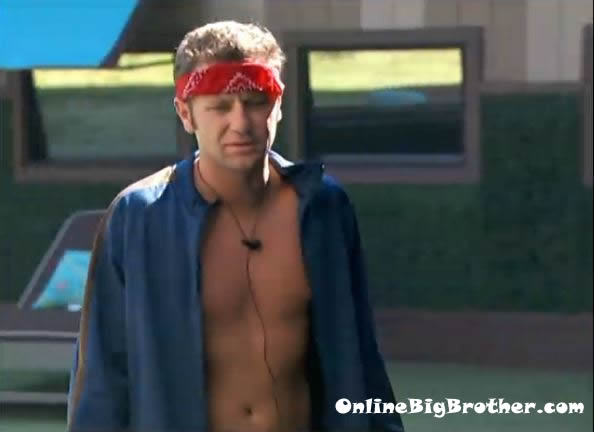 9:55am
Andy and Judd are awake and moving around the house. They head out into the backyard. Andy talks about how being in the havenot room even if he wakes up and is still tired he can't get back to sleep. Andy says I can't wait to have a normal bed again, I hate those seats. Andy asks Judd if he was mad he didn't get to compete in the POV comp. Judd says no, he didn't want to win and have the responsibility to have to use it or not this early in the game. Judd says that the numbers could fall either way, we might want to keep her. It would be kind of dumb to get rid of her. Andy agrees and says that he will do what the house wants. I don't think I am on anyones radar. Judd says if we keep her the target would always be on her. Judd asks if Andy was up there when the fight happened. Andy says no. Judd talks about a fight up in the HOH room a couple days ago where she (Elissa) lied and said her sisters name was Giselle a famous model. Judd says that Jeremy was asking Elissa if she was calling him a liar. Judd says Elissa said she was just jokeing. Andy says if we did decide to keep Elissa I wouldn't want to piss off people like Jeremy because he could win something. Judd says yeah, we would have the numbers though. Judd says don't repeat this but .. Andy says I trust you more than anyone I won't say anything. Judd talks about a 4 way alliance. Andy asks are you talking about a four way alliance between Jeremy, Kailin, David and Aaryn. Judd says yeah I guess ..that's just an assumption.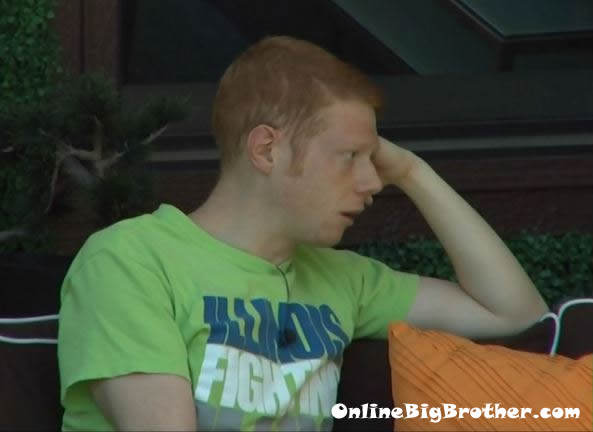 10:05am – 10:35am Big Brother switches the Live Feeds to the "We'll be right back screen" to wake up the house guests. When the live feeds return, the other house guests are up and moving around the house. Andy and Judd are in the kitchen talking about throwing a tantrum if the are havenots again. Helen comes by and says that she totally agrees. Meanwhile in the havenot room, Elissa comments to Howard that she doesn't think she will ever fly again because the seats are so uncomfortable.. She says she'll be taking the bus from now on. Howard agrees. Elissa asks Howard if she can read the bible with him. He says yeah of course. Elissa asks how he does it. Howard says that he could read a verse and ask her how she would apply it to her own life. Elissa says okay. Howard starts reading a verse to Elissa. Howard says "For see today I have made you immune to their attacks, like a fortified wall…" They both then discuss their interpretation of the verses.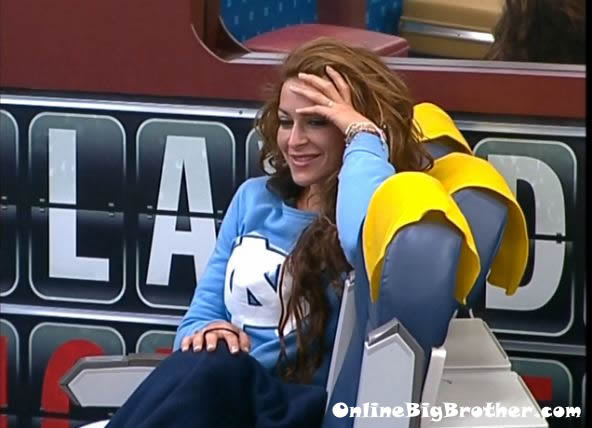 10:25am Jeremy and Spencer are out in the backyard talking about how they need to get time alone to talk. They talk about how Andy is always around them and Amanda is up McCraes a$$ hole! Spencer agrees. Jeremy comments that Kaitlin fell for it last night. Spencer says yeah I know I heard the lip smacking. Jeremy says but don't worry I will kick that bit*h out! I am loyal to MC! Jeremy says that he thinks he has David on his side too. Howard joins them. Spencer talks about wanting to get David out this week. He says I don't think we can control Elissa. David is up there like a sitting duck, it would be a good time to get him out. Jeremy says if you want to get him out I am cool with that, I am friends with him but I am with you guys. Howard agrees and says he is cool with him but now is the time to get him out. Spencer says Elissa is Rachel's sister and she is probably the MVP because I haven't seen anything to say otherwise. Jeremy says that yeah I already shot myself in the foot with her though. Spencer says I think David is with us and he isn't coming after us. Jeremy says yeah David is going after Candice and Amanda next week. Spencer asks what is going on with McCrae? Howard says that she is trying to strike an alliance. Spencer says if she strikes up an alliance with the majority of MC then it is good for us. They talk about the morning being a good time to talk game before the morning wake up. Judd joins them. The conversation turns to talking about random things.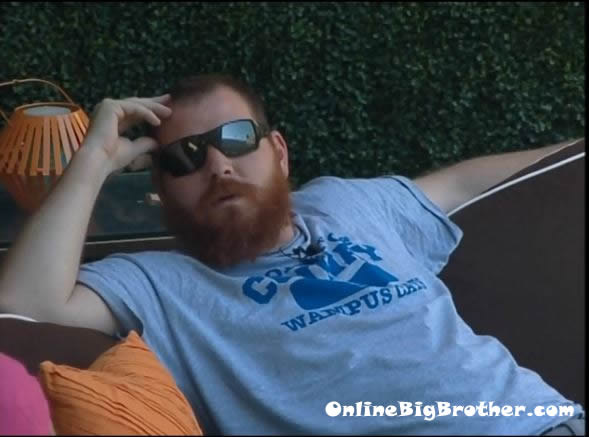 Even MORE from the BB House! Check out the Live Feeds with a 48hr free trial! Access to EVERYTHING they can't show on TV…we don't want you to miss a moment this season!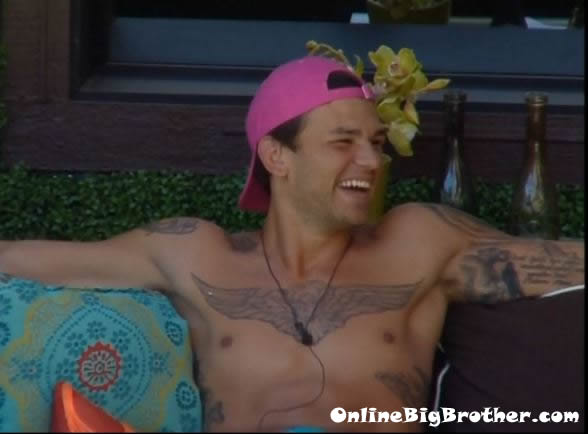 10:40am Out in the backyard – Jeremy comments to Spencer, Judd and Howard that he went to sleep with some big ol'man-meat. They laugh. Judd and Howard move inside. Spencer and Jeremy talk about Nick. Spencer says that Nick is a schemer. Jeremy agrees. Meanwhile, inside the other house guests chat in the kitchen. Jeremy says that even though they are cool with Jessie – she needs to go home soon. Spencer agrees. David joins them. Jeremy tells David I can't believe you got third nomination. David says yeah someone's working against me. Spencer says yeah Elissa is the MVP.
Andy joins them. Jeremy says that he is jealous he didn't get to compete in the POV yesterday. They discuss the words the others used in the spelling – longest word POV competition. The conversation turns to talking about how Elissa stormed out of the HOH room yesterday telling McCrae "I can't believe you said that!" Jeremy comments that Rachel is smarter than Elissa. Spencer says that Elissa has no social skills. Jeremy says she is so fu*king ignorant. The talk turns to the tattoos Jeremy wants to still get and how CBS said he couldn't get any before entering because they wanted him the same as in the interviews.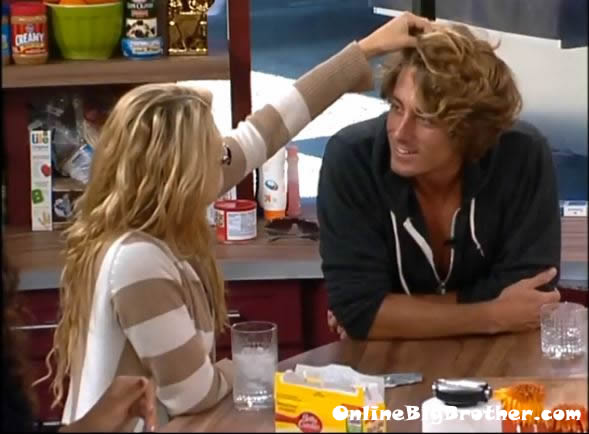 10:55am In the kitchen – Kaitlin, Aaryn and Candice are making pancakes and talking about how Spencer smells like old spice and farts.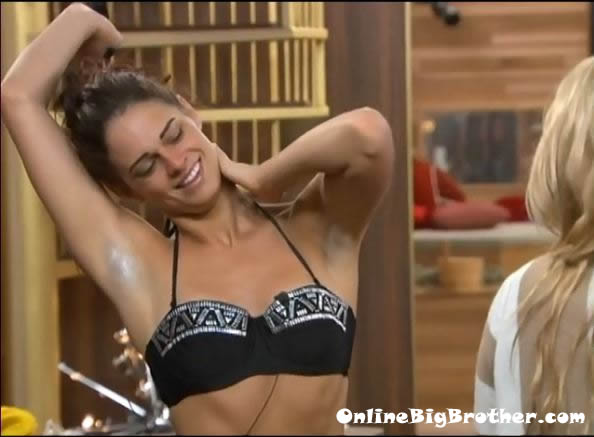 11:10am Spencer, Jeremy and Andy are out in the backyard chatting. Jeremy talks about blowing out farts. The conversation turns to talking about how during the POV competition someone spelled the word "Pot Roasts" even though they were told they couldn't use words with spaces. Andy says for the rest of the season if someone messes up just say they pulled a pot roast.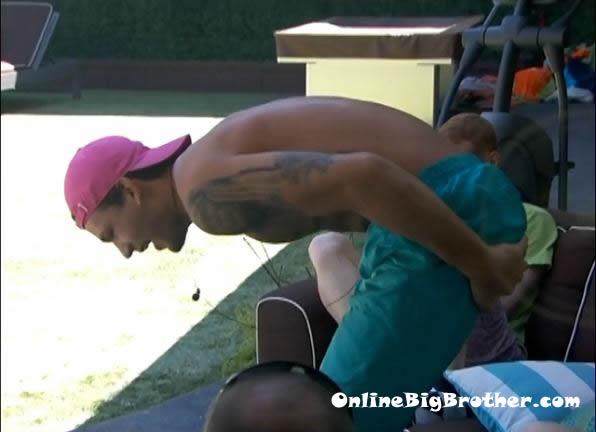 11:15am – 11:25am In the bathroom – Aaryn and Elissa talk about random things. Aaryn asks Elissa if she talks a lot with Rachel. Elissa says no.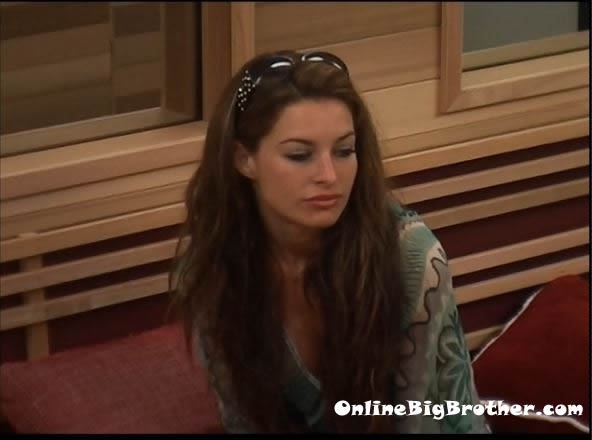 11:30am Aaryn tells Elissa that she doesn't want any conflict between them. She says I like you and want you to come talk to me if you hear anything. I won't lie to you. Elissa says thank you for coming to me. I do a lot of charity and don't want to be viewed as anything bad. Elissa says that some people are in here to cause issues. Elissa says that she is going to go sit in the hot tub. She doesn't leave and they continue talking about Aaryns ex who played hockey and travelling to Canada.
11:40am Out in the backyard – David and Jeremy are out by the weights talking about if McCrae will use the veto or not. They think McCrae is with them and that David is fine but say they will just have to wait and see what happens. David says that he is worried about being played by Aaryn. Jeremy agrees. David says that Aaryn gave him sh*t for talking to Elissa and now she is in there talking to her. Jeremy says that the girls are being shady. Daivd says if this is going down I need you to go rampage. Jeremy says that he will go nuts and says that he doesn't care if he pisses everyone off. He says I didn't fly out here for nothing. Jeremy tells him that David being nominated by the MVP is what set him off. They need to figure out who's next. Jeremy starts working out.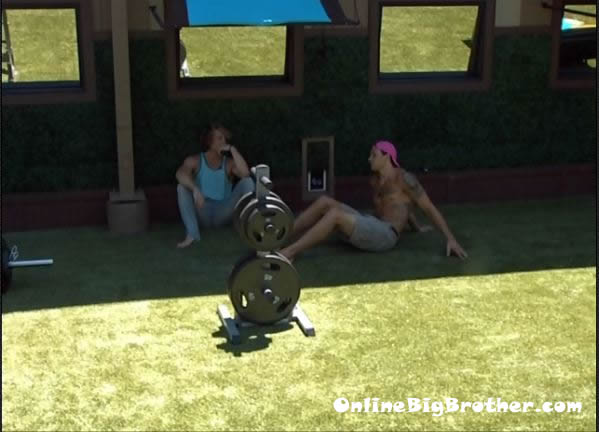 Stay connected and interact with other Big Brother Fans on our Facebook page.
And Follow: @BigBspoilers and @Dawgsbigbrother on Twitter for the most up to date spoilers.
Share it YO!!
Tweet