POV Holder:
?
Next POV
June 27
POV Used
?
POV Ceremony
?
HOH Winner:
McRae
Next HOH:
Wed July 3rd
MVP:
?
Original Nominations:
Current Nominations:
Jessie and Candace
Last Evicted Houseguest
?
Have Nots
Andy, Elissa, Jessie, Howard, Helen
2am Kaitlin and Jeremy climb into their bed. Kaitlin says that she is going to take her weave out. She goes to take it out and says oh its already halfway out. Jeremy says that's what she said! Kaitlin laughs and says no she said it's halfway in! Jeremy says oh okay! They both laugh! They talk about her weave and Jeremy says its probably from India. Kaitlin says that she wants to go to India and play with the little kids to feed them and teach them English. Jeremy says that's the cutest fu*King thing I've ever heard. They talk about how they love kids. She says she loves kids that aren't hers. He ask her how many kids she has?! Kaitlin says no you know like nephews and stuff. Jeremy and Kaitlin get up and head into the kitchen. Jeremy runs up outside the HOH room to help Jessie who was calling for help to carry down dirty dishes. Kaitlin asks Nick in the kitchen why he just sat there and didn't help Jessie.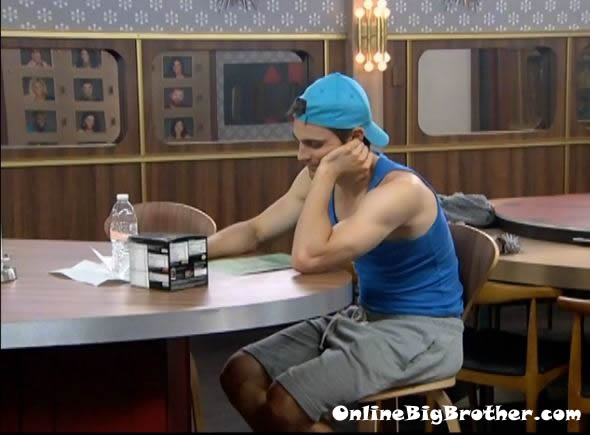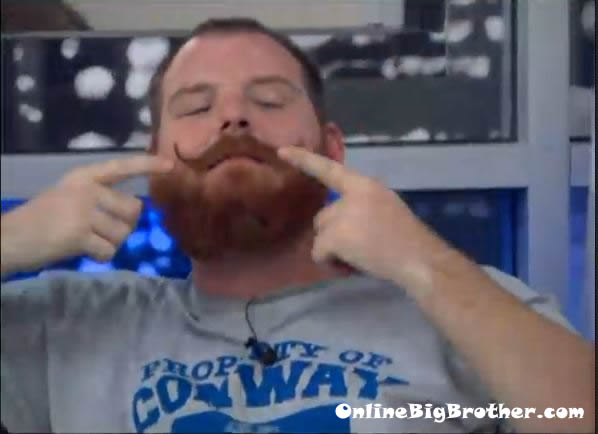 Up in the HOH room Jeremy & Kaitlin join the others. Howard, McCrae, Andy Candice, and Judd. Amanda comes back up with a huge bowl of cereal. They others laugh at how big her bowl is. Howard says his cereal boxes have a 3 bowl maximum his bowls are so big. Spencer starts admiring his mustache. Spencer says that he can't wait for the Zingbot to come talk to Judd. They laugh that it will zing him with a – that's what she said because that's what he always says. They notice Nick is in the kitchen alone. Howards says he is going to go talk galaxies with him he likes that! They start talking about the havenot room and all agree that this year's room is the worst there has been. They talk about other season's havenot rooms.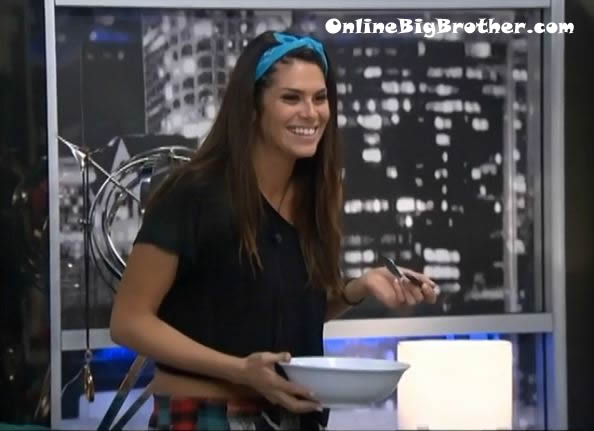 2:40am Kaitlin & Jessie head down to the kitchen. Kaitlin asks Jessie if she is nervous about the vote. Kaitlin tells her that she shouldn't be and says that she thinks McCrae is going to take her off the block but if he doesn't she shouldn't take it personal. They're both happy that Elissa lost the POV. Jessie says she is worried about what McCrae might do with the POV. Kaitlin says that McCrae wants Elissa gone. They head to bed.

3:10am Amanda & McCrae alone in the HOH. She tells him that she is glad he won today. Meanwhile Kaitlin and Jeremy are making out in bed.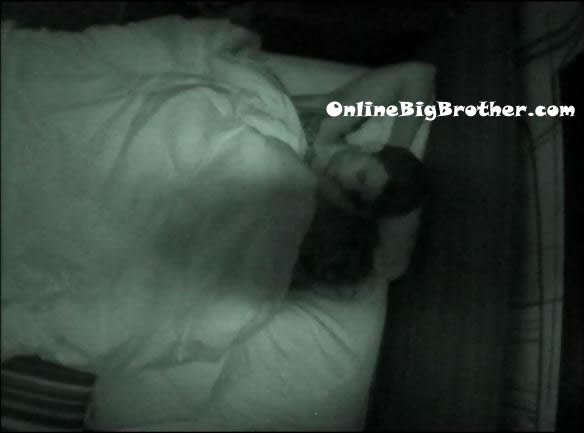 3:15am – 4:50am Amanda asks McCrae if he thinks she is one of the strongest female players in the house? He says that he thinks so. McCrae says that he knows the deal with Jessie and he isn't stupid because she seems to go from guy to guy and he's the last one left. Amanda jokes that he's taken and say he is her sanity in the house. Amanda tells McCrae that he will be doing what the house wants now if he puts up Elissa. He says he just worries who the next target will be if she goes. He asks if it would be Candice. They agree that they need to talk to the next HOH. McCrae says that the Elissa situation worries him that she may blow their (McCrae/Amanda's) alliance cover because he told Amanda about being Elissa being MVP. He tells her not to say it to anyone. Amanda says that she only trusts him. Amanda says that No matter what Elissa does she is going home. Amanda says that she doesn't think Elissa is even going to fight to stay in the house. McCrae says that he is still worried that the house could see getting out David as a better option. Amanda tells McCRae he is playing too hard and says that Elissa has to go, she will fu*k us up. McCrae tells Amanda that he will tell Elissa that she's the master of her own fate. Amanda says that she is happy she met McCrae. She asks him what he's thinking. McCrae jokes that he wants Jessie to be his blowmance. Amanda starts talking about the POV and says that she thinks David threw it. McCrae says that pisses him off that he might have thrown it. Amanda asks him why she wants him to go so badly. McCrae says that something about him rubs him the wrong way and he looks at him in an unfriendly way like he's trying to look into his soul. McCrae says that he will use the POV and put up Elissa. Amanda asks if he still wants her to stay because then I will be at risk of leaving if Elissa stays. She says because I orchestrated all this for Elissa to leave so he better not fu*k it up. McCrae says when people ask how he wants them to vote, he will tell them to vote how they want. Amanda says that she knows so little about McCrae. He says that he wants to be mysterious. Amanda calls him Zorro. Amanda and McCrae continue to talk about random stuff. They talk about past seasons of big brother when Ian jerked off in the shower. McCrae brings up how during Boogies season he had a box in the backyard and climbed into it to jack off. "The Jack shack" The decide to go to sleep.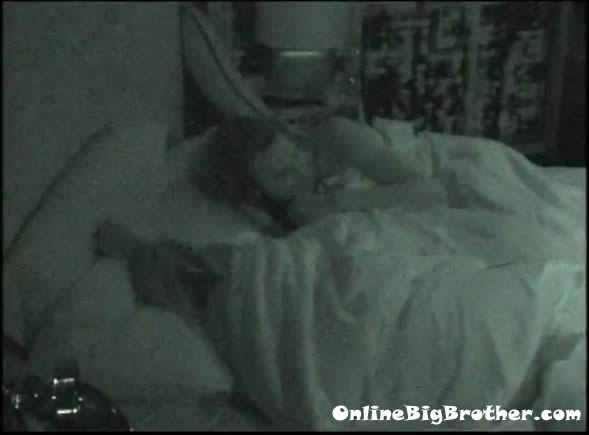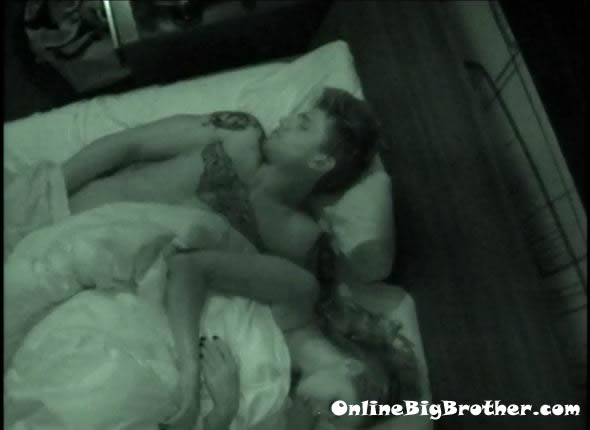 6:30am All the house guests are still sleeping..
8:45am The house guests are all still fast asleep.
9:50am Still Sleeping..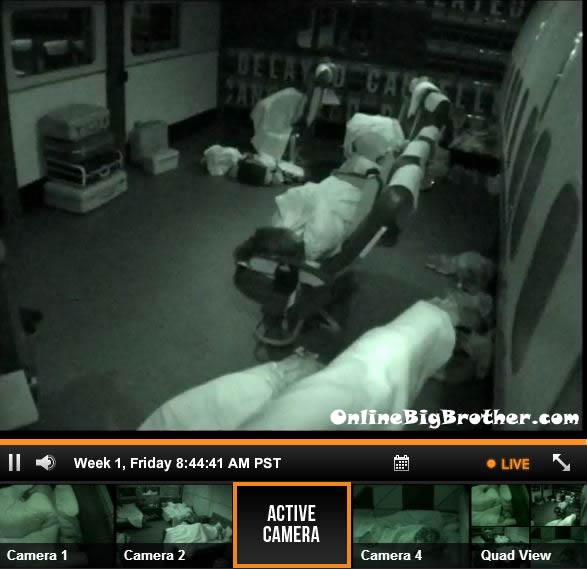 Stay connected and interact with other Big Brother Fans on our Facebook page.
And Follow: @BigBspoilers and @Dawgsbigbrother on Twitter for the most up to date spoilers.