POV Holder:
McCrae
Next POV
June 27
POV Used
Yes
POV Ceremony
June 29th
HOH Winner:
McRae
Next HOH:
Wed July 3rd
MVP:
Elissa
Original Nominations:
Candice, David, Jessie
Current Nominations:
Jessie, Elissa and David
Last Evicted Houseguest
?
Have Nots
Andy, Elissa, Jessie, Howard, Helen
10:48pm HOH Spencer, McCrea and Howard
They are going over reasons they can tell their fake team to keep Jeremy safe and push Aaryn up as the target.
Spencer: "If Jeremy keeps being the f**** a$$hole he gets hard to predict"
McCrae: "Ya exactly.. even if he doesn't we can say we'll we know where he is all the time.. it's a good excuse"
Mc: "F*** aaryn just a snake threw her teeth you can never tell.. we should get rid of her way earlier"
Spencer: "After we get out the obvious people we need to get out the people that make it hard for us to meet… Judd"
McCrae: "He so f**king paranoid to"
Spencer adds that they need to be set up so that the moving company can operate without suspicion.
Spencer: 'But I would like to see Aaryn go after that"
Amanda joins them
Judd walks in with his nicotine patches, McCrea reads the package "nicotine transdermal system"
Judd: 'I'm ready to snort that bro"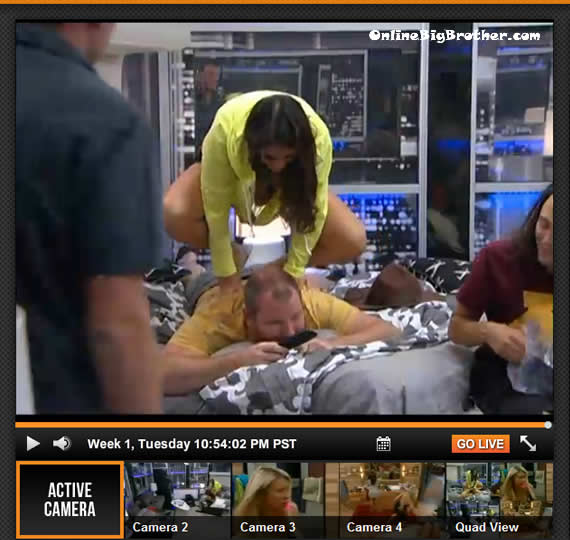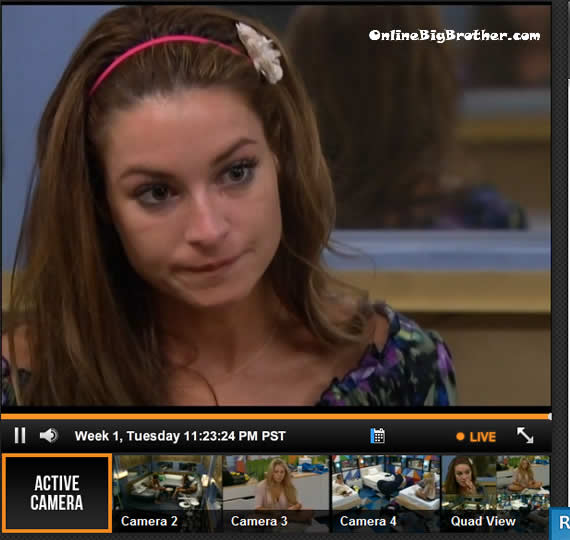 11:12pm Cam Lounge 1-2 Jeremy and Elissa
Jeremy says he got in trouble by Big Brother, "I have to apologize and take care of this .. you know it's the situation earlier you got the best of me.. you know.. this house is making me crazy.. "
"I got immature I tapped your hat with my butt.. they're dry cleaning your hat now and if you want it replaced they'll take it out of my pension and buy you a new one" (LOL he said pension)
Elissa: 'My Hat"
Jeremy: "Ya your North Carolina Hat"
Elissa: "Ohh"
Jeremy: "I feel ashamed by it thats not me I feel horrible that I vandalized something of your and regardless of our differences I did something wrong"
J: "I'm a very immature boy that has a lot of growing to do.. I'm sorry .. and that is not Big Brother telling me to apologize"
J: "I am ashamed.. I didn't digg it in my butt I tapped it"
Elissa: "I feel sorry for you because you're 23 and this show is on national TV the things you said have been really .. I don't you saying things about being in a gang on national Television"
J: "Gang.. when I say I was being in a gang"
E: "Big Brother wu-tang clan"
J: "I didn't say Wu Tang but I know what you are saying"
E: "You threw up gang signs.. that just isn't appropriate for a family show on TV Guide network"
J: "We all have our own opinions of what is and isn't appropriate.. it was a joke"
Elissa: "Can I speak"
J:"Ya I'll shut up"
E: "I would just say for your sake I wouldn't go into the Diary room and make you look stupid.. because that makes me look bad"
J: "if you don't want the dry cleaned hat i'll buy you two hats or whatever"
Elissa accuses Jeremy of attacking her verbally and saying nasty thing about her sister Rachel and her husband. Jer also said something about Elissa being a bad mother to her son. She doesn't care about the hat thing she's more concerned with his aggression towards women. She also didn't like him saying things about her family because they are not in the house to protect themselves or her.
Jeremy: "You have my word that I won't say anything bad about you again"
Jeremy: "If I had a time clock (LOL) I would go back and not do it"
Elissa: "I appreciate you apologizing to me"
Pictures of the butt cheek hat kiss can be seen in this post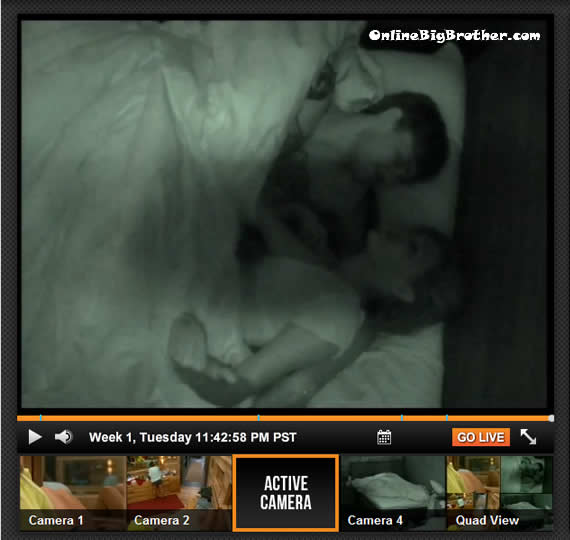 11:43pm Kaitlin and Jer (look at Jer's hand)
Kaitlin about GIGI and NIck "She asked him to have a dinner together and wanted a
K: "he said in like 80 days he will"
j: "she's coming along a little desperate though.. you can't ask a guy to kiss you"
K: "Sometimes you have to be aggressive and ask those questions"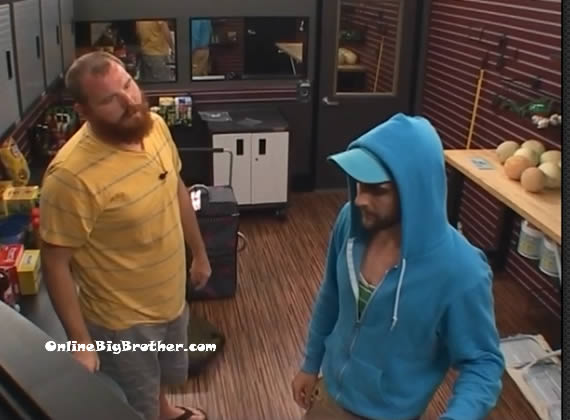 Nick and Spencer. Talking about how the votes will go down tomorrow. Nick says that it's best for Jeremy to be truthful with his vote, "I don't think he can handle it right now.. I can"
Nick: "We do have the numbers right"
s: "All the numbers add up"
N: "On your side.. 100%"
S: "Perfect 100%"
Spencer explains that he told Helen/Andy that he was going to talk to Candice to vote out David but he's not going to (Helen already has though). "You are going to be the Candace vote.. see what i'm saying.. "
Spencer: 'When they accuse Candace of voting out David she'll deny it.. they'll call her a liar.. Total meltdown" (The thing about this I think now Candace will vote out David)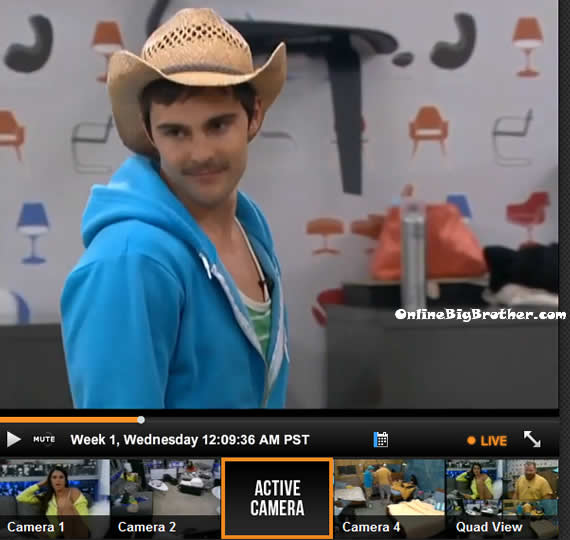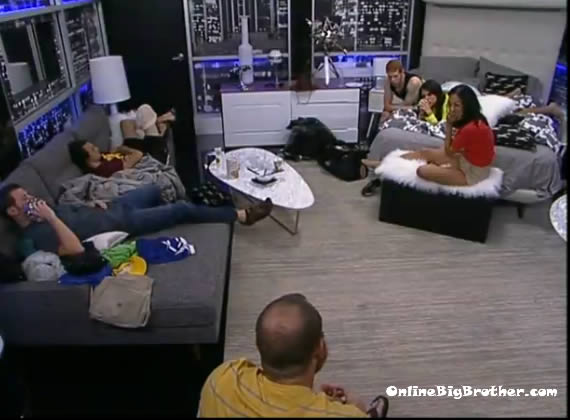 12:25pm CAm 1-2 Nerd Herd AKA (Andy, Spencer, Helen, Judd, McCrae
Amanda wants Nick to go next she's super spooked about him being in the game. She thinks he's the only one out of Beiber Fever that has a chance to win the MVP is Nick.
Spencer: "There is no way what he's doing in the DR is going to trump what Rachel Reilly is doing on twitter" Spencer argues that Aaryn has to go before NIck because once Aaryn is gone the Beiber Fever (Aaryn, Nick, Kailtin and Jeremy) collapses.
Candace joins them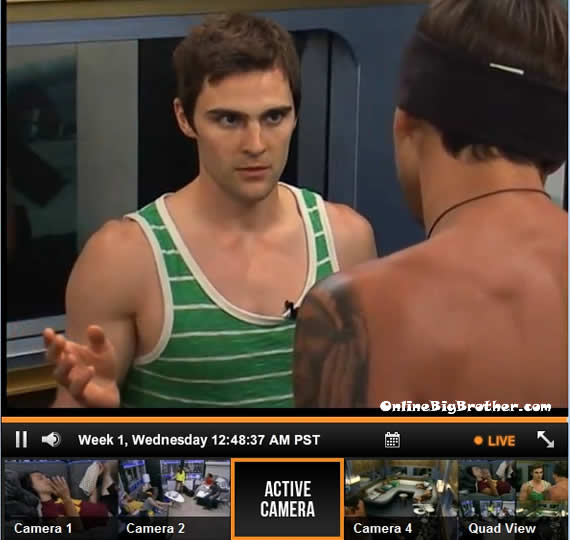 12:53AM Cam 3-4 lounge
Jeremy: "That makes me nervous for us bro.. means they have strong numbers"
Nick says it has to be this way pulls Jer into the storage room for a quick talk. He says their main target is David.
Nick explains that if it's 3 and 7 and david goes home it will blow their cover with the Blondetourage. They need 5 votes to be against Elissa so that is why Jeremy is going to vote out Elissa and Nick will vote out David. This way it doesn't matter if David or Elissa goes nobody will know.
As of 1:10Am this is where the votes are
Spencer = David
Helen = David
Judd = David
Howard = David
Andy = David
Amanda = David
Nick = David
Candace = They think Elissa but it could be David
Kaitlin = Elissa
Jeremy = Elissa
Gina = Elissa
Aaryn = Elissa
1:12AM Helen, Amanda, McCrae, Spencer, Andy, Judd trying to figure out a name for their alliance.. Amanda suggests Area 51. (I suggest "friendship" )
Elissa comes up says that Jeremy and Kaitlin are having s$x. (they're not.. but they are doing something sexual)
1:30AM HOH Andy, Spencer, Amanda, McCrae, Candace, Helen and Elissa
Guess what the conversation starts with Hat talk.. Candace reiterates the hat saga for everyone.
Someone mentions that they
Amanda: "Janelle was a bitch.. I am more of a Janelle than She is" (Aaryn)
Elissa leaves
Candace and Helen both say that Jeremy and Kaitlin were probably not having s$x. Spencer makes a joke that Jeremy won't last long.
Amanda says that Eval D!ck was worse than Jeremy. She says that the reason he won was his daughter won all the competitions and he was a giant bully.
Spencer: "He doesn't get as much credit but he was as good at his style of game as Dr.Will was with his"
Andy leaves Leaves.. they start going over past seasons..
1:40AM HOH Howard, Spencer, Judd
Spencer: "Candace is a complete moron has no f**** clue what is going on.. if she had any fuc**** intelligence she would be able to connect the dots.. Helen needs to S*** the F*** up.. " (helen apparently said too much in front of Candace
Judd points out they just told Helen to keep quiet in front of Candace.
Spencer suggests the alliance name: "South Mississippi psychos"
Judd mentions that Aarun, Kaitlin, Jeremy and David think he's good with them but he always hears them saying "Us four gotta stick together" when he's in ear shot of them..
[polldaddy poll=7218240]