POV Holder:
McCrae
Next POV
June 27
POV Used
Yes
POV Ceremony
June 29th
HOH Winner:
McRae
Next HOH:
Wed July 3rd
MVP:
Elissa
Original Nominations:
Candice, David, Jessie
Current Nominations:
Jessie, Elissa and David
Last Evicted Houseguest
?
Have Nots
Andy, Elissa, Jessie, Howard, Helen
5:07pm Cam 3-4 Helen and Candace
Candace says she is confused about the fight with Amanda and Elissa.
Helen: 'I don't know.. I just stay out of it"
Candace: "But then Amanda came and talked to you"
Helen: "Oh that was like 4 days ago"
Candace: "So that happened after"
Helen: "Amanda was trying to get the house to not like Elissa"
Candace: "Oh OK.. gotcha"
H: "I do think at the time she was trying to get me to not like Elissa.. I really want Elissa to stay.. I can't tell you the plan"
H: "Tomorrow you will know and I know it all sounds very peculiar but don't question it trust me.. OK
C: "OK"
H: "I can't tell you it's not my job.. I'm not the leader of this pack and if I tell i'm out of it and that means you're out of it to."
Helen tells her she is not the leader of "This pack"
5:14pm cam 1-2 HOH Andy. Helen and Nick
Random chit chat about Nick and the foods he doesn't eat.
Andy says that Nick is the type of person he couldn't date "if you were gay" because I would be so pi$$ed off that you don't eat candy
5:30 pm cam 3-4 Lounge Spencer, Candace, Howard, McCrae..
Spencer: "All women love to say it's hard to be a women.. because of all you have to do makeup and stuff"
Candace: "No I think it's harder to be a man for sure"
Spencer saying that it's harder to be a man than a women because society places a lot of pressure on men
Spencer: "Being a provider and a leader.. Keeping your family together as a man that is your responsibility keeping things in line.. All that running around sh!t.. Respecting your wife respecting your children… being a good roll model"
Howard: "A man has to suck it up be totally unselfish and still be a man at the end of the day"
Spencer: "During the tough times.. people see that Sh1t"
Howard: "Yup even if you gotta stand by yourself"
Candace leaves
Howard brings up the bible and religion "I'm a strong believer that prayer can get you through it"
Spencer and MC seem to be pretty engaged in the conversation especially Spencer.
5:51pm Cam 1-2 Bathroom Bieber Fever

Talking about Jessie filtering with Nick.
David: "She was breathing so hard on the couch today "
Gina: "Like she was nervous"
David: "Ya"
Aaryn: 'Have you noticed that every time she rolls over she does "OHHH" (Groans) "
Gina: "ya i've noticed that"
Aaryn: 'I'm like B1tch stop doing that.. we get it we get it she's in Heat"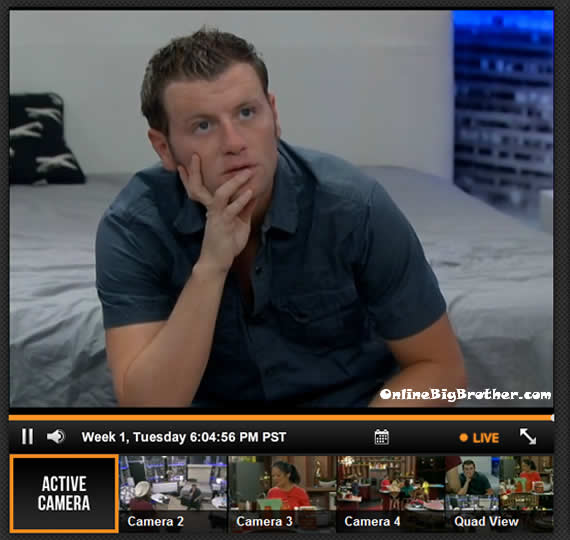 6:04 Cam 1-2 McCare and Judd HOH
MC: "we gotta find out where Candace is going to go"
J: 'I've been hanging out with her the most that I can"
MC: 'Yeah i've been really nice to her"
Judd: "Do you think I should .. cause I've been hanging out with her so much go up and ask where she's voting"
Mc: "I don't know who is closest to her"
Judd: "If he doesn't go home it will be a travesty to this game.. you know what he said he'll do with the money.. go surfing man"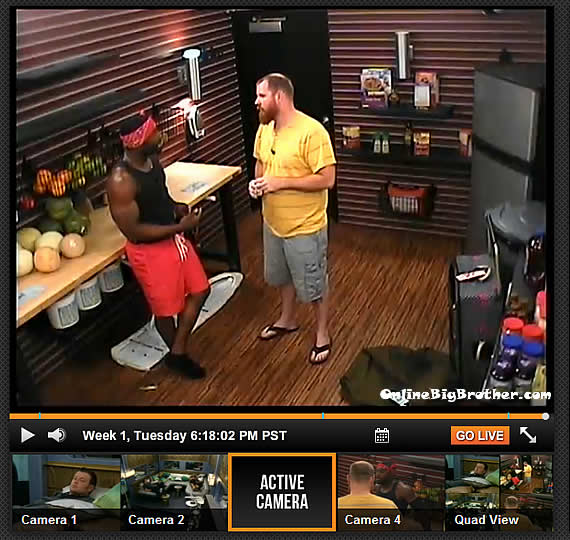 6:17pm Cam 3-4 Storage room Howard and Spencer
Howard saying when Aaryn blows up it's going to blow Kaitlins head and will probably blow Jeremy.
S: "I've talked to Helen and she blames Aaryn for instigating the Jeremy thing.. What I think Helen wants to do is strip Jeremy of his alliance and use Jeremy .. I think that is a good idea"
H: "I do to"
Spencer thinks the Moving Company will get the MVP's because nobody else in scheming as much as they are. (He's right with the schemeing part)
H: "He got our hands into everything"
They agree that there is no sides in this game it's MC versus everybody.
S: "If Jeremy wins next time I want him to get Amanda out.. cause I want to refocus McCrae"
H: "Yup there it is.. there it is"
S: "I want to keep Gina in the house next week cause she'll blow up it Elissa stays"
S: "Helen and Andy want to get Amanda out to because they want to work with McCrae and they can't with Amanda around.. so regardless of who wins HOH as far as MC goes we need to consider Amanda and Aaryn"
S: Jeremy has given up David this time and I don't mind giving up Amanda"
H: "Exactly"
Spencer: "Judd's a good cat but he's always lingering.. we can never communicate he's gotta go soon"
H: "It would be good if Jeremy wins HOH and puts up Amanda and Judd"
S: "I don't care if out side wins HOH or not doesn't matter to me.. we just gotta control the MVP vote.. "
S: 'Amanda wants Nick to be the MVP nominee.. "
S: "Judd and Amanda those are the first to cut"
H: "Everybody else is going to tear their hearts out anyways"
S: "If you get offered a drink by Nick that means get ready to talk in the next 15 -20 minutes.. I'm going to go linger "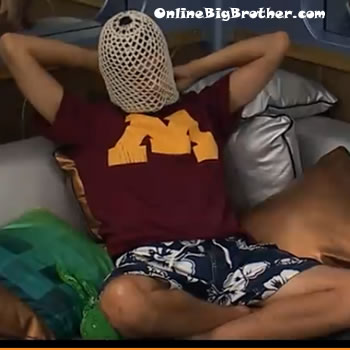 [polldaddy poll=7218240]
Share it YO!!
Tweet