POV Holder:
Shane
Next POV:
July 28 (Saturday)
POV Used
?
POV Ceremony
July 23rd (Monday)
HOH Winner:
Frank
Next HOH:
July 26 (Thurs)
Original Nominations:
Current Nominations:
JOJO and Shane
Have Nots /Slop
Willie, Shane, JOJO, Ian
Coach Competition Winner
Janelle
Next Coaches Competition
July 27 (Friday)
Last Evicted Houseguest
Kara, Willie
2:50pm Cam 3-4 Bedroom Britney and Janelle
They are talking about possible twists in the game. Both are sure if they get dropped into the game they will be the primary targets. Britney warns Janelle if they get rid of the coaches and if they are dropped into the game they will be in trouble. Britney thinks it's best if they keep the coaches at least for another week.
Britney explains that Willie craziness that went down on Friday. She brings up how Willie charged Joe and head butted him 4 times. Britney: "Willie brought his fist back like he was going to hit him.. I really thought it was going to happen but he didn't Willie just laid his shoulder into him."
Janelle wonders if Willie went to jail. Britney doesn't think so otherwise Joe would have had to leave to talk to the police. Britney: "the whole ordeal was crazy.. was the wildest first weekend in Big Brother History"
Janelle says he was really nice the first couple days.. she wonders what happened.
Britney: "I know.. someone like that could become your boyfriend.. he's the type of guy that can get women in tough situations" Janelle thinks Willie would not have a problem hurting a woman. Britney: 'Did you hear the story about how he got arrested?.. " Feeds cut.. (I posted about this last week) They both think that Willie is a psychopath and they are glad he's gone. Britney wishes she had never picked him to be on her team.
Britney: "Who do you think has the stronger team you or Boogie"
Janelle: "Boogie.. he has Frank and Ian.. Ian is a genius"
Britney thinks that Danielle is smarter than they thought.. she can see her playing the game. Britney brings up that Joe thinks that Danielle is a scientist not a kindergarten teacher. Janelle doesn't know she really hasn't talked to Danielle enough.
Britney starts to joke about Janelle's ability to control her tears.. she asks Janelle if she has emotions. Janelle laughs says she does. Britney jokes about Janelle's eye's not being able to create water.
Janelle: "I do feel sad.. I feel sad about Animals"
Britney : "How long do you feel sad on average"
Janelle says she doesn't digress from a "Steady Mood state.. I don't get too happy or too sad"
Janelle says she never cried at her daughter's birth or her wedding but she cried at her grandfather's funeral. Janelle adds that she cried at her cousins funeral when she was 6.
Watch what happens, AS it happens: Big Brother 14 Live Feeds!
Subscribe today for your FREE 3 DAY TRIAL!
3:15pm Cam 1-2 HOH Room Boogie and Ian
Boogie: "My dream final 4 are you, Frank, Ashley and Jenn.. "
Ian: "I would hate to do it but if I win HOH Shane is going up.. if his toe is broken now is the time to take him out"
boogie: "His toe isn't broken just hurt"
Ian is a bit worried that he'll get nominated for being liked. Boogie doesn't see that happening right now, maybe further in the game maybe 2 weeks. Boogie: "If they come after our team Frank is going up.. I truly believe if Shane or Danielle win HOH they will go after Janelle"
Boogie warns Ian that Wil is more dangerous that Joe because Wil's liked by everyone and he's also on much better shape than Joe. Ian thinks that Wil will crumble if he's under stress he can see it happening already. Boogie agrees. Ian is also worried If they go after Wil Janelle will freak out.
Boogie thinks that ian has to keep playing up the weak image it's working. Ian shows him how he's been changing how he walks to make him look awkward.
3:28pm cam 1-2 backyard Lock down is over the houseguests have received a Bocce Ball set.
3:37pm Cam 3-4 janelle and AShley Ashley is saying she's having trouble "Getting in with Frank" Ashley points out that Danielle has been getting upset with her because she's been spending so much time with Shane and she's scared Ashley is stealing her man. Ashley: "Ian was upstairs talking to boogie for a long time.. They have some plan " Janelle: "What if they put one of us up" Ashley: "If that happens i'll be pissed.. if that happens people will see them in a new light.. ruthless" Janelle doesn't see that happening this week, she doubts Jenn would be with them.
Ashley asks If Britney was saying anything. Janelle says Britney is pretty upset about Willie. Ashley asks Janelle if she thinks Boogie would turn on them this early in the game. Janelle thinks he would. Ashley: "Now I understand why Wil has been freaking out.. even if they do nominate Wil they need to have Jenn on their side"
Wil joins them, "I'm crazy but I think something is going on" He leaves to the backyard. Ashley says the paranoia is getting a bit much now.. she doesn't think Frank will put Wil up. Janelle plans on talking to him tonight.
Janelle and Ashley start wondering if Wil is going up. Ashley starts to freak out. Janelle says if they take Wil out they will have Shane, Jojo, Ashley, Joe and Danielle after them.
Ashley: "Plus
Janelle: "I love how you are ditsy with everyone else but you talk serious with me.." (They laugh) Ashley: "They have no idea" (laughter turns to cackling) They are certain that the thought of taking out Wil has crossed their mind but it's too early for them to do a big move. Janelle: "I doubt they'll do it but it is boogie after all". Ashley points out how quiet Joe has been. Janelle explains that Joe is playing it on the Down low this week he built up too much heat last week.
4:00pm Cams 1-2 random conversations
4:10pm Cam 3-4 Suntanning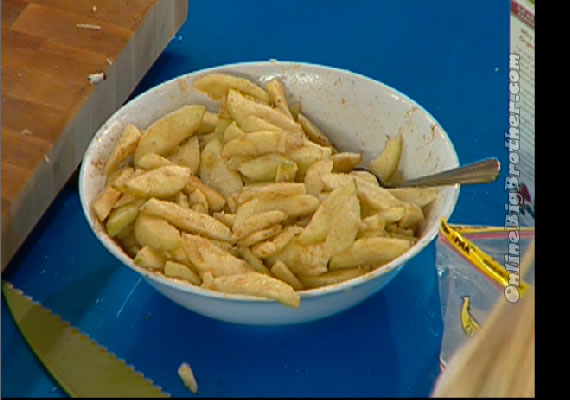 4:39pm Cams 1-2 Janelle and Ashley making apple pie
4:56pm Backyard scattered conversations about past big brother seasons.. Dan says he was almost cast for Big Brother 9 and is glad it never went through. In the kitchen Frank has joined the girls and they start sucking up to him.
Share it YO!
Tweet