POV Holder:
Shane
Next POV:
July 28 (Saturday)
POV Used
?
POV Ceremony
July 23rd (Monday)
HOH Winner:
Frank
Next HOH:
July 26 (Thurs)
Original Nominations:
Current Nominations:
JOJO and Shane
Have Nots /Slop
Willie, Shane, JOJO, Ian
Coach Competition Winner
Janelle
Next Coaches Competition
July 27 (Friday)
Last Evicted Houseguest
Kara, Willie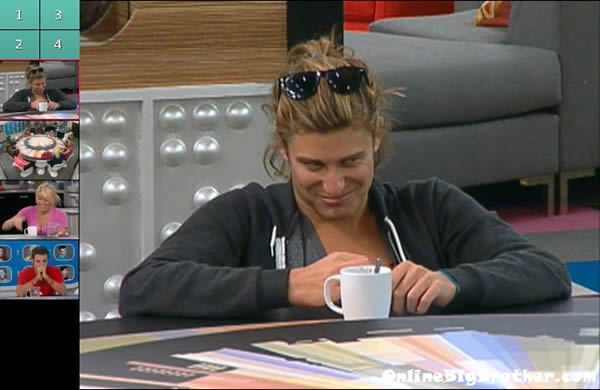 12:40pm – 1:25pm Shane comments on how he could have used that Veto last week and saved Frank but that he stayed loyal to Willie and didn't want to piss off the Head of Household. Dan talks about how he had to turn down a coaching position to come be on Big Brother. He says the great thing about the place he coaches is that there are students who have butlers serve them and students who can't even rub two pennies together but they all get along. Mike says that he gives away food to the less fortunate from his restaurant on Hollywood Blvd. The conversation changes to asking Ian questions about his school and work. Britney mentions that the lock down should be over around 3pm. Jojo is making a pot of slop. Ian comes over to have some and is surprised how much she made. Jojo says she just thought she would make a lot so that they didn't need to keep making it and could just heat it up.

Watch what happens, AS it happens: Big Brother 14 Live Feeds!
Subscribe today for your FREE 3 DAY TRIAL!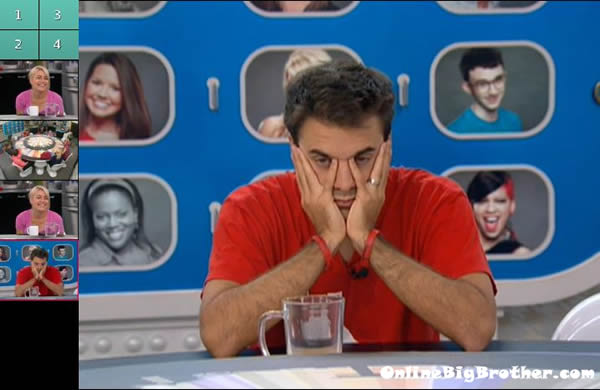 1:30pm
Janelle has lost her foundation make-up. She goes up to the HOH room with Frank to see if she left it up there. She can't find it up there. She wonders if Jojo might have hidden it on her because she is mad. Frank says Ohhh.. I hope not! Janelle then goes back down to the downstairs washroom. She tells Jojo she can't find it. Janelle then goes to the diary room to ask them if they took it. When she goes into the diary room the guy in there says What up Janelle! Janelle says hey I just wanted to know if you … Big Brother cuts the audio. Mike, Frank and Joe talk about the confrontation with Willie. Frank wonders if Joe had protected himself if he would be evicted too. Mike says yeah it's probably not a good idea too. They talk about how Willie could have broken his nose or jaw. Frank gets called into the diary room.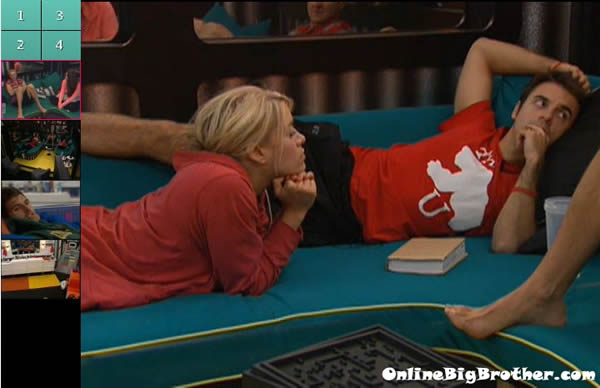 1:40pm – 1:50pm In the arcade room, Dan, Mike and Danielle talk about the carnival game. They wonder if its just there for them to play with or if they will use it somehow. Ashley joins them. They talk about Vegas and old school video games.


2pm Jojo and Shane are in the bathroom talking. Jojo tells Shane that she is the only girl that has proved herself so far this season. She says that this is that guys season so far. They start talking about random things.
2:30pm – 3:10pm Up in the HOH room, Mike and Frank are talking. They are discussing if Dan has been throwing competitions. Frank says that he thinks he has been. Mike says that he doesn't see the point of that if he did. They talk about what the twist might be this season. Mike says that he purposely talked loud in the arcade room with Danielle so people didn't think they were talking game. Mike says that he hopes Danielle wins HOH this week and can get her to put up two of Janelle's people. He says he would pick Kara if he got to bring back someone. He says that it would be huge and that they wouldn't need Shane. He says that he would want Ian and Jenn to win competitions because they need it. Ian joins them.. Frank asks if Ian wanted to talk privately. Ian says no. Mike tells Ian to spend time with Shane and Danielle. They start guessing about what the coaches competition might be this next week. Ian says that he thinks the next coache's competition will have different stakes. The conversation turns to talking about random stuff. Ian talks about how he is trying to distance himself from Ashley. Mike says yeah good. Ian says that if she sits next to me and starts rubbing my head, I'm not going to tell her to get lost. Mike says yeah that's fine. Mike says if they are in the bathroom or out side maybe keep your distance. Ian say yeah, I'am not going to jump on top of her or anything. Mike tells Ian too keep his distance from Joe too ..don't do any scheming with him at all. Ian says oh yeah I won't. Mike says that he over plays the game and his too paranoid. Ian think Joe will win Americas prize money. Mike say why would you think that?! Ian thinks because he is a dad and cooks for everyone. I would bet my entire prize money he doesn't win it. You or Shane will win it. If you last a few more weeks you will be a shoe in for it.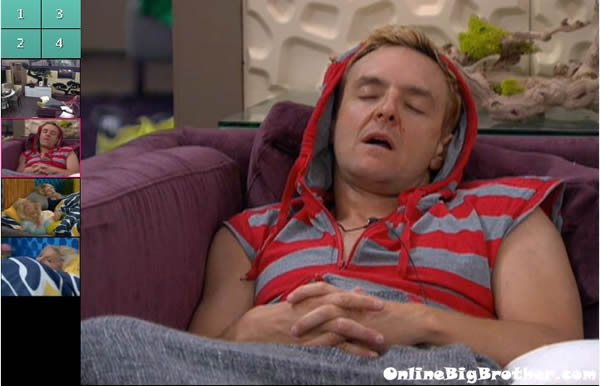 Share it YO!
Tweet